Crewed and Bareboat Catamaran Charter Guide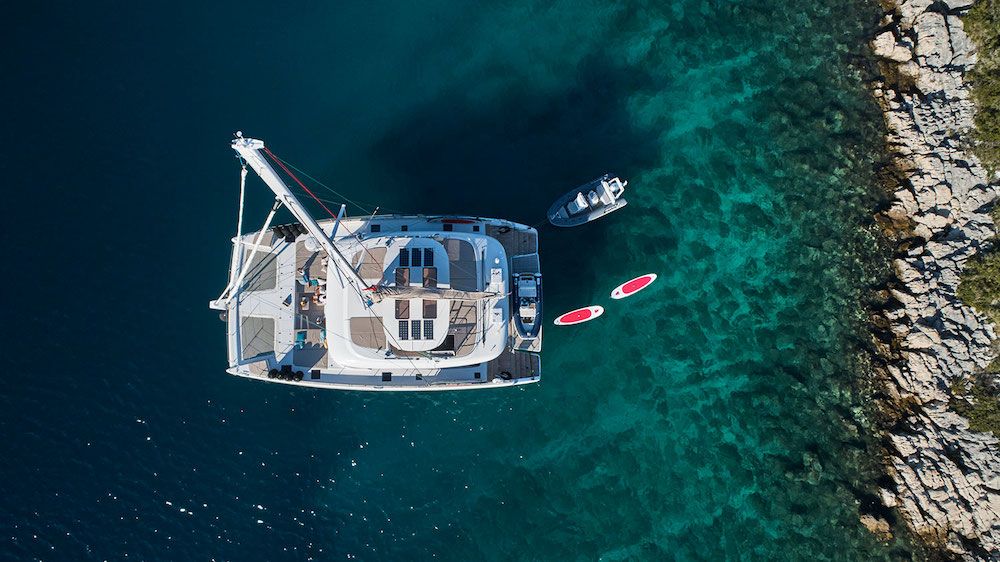 Boatbookings' Guide to Chartering Crewed and Bareboat Catamarans
Why Charter a Catamaran? | Crewed vs. Bareboat Catamaran Charter | Chartering a Catamaran with Boatbookings | Catamaran Interiors and Layouts | Our Catamarans
Why Charter a Catamaran?
You can charter a catamaran in a number of destinations, including the
BVI
,
Croatia
,
Italy
,
Greece
and the
Bahamas
and more! Catamaran charters are our most popular type of charter and for good reason. They are a multi-hulled vessels that are fantastic both for amateur and experienced sailors alike, as they provide a stable and enjoyable voyage where you can give a helping hand or let the crew do what they love! Catamarans are the ultimate yacht for offering the combination of true freedom and authentic sailing with the contemporary comfort of a luxury motor yacht.
Key benefits of a catamaran are:
The wide beam makes them very stable, reducing seasickness
The wide beam also means they are extremely spacious
Very low fuel consumption
Panoramic views from the flybridge
Closeness and easy access to the water
Wide sun decks for more comfortable lounging on the deck than a typical sail yacht (especially the trampoline!)
Fewer stairs and less separation between the cockpit and the galley
More private and spacious sleeping quarters as cabins are separated from each other in the hulls. Cabins are usually doubles, making them perfect for couples.
Easier to navigate in shallow water which means anchoring closer to beaches than most boats!
The salon creates a natural wind blocker when anchored, so you can enjoy the back deck even on windy days
A feeling of being "on top of the world" when in the salon
The founder of Boatbookings loves to charter catamarans, and has most recently chartered a crewed catamaran in the BVI - take a look at his blog here!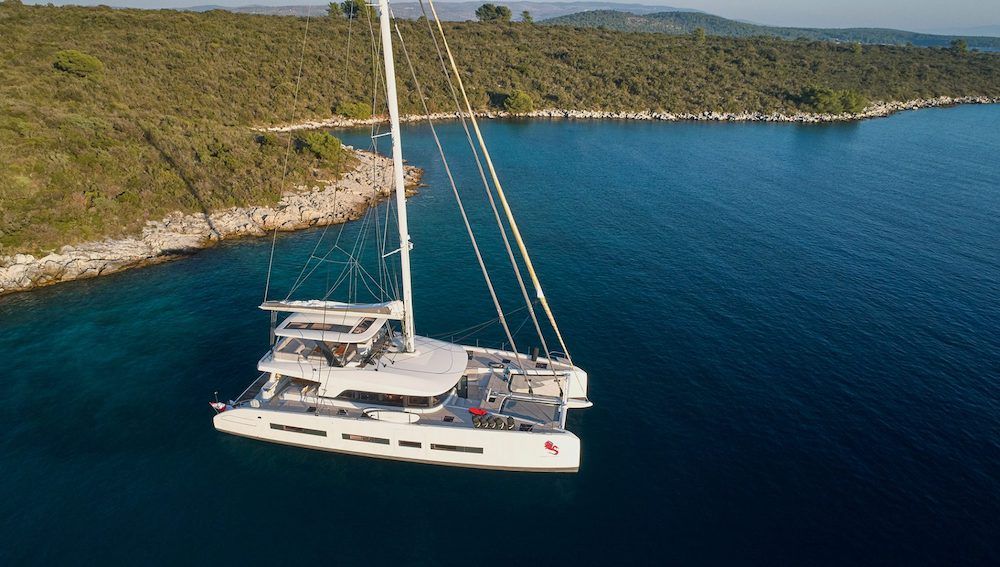 Crewed vs Bareboat vs Skippered Catamaran Charter
Depending on the needs of your party and the type of sailing you want to do, we offer a choice of bareboat (no crew - you sail it yourself), crewed, or skippered catamarans:
Crewed Charter: We recommend a crewed catamaran if you want a relaxing holiday where you can kick back and relax whilst your competent crew navigates your itinerary and are attentive to your needs. Crewed catamarans generally come with a knowledgeable skipper and hostess, so they helm, maintain, clean, and cook on the yacht.
Bareboat Charter: If you want the thrill of sailing and are experienced enough to skipper yourself, a bareboat catamaran is most suitable. Bareboating a catamaran with 2-3 couples can make for an amazing holiday when you have qualified sailors in the group, and the rest are willing to pitch in. This is where you can enjoy the true freedom of yachting, through planning your own route, having the boat to yourself and your group, and control of your own holiday! Note, you will generally need to show a certificate of sailing competence or documentation of previous charters to charter bareboat.
Skippered Charter: You may want to also consider a Skippered Charter, where you charter a bareboat catamaran but then add a qualified skipper who will do the sailing for you. This for many is the perfect compromise between the two and provides more safety and security while retaining most of the freedom and privacy of a bareboat.
Please see our guide to choosing between chartering a bareboat, crewed or skippered catamaran, for a complete discussion of this topic.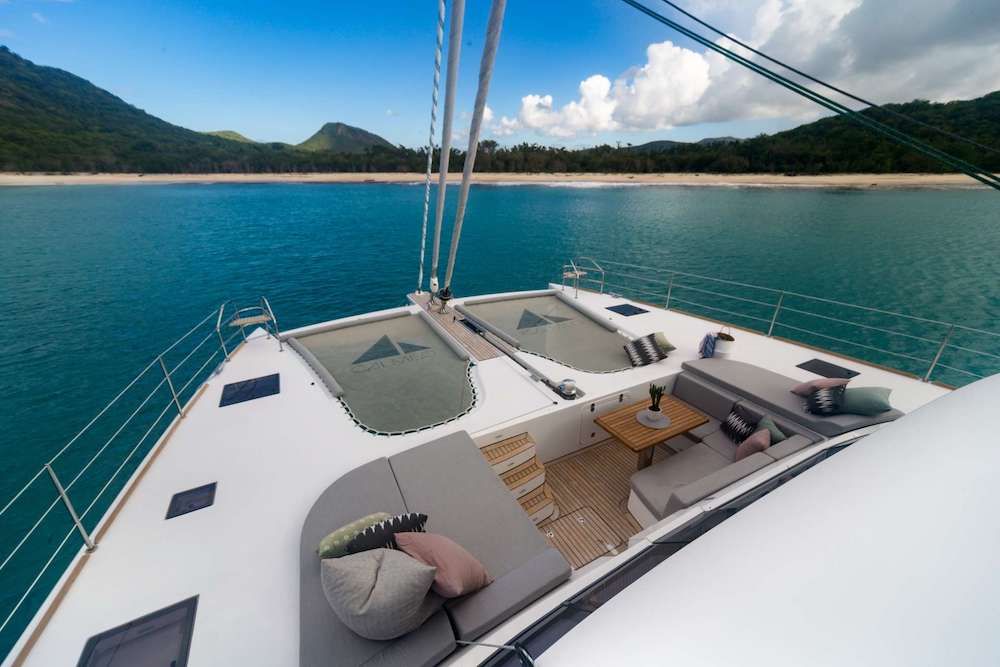 Chartering a Catamaran with Boatbookings
Boatbookings has an extensive array of catamarans that cater to a variety of needs. We listen to your requirements, recommend a selection of catamarans that fit, and then narrow it down to the best choice for you. In many cases, we've been on the boat and know the crew and charter operator on a first name basis. We provide unbiased advice because we don't actually own the boats, therefore we don't have to "push" one that may not suit. We are your personal charter agent - our service is free and the price is guaranteed best, moreover you have no obligation until you sign a contract.
There are two easy ways to get started with us, simply click below to see our catamarans and then narrow the search with the filter options, or simply ask us to do it by clicking the button on the right. We look forward to working with you and organising a memorable catamaran trip!
See our catamarans for charter The Boatbookings Advantage
Catamaran Interiors and Layouts
It is the interior space and layout of a catamaran that distinguishes it from other yachts. Below are the layouts of some of our most popular catamarans to give you a good feel for the comparative floor plans, living and sleeping space in order to help you determine the right catamaran for you.
3 Cabin Layout
A 3 cabin catamaran layout is perfect for a family where the parents can have the entire "owner's suite" giving them the space and privacy of the entire hull. This suite will often have a work area if you need to do a little business on the trip. The shared hull on the opposite side of the boat provides two cabins with plenty of space and either a shared bathroom or ensuites. This layout has a cabin with twin beds so that 2 kids can share a cabin.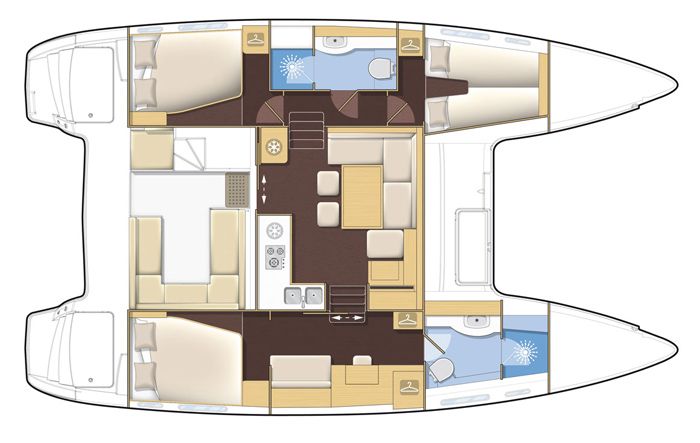 4 Cabin Layout
Each cabin has excellent privacy, either sharing a head with one other, or each having an ensuite. This particular layout offers 4 queen cabins with 4 ensuite bathrooms and showers. This layout is particularly good for up to 4 couples, as all of the cabins are essentially the same.
5-6 Cabin Layout
Larger catamarans, of around 52' and above often have 5 or 6 cabins for guests, as well as additional 'hidden' cabins for crew. These layouts are great for large families or up to 6 couples.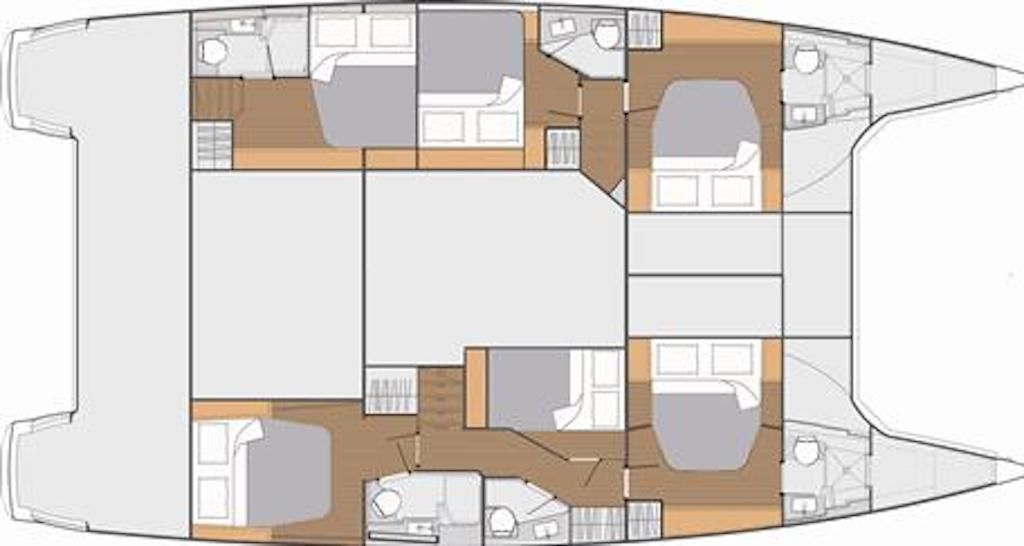 You can easily search for catamarans in specific locations by "number of cabins" desired on our top catamarans for charter page to see all of our boats available with the number of cabins you require. Alternatively, you can also search for the "number of passengers" (make sure if you want a skipper that you count him/her as a passenger).
Our Selection of the Best Catamarans Worldwide
Now that you know the basics - click on the links below to find the catamaran for you in your region! As always, we can do the work for you if you send us an email at charter@boatbookings.com.
---
| | |
| --- | --- |
| Catamarans in the Mediterranean | Catamarans in the Caribbean |
| Catamarans in the Indian Ocean | Catamarans in Asia Pacific |
---
For further information about Charter Destinations or Yacht Chartering click below.
Top Charter Destinations About Chartering a Yacht
Other Articles of Interest
Charter destinations