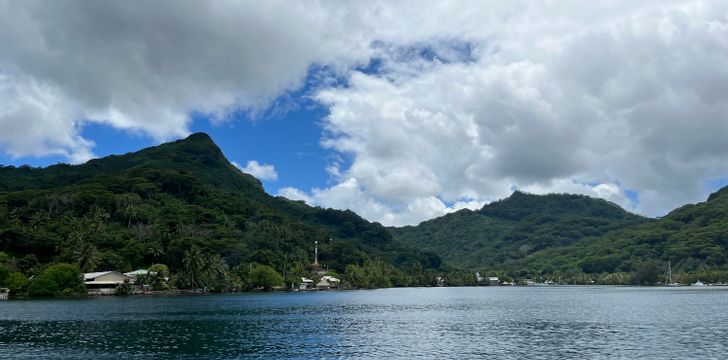 Your first morning, you will be greeted with a beautiful breakfast of fresh fruit, cheese, scrambled eggs and French pastries (croissants and pains au chocolat). If you need any items for the rest of the charter, from bathing suits to sun cream to medicine, stop for an hour or so in Fare where you will find what you need. Fare is a very small port town but does have a grocery store, internet access, and a few Polynesian food trucks. You can pull directly up to the dock, go ashore, and be back on the boat in no time.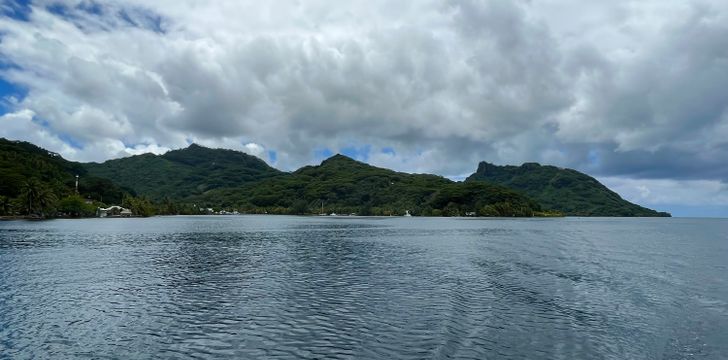 Fare is known for its view of a pregnant lady on her back – use your imagination! Anchored in a quiet spot just south of Fare for a beautiful fresh fish lunch flawlessly prepared in the Tahitian style - raw tuna mixed with lime, coconut, and local vegetables.
After lunch, cruise outside the atoll and directly west to Raiatea, about 3 hours – 22 nautical miles. Anchored in the stunningly beautiful bay near Motu Iriru, on the east side of Raiatea, and get out all your water toys! The water in this bay is amazingly clear and the views of the island are spectacular. You should see manta rays serenely swimming around the boat. Enjoy watching them from paddleboards in the late afternoon sun!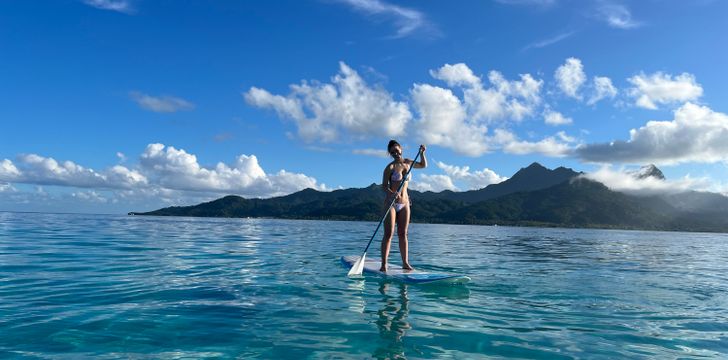 Or simply use the boat as your diving board!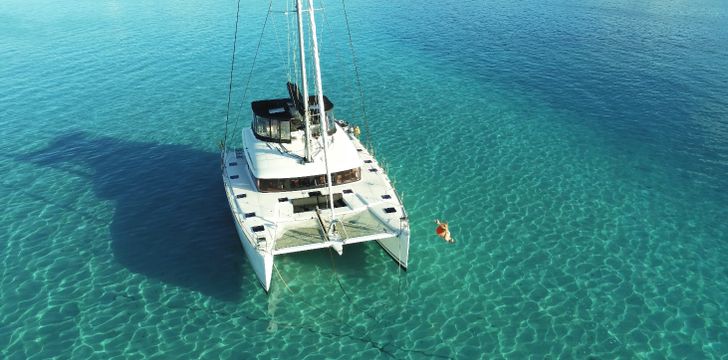 Stay anchored in the bay for the night and celebrate your second sunset on the flybridge.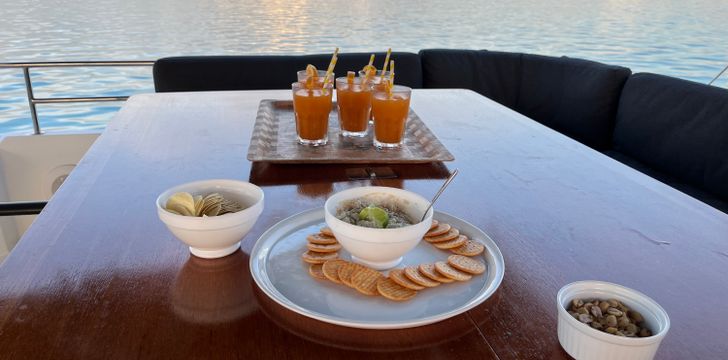 See more in our Tahiti Yacht Charter Guide
---
Day 3: Raiatea Hike & Taputapuatea Archeological Visit
Waking up in the beautiful anchorage, you'll enjoy a pancake breakfast, Tahitian style.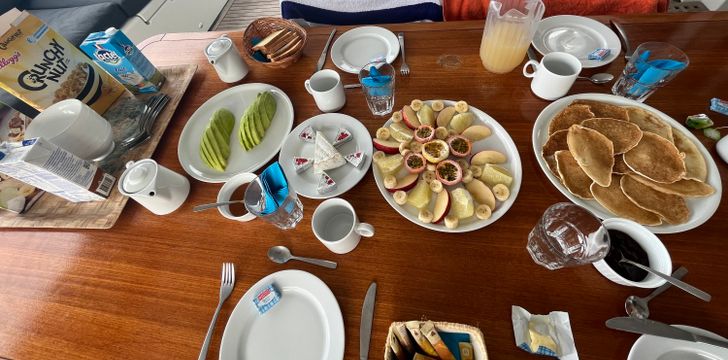 After breakfast, consider a hike on Raiatea at Taputapuatea marae, a UNESCO World Heritage Site that was once considered the central temple of Eastern Polynesia. You can do a self-guided tour of the temple's remains.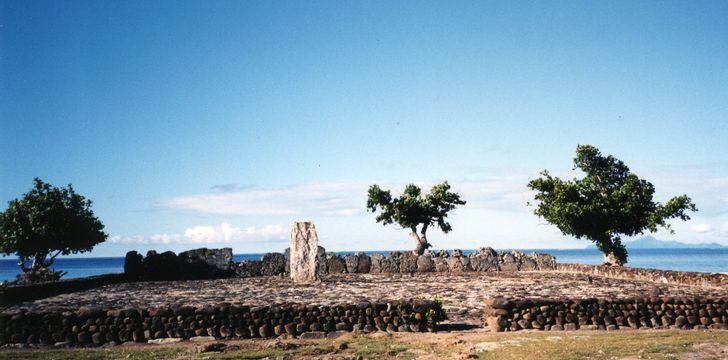 Photo by Michel-Georges Bernard
Then hike up the hill to get a view of the island and atoll from a different perspective. It will be humid but worth the 40-minute hike!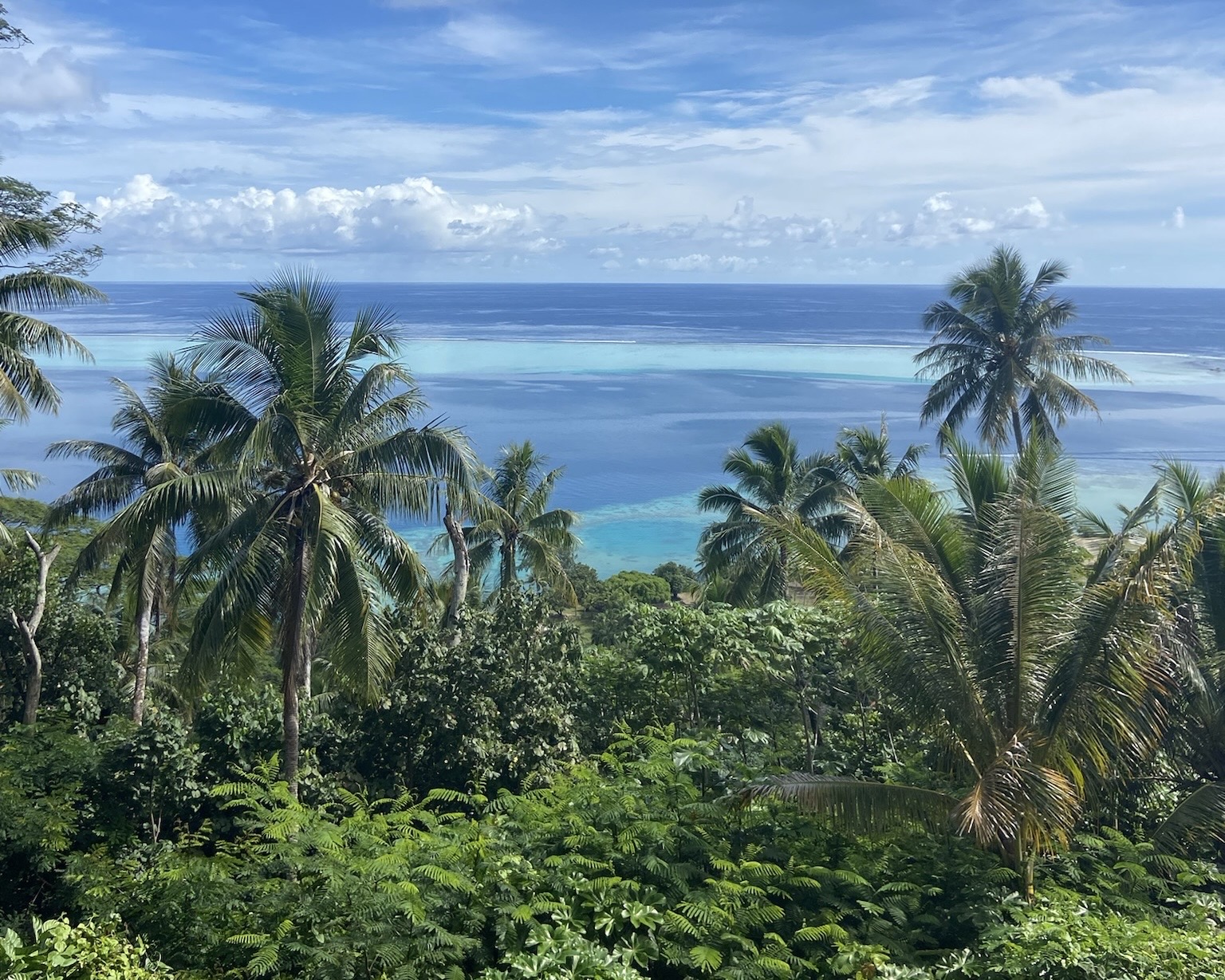 After the hike, you will sail to the south of the island and anchor in a pretty bay for lunch, this time marinated chicken and pineapple skewers.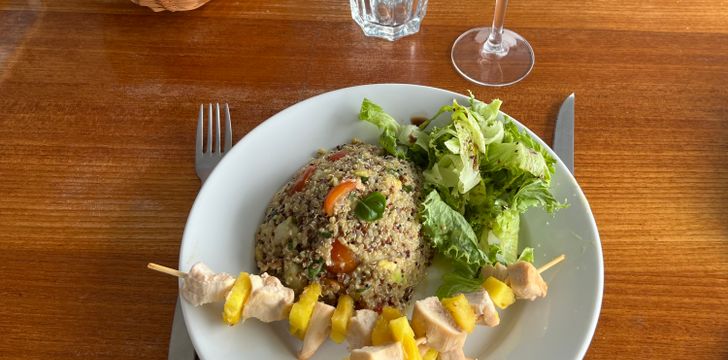 Sail just a short distance north for your evening's anchorage. Upon arrival, you can kayak and snorkel again and enjoy the beautiful clear waters of Raiatea.
A fresh fish dinner again, this time swordfish after yet another perfect sunset.
---
Day 4 – Pearl Farm visit and Coral Garden on Taha'a
Today you will have two true Tahitian treats, both unexpected: a visit to a real Tahitian pearl farm, and a swim in a coral garden that was chock full of the most glorious fish imaginable. But first things first.
After a nice breakfast of fruit, yogurt, and avocado toast, make the short sail to Uturoa and stroll through the village. It is a small town, but there are plenty of shops for bathing suits, sunglasses, etc., and a large Champion (French) grocery store. There are also numerous medical clinics if you need them for any reason.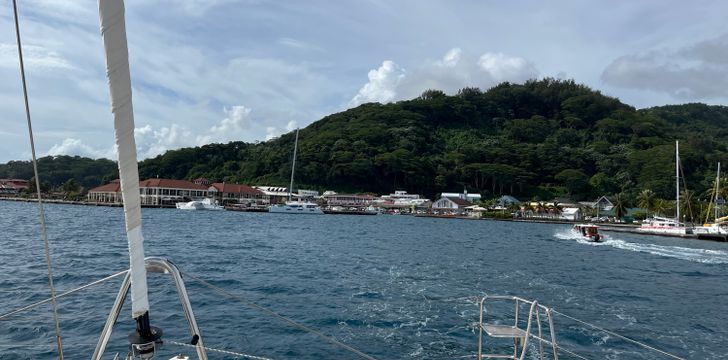 After restocking anything you need, such as sun lotion, head north to the small, beautiful, and largely unspoiled island of Taha'a, just a short sail north as both Raiatea and Taha'a are on the same atoll. A local on an outrigger may surf in your wake, as it makes the crossing a lot easier for them!
Anchor and head to the Champon Pearl farm, on the south tip of the island. This family-run farm will give you a tour that covers the process and steps for creating pearls, and insight into the pearl business.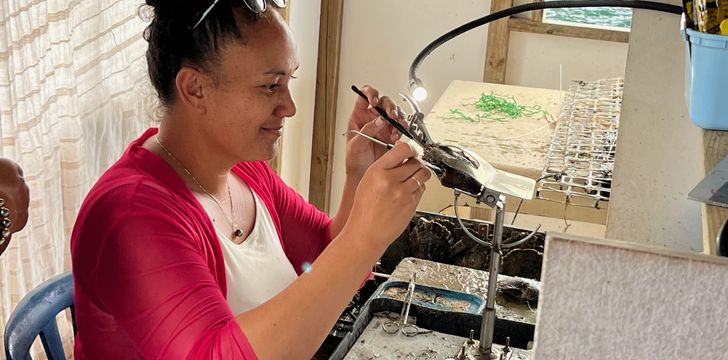 Here, on the dock, you can see a member of the family inserting pieces of shell and a little ball into the oyster so that it creates a pearl.
After learning about the process used to "encourage" oysters to make pearls, you will learn about the different grades and types of Tahitian pearls, similar to how diamonds are classified. Tahitian pearls are "black pearls" as opposed to the more common white pearls from Japan. They come in multiple shades and levels of brightness and can be really beautiful. Warning, you will come away with at least one pearl purchase.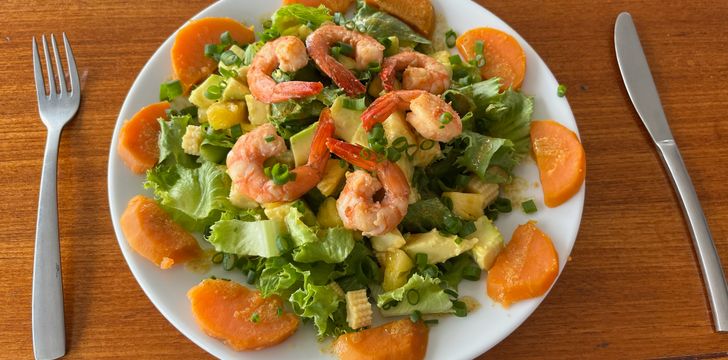 Back on the boat, sit down for a shrimp and avocado salad lunch, and then head up to your anchorage for the night, located on the northwest side of the island.
It is highly recommended that you get there early enough for on more amazing snorkeling expedition. Your captain will take you by tender to a coral garden full of some of the most amazingly colorful tropical fish imaginable. You walk across the black coral island for about 100 meters, jump in with your mask and snorkel, and are literally pulled by the current through the coral with fish surrounding you. Bring a bit of bread to attract the fish. You will be amazed.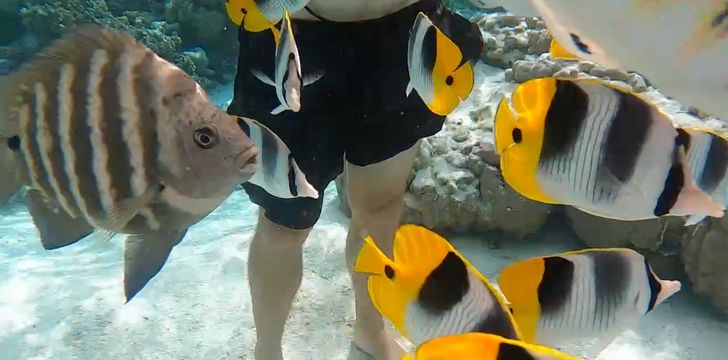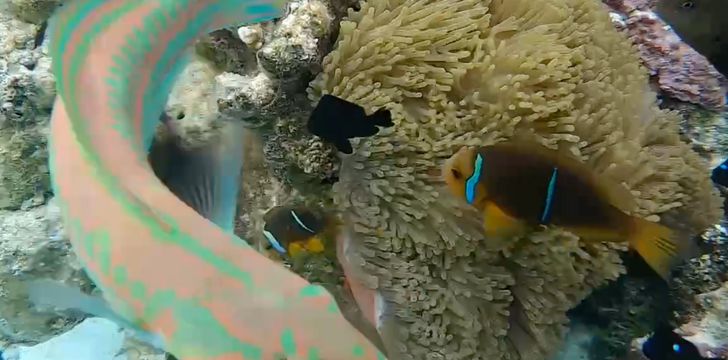 You will be mesmerized until the sun starts sinking in the west, at which time you'll need to return to your boat for mojitos and another fantastic dinner – this time a chicken coconut curry pasta dish topped off with a chocolate banana sundae.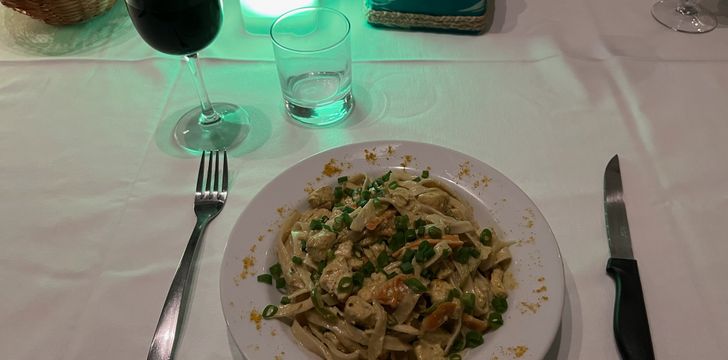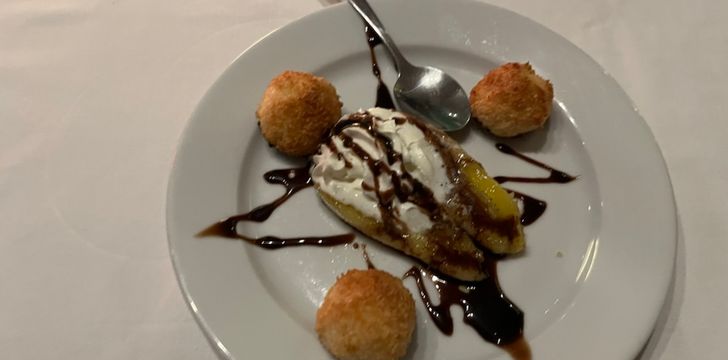 Such a memorable day, you'll wonder how it can get any better, but you haven't even been to Bora Bora yet (although you can see the beautiful volcanic mountains in the distance)!
Read more in our Tahiti Yacht Charter Guide.
---
Boatbookings has over 15 years organizing charters in Tahiti. Contact us if you'd like a personalized proposal!
Contact us to plan your Tahiti Charter
---
Day 5 – Lunch ashore at La Taha'a resort, Swimming with Sharks at night
Start Day 5 by going back to the Coral Garden for another swim with the fish, and then some more snorkeling and kayaking. A nice lazy morning just enjoying the beauty of the area.
Your charter will normally be scheduled for two meals ashore, so consider reservations for lunch at the Pearl La Taha'a resort just a short tender ride from your boat.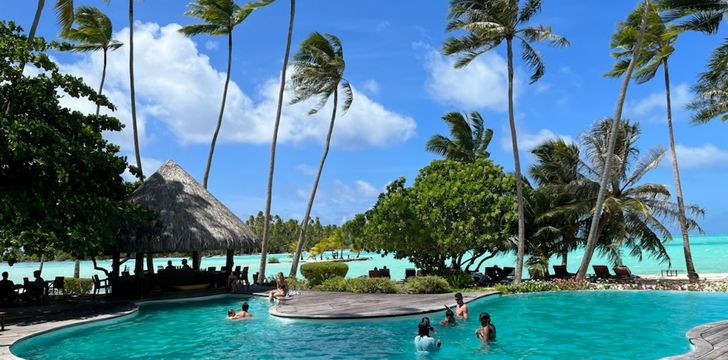 La Taha'a Pearl is a beautiful Relais and Chateau resort, and the food will not disappoint!
After lunch, your captain will pick you up at the dock, and then proceed on a sailing cruise around the island.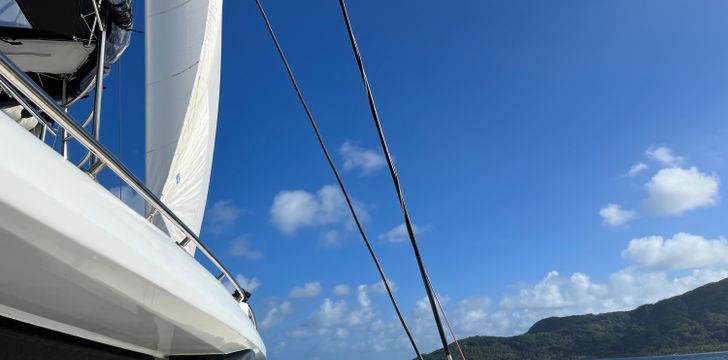 Anchor on the east side of the island, near the Vanilla farm you will be visiting the next day.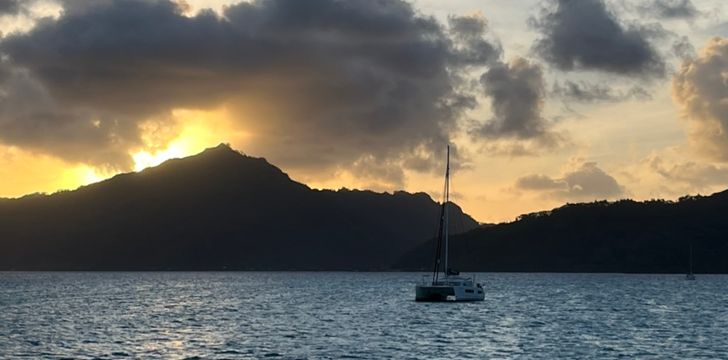 It never gets old – a gorgeous sunset over Taha'a and sundowner drinks, this time Pina Coladas. Tonight, you may have a nice Tahitian steak dinner, with a bottle of French Bordeaux.
After dinner, check the lights under your boat, as there may be numerous rays and sharks, no doubt wishing they had the steaks you had just finished! They are safe and you can actually swim with them off the tender lift if you are so inclined!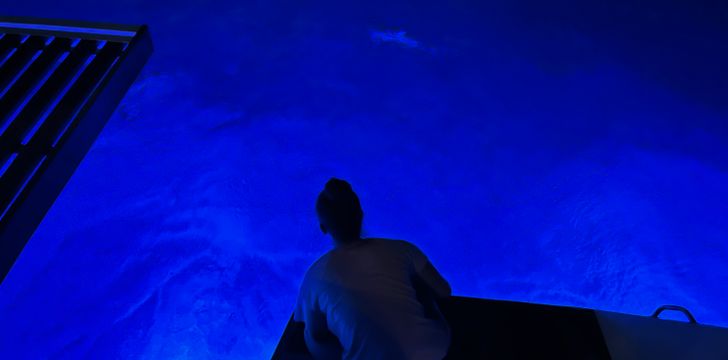 A great end to another amazing day in Tahiti.
Read more about Tahiti Yacht Charters.
---
Boatbookings has over 15 years organizing charters in Tahiti. Contact us if you'd like a personalized proposal!
Contact us to plan your Tahiti Charter
---
Day 6 – Vanilla Farm Visit, Sail to Bora Bora 
You will wake up this morning with the sense of excitement that you will be sailing to Bora Bora today - an island of almost mythical appeal. You will have seen glimpses of the volcanic mountains for a couple of days now, but today you will finally head over to it.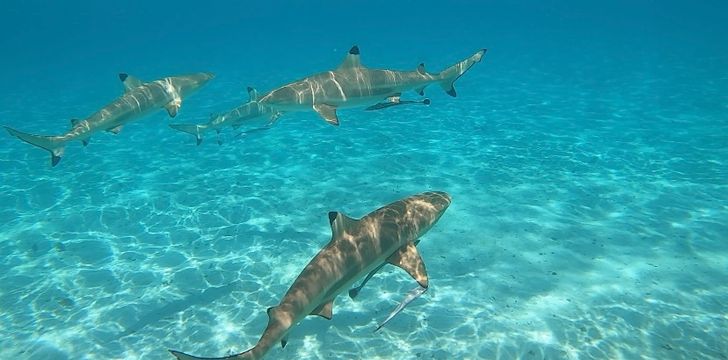 But first, take the opportunity to swim from your boat with some of the local Blacktip Reef Sharks that are hanging around from last night. They are not dangerous but are every bit sharks! Put on your masks and snorkels, and your captain will lower you into the water on the dingy lift.  It's a treat looking directly at these sharks (which look larger in the water) as they slowly swim past.
You can then set off by tender for a local Vanilla Farm. You will sit for a 30-minute talk about the Vanilla industry, its history and practices in Tahiti, and of course, have a chance to buy various products.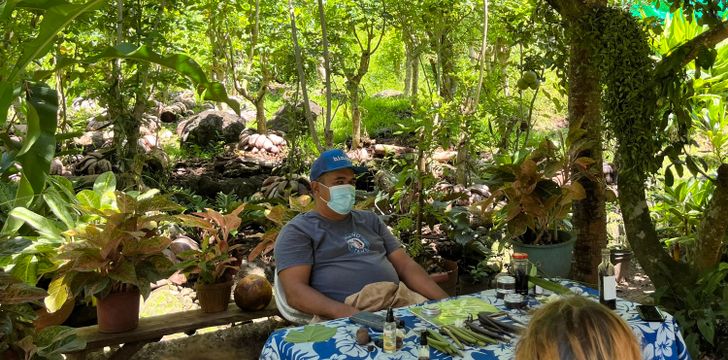 You then walk the farm and see the vanilla plants and beans drying in the sun.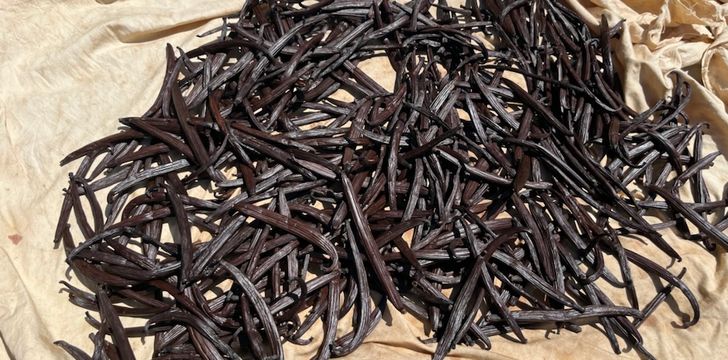 You will then sail around the island and head to Bora Bora – a 3 1/2 hour sail from Taha'a. Enjoy a good book and relax as the island grew larger in front of you.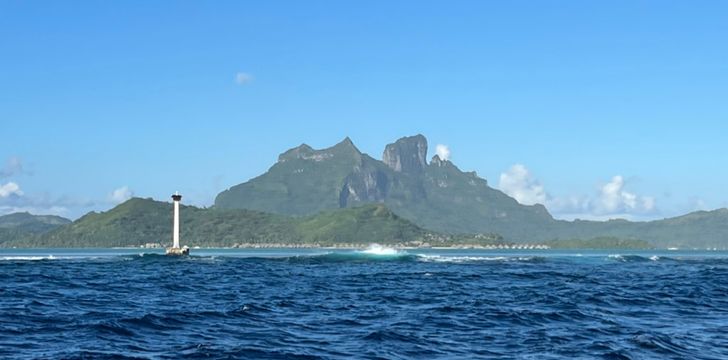 You will arrive in Bora Bora through the only "cut" just before sunset and moor in the main harbor with lots of other catamarans.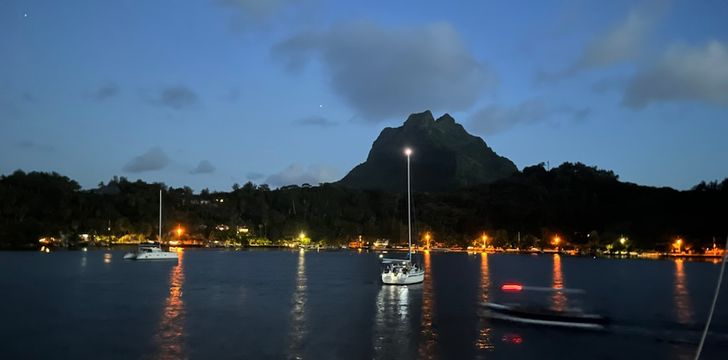 Consider getting reservations for dinner at the Bora Bora Yacht Club to meet other sailors and swap stories.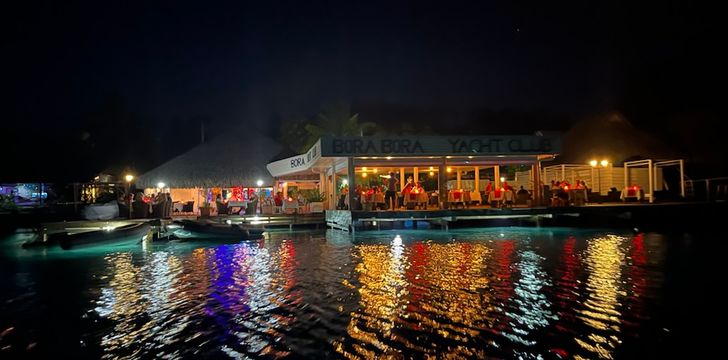 Another special day.
Read more in our Tahiti Yacht Charter Guide.
---
Day 7 – Enjoying the Beauty of Bora Bora
Your last full day is going to be special - you're visiting Bora Bora!
After breakfast, head clockwise around the island to the south side, past the beautiful hotels with hundreds of bungalows over the water.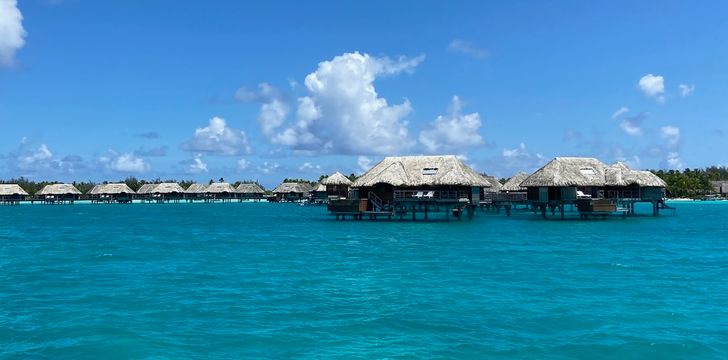 Your anchorage is spectacular - a huge shallow lagoon that offers a constant view of the Bora Bora peaks and waves crashing on the reefs.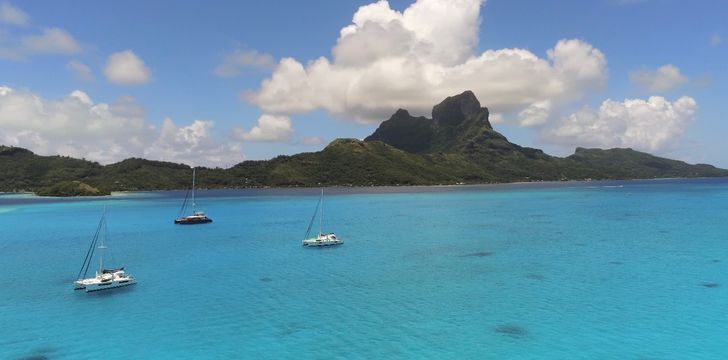 All around you you can swim and do watersports. This area is famous for the color of the water, and won't disappoint! Spend a quiet day snorkeling, kayaking, and swimming. As it is your last full day on the boat, you will want to enjoy every moment.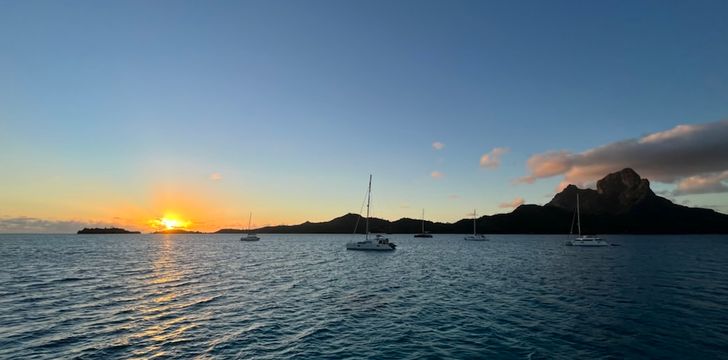 Hopefully, nature will bless you with another gorgeous sunset, this time with the Bora Bora peaks in the foreground.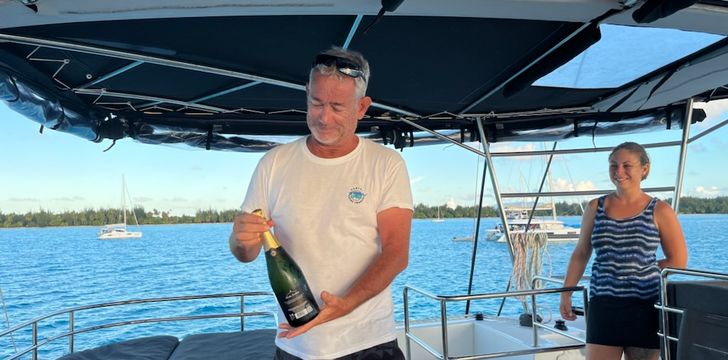 And of course, celebrate your last night with a bottle of Bubbly on the flybridge. Your chef will prepare something amazing for your last dinner.
Read more in our Tahiti Yacht Charter Guide.
---
Day 8 – Eagle Rays, Snorkeling, and Disembarkation
The final day of a charter is always bittersweet, so maybe make the best of it by getting up for the sunrise and savoring every moment.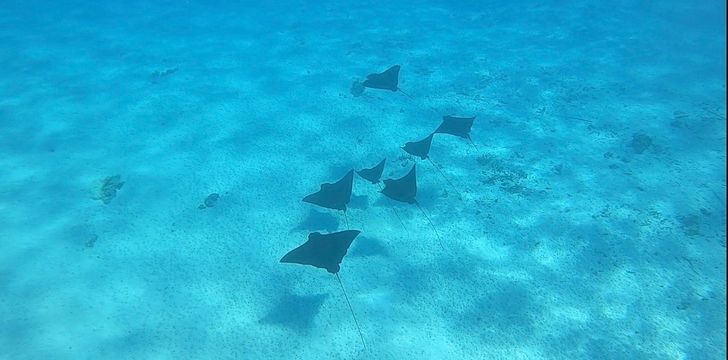 Ask your captain to take you by tender to a place in a remote reef where you may see Eagle Rays. They truly look like birds as they slowly swim together in synch. A breathtaking sight.
Then do your obligatory family jump off of the back of the boat, dutifully filmed by your captain from the tender.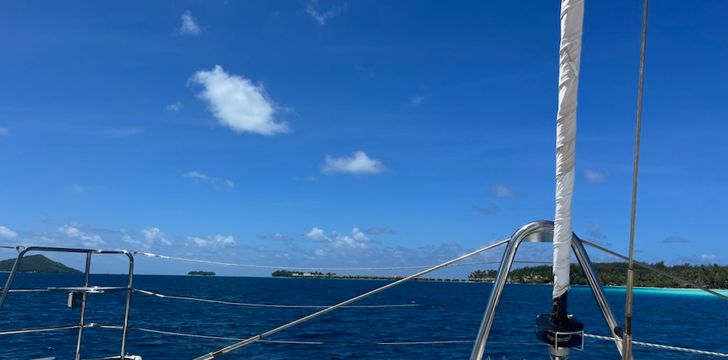 Around mid-day, it's time to head back around Bora Bora, past the WWII gun emplacements, and to your disembarkation point. We highly recommend that you stay a couple of nights in one of the many amazing resorts ashore, and make sure you book a bungalow over the water! One recommendation is the Pearl Le Bora Bora, right near the airport.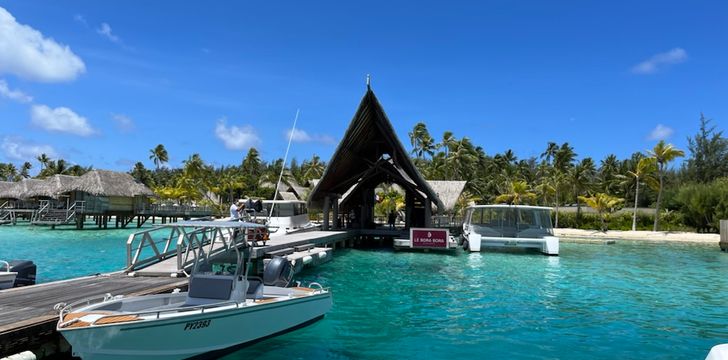 Disembarking at the Pearl Le Bora Bora. From one great adventure to another, without ever getting into a car!
We put together this stunning video if you have read this far and are not convinced you need to book a charter to Tahiti!
---
Final Thoughts
Hopefully, by now you can see that a Tahiti Crewed Catamaran Charter is a fabulous holiday for everyone in the family. The beauty and unspoiled nature of the islands, the food, the amazing water and snorkeling, the relaxed pace, the perfect weather, and friendly Polynesians. Hard to imagine how it could have been any better.
If you are interested, we highly recommend considering Tahiti for your next charter. Here's more information in our Tahiti Yacht Charter Guide. Or contact us directly at [email protected]! Mauruuru!
---
Boatbookings has over 15 years organizing charters in Tahiti. Contact us if you'd like a personalized proposal!
Contact us to plan your Tahiti Charter
---