Yacht Charter Basics - a brief overview!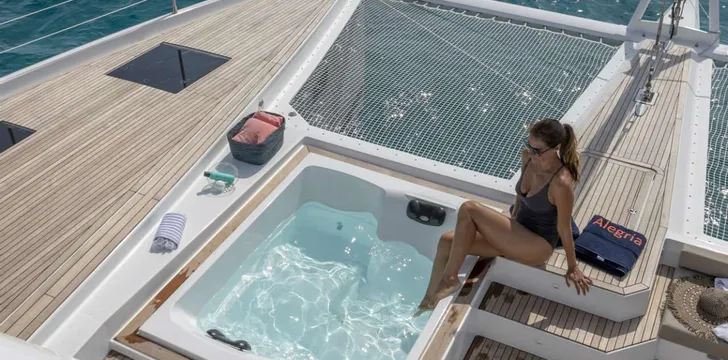 All Luxury Yachts and nearly all Motor Yachts that come with an experienced crew that is familiar with both the boat and the local waters. When you charter a luxury yacht the crews can range from 2-infinity. There are varying jobs within the crew. You typically have a host and skipper. When the yacht operates at 5* level and above the crew can extend to deckhands, spa/wellness, personal trainers and gourmet chefs. It truly becomes the most luxurious place in the world! We work closely with the crews so we can provide the most memorable experience for our guests. We visit the yachts and experience what our guests would experience, we would never offer something less than incredible to our clients. 
---
Luxury and Motor Yacht Charter

New technologies and better design have also greatly improved the ability to deliver a truly stunning holiday experience on a Motor Yacht, with plush accommodation and all the toys. It is not uncommon to find a Luxury Yacht with hot tub, plasma screen TV with surround sound and satellite channels, Internet access, gourmet food served just as you like it, and an entire range of water sports including scuba, windsurfing, jet ski, and water skiing. While these boats do not come cheap, again when compared to the price of a 5-star hotel for a week for 3-4 couples or a full family, you will often come out well financially and have the added benefit of the privacy and freedom that come from being on your own boat.
---
Catamarans vs Monohull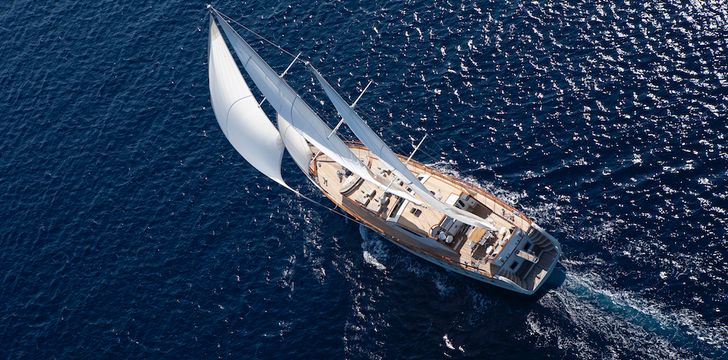 Personal preference plays a large role in your choice between a Catamaran and a traditional Monohull. While some sailors wouldn't dream of chartering a Catamaran, they do provide many features that make them a great and increasingly common choice for a variety of reasons. In general, Catamarans are easier to navigate in shallow water, provide great views from the spacious galley, have an excellent sun deck, and are generally more comfortable to stay on. You don't have to climb stairs to go inside, and you get more privacy because the cabins are separated from each other. On the flip side, Catamaran will never sail as well as a monohull. You 'don't feel' the wind as much as you do when you are monohull sailing. Also, there's nothing better than heeling!
See our crewed yacht charter guide  Our luxury crewed yachts  Tips for successful luxury yacht charters
---
Monohull/Sailboat Charter
Advances in boat technology have greatly reduced the amount of effort required to sail a bareboat, and made it safer and more enjoyable as well. GPS Plotters, Furling Mainsails, and better boat design both above and below deck have taken much of the manual labor out of sailing and therefore made a sailing holiday a viable alternative for a far larger number of holidaymakers. A gentle cruise through the British Virgin Islands need not be as daunting as it was before, and the experienced sailor can find many new high-performance boats for sailing on the high seas. If you want performance, you should look for a boat with a fully battened mainsail, which often now comes with a 'lazy-jack" that greatly simplifies lowering the sail. If you want greater ease while trading off slightly on performance, a self-furling mainsail that rolls into the mast is a great option.
'Creature comforts" are more and more being built into the whole range of sailboats. Better ventilation systems, (even air-conditioning on many catamarans), CD players with speakers both below deck and in the cockpit, well-equipped galleys, Autopilot and GPS, all combine to make sailing charters less spartan and more enjoyable for your crew.
---
Bareboat Charters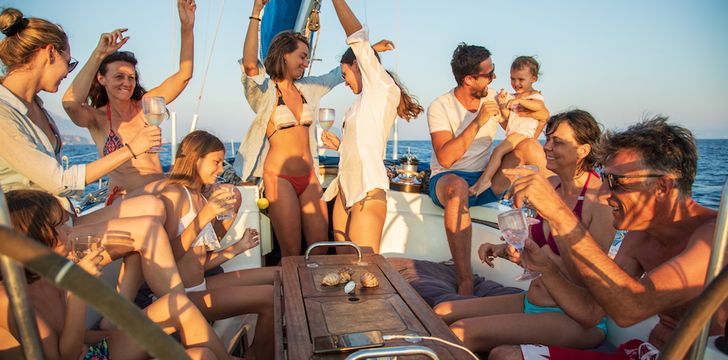 Bareboat – chartering a boat where your party is the crew – is the nautical equivalent of trekking without a guide. Bareboat Chartering gives one the feeling of tremendous freedom, self-dependence, and accomplishment, and you don't have to worry if you 'get along" with your skipper (or pay the costs). But bareboating does require that at least one of the members is an experienced sailor. It also requires that all on board take at least some responsibility for the ultimate safety of the group and that the appointed skipper not only knows how to sail but also how to organize and manage the crew.
Bareboats do best when it is clear that a single person is in charge, but that everyone has at least some role in the team. This can vary from hoisting sails to dropping anchor to cleaning or cooking (or rotating them), but a true team puts less strain on the skipper and has a better sense of shared accomplishment. Buying crew t-shirts or baseball hats prior to departure is a great way of building a sense of team with everyone.
See our bareboat yacht charter guide  See our list of bareboat yachts worldwide
---
Chartering "Bareboat with Skipper"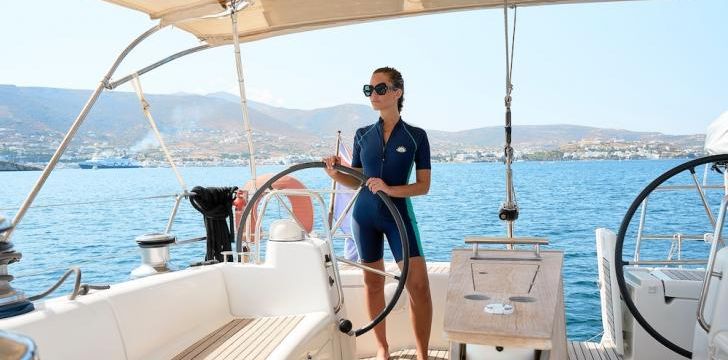 If you want to sail and actively participate in the charter, but don't want to have the worries of mooring, or concentrating about upcoming weather, local customs, we highly recommend that you hire your boat "bareboat with skipper". This is normally the best of both world's the skipper takes the worries away, but you can participate as much as you would like. For instance, we highly recommend adding a skipper, even if you are an avid sailor. You can all sail together and give everyone responsibilities, but you will be able to turn your full attention to being with your family. If you're interested in a skipper for your boat, feel free to let your charter manager know and we'll arrange for one.
You have a wide array of choices in boat layout and size in most ports we cover. We recommend that you take the time to read the specifications and study the cabin layout, as you don't want any surprises or disgruntled passengers who find out that they're sleeping in bunk beds when they were expecting a double, or that the entire boat has to share one head. In general, we recommend getting a boat that is slightly longer, hence a few hundred euros more expensive, as the addition of just one or two feet greatly increases the living space on the boat. If you're dividing the boat cost among several parties, the extra money will be a small additional outlay per person, and will almost always be significantly cheaper than a comparable stay in a hotel. As always, if you have any questions about the specifications, layout, or amenities of a boat, please contact us.
On the negative side, however, Catamarans are more tricky in light variable winds, don't point as high upwind, and don't tack as effectively. Catamarans do not have a deep keel which is great when navigating over shallow waters, but it does mean they are prone to windage and often get 'pushed' sideways creating a lot of Leeway.  
For a more detailed discussion of the merits and layout of Catamarans, click About Catamarans. We also have a nice page on Crewed Catamaran Charters - a part of the charter business that's growing very quickly because of the great value, comfort and service provided.
Try not to pack too many destinations or too great of a distance into the itinerary. Motor Yachts are expensive to run for large distances, but more importantly, you will want to reserve plenty of time to just relax, sightsee, do watersports, and not be churning across the seas all the time.
See our Luxury Yacht Charter Guide  Our Charter Sailing Yachts
See our Motor Yachts See our Luxury Yachts
---
Corporate and Specialty Yacht Charter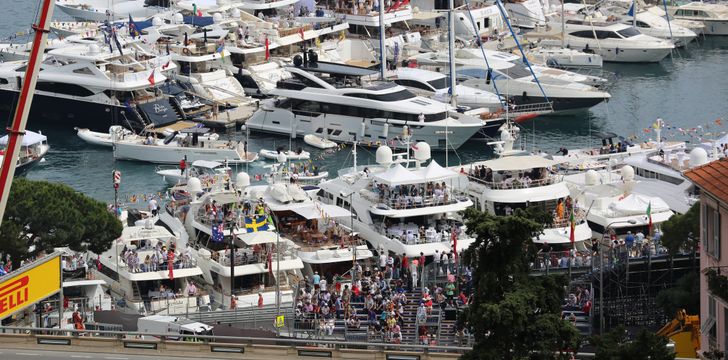 Customers and friends always feel specially treated when a meeting or event is aboard a boat, as opposed to a standard on-land venue. You often get great word-of-mouth advertising as well! Whether for an afternoon event, a day or a few days your business meetings will be more special. Having meetings on yachts is a great way to engage your listeners. It will always be a meeting to remember!
There are many types of yachts to choose from - ranging from classic ketch-rigged to 100' Power Yachts that provide your guests or business associates with the height of luxury. Over the past 14 years, we have witnessed that during high trade show times, we're seeing customers choosing to rent a boat instead of a hotel room. Sometimes it actually works out cheaper to stay on a luxury yacht than it does on land! This is especially effective in places such as Cannes during major trade shows like MIPIM or the Cannes Film Festival. For more information, click here for more information about Events and Static Charters. We have an office dedicated to events of this type - if you would like for us to make some suggestions or arrange for an Event please feel free to contact us.
Want to know more? We have a full section of articles in our Chartering Information section. You may also want to check out our "Frequently Asked Questions" page or lookup terms you are not familiar with in our Yachting Glossary.
 Our Helpful Yacht Charter Articles and Destination Guides
---
Other Articles of Interest
Charter destinations