Sardinia Yacht Charter Guide | Italy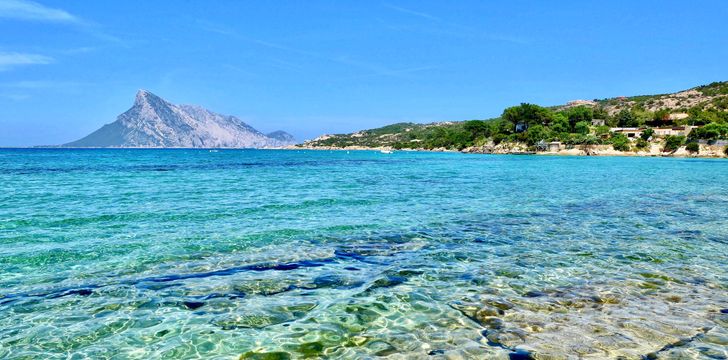 Charter a Crewed Motor Yacht, Crewed Catamaran or Bareboat Sailboat and discover Porto Cervo, Porto Rotondo, Southern Corsica and the Maddalena Archipelago for Summer 2024
Crewed Motor Yachts | Sailing Yachts | Crewed Catamarans | Bareboats | Key Charter Destinations | Climate | Cuisine | Our Sardinia Charter Yachts
A Sardinia yacht charter is one of the most exclusive vacations in the world. Sardinia's glamorous Costa Smeralda, or Emerald Coast, is a hub for the rich and famous adorned with 5-star hotels, exclusive restaurants and bars, haute couture designer boutiques and of course yacht charters! Sardinia's most appealing aspect is its unique natural allure and makes for an ideal vacation destination. The island is dotted with seductive beaches, lapped by turquoise waters; La Maddalena Archipelago national park is where some of the best beaches can be found and is a highlight of many Sardinia yacht charters. 
There are a number of options for boat rental in Sardinia, including day charters, week-long crewed charters or even bareboat rentals. Get in touch with one of the Charter Experts or simply email [email protected] to start planning your incredible trip; Sardinia is where broker Ben is going this summer! Check out our weather page to see when the best times of year are to charter.
A short hop away from the gorgeous northern coastline of Sardinia is the sensational Bonifacio in southern Corsica. With its exotic cliff-top setting above layers of limestone carved by the strong straits winds, this place is a must see! The port is full of restaurants and bars, but you could also head up to the town itself for a more traditional experience.
Crewed Motor Yachts Crewed Catamarans Bareboat Sardinia
---
---
Sardinia Crewed Motor Yachts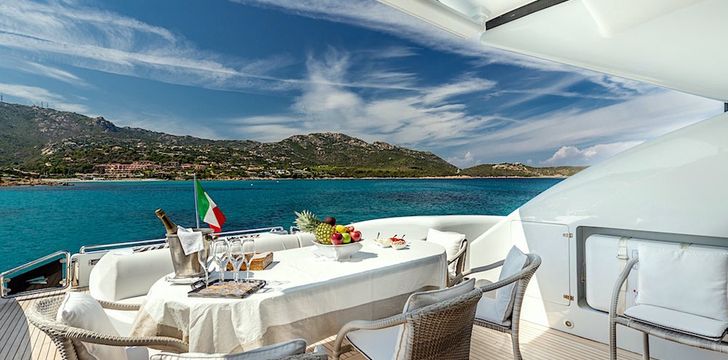 With destinations such as Porto Cervo, the Cala di Volpe, Poltu Quatu, La Maddalena and Bonifacio to visit, a motor yacht is a perfect choice for your Sardinia yacht charter to hop from one place to the next with luxury, speed and style. Offering extensive exterior spaces, perfect for soaking up the Sardinia atmosphere, stunning scenery and sunshine, a luxury motor yacht is an excellent choice for your charter with friends and family next summer! 
Sardinia Crewed Motor Yachts Sardinia Crewed Motor Itinerary
---
Sardinia Crewed Sailing Yachts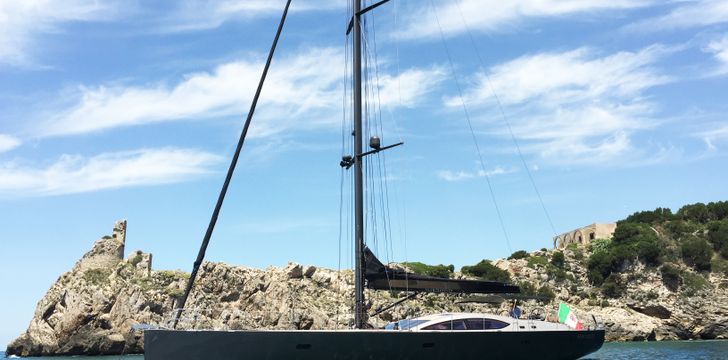 The whole of Sardinia provides outstanding cruising lined with miles of pristine white beaches. North Sardinia is the most popular area packed with beautiful and diverse anchorages within a short sailing distance of each other. Spend your morning enjoying a short sail to your next destination and the afternoon swimming and soaking up the Mediterranean sun on the spacious deck!
Sardinia Crewed Sailing Yachts Enquire Now
---
Sardinia Crewed Catamarans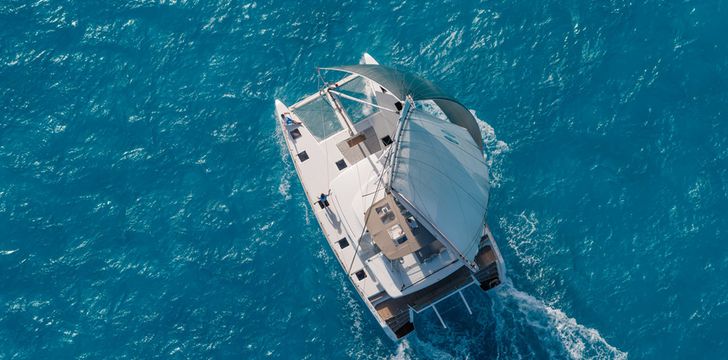 With no keel to worry about, a Sardinia crewed catamaran rental is the perfect choice for those wishing to anchor closer to the shore in the shallower waters of La Maddalena Archipelago, a gorgeous spot for snorkelling and swimming. You also benefit from more space and stability, making it extremely comfortable overnight, even when there is a slight breeze.
Sardinia Crewed Catamarans Book Now
---
Sardinia Bareboats
A bareboat rental in Sardinia is a guaranteed success thanks to the diverse range of adventures and private expeditions you can take your private vessel on. With such close proximity to Corsica, it's certainly not out of the question to board in either Portisco or Olbia and visit the impressive cliff town of Bonifacio during your voyage. The Costa Smeralda, as well as the famous Spaggia Rosa, are destinations that are best seen close up in their full beauty. Chartering bareboat gives you the opportunity to do just that. 
Sardinia Bareboats Sardinia Bareboat Itinerary
---
Key Sardinia Yacht Charter Destinations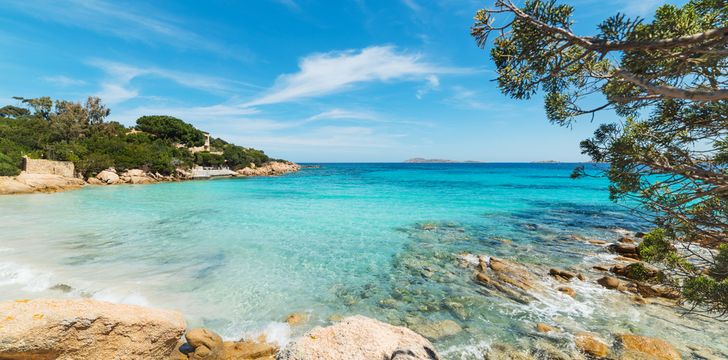 Sardinia is home to hundreds of private coves and stunning beaches with crystal clear waters in every shade from green to blue on the east coast and dramatic rock formations in the north. 
The resort harbours with superior infrastructure spread out all along the coastline of Sardinia. They welcome and entertain sailors by inviting them to discover the uniqueness of each Sardinian town and village along the way, helping you appreciate the pristine turquoise waters and the memorizing landscape of Sardinia!
Porto Cervo | Porto Rotondo | Portisco | La Maddalena | La Casitta | Phi Beach | Cala di Volpe | Cala Gonone | Castelsardo | Bonifacio | Santa Teresa Gallura | Stintino | Alghero | Cagliari
Bareboat Sardinia Crewed Catamarans Crewed Motor Yachts
Porto Cervo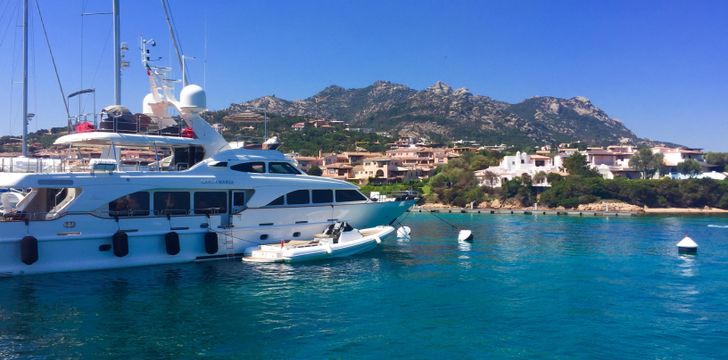 The heart of the Costa Smeralda and playground for the rich and famous, Porto Cervo is one of the most visited tourist ports in the Med. The town is full of exclusive nightclubs, bars and restaurants. Why not treat your family and friends to dinner at the breath-taking Pitrizza hotel located in a setting of unspoiled natural splendour.
Porto Cervo Charter Yachts Enquire Now
Porto Rotondo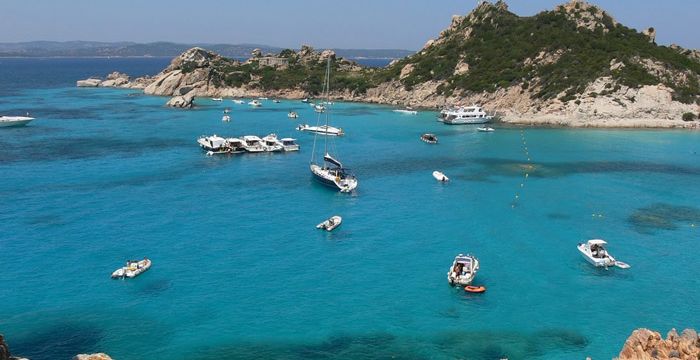 Around half an hour from Olbia airport, Porto Rotondo is the perfect place to join your yacht. A very pretty port with friendly people, beautiful architecture and mouth-watering food. DA GIOVANNINO is a must visit when in Porto Rotondo, perfect for romantic dinners and special celebrations with friends and family.
Porto Rotondo Charter Yachts Book Now
Portisco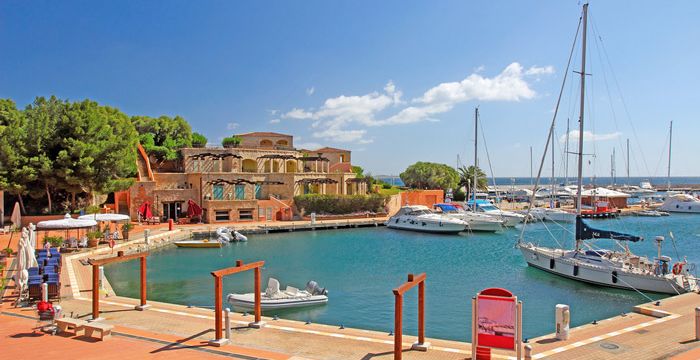 Portisco is also considered an ideal starting point to cruise the unspoiled waters of Sardinia. Providing easy access to all of the main attractions of the Costa Smeralda and Northern Sardinia, Portisco is the best place to begin your charter if you want to see the Costa Smeralda.
Portisco Charter Yachts Enquire Now
La Maddalena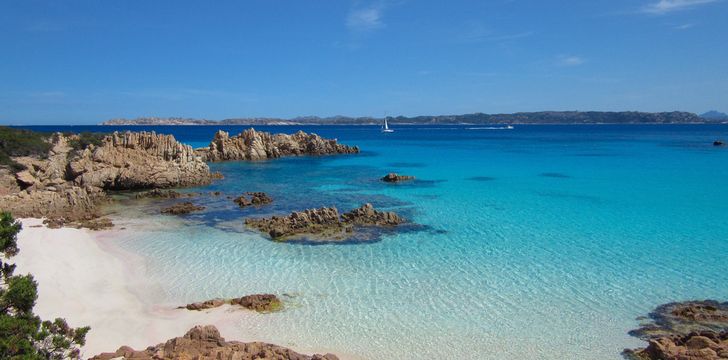 The unspoilt national park made up of 7 main islands and numerous small islets. La Maddalena's crystal clear waters are the perfect anchorage for an afternoon snorkel or to discover the beautiful beaches which can only be reached by your yacht, the best being The Spiaggia Rosa or Pink of Budelli whose exclusive pink sands made of crushed coral make this the pearl of the Maddalena.
La Casitta
Set on the small private island of Santa Maria, La Casitta offers beautiful views overlooking the tranquil waters of the Manto della Madonna. Spend the afternoon at the exclusive restaurant that can only be reached by boat.
Phi Beach at Forte Capellini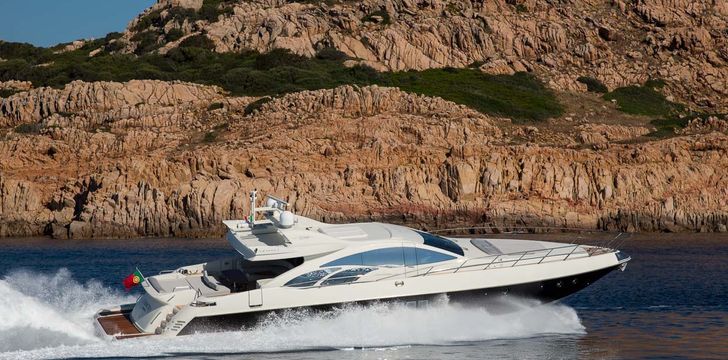 Nestled on rock formations shaped by the sea, Phi Beach is the best place to see the sunset in Northern Sardinia. Attracting guests all day and all night for a delicious lunch in the canopies and lounge area, dinner in the restaurant and a DJ to entertain you in the Rock Club, this beach club is not to be missed!
Cala di Volpe
The Cala di Volpe bay is a very popular anchorage for yachts in the height of the summer. The famous 5 star Cala di Volpe hotel is not to be missed during your Sardinian yacht charter, with a selection of bars and restaurants offering Mediterranean style cuisine. The hotel even has a wine tasting cave with over 400 bottles of the world's finest wines.
Cala Gonone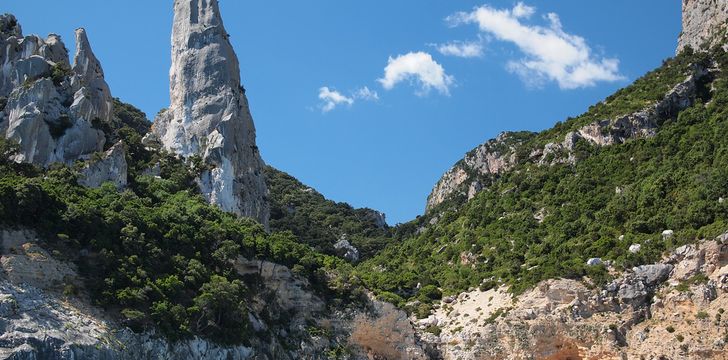 Cala Gonone is home to some incredible beaches, which are perfect for families with young children, teenagers and couples alike. The most secluded beaches can only be reached by boat. Cala Gonone is also renowned for its deep marine grottos, the most famous being Grotta del Bue Marino, a luminescent gallery filled with remarkable natural sculptures.
Castelsardo
This extraordinary Medieval town is home to the Elephant's Rock, one of the symbols of Sardinia, and the incredible Cathedral di Sant' Antonio Abate, a great place for taking photos and where the views over the Asinara gulf are incredible.
Bonifacio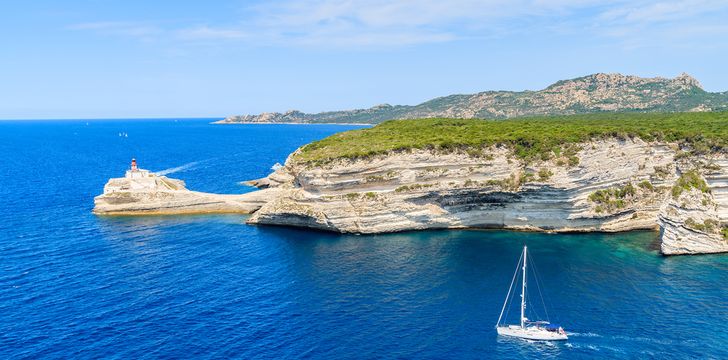 After a wonderful cruise across the straits of Bonifacio from northern Sardinia to southern Corsica, you arrive in this very picturesque port, which is buzzing with restaurants and bars. If you head up to the village perched on the milky white cliffs you will find more authentic food and a stunning view overlooking the azure waters below.
Santa Teresa Gallura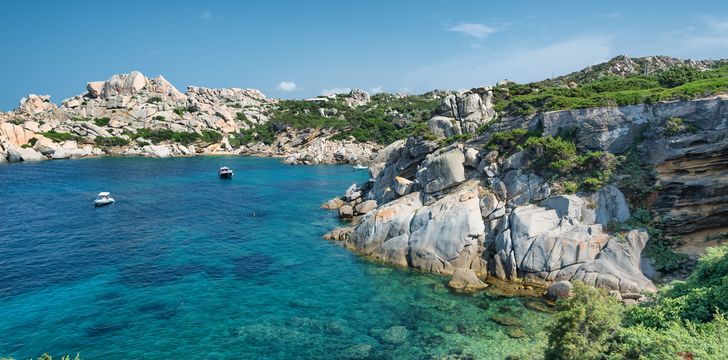 The unique natural harbour of Santa Teresa Gallura is a portrait of an enchanting coastal village that offers a variety of excellent accommodation options and excellent leisure facilities. An old lighthouse, overlooking Cala di Luna, is casting its guiding light to the white cliffs that mark the entrance to the port of Bonifacio, Corsica.
Gallurese Coast Itinerary Speak To A Broker
Stintino and the Island of Asinara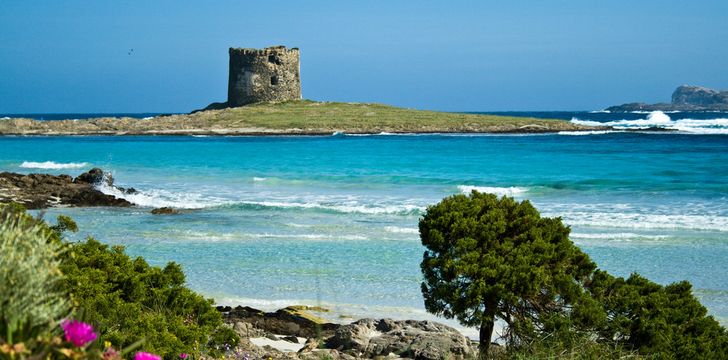 Overlooking the Gulf of Asinara, Stintino is home to La Pelosa beach. Beautiful white sand and crystal clear shallow waters in between the land and the ancient 16th-century watchtower make this one of the best beaches in the Mediterranean. The beach is 300 metres long and up to 60 metres wide in some parts. It's best to visit in low season (June or September) to avoid the high season crowds.
Alghero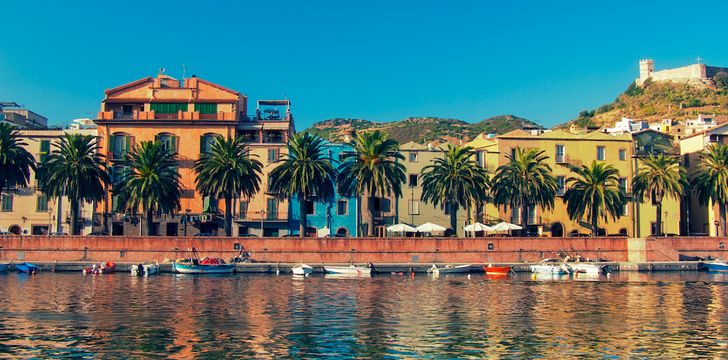 Alghero is situated on the northwestern coast of Sardinia and is a real treasure with a strong Catalonian influence. It underwent Spanish colonisation for a lengthy period of time which left its mark on the local language and in many vivid traditions. The Port of Alghero is right underneath the ancient walls of the town's historical centre opening towards the sea.
Cagliari & Carloforte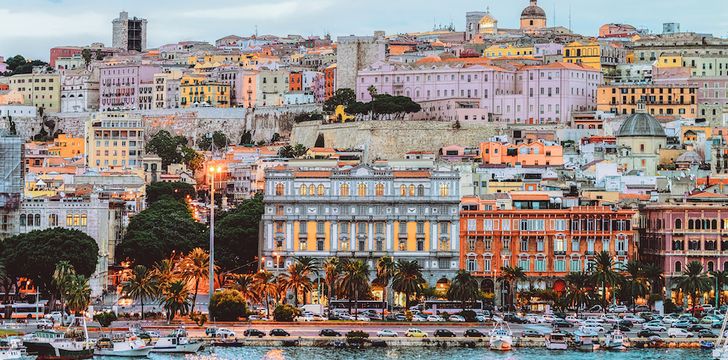 This vibrant place full of fascinating traditions and friendly people is a historical city and the leading centre of the Sardinian economy at the same time. Walk the streets of its historic district and discover the cosmopolitan flair of this unique town where culture, folklore and cuisine are essential to the island's beauty. Excellent local facilities and inviting little bars and restaurants create an enjoyable atmosphere and fill the air with the aroma of spices and delicious food.
Carloforte has many traditions but its wine and food continues to gain importance especially thanks to the two festivals: 'The Tabarkan Couscous Festival' in honour of the Tunisian dish revisited in Genovese style and the 'Girotonno', the main event of the summer where you can watch live cooking of their world-renowned tuna in a huge feast of flavours and taste.
Cagliari Charter Yachts South Sardinia Itinerary
---
Getting to Sardinia
By Plane
The easiest way to reach Sardinia is by plane. Cagliari, Alghero and Olbia are the three main airports and they all receive international flights, with charter flights arriving from all over Europe. Those coming from North America and Asia will invariably have to change at Rome, Naples or Milan.
Cagliari-Elmas Airport in the south of the island is Sardinia's main airport and has the best facilities and the best overseas connections. Olbia Costa Smeralda Airport is situated on the northeast coast and serves Costa Smeralda, while Alghero-Fertilia Airport serves the north and northwest of Sardinia. As the island is quite large, it's a good idea to fly to the airport nearest your destination if at all possible to avoid high taxi fares.
By Ferry
It's perhaps more romantic to approach Sardinia by ferry, especially when you plan to bring your own car. Slow and fast ferries run daily to Sardinia including overnight services. These ferries have cabins, bars and restaurants, and are best booked ahead of time. The major ferry routes go from Genova, Livorno and Piombino to Olbia, Golfo Aranci and Porto Torres in the north and northeast of the island and from Palermo (Sicily), Naples and Civitavecchia (Rome) to Cagliari.
Bareboat Sardinia Crewed Catamarans Crewed Motor Yachts
---
Sardinia's Climate, Winds and When to Visit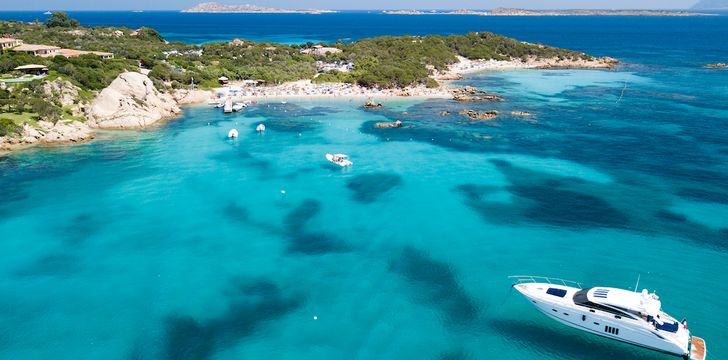 Sardinia has a Mediterranean subtropical climate that is perfect for yachting holidays. It has long, dry summers and mild, damp winters with snow only in the higher regions. The average temperatures lie between 14° C and 20° C, and temperatures in the summer months rise, particularly in the coastal regions to approximately 30° C.
In Sardinia, the duration of the seasons is different from other Central European countries. Winter lasts from December to February, and around Christmas, the so-called Saint Martin Summer ("estate di San Martino") normally brings mild temperatures of around the 18° C for 4 to 5 days.
Spring begins in March, which gives way to an early Summer in the middle of May. July and August are high Summer months. September it is still summery warm (and much less crowded), and in October late summer temperatures still prevail. The month of November represents the short Sardinian autumn before it becomes winter in December with humid days.
The island is surrounded by warm Mediterranean sea and sees plenty of sun. Sardinia enjoys 7 hours of sunshine each day in April, rising to 11 hours in July.
Winds: The dominant wind is the Mistral, which blows from the northwest. It is most prevalent in winter and spring but doesn't blow periodically throughout the year.
Sea Temperature: The Sardinian region of the Mediterranean Sea not only looks beautiful but it stays warm all year. Even in the coldest months, January to March, the sea temperature does not fall below 13 °C. From June to September it's 21-23 °C and in July and August up to 26 °C.
Bareboat Sardinia Crewed Catamarans Crewed Motor Yachts
---
Sardinian Cuisine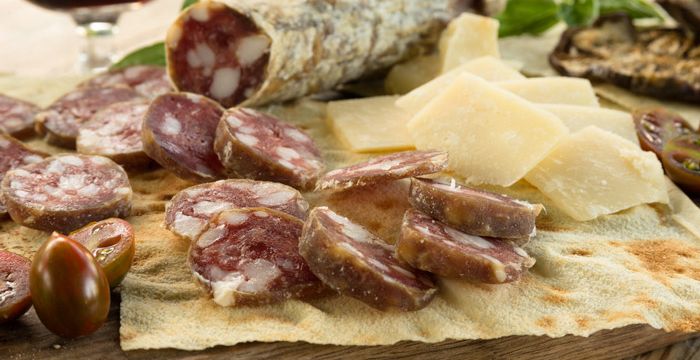 The Sardinian cuisine is exquisite in its simplicity, made from genuine, fresh ingredients and essential flavours and has the taste of the island itself, with fish from the sea, herbs from the mountains and fruit and vegetables ripened in the warm Mediterranean sunshine.
The choice of fish dishes is endless. Lobster is prepared with citrus fruit in Alghero, with tomatoes in Bosa, grilled in Sant'Antioco and with white wine in Santa Teresa di Gallura, while bottarga (salted or dried mullet or tuna eggs) is a favourite all along the south-west coast of the island and is considered Sardinia's caviar.
In Sardinia, you'll find a wide range of dining options. There is a huge choice from cheap and cheerful pizzerias to sophisticated restaurants for fine dining with excellent local cuisine. Make sure to visit one of the typical "Agriturismo" restaurants that usually serve a set menu of local Sardinian dishes. Typically included are Pane Carasau, wafer-thin sheets of toasted bread also known as 'carta da musica' (music paper), ham, sausages and Pecorino cheese, homemade pasta such as culurgiones (ravioli with a variety of fillings) and malloreddus, typically served with slices of sausage and tomato sauce followed by farm reared suckling pig (porcheddu) roasted with garlic and rosemary potatoes.
Finally the desserts. 'Seadas' are round, sweet ravioli, filled with cheese, which are fried and then covered in honey. Make sure you try a glass of the local digestivo Mirto or Limoncello afterwards!
The Sardinian wines are considered among the best in the world, noted for their fragrance, strength and smoothness. It might be the combination of the mild climate, the limestone terrain, the sea air and the wind and the ancient tradition of winemaking. Modern technology has been skilfully combined with the wisdom of generations of winemakers to produce prestigious wines for all palates and dishes. The fragrances and the colours blend together to reflect the unspoiled nature of this land and its people. The most famous are Cannonau, Carignano del Sulcis, Monica, Nuragus, Vermentino, Malvasia and Vernaccia.
---
Our Sardinia Charter Yachts
Boatbookings will work with you to understand your preferences, requirements and match them to the perfect yacht. We can organise all types of boat hire in Sardinia and surrounding waters for your next yacht charter holiday and vacation.
Contact us for a Personalised Charter Proposal
---
Similar Destinations: Amalfi Coast | Italian Riviera | Tuscany | Sicily | the French Riviera | Monaco | Corsica | Mallorca | Ibiza | Croatia | Greece | British Virgin Islands
Other Articles of Interest
Charter destinations