Mallorca Yacht Charter and Boat Rental Guide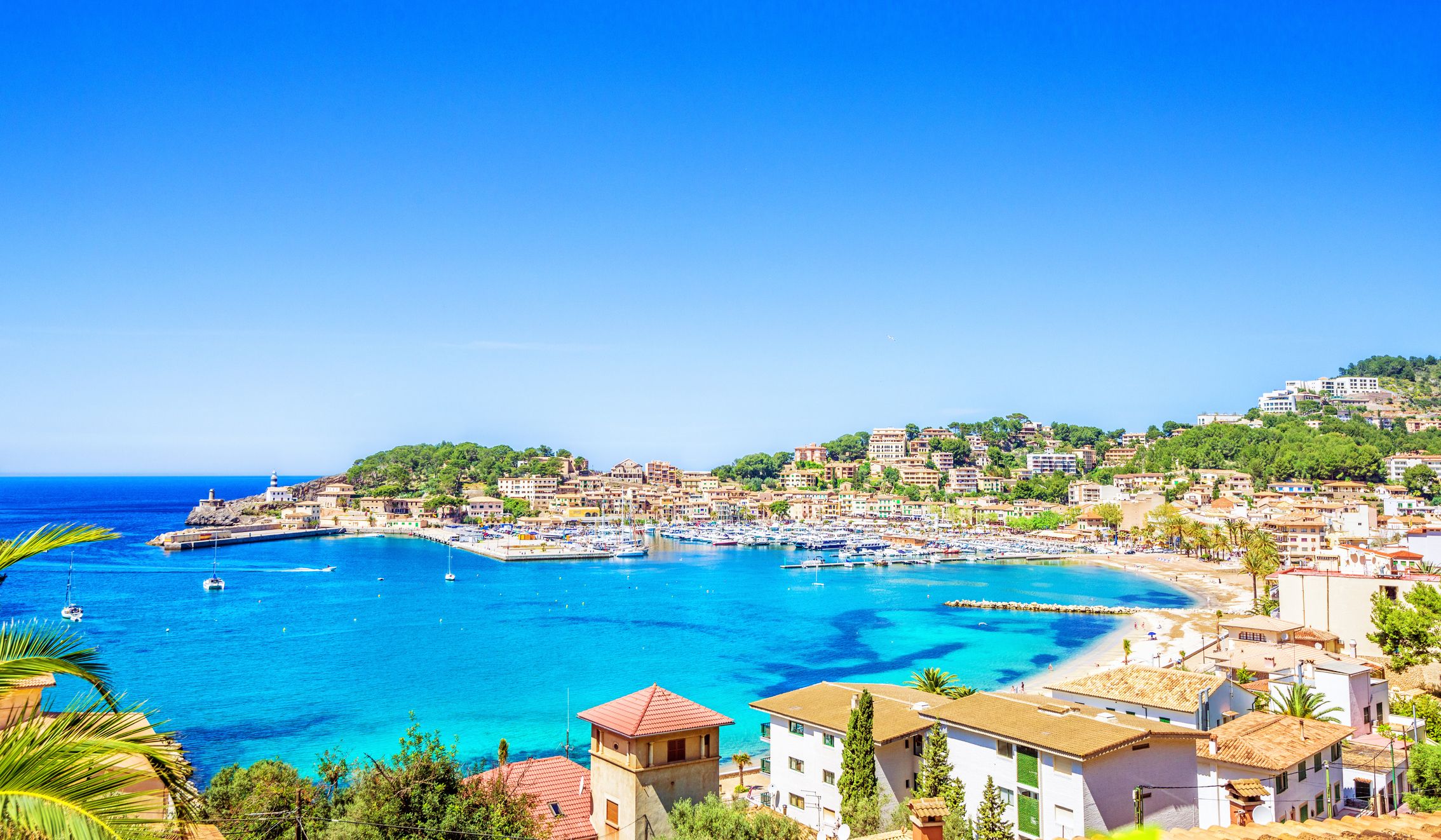 Planning Your Mallorca Luxury Yacht Charter - Key Places to Visit on Your Mallorca Yacht Charter Holiday
About Mallorca |Crewed Motor Yachts | Crewed Sailing Yachts | Crewed Catamarans | Bareboat Yachts | Palma | Mallorca Destinations | Sailing Ideas | Chartering in Mallorca| Cuisine | Getting There | Climate | Our Mallorca Charter Yachts
About Mallorca
Mallorca, the largest island in the Balearic archipelago, offers all that you could wish for in a yacht charter destination - crystal clear waters, gorgeous weather, world-class ports, beautiful anchorages, stunning natural parks, delicious Spanish food, and unique Spanish culture.
Along with its "sister islands", Ibiza, Formentera and Menorca, Mallorca is an extremely popular destination for yachting enthusiasts of all types with its wide array of stunning beaches, coves, and endless locations to try out the latest water sports!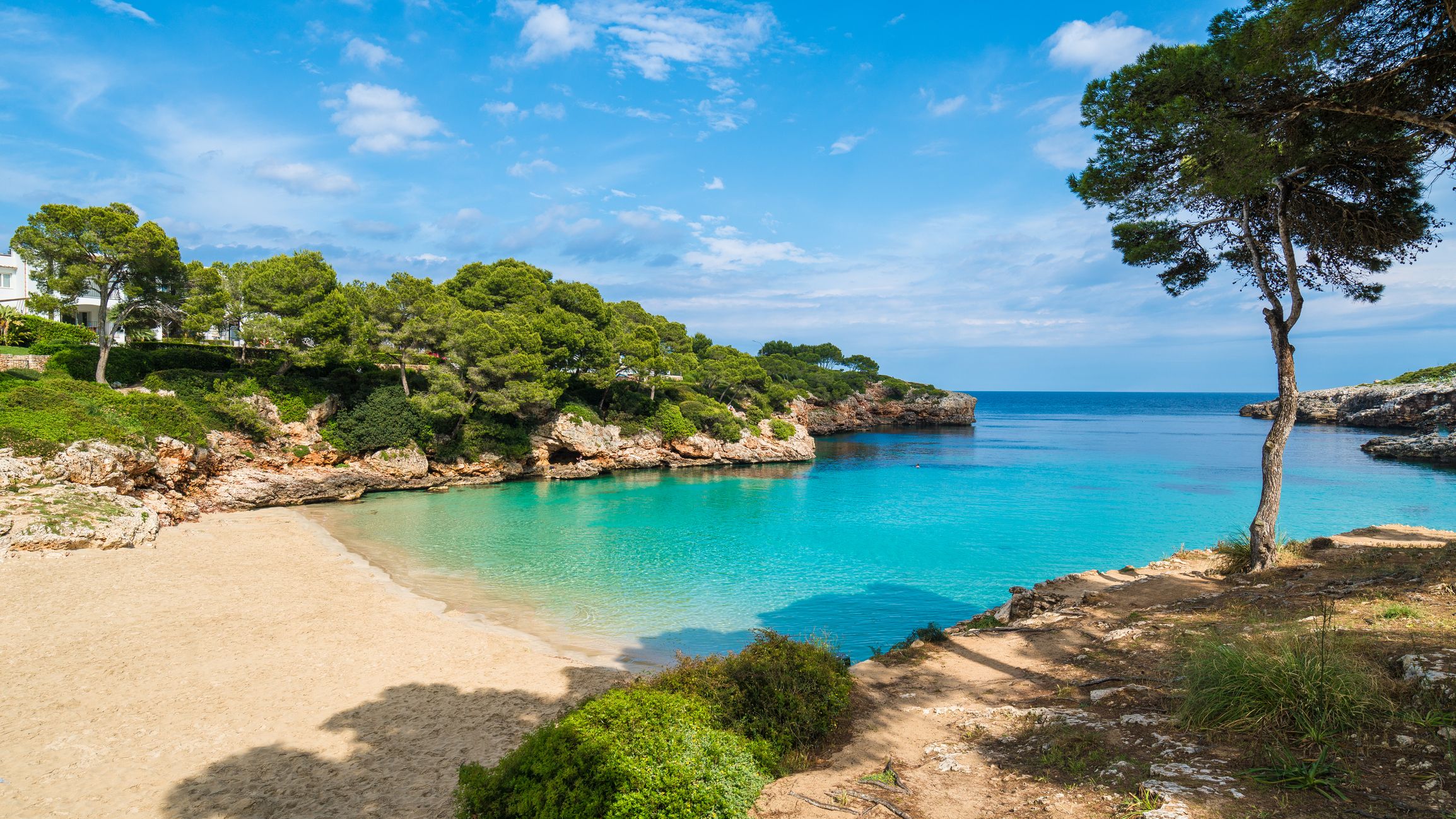 Mallorca's clean, crystal clear waters are ideal for bathing and for water sports such as scuba diving, water skiing, windsurfing, fishing, sailing, and surfing for all levels.
Despite being one of the top holiday destinations in Europe, the natural attractions of the island have been well preserved. Almost 40 percent of Mallorca is protected countryside and the landscape is marked with caverns, pinewoods, green hills, and jagged mountains.
The Sierra de Tramuntana Mountains in the north have peaks reaching more than 1,400 meters above sea level. Beyond Andratx to the west is the Sa Dragonera Nature Reserve and to the northeast is the Albufera Nature Reserve, one of five that exists in the Balearic Isles. Another highly recommended outing is to the Cabrera National Park, a group of islands and islets less than an hour away from Mallorca.
Mallorca has two mountainous regions each about 70 km in length. These occupy the north-western (Serra de Tramuntana range) and eastern thirds of the island. The northeast coast comprises two sweeping bays: the Puerto Pollensa and the larger Badia d'Alcúdia. This combination of mountains and bays makes for great scenery while you sail around Mallorca and neighboring islands.
---
Our Top Mallorca Charter Yachts
---
Mallorca Destinations
Palma | Valldemossa | Andratx | Valldemossa | Sóller | Deià | Puerto Portals | Serra de Tramuntana
Palma - The Heart of Mallorca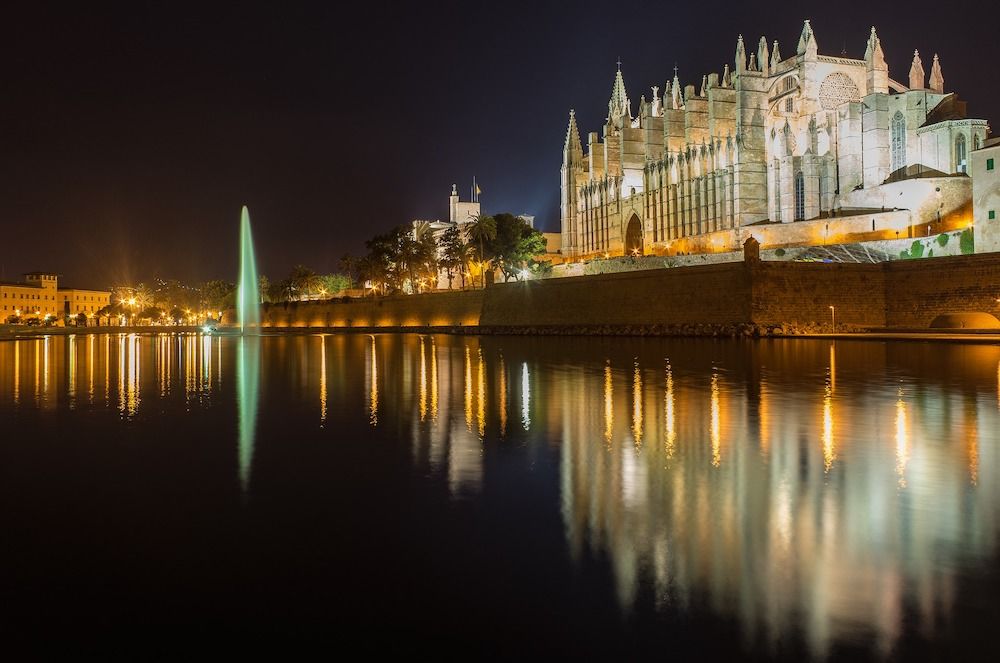 Palma is a cultural hub filled with stunning architecture and fascinating history of Rome, Moorish architecture, and the famous writer Ramón Llull to explore. Expect to uncover the different layers of Mallorcan history during your charter, such as the Roman city that still exists 2 meters below the ground. For the best views of the city, look up from the waterfront and witness the cathedral and Almudaina Palace soaring proudly above the defensive walls of the old city.
You can also admire Palma from above with a short climb to the Bellver Castle, one of Europe's very few round castles. Explore the charming streets by foot or take the Soller Railway for a 17 mile stunning and scenic trip.
See our Guide to Palma enquire now
Head outwards from Palma to explore a myriad of different landscapes and cultures- from the peaks of Sierra of Tramuntana that reach 1,400 meters to the nearby picturesque towns and villages, such as Deia, Pollensa, and Valldemossa, whose unique atmosphere has captivated artists for centuries, a Mallorca yacht charter will leave you spoilt for choice.
To the northeast are the bays of Alcúdia and Pollença and the Formentor peninsula, which are important tourist areas where the pine groves reach all the way to the beach. In Alcúdia, the old walls are still preserved, as well as the ancient Roman city of Pollentia and the amphitheater.
Port Andratx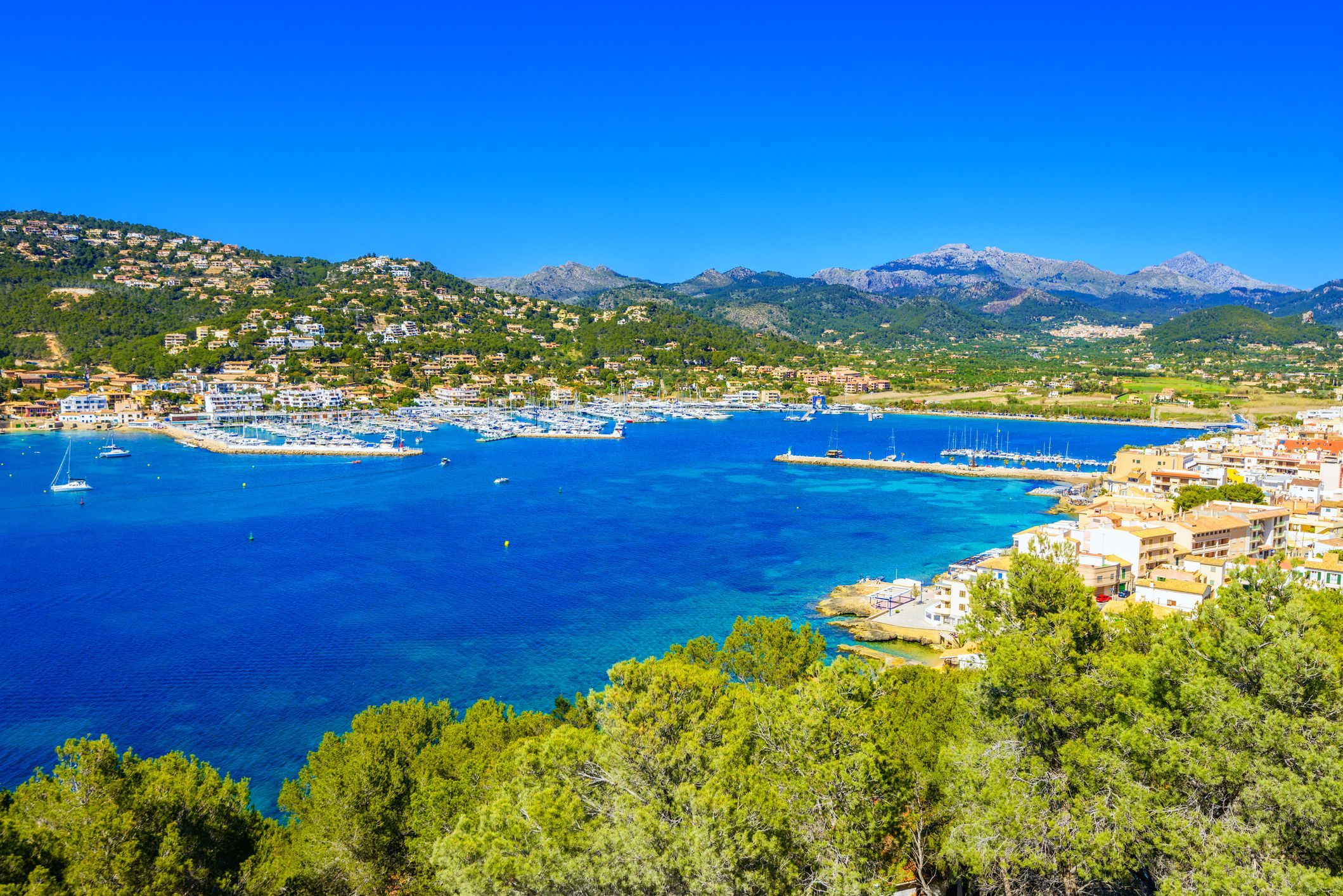 Often called the most beautiful port in Mallorca, Port Andratx has evolved from a quiet fishing village to the most sophisticated port on the island. Its villas, shops, fresh fist restaurants, beautiful yachts, and protected waters make it one of the most desirable vacation locations in Spain. In fact, it's often referred to as the St Tropez of Spain.
See our Port Andratx Guide and Top Charter Yachts.
Valldemossa
The monumental compounds of Valldemossa rise between Sierra de Tramuntana and the Mediterranean, a few kilometers away from the Majorcan Costa Nord. The city's careful layout is filled with steep streets, stone facades, and important religious buildings, among luxuriant vegetation.
The mountains of this area dive into the ocean, to form beaches and coves where it is possible to anchor any vessel. The port of Valldemossa preserves the fishing-town character of yore. Fresh fish and inland produce are wisely combined into succulent recipes that will delight visitors.
Sóller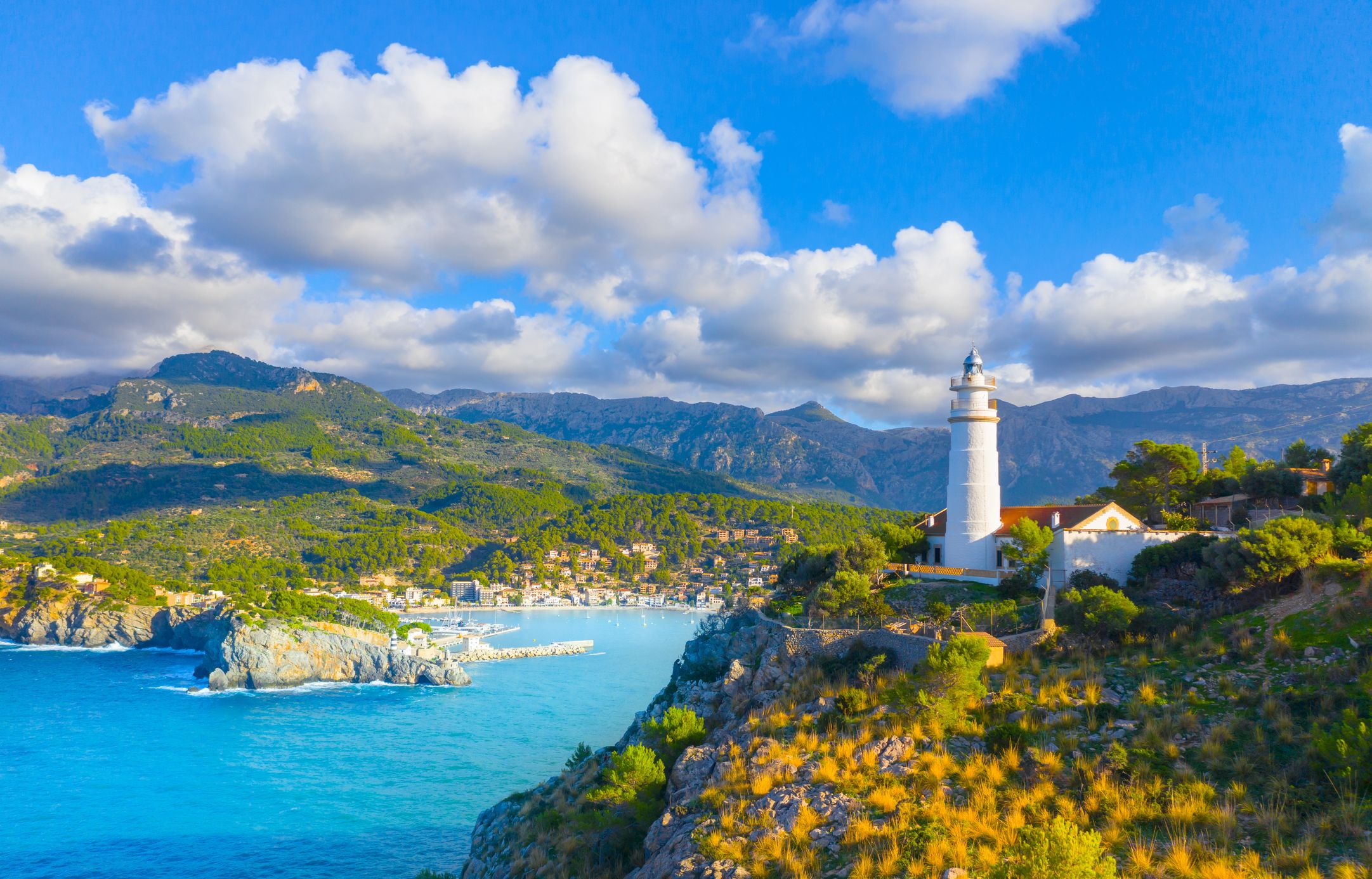 Sóller is an attractive town on Mallorca's Northwest Coast. Situated some 3km inland from its port, 'Port de Sóller', the town lies in a large, fertile, bowl-shaped valley. Sóller shares its valley with the village of Fornalutx and the hamlet of Biniaraix, all of which are famous for their rich orange groves and terraces of ancient olive trees.
Deià
The village of Deià is one of the most charming and beautiful towns of the Mediterranean that attracts its share of stars and glitterati. The city centre, with its ancient Mallorcan houses, sits on the side of a small hill that overlooks the Mediterranean. It has remained intact through the passage of time, being traditionally the home to many painters and artists.
Puerto Portals
Puerto Portals is one of the most prestigious yacht marinas in Europe, well known for its exclusive bars and restaurants and an unparalleled choice of designer shops and luxurious holiday apartments surrounding the port. Puerto Portals is located 9km by motorway from the center of Palma and just 16 km from the airport. The marina has a total capacity of 670 moorings with sizes ranging up to 80 meters.
Puerto Portals hosts many yachting events, such as the classical Omega Regatta, the Off-Shore Class 1 World Championship, the Barcelona-Seville Motor Yachting 92 Regatta, and the Open UAP of the European Union with the best mono and multi-hulls of the world.
Sierra de Tramuntana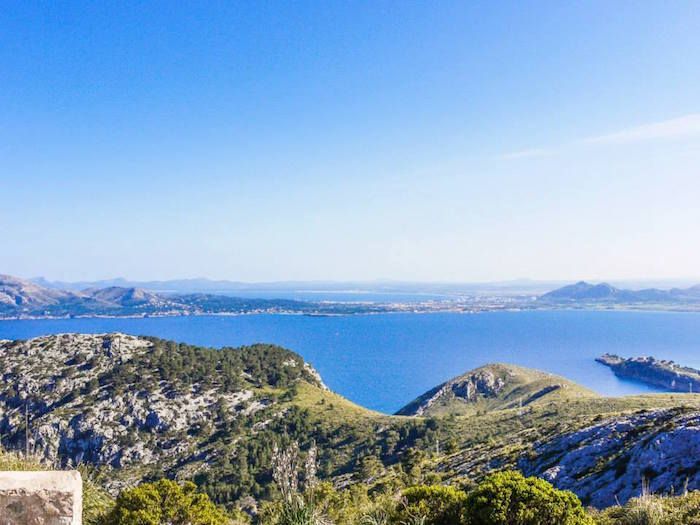 This beautiful limestone mountain range covers the length of the northwest coast of the island. This jaw-dropping mountain boasts stunning views, the dramatic landscape boasts intense colors. There are various ways to enjoy the scenery, drive up the mountains if you are time pushed where you can enjoy the drive and views from the comfort of your vehicle (but mind the curvy roads!) It is also an unrivalled area to hike or cycle if you are feeling adventurous, the sense of achievement you get at the top will make the effort worth it!
---
Palma Beaches
Cala Torta is the typical postcard beach, where the water is the perfect shade of greeny-blue and the sand is soft and golden. Check out the beach club nearby for superb grilled fish and other delicious meals where you can suppress your hunger whilst gazing over the picturesque bay. There can be a breeze that makes it a great spot for anyone looking to do some water sports, as well as this the snorkeling here has been praised by many so go and explore the underwater paradise! It is not the easiest beach to get to by foot which is where your yacht comes in handy, as you can cruise straight to the beach no questions asked! See below for countless beautiful beach spots...
---
Mallorca Charter Yacht Types
Mallorca offers charter yachts for virtually every need. If you are interested in sailing, there are a full range of both bareboat and crewed sailing yachts, monohulls and catamarans. Motor yacht lovers will find everything from day charters to explore the area around Palma to luxury Super Yachts for an exclusive holiday vacation cruising the Balearics. We've described all of these in more detail and organized our selection of the best yachts below.
Mallorca Crewed Motor Yachts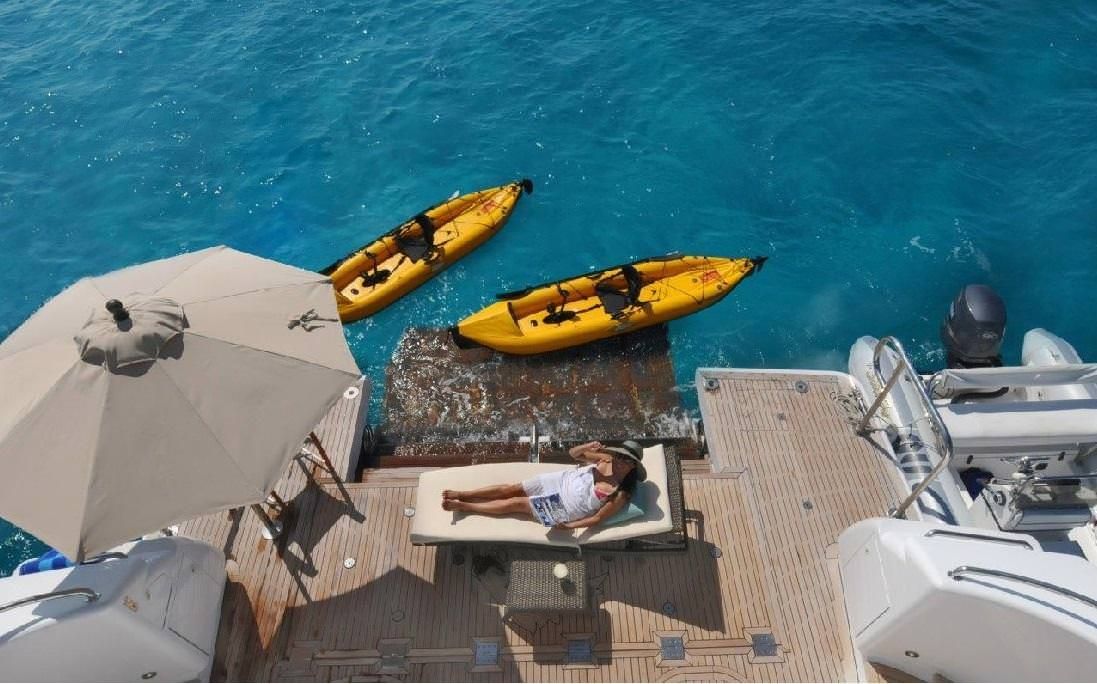 With many coves and ports such as Sóller and Deià to explore, a crewed motor yacht is the ideal way to cruise from place to place with speed and style. Often with expansive decks and spacious accommodation, chartering a motor yacht is made for entertaining large groups of family and friends with plenty of outdoor space to enjoy the sunny Mallorcan weather and wonderful sea breeze. If you enjoy sitting back and simply enjoying the stunning scenery and thirst quenching cocktails then there is no other charter more perfect!
Mallorca Crewed Motor Yachts Mallorca to Ibiza Itinerary
---
Mallorca Crewed Sailing Yachts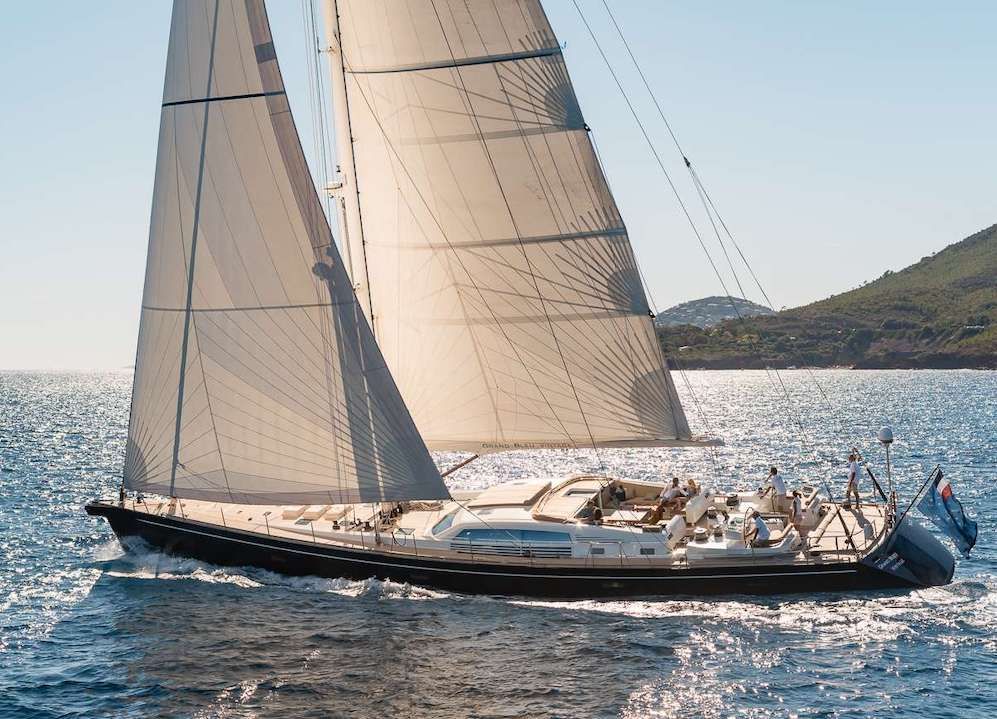 There are many small anchorages dotted around Mallorca as well as the nearby Cabrera Archipelago, making a sailing yacht the perfect way to sail leisurely from place to place. Learn from experienced crews or take in the lovely coastal views of this vibrant island and enjoy smaller anchorages where larger boats may not be able to access. If you are looking for a slow-paced and serene sail around Mallorca, then charter a stunning crewed sailing yacht!
Mallorca Crewed Sailing Yachts enquire now
---
Mallorca Crewed Catamarans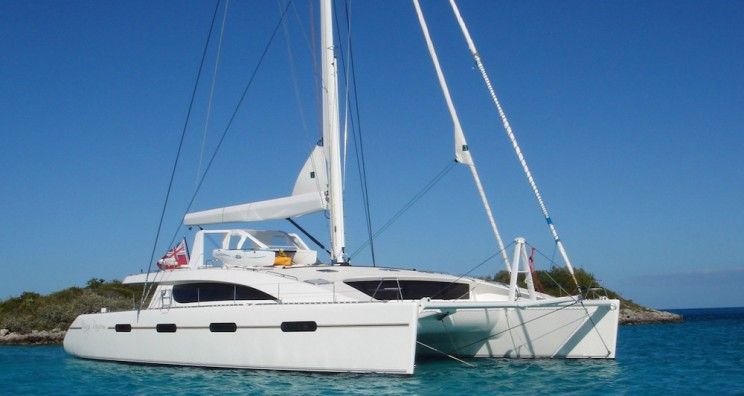 With no keel and plenty of space, a catamaran is a perfect choice for those who wish to explore the waters close to shore for snorkelling in the crystal clear Mallorcan waters. Often with berths for up to 10 people, there is plenty of room for friends and family on board and plenty of space to entertain them as well! You will also benefit from more stability, making the breezier nights unnoticeable and comfortable. Learn about your surroundings and sailing with experienced and friendly crews who will fill your day with fun and exciting activities!
Mallorca Crewed Catamarans Mallorca Crewed Catamaran Itinerary
---
Mallorca Bareboats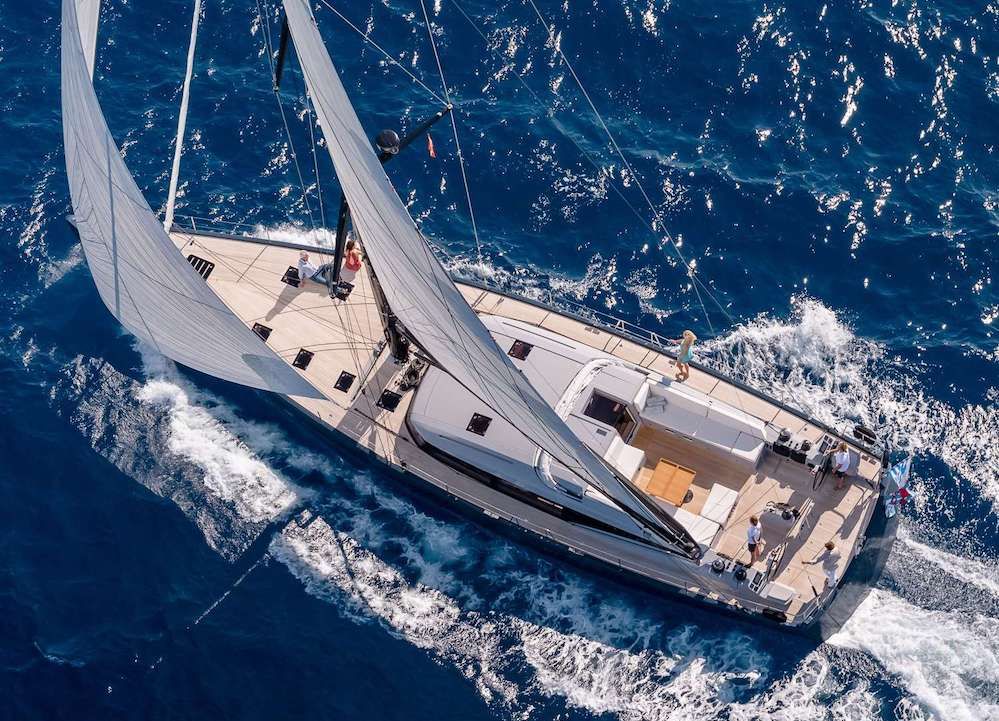 With light and warm winds in the Balearics, bareboat sailing is enjoyable and by no means too challenging. Enjoy planning your own routes around Mallorca and exploring coves otherwise inaccessible in larger charters. Bareboat sailing gives you the freedom to explore where you want whenever you want. You may wish to sail the Southeast of the island where you will discover small coves and fishing villages, perfect for a quaint and tranquil afternoon in the sun.
Mallorca Bareboats enquire now
---
Sailing Ideas
The Southwest coast of Mallorca (where Palma is located) is the most varied yachting area on the island. Palma is in the center of the huge stretch of the bay that curves from Es Arenal across to Cala Figuera. From Cala Figuera to Punta de la Mala, the beautiful shoreline is broken by the magnificent anchorage of Puerto de Andratx and a host of small coves. You will find dramatic cliffs, sandy beaches, and great scenery and pass the Spanish Royal Summer Palace along the way.
One very popular destination is the island of La Cabrera, a National Park (we'll help you get a permit to visit here) a nice day's sail or cruise from Palma.
The Northwest Coast, known as the Tramuntana Coast, offers some of the most spectacular scenery in the Mediterranean. It stretches from Isla Dragonera to Cape Formentor - with the sheltered Puerto de Sóller and exquisite scenery in areas such as Valldemossa, Deia, and Sa Calobra.
The Northeast of the island opens out into two sweeping bays, Pollença and Alcúdia - offering quiet and sheltered anchorages. Both are lined with long stretches of beach and small, well-preserved fishing villages. The harbors are good-sized, safe, and easily accessible.
The Southeast of the island is formed by a sharply indented coastline where the many coves, inlets, and Calas are close together, forming an excellent shelter from wind and sea. The ports of Porto Colom and Porto Cristo offer excellent services.
---
Chartering in Mallorca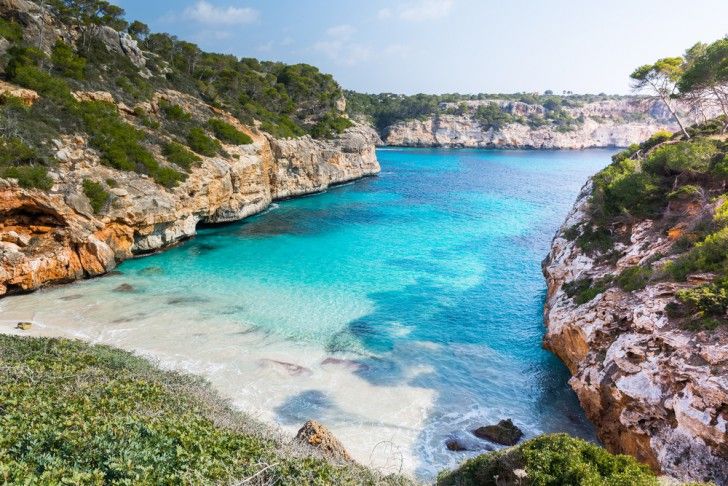 The island of Mallorca sports a lively yachting industry and many well-equipped harbours along the entire coast. Mallorca has 41 marinas, 30 clubs nautics and moorings for 10,000 yachts! Local yachts can be chartered via Boatbookings, most marinas also have facilities for water-skiing and windsurfing.
You might also want to try scuba diving - the clear waters around Mallorca are the perfect place for water-based activities, especially in and around the small, shallow coves of the south and east coasts.
Sailing Regattas each year include the King's Cup in August, the Princess Sofia trophy at Easter, and the Rei en Jaume regatta in July when a flotilla of yachts will recreate the 185km journey made by Jaume the Conqueror when he landed at Santa Ponsa in 1229. Also in Palma is the Cup "Trofeo Almirante Conde de Barcelona" for vintage and classic yachts, which takes place in August.
---
Mallorcan/Balearic Cuisine

Balearic cuisine is closely tied to general Mediterranean cuisine, featuring fresh fish and fresh vegetables of the region. Olives and almonds are typical features of the Mallorcan diet - the island has more than 4 million almond and olive trees! Products with their own Designation of Origin (the seal of quality and origin given in Spain to exceptional products from specific regions) are "sobrasada" (a kind of spicy pork spread), cheese from Mahón and wines from Binissalem-Mallorca, add to the flavor of the local dishes.
"Tumbet" (a vegetable stew with potatoes, fried peppers and aubergine, covered with tomato sauce), rice-dishes with fish and "pa amb oli" (a piece of bread rubbed with oil and tomato) are almost omnipresent. Game meat, fish, seafood and fruit are part of the diverse gastronomy of the islands.
For dessert, nothing better than a pastry "ensaimada" with some of the fine dessert wines distilled here, like "palo", gin and "hierbas".
---
Getting There
Mallorca, being such a popular destination, is extremely well serviced from nearly every major city in Europe. Because of its proximity to the major cities such as London, chartering a private jet is a common practice. There are commuter flights all day long to Mallorca from Barcelona, which is very easy to reach.
The airport in Mallorca is modern, large, and efficient. You'll generally have no problem getting to the island. Once there, the Palma port is a quick and easy cab ride from the airport. Transfers can be arranged, but are generally not necessary. Taxis are generally inexpensive on Mallorca and there's no need to bargain with the taxi driver as the fees are regulated.
---
Climate and Weather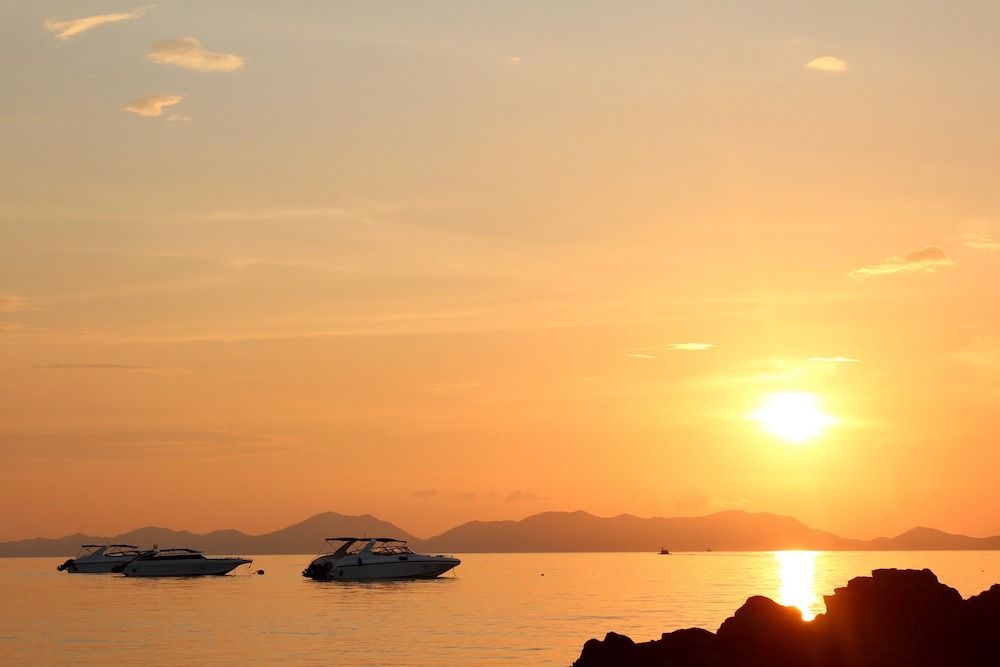 Mallorca is blessed with a warm and pleasant climate, making it an excellent charter destination most months of the year. The climate is typical of the Mediterranean, with hot and dry summers and autumn/winter rains. Most of the island receives between 45 cm and 65 cm of rain over the year, most of which falls between September and November. Most of the rain that falls is concentrated within a few days of precipitation, with some very heavy rains in autumn and lighter rains over the rest of the year.
Excluding the high mountain areas, the average annual temperature is between 16ºC and 18ºC, with a maximum summer average of 29-31ºC and a minimum average winter night-time temperature of 5-9ºC. Mallorca's sea breeze is known as the Embat; a typical daily onshore wind resulting from the sun heating the land more than the water.
---
Our Top Mallorca Charter Yachts
Mallorca is truly is one of the world's best charter destinations. Boatbookings knows the region and boats and can find you the ideal charter yacht, be it Super or Mega Yacht, crewed, sail, motor or catamaran. Click here to see our Mallorca Charter Yachts or simply contact us and we'll recommend the best boat for you.
---
Other European Yacht Charter Destinations: Ibiza | The Canary Islands | The French Riviera | The Italian Riviera | Sicily | The Aeolian Islands | Croatia | Turkey
---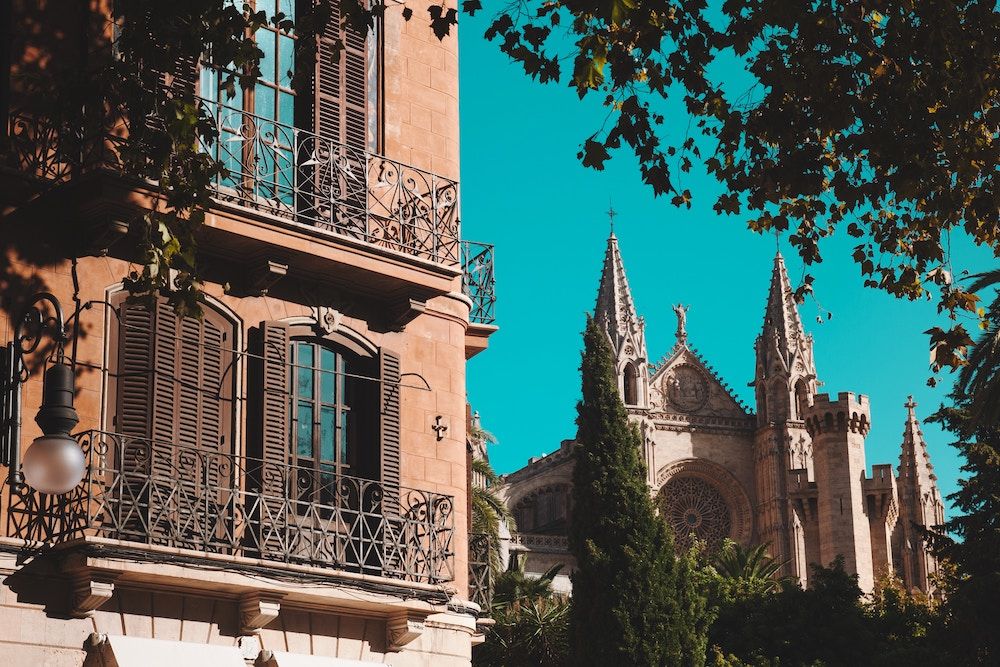 Other Articles of Interest
Charter destinations