Classic Yacht Charter Guide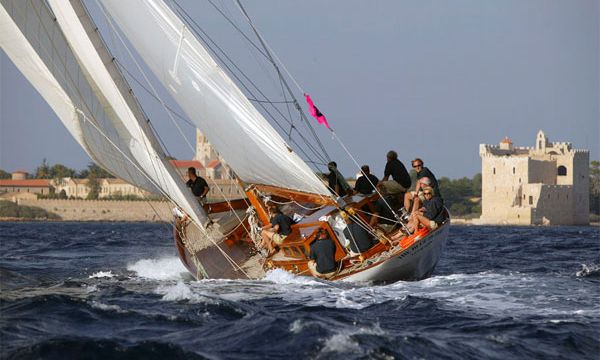 Chartering a Classic Yacht
About Classic Yachts | Chartering a Classic Yacht | Classic Yacht Regattas | Corporate Hospitality and Events | Our Classic Charter Yachts
See our classic yachts, worldwide
About Classic Yachts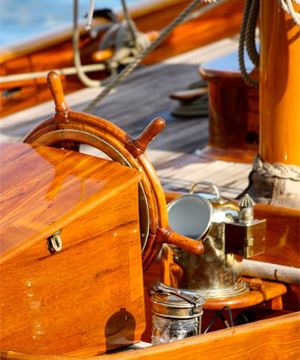 A charter on a classic yacht delivers a sublime experience for those with a love of sailing. Classic yachts offer grace, beauty and a personal lesson on the history of sailing. These glorious yachts generally have huge sails with intricate rigging, gleaming brass fixtures, and rich, highly crafted woodwork. Under full sail, you feel the timeless thrill of slicing through the seas as your forefathers once did, relying on their boatbuilding knowledge to take you to your destination.
Despite their age (many are 50 to 100 years old), these yachts are generally in near-perfect condition, lovingly cared for by their owners and crew. Most have also been upgraded with modern amenities to provide for a comfortable and memorable sail or holiday cruise. Advanced navigation systems, entertainment centers, modern galleys, even internet and wifi are common on many of these classic ships.
Chartering a Classic Yacht
Yacht lovers often charter classic yachts for their sheer elegance and a reflection back into times past. You can experience the ambience, grace and style of a bygone era in the boating world.
With classic yacht charters you can enjoy not only the breathtaking sight under sail, but also interiors beautifully finished in an authentic style, where you can revel in the magnificent craftsmanship in so many different woods, such as rich French walnut, golden Danish elm, rare rosewood.
Although there are many magnificent original yachts, there are also modern reproduction yachts, some of 100ft in length and over. These yachts have every possible facility, luxury accommodation and first rate crew expected on a superyacht, and have all the appearance of a classic sailing yacht, or classic motor yacht. In every other respect they are modern luxury yachts down to the finest detail.
Classic Yachts are available in many ports worldwide, such as Newport, Cannes, Monaco, St Tropez, Athens, Bodrum and Singapore. They can be chartered for a day, holiday, regatta, static events or team building/corporate entertainting.
These yachts are always crewed, so that you can enjoy the true excitement of sailing and also relax if you so desire. The crew will allow you to do as much sailing as you'd like: raising the sails, trimming the jib, even taking the helm under the watchful eye of the captain. You will get a true feeling for the art and science of sailing, and the crew normally is happy to provide expert advice and tips.
Our Classic Yachts: French Rivera | Greece | Italy | USA | BVI | Thailand | Singapore | Turkey | All
Video of Chartering a classic yacht on the French Riviera
Classic Yacht Regattas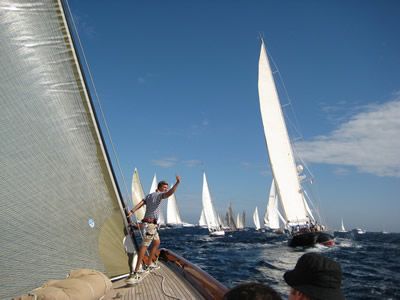 For the sailing treat of a liftime, many of the classic yachts will accept charters for races during key regattas such as the Voile St Tropez. This makes for an amazing day out - prepping the yacht in the morning, planning racing strategy, learning the boat and your role, jockying for position at the start, completeing the course, and of course, after race celebrations, regardless of whether you came in first or last. Click here for a summary of a day on the water during the Voiles St Tropez Regatta. There is a strong camraderie amongst sailors, and at the end of the day everyone is a winner.
Some of the Classic Charter Races you may be interested in are the Vela d'Epoca d'Imperia regatta in Northern Italy, the Regates Royales in Cannes, les Voiles de St Tropez, Cowes Week in England and Antigua Race Week.
Corporate Hospitality and Events
Corporate events and corporate hospitality functions can be greatly enhanced by being on a Classic Yacht. What better way to build a team than everyone having specific responsibility as you race against the other members of your group? Additionally, moored classic yachts can provide elegant and memorable venues for parties, celebrations and dinners. Boatbookings.com has a great selection of classic yachts of all types that specialise in Corporate Entertainment and events - please contact us if you are interested!
More on chartering a classic yacht for Corporate Events
Our Classic Charter Yachts
Boatbookings has experts who know the yachts, captains and crews of many of the best Classic Charter Yachts worldwide, and just as importantly share your love for these amazing boats! We will be happy to discuss your needs on a classic yacht, be it for a day, week, holiday, event or regatta. We have especially good collections of classic yachts in the French Riviera, Greece, Newport and Italy.
Click here so see our Classic Charter Yachts or simply contact us and we'll recommend the best boat for you.
See our classic yachts, worldwide
Contact us to plan you classic yacht charter
Other Helpful Information: About Sailing Charters | Voile St Tropez Regatta | Cowes Week
Other Articles of Interest
Charter destinations