Choosing the right charter catamaran for your needs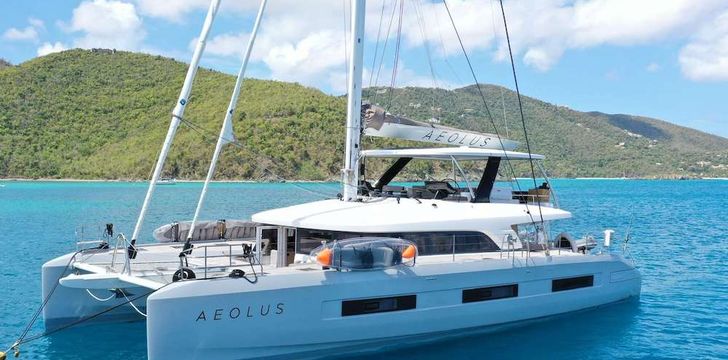 The Boatbookings guide to finding the right catamaran for your party - choosing crewed, bareboat or bareboat with skipper.
One of the most common questions we get from our catamaran customers is which one is right for me - bareboat, crewed, or bareboat with skipper and/or hostess. This guide can help you decide what's the best for your party, prices to expect, what's included and what's extra, and lots of helpful tips!
Once you've read through this article, be sure to search for the catamaran you like on the site in the port you are interested in, or simply contact us and we will provide suggestions!
Contact us to find the perfect catamaran
Crewed Catamarans
Crewed catamarans offer you a true luxury experience that includes gourmet meals 3 times a day, an expert captain who knows all of the best moorings, swimming holes and items of interest, and a hostess/chef who not only prepares and serves the meals, who will make you drinks, clean the cabins, and make the beds. All you need to do is enjoy!
Crewed catamarans come with snorkeling gear, lots of water toys (sometimes including water skis and tow-rings), and some boats even have compressors for scuba diving.
Yacht Size: Crewed Catamarans normally range from 45 to 70 feet, and offer 3 to 6 cabins, with the majority offering 4 with ensuite bathrooms.
Pricing: Crewed Catamarans range from $15-$30K (similar in Euros) and up, including the crew and provisioning to make it a full luxury experience. Tips and meals ashore are additional.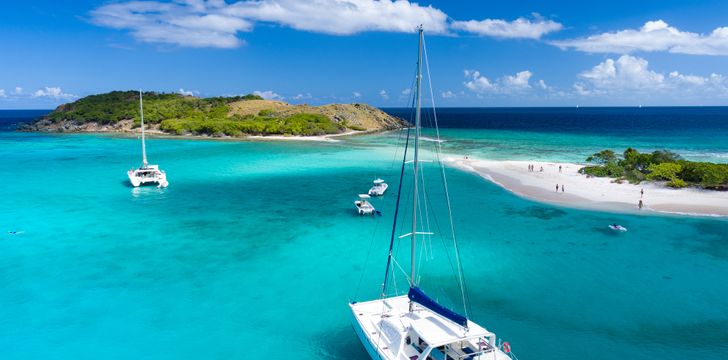 Bareboat Catamarans
On a bareboat catamaran, you're responsible for all navigation, provisioning, mooring, and safety for you and your party once you leave the marina. Most bareboat charters worldwide require the lead sailor to have a certificate showing expertise in sailing. These types of charters are for those who want their own exclusive holiday vacation with complete privacy, and gain the satisfaction of "doing it themselves".
Water toys, linens, food and all condiments, etc. are extra charges on bareboats, so consult the pricing proposals we send you to make sure you get the items you need/want. Provisioning is completely up to you (they're called "bare" for a reason), but this has become far easier in recent years as you can place your order on the provisioning company's website and have it delivered directly to your boat. And one of the joys of bareboating is to shop at local markets along the way or eat your own fresh-caught fish (be sure you have the proper fishing license).
When calculating the overall price of the bareboat charter, you need to incorporate what you will be spending for food and other provisioning, insurance, and local fees (parks, mooring, etc.). You will also need to put down a deposit on the yacht in case you damage it. Your total cost will depend on various factors, such as the tastes of your party and your itinerary. Boatbookings can help estimate this for you.
Yacht Size: Bareboat Catamarans normally range from 38 to 45 feet, and offer 3 to 4 cabins.
Pricing: Bareboat Catamarans range from $7K-$15K (similar in Euros). Provisioning, mooring fees, insurance, licenses, etc are extra.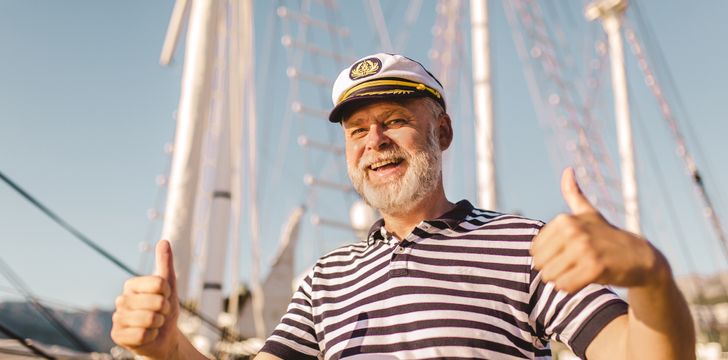 Bareboat Catamarans with Skipper
If you want to be on a bareboat, but don't feel qualified or want the responsibility of navigating, sailing, and mooring, you can hire a professional skipper who will take care of all of this for you! These skippers have intimate knowledge of the local waters and watering holes and will take full responsibility for sailing the boat. They become part of your party and will need a cabin and you are required to feed them. If you want privacy, you can set boundaries with them (for instance they don't have to eat with you when you go ashore for a meal, but you do need to give them money for a meal.
Skippers do not cook, clean, or provision the boat. They are solely skippers. They bring expertise of sailing and the local waters on board and often become lifelong friends.
Pricing. Skippers normally cost $1500 per week. Similar prices in Euros. These may vary by area and do not include tips.
Bareboat Catamarans with Skipper and Hostess/Chef
If you want a bareboat but don't want to cook and provision, you can normally (if you have sufficient cabins) hire a hostess/chef as well. They will plan meals, provision, prepare them, and clean up the kitchen/galley afterward. A bareboat with skipper and hostess/chef approximates a crewed yacht, but you are still responsible for cleaning the boat, making the beds, etc. They are on board for the specific functions of sailing and preparing meals. Depending on your party, they can become a member of your group and often become lasting friends, and can also be discreet and leave you on your own for the most part - just be clear on what you need.
You should also plan on tipping the skipper and hostess, and they need cabins on the boat.
Pricing. Hostesses/Chefs normally cost $1200 per week. Similar prices in Euros. These may vary by area and do not include tips.
Next steps!
Hopefully by now you've determined the type of charter that is best for you and your family/party. The next step is to search for one you like on the site in the port you are interested in, or simply contact us and we will provide suggestions!
Contact us to find the perfect catamaran
Other Articles of Interest
Charter destinations