Greece Yacht Charter Guide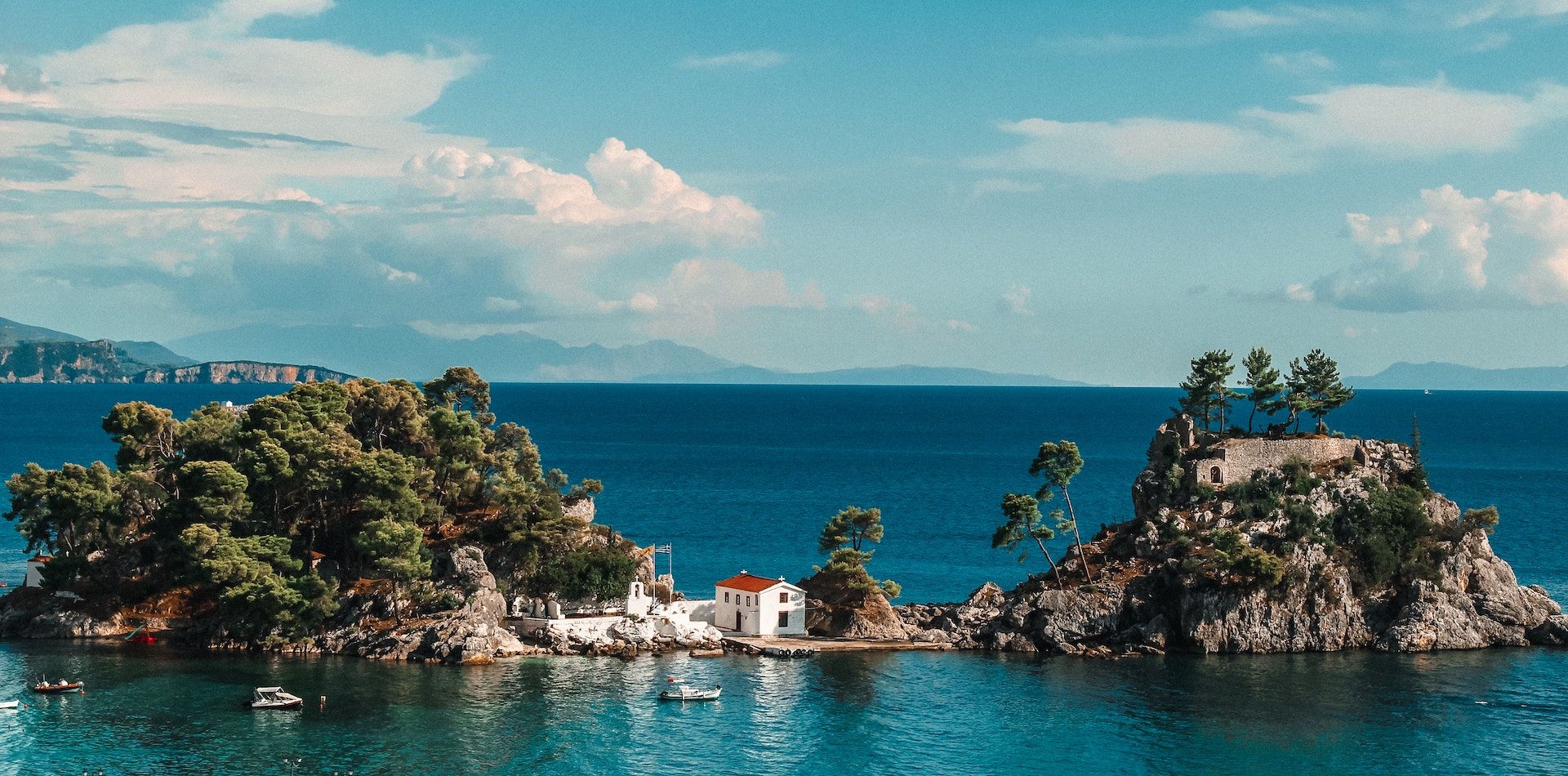 Soak up the Greek island charm of the Cyclades Islands, Saronic Gulf and the Ionian Sea on your luxury yacht charter in Greece for summer 2023
About Greece | Crewed Motor Yachts | Crewed Sailing Yachts | Crewed Catamarans 
Bareboat Catamarans | Bareboat Sailing Boats | Map
Key Greece Yacht Charter Destinations | Climate | Cuisine | Ionian Itinerary | Cyclades Itinerary

---
Offering a unique bend of stylish hillside resorts and rustic tavernas fringed by olive-groves, Greece is the ideal crusing destination to explore by yacht. For glamour and a fabulous restaurant scene, Mykonos and Santorini in the Cyclades Islands or the authentic Greek islands of Hydra and Spetses in the Saronic Gulf will deliver the ultimate birthday celebration or romantic getaway. Whereas, Zakynthos and Kefalonia in the Ionian Islands presents the perfect opportunity for families to swing at anchor in a paradisal bay and explore the surrouding area by watertoys and tenders.
Cruising the Greek Islands by private yacht or boat is the best way to truly embrace the many islands of Greece. Boatbookings' travel designers will tailor your itinerary to meet your party's needs. Whether you select a crewed motor yacht in Greece, a crewed catamaran or a bareboat sailboat, you will experience a vacation like no other and will want to come back time and again to explore the eternal wonders of Greece.
Greece Bareboat Crewed Catamarans Crewed Motor Yachts
---
Our Top Greece Charter Yachts
---
A Brief Introduction to Chartering a Yacht in Greece
Starting point: Athens. The ancient city of Athens remains the hub for all Greek yachting activities and the perfect place to meet your crewed motor yacht, bareboat sailboat and catamaran, as well as soaking up some history and culture. A stop in Athens isn't complete without touring the Acropolis and soaking up the buzzing atmosphere surrounding Syntagma Square. From Athens, embrace island hopping and savour the views of idyllic white-washed houses, turquoise waters, and quaint fishing towns. Whether you are into history and culture or prefer to relax and enjoy watersports, a Greek yacht charter has it all, just the way you want it.
Most charters in Greece commence in Athens, given the proximity to the International airport. From Athens, you can explore the Saronic Gulf, the Cyclades islands or a combination of the Saronic and Cyclades Islands. The Peloponnese and Saronic Gulf are naturally protected by the Athens peninsula, so the anchorages are better sheltered than the Cyclades. The islands are also much closer together, so your greatest sailing distances would most likely be around 1-2 hours, compared to 2-4 hours in the Cyclades. The summer months of July and August are the most popular time to visit the Cyclades Islands, but the best time to visit is in June and September when the winds are generally calmer. For more information regarding the weather in Greece, please read our Greece weather guide
Recommendation: Ionian Islands in High Season. The best Greek islands for chartering in the high season summer months are the Ionian Islands of Kefalonia, Zakynthos and Ithaki. The islands are close together and have everything from quaint fishing towns to secluded anchorages, as well as some of the clearest waters in the Mediterranean for swimming and water sports. You will also not have to worry about the summer Meltemi winds found in the Cyclades. 
Greece Bareboat Crewed Catamarans Crewed Motor Yachts
---
Greece Crewed Motor Yacht Charters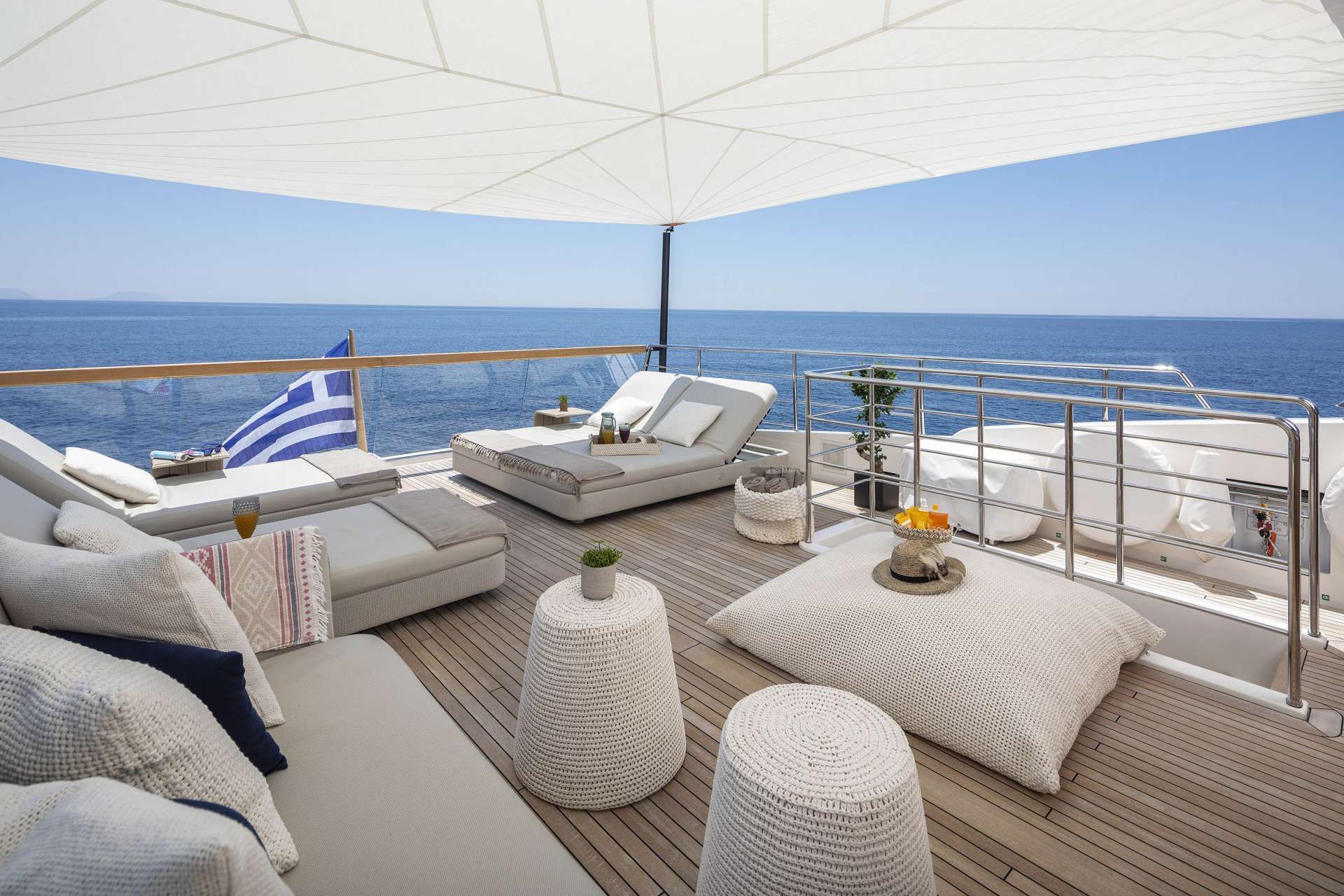 Renting a crewed motor yacht in Greece provides guests with endless possibilities to enjoy the country's most spectacular anchorages and natural bays. From Navaggio beach on the island of Zakynthos in the Ionian Islands to the buzzing beach clubs of Mykonos in the Cyclades Islands, and the secluded anchorages of the Saronic Gulf, there is something for everyone. When chartering one of our crewed motor yachts, you will be able to cover the larger distances between the islands much quicker than onboard a sailing yacht, boat or catamaran, giving you time to do the things you want to do. With large alfresco dining areas, sunbathing spaces and a plethora of water toys, a Greece crewed motor yacht is the boat of choice for spring, summer and autumn.
Greece Crewed Motor Yachts Enquire Today
---
Greece Crewed Catamaran Charters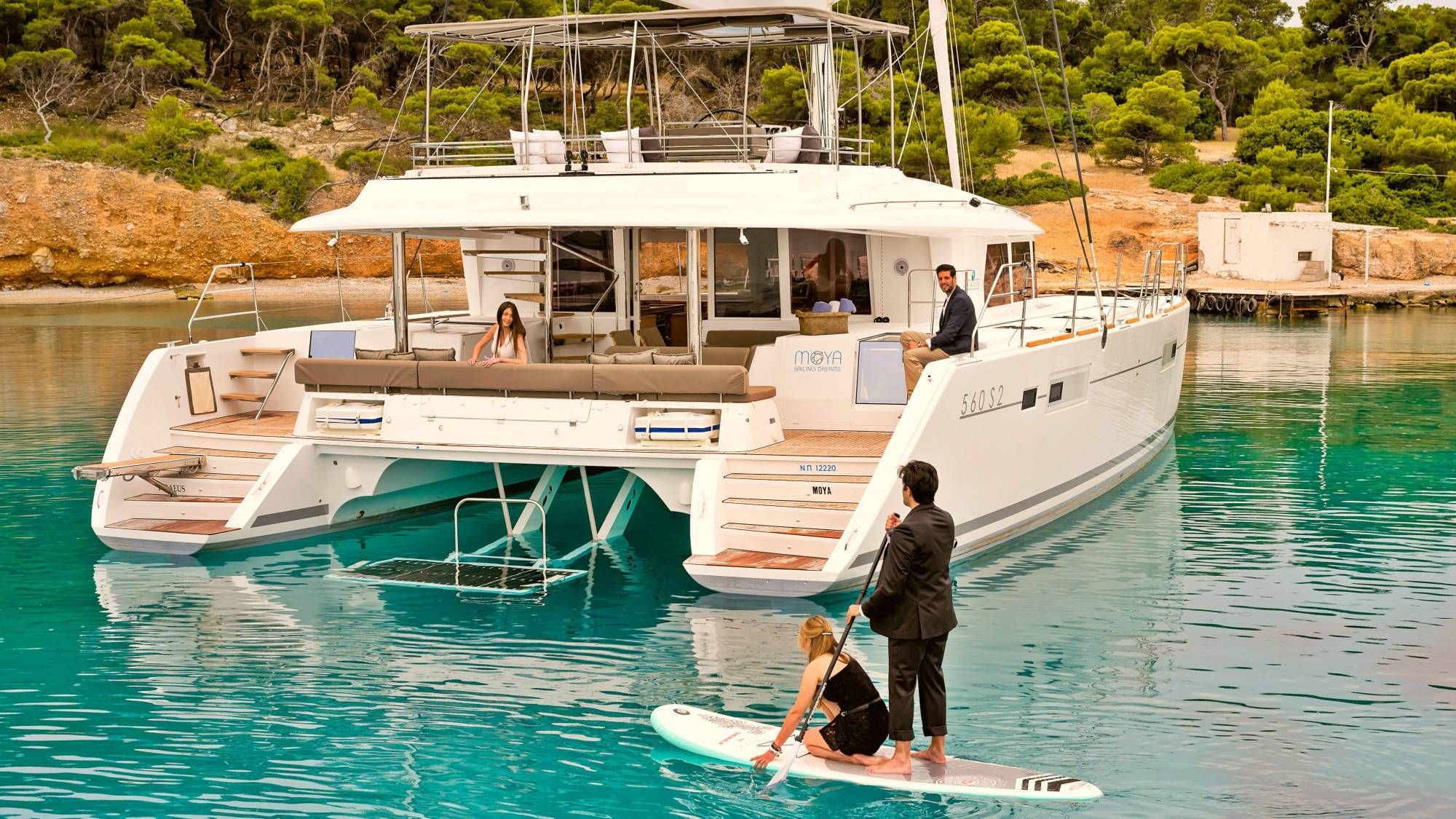 Chartering a crewed catamaran in Greece will provide you with ultimate comfort and stability during your summer yacht charter vacation. Embarking in Athens is the most popular and recommended place to meet your crew, before sailing down into the Saronic Gulf or the Cyclades islands, depending on the weather conditions. There are a growing number of crewed catamarans in the Ionian islands each spring, summer and autumn, so you have a great variety to choose from. The beauty of Greece crewed catamarans are their vast spaces and stable platforms to host your friends and family. Catamarans predominantly feature double cabins so are well suited to couples and friends sharing the cost, which makes catamarans even better value for money. You will have a local crew who know the islands inside out and make sure your itinerary is tailor-made, as well as offering top service and gourmet cuisine designed around your dietary requirements. With a range of superb Sunreef sailing catamarans, the latest Fountaine Pajot crewed catamarans and the most experienced Lagoon catamarans in Greece, you will have the most unforgettable Greek sailing experience.   
Greece Crewed Catamarans Enquire Today 
---
Greece Crewed Sailing Yacht Charters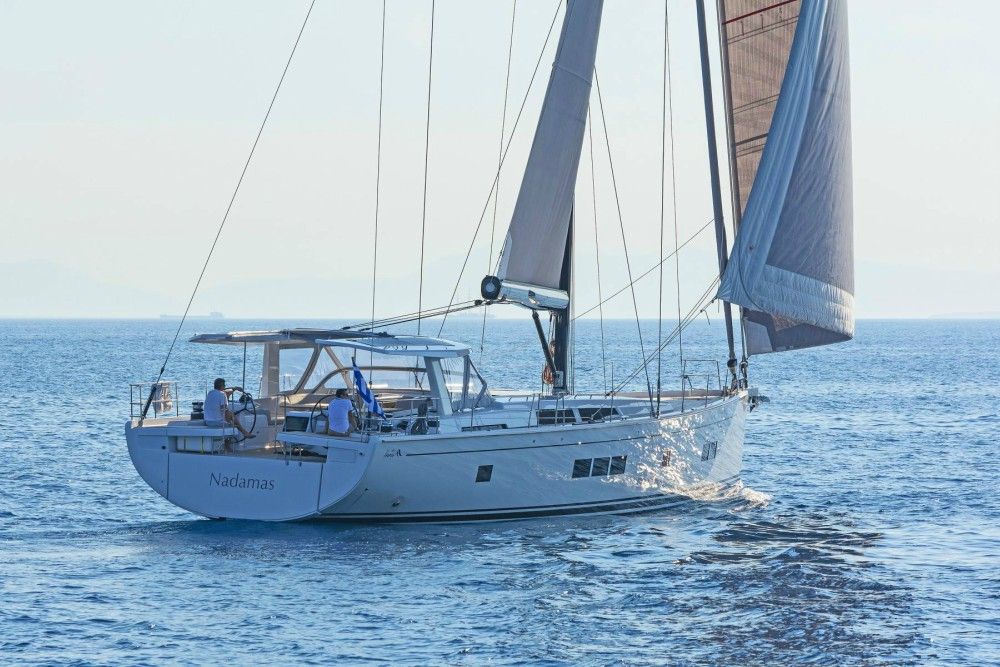 Sailing around the Greek Islands is on everyone's bucket list. Offering tranquil anchorages in the Ionian Sea and Saronic Gulf for those looking to relax and exhilarating summer sailing conditions with the Meltemi winds in the Cyclades, there is an itinerary for everyone. The six thousand islands and more than 16,000km of coastline make the Greek archipelago one of the most sought-after sailing destinations in the world and the perfect destination to charter one of our crewed sailing yachts. A crewed sailing yacht in Greece will show you the best Greek sailing yacht charter itinerary designed around your preferences, fantastic service, and gourmet food. With so many islands to discover, you will be enchanted and want to book again for the following year! Whether you're looking for a Hanse sailing boat, a classic Nautor`s Swan or a Perini Navi luxury sailing yacht, our Brokers know the best sailing yachts for your summer requirements. 
Greece Crewed Sailing Yachts Enquire Today
---
Greece Bareboat Catamarans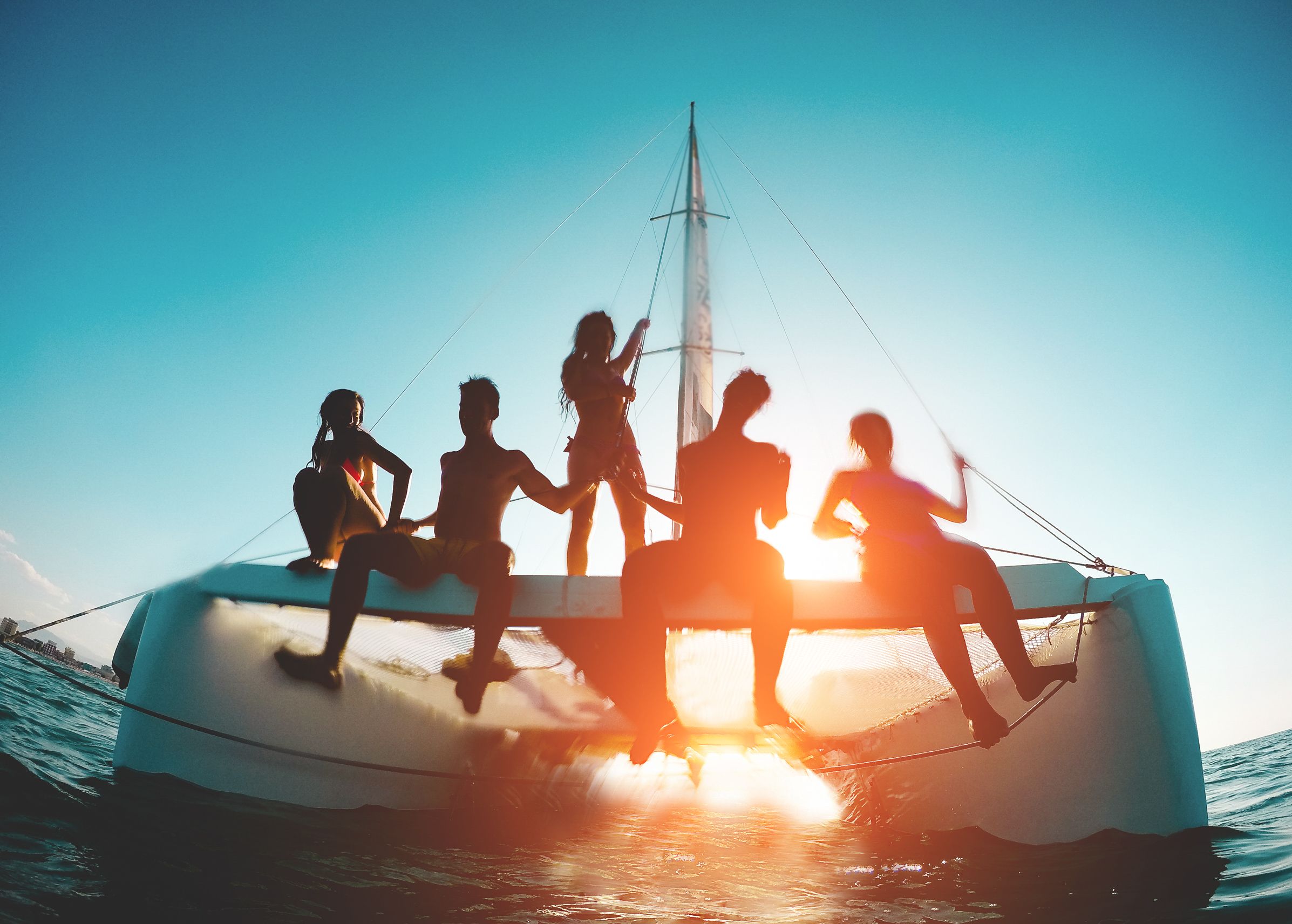 Discover Greece onboard your own private catamaran and explore some of the most incredible sailing grounds in the world. Offering the newest and most varied fleet of catamaran boats in the Mediterranean, Greece has a wealth of varied styles when it comes to catamarans!  With so many islands waiting to be explored, chartering or renting a bareboat catamaran in Greece will tempt you to come back year after year, returning to explore a different island group each time. For first time guests looking for a relaxed sailing, the picturesque islands of the Saronic Gulf are perfect for you. For more experienced sailors who can handle heavier winds, the Cyclades Islands are calling your name. If you're tempted by quieter anchorages and avoiding the windy weather in the summertime, the Ionian Islands are the most suitable. Boatbookings has access to the latest Lagoon bareboat catamarans in Greece and the popular Fountaine Pajot catamarans. See our range of Greek island itineraries for inspiration and discuss with your Boatbookings broker to select the most suitable yachts for your Greek Getaway.   
---
Greece Bareboat Sailing Boats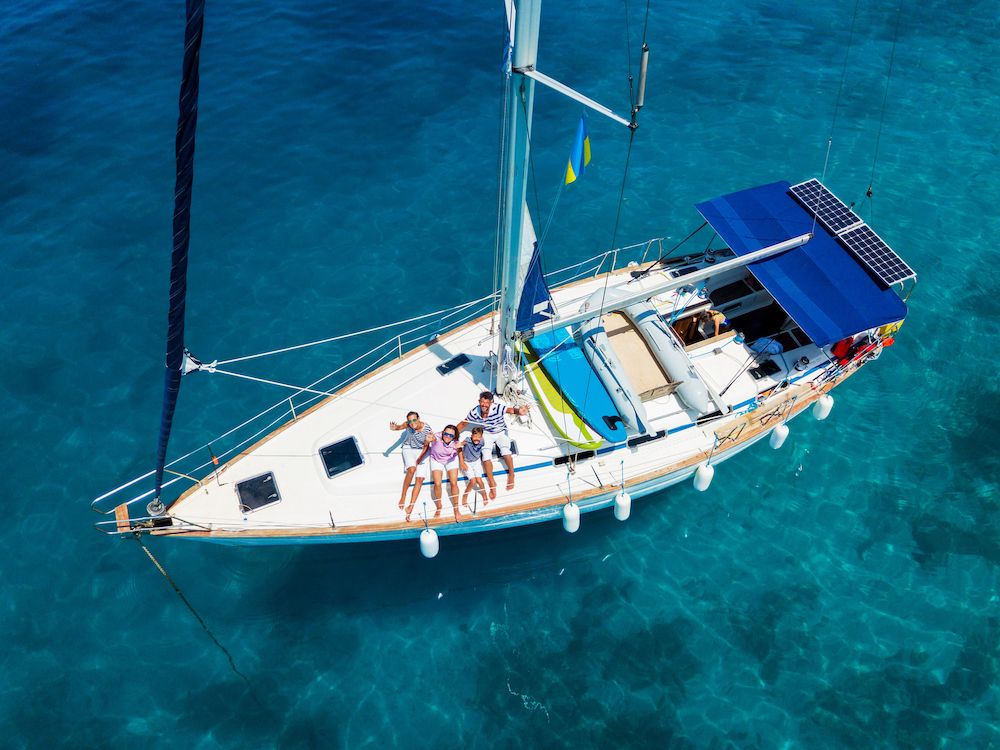 Greece is the ultimate bareboat sailboat destination! Whether you are new or old to the sailing world, Greece is a perfect place for all types of sailors. With the many different island collections, all having their own personality - Greece can provide something for everyone! Not quite ready to skipper the yacht yourself? No problem, we can help arrange a skipper for your charter! They will be on hand to guide you through the many islands that Greece has to offer, showing you the best-kept secrets that only the locals know of! Why not also add a Hostess too! Take a look at our ever-popular Jeanneau, Hanse and Dufour bareboat sailboats, can't find what you are looking for? Do not hesitate to get in touch with one of our expert Boatbookings brokers to provide you with a handpicked selection suited to your needs!
Greece Bareboat Sailing Yachts 
---
Key Greece Yacht Charter Destinations
The very best yachts for charter in Greece are based in Athens, which has world-class marinas with all the amenities you could need. The best way to get to Athens to start your charter is to fly to Athens International Airport Eleftherios Venizelos. There are direct flights from a range of European cities throughout the year, making it extremely accessible to all. From the United States of America, there are direct flights from New York JFK, Philadelphia and Washington DC in the summer season or take a connecting flight from a European city, which will depend on your airline of choice. If you are travelling from Canada, there are many direct flights from the likes of Toronto and Montréal, or, as with flights from the USA, you will change at a European airport. From Athens International, you can then easily take a taxi to the port to start your yacht charter and boat rental experience.
Top Rated Greece Charter Yachts Greece Yacht Charter FAQ
The Saronic Islands Yacht Charter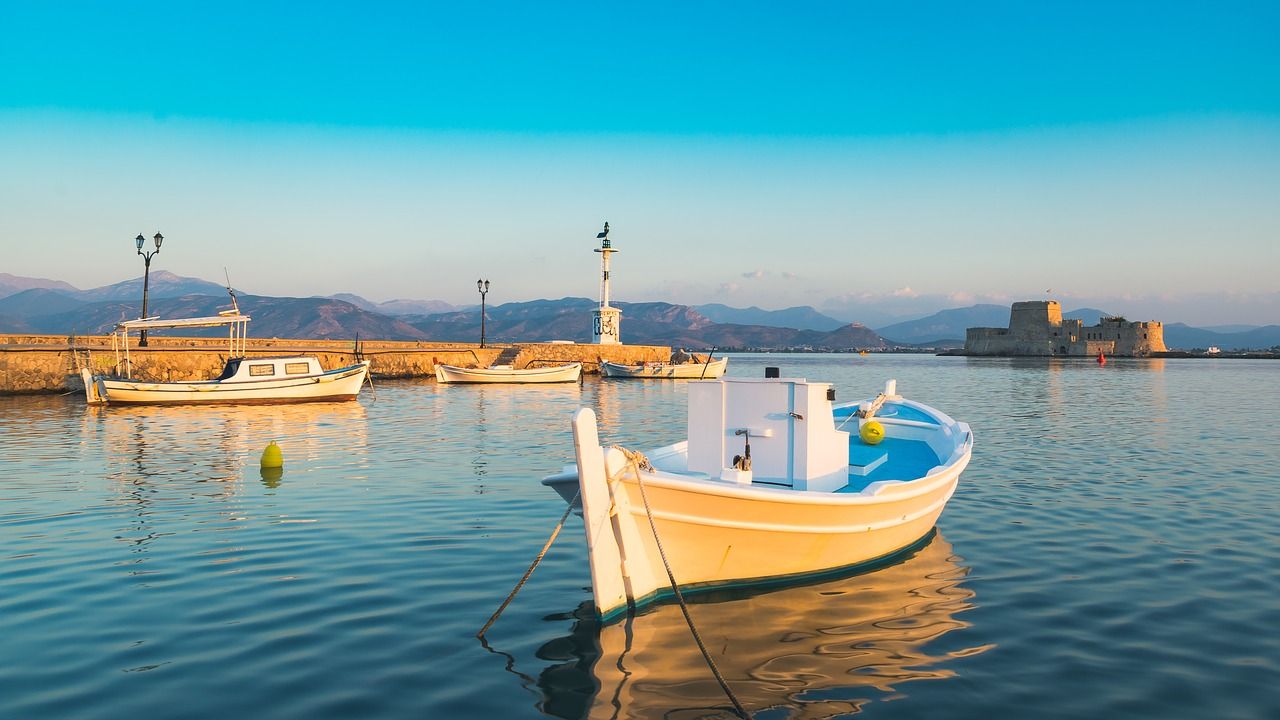 Comprising Agistri, Aegina, Spetses, Hydra, Poros, Salamina and the peninsula of Methana, the Saronic Islands are a wonderful destination all year round for your luxury yacht charter due to its sheltered location and breathtaking natural beauty. The Saronic Gulf is located just 12 nautical miles from Athens, where this postcard-pretty and understated group of islands has much to offer the visitor including natural anchorages for swimming and water sports, ancient ruins and historic towns, boutique shops, bars and restaurants. If you are concerned that there is not enough to do, the island of Hydra has many bars, there is a Nikki Beach in Porto Heli and the historic town of Nafplio has a variety of late-night bars to keep everyone entertained. The Saronic Crewed Motor Yacht itinerary and Crewed Catamaran itinerary will give you a greater understanding of all the opportunities on offer. Both of these itineraries can also accommodate your Greece bareboat charter rental. 
Wind and Sailing conditions: The Saronic, Argolic and eastern coast of the Peloponnesian Gulf is a very well protected cruising area making it fantastic for first-time charterers. There are mild winds, usually from the north to the northeast that average Force 3-4, as it is predominately sheltered from the strong Meltemi wind that affects most of the other Island groups in Greece. This sheltered location and its proximity to Athens makes it a brilliant sailing destination.
In the Argolic Gulf around Hydra Island, the wind blows mainly from the southeast. The Meltemi wind can be strong in the afternoon, but otherwise, it is normally calm. The Katabatic wind also affects the region coming off the mountaintops of the Peloponnese though very rarely reaching higher than Force 5 and blowing for short periods. The average temperature from June to September in this region is 25-34°C (77-93° F) but in May and October, the weather is a little bit cooler.
Saronic Islands Yachts Saronic Gulf Charter Guide
The Cyclades Islands Yacht Charter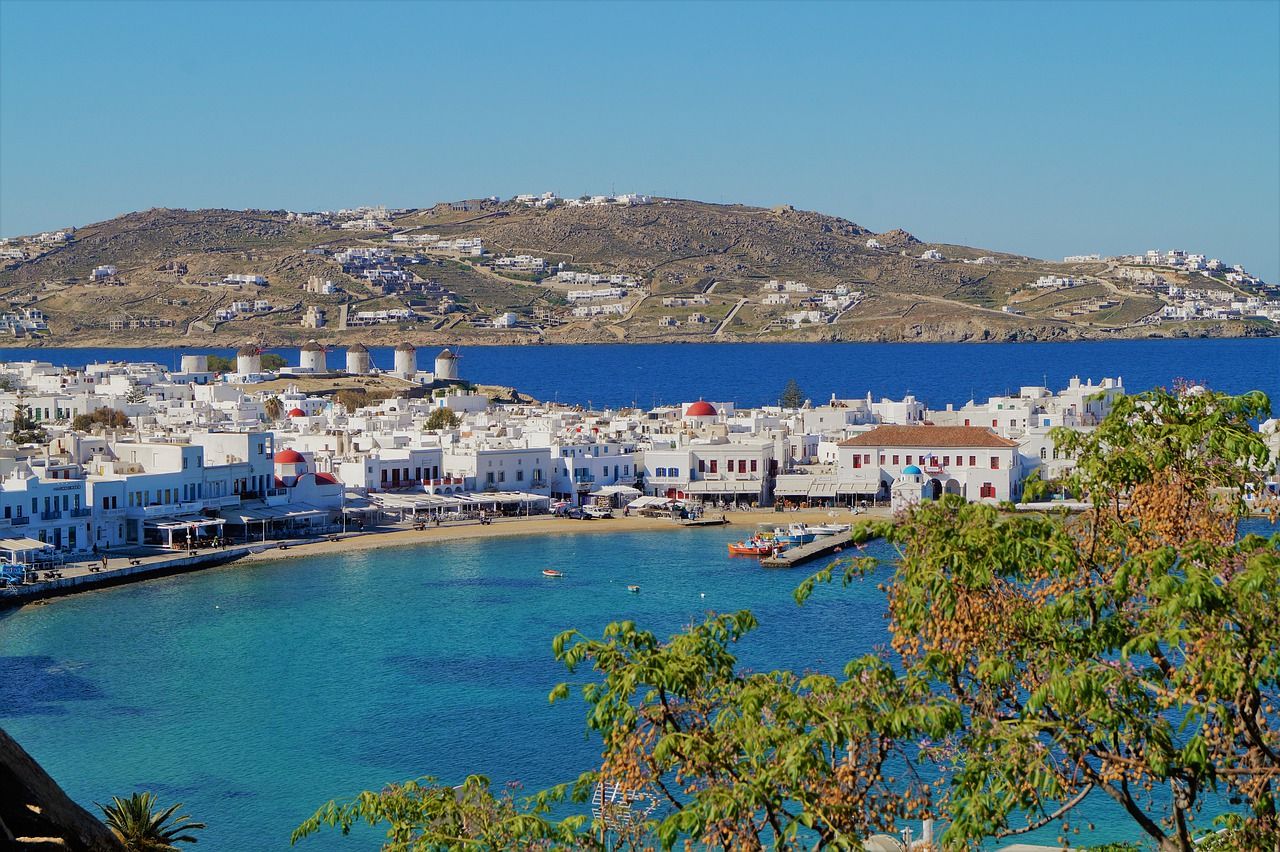 The Cyclades are the most famous and popular island chain in Greece. There are only 24 inhabited islands that have become a magnet for sailors all over the world. The most famous and popular islands within the Cyclades are Delos, Mykonos, Naxos, Paros, Santorini and Sifnos, which all have their own identity and diversity to offer an unforgettable Greek yacht charter vacation. For fun-filled vacations, there is no better island than Mykonos which has a plethora of beach clubs, bars and restaurants to cater to your every wish. Enjoy long lunches at Nammos and Scorpios Mykonos before dinner at Nobu and dance the night away at Cavo Paradiso. 
Wind and Sailing conditions: The ideal time to charter a yacht in the Cyclades Islands is June through mid-July. By the end of July and August, however, the 'Meltemi' wind that blows from the north, northwest can reach Force 5-6 and even on occasion Force 7-8.
Cyclades Islands Yachts Sample Cyclades Itinerary
Cyclades Islands Charter Guide
The Ionian Islands Yacht Charter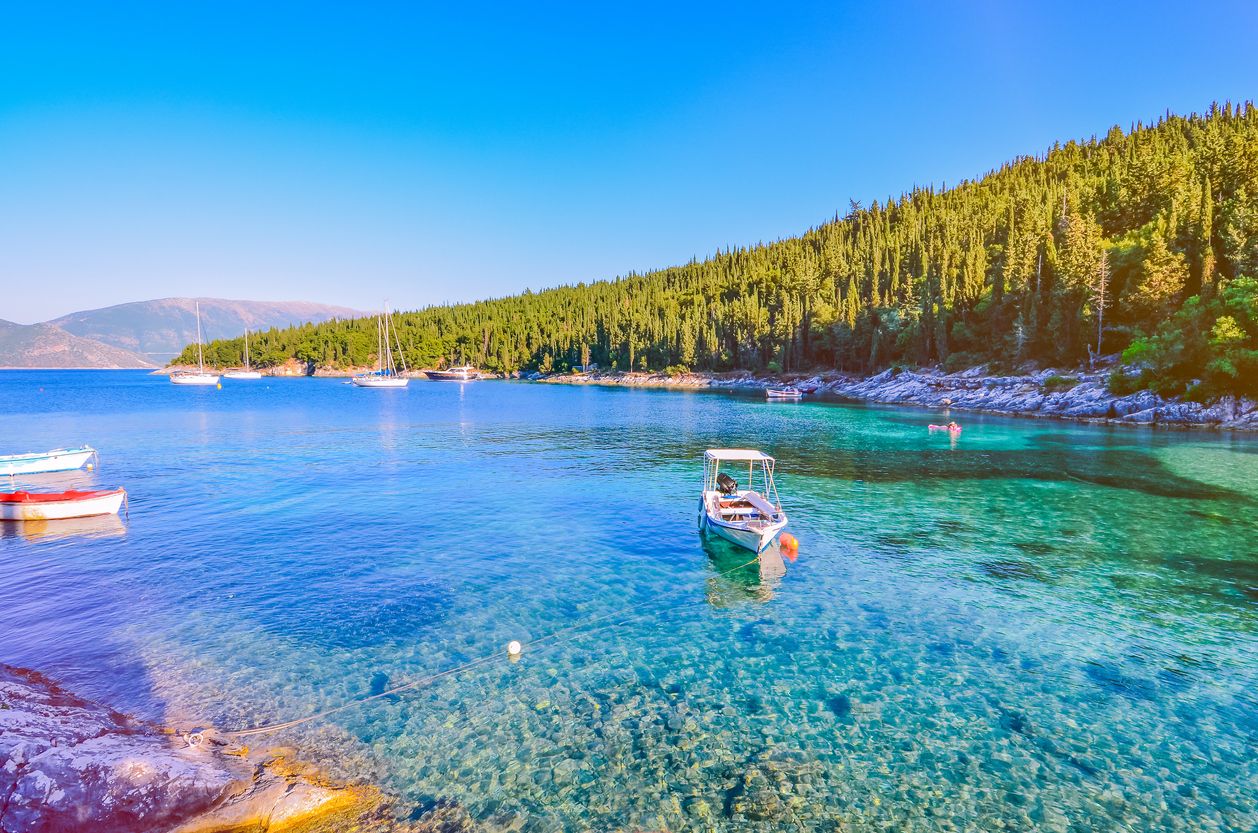 The Ionian Islands can be found in the cool deep waters off the west coast of Greece. The 12 islands and islets offer authenticity, a bohemian buzz, and charming villages. Corfu, Lefkada, Kefalonia, Zakynthos, Ithaca and Paxi are the six large Ionian Islands and Antipaxi, Erikousa, Mathraki, Othoni, Meganisi and the deserted islets of Strofades south of Zakynthos make up the rest. In Zakynthos, the Blue Caves and Shipwreck Beach are worthwhile visits, where a rusting liner leans into the chalky cliffs creating a dramatic and impressive view.
Wind and Sailing conditions: The wind and sailing conditions in the Ionian Sea are steady and predictable which makes it fun for sailors of all abilities. Winds normally start to build around midday but drop off towards sunset – perfect for sailing to your evening destination! The mornings can be spent snorkeling and enjoying the pristine waters. From May to September, the wind tends to blow from the northwest at Force 2-5. In spring and autumn, the wind is less strong and blows usually from the southwest.
Ionian Islands Yachts Ionian Islands Charter Guide
The Sporades Islands Yacht Charter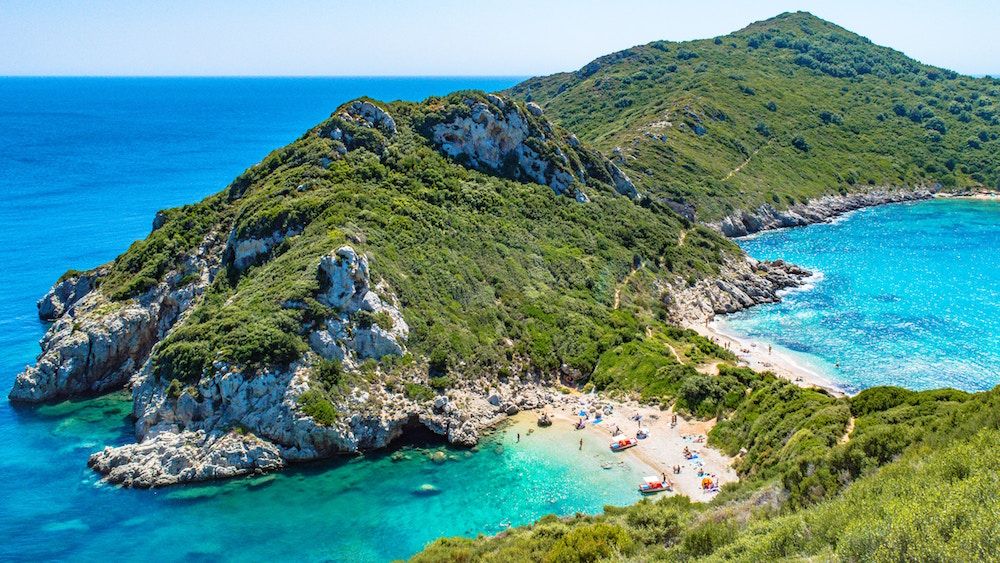 The Sporades Islands lie on the eastern coast of mainland Greece and consist of 11 islands of which only 4 are inhabited: Skiathos, now known by many for this is where the worldwide acclaimed feature Mamma Mia was set, Skopelos, Alonnisos, and Skyros. These idyllic islands are a fertile and green archipelago that is different from other islands anywhere else in Greece. It is for this reason that they have become known as the emerald of the Aegean, with pine-forested mountains slope down to some of the best beaches in the Mediterranean and clear blue-green waters. These beautiful islands present the opportunity for a simple and slower way of life, so you can truly unwind and enjoy a therapeutic holiday in the sunshine.
Wind and sailing conditions: The summer months in the Sporades are dry and warm. The prevailing wind in the summer is the 'Meltemi' (force 3-4) that provides fantastic sailing conditions but do also look out for the 'Sirrocco', a southerly wind that blows every few weeks in the early and late season.
Sporades Islands yachts Sporades Islands Charter Guide
Dodecanese Islands Yacht Charter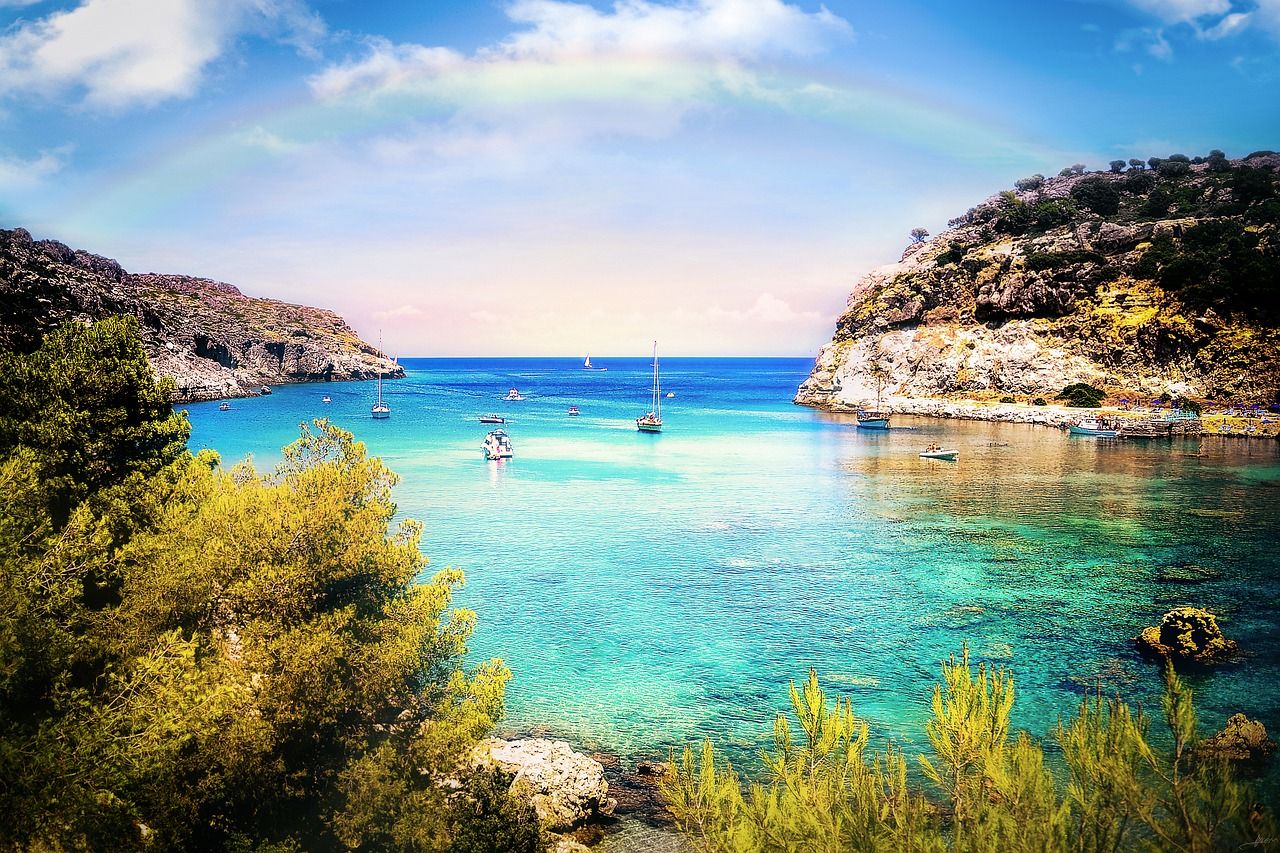 Travel back in time to the Dodecanese Islands, located in the south-east of the Aegean Sea, just off the Turkish coast. Expect stunning sandy or pebble beaches, traditional Greek towns, imposing monuments as well as typically excellent Greek gastronomy. Astypalea, Leros, Lipsi, Nisyros, Kalymnos, Karpathos, Kastellorizo, Kos, Patmos, Rhodes, Tilos are just a few that make up this beautiful island group. Rhodes, for instance, has reinvented itself hilltop castles, emerald coves, and powdery, golden beaches, and be sure to head to Mavikros restaurant for the unrivaled view!
Wind and Sailing Conditions: During the summer, the prevailing wind is the 'Meltemi', which blows from the northwest. It blows erratically through July and August but regular winds between force 4 and 6 can be expected in between these months. In the spring and autumn, the wind is usually between force 2-4 and blows from the southeast.
Dodecanese Islands yachts Dodecanese Yacht Charter Guide
---
Map of Greece Charter and Sailing Destinations 
---
Greece Climate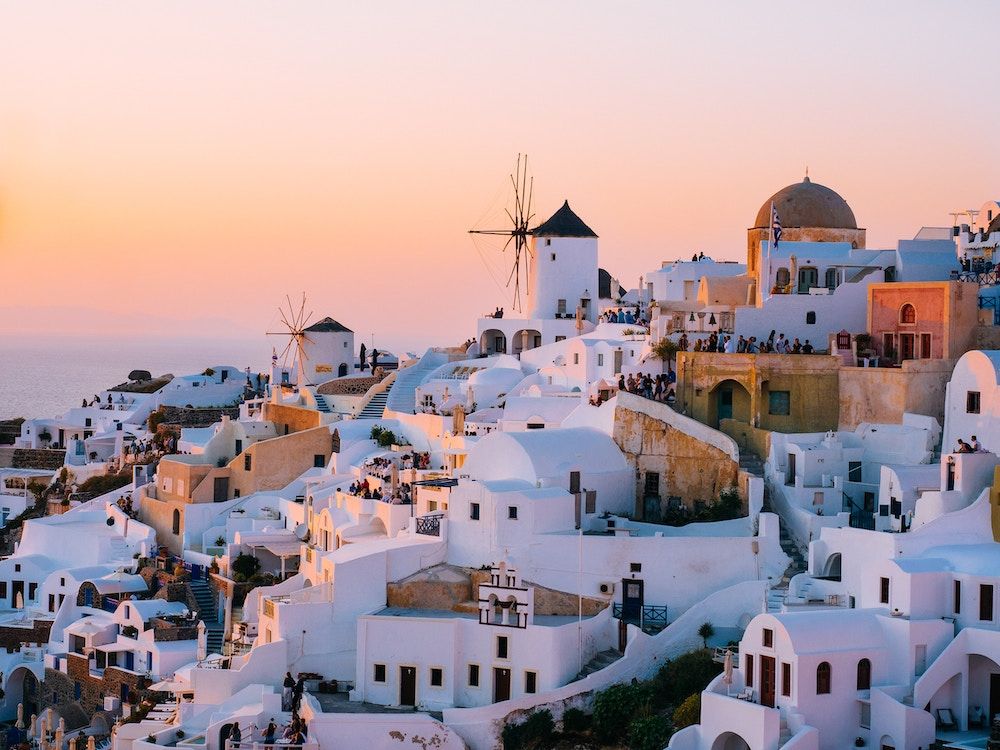 The Greek islands tend to have a "Dry Mediterranean" climate, which makes them perfect for chartering during the non-winter months - from April to October. The weather in the islands is almost always sunny and dry during the summer, with the temperature hot during the day and pleasantly warm at night. Winters are chilly and wet and therefore make chartering less appealing, but summer in Greece lasts longer than in the likes of France and Italy, extending the charter and sailing season and allowing you more time to sail!
The Etesian winds generally blow from May to October but can be quite strong in July and August, particularly in the Cyclades islands. Please read the information about wind in each of the areas above and discuss your Greek yachting itinerary with one of our Boatbookings experts when organising and booking your Greece charter.
To find out more detailed, localised weather and climate information take a look at our weather page. 
---
Greek Cuisine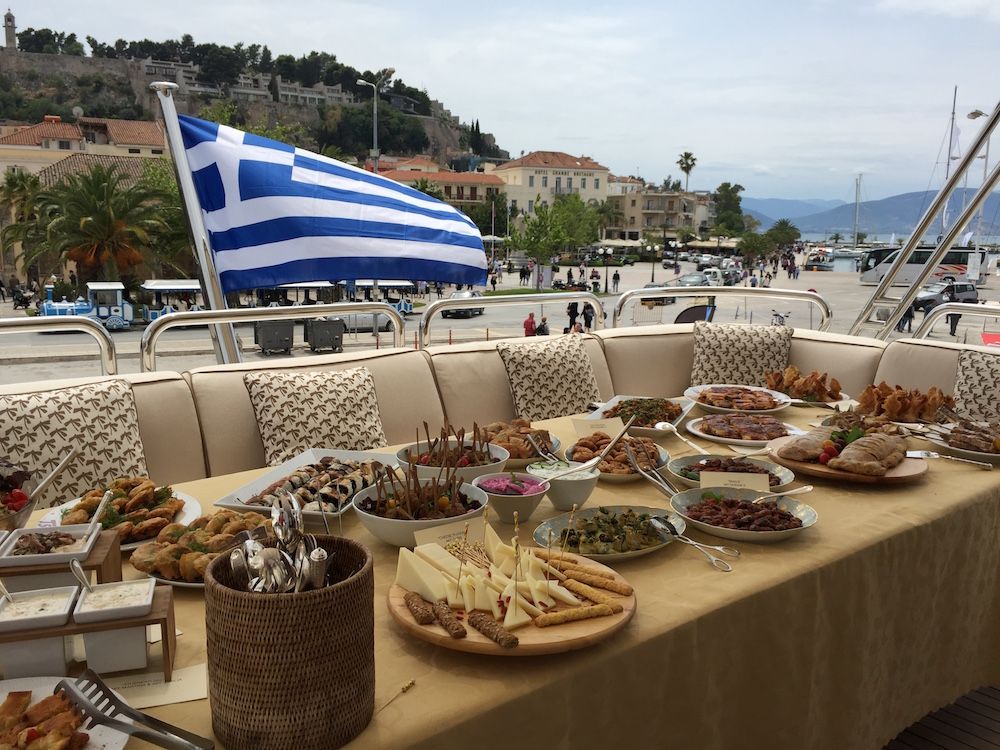 Greek cuisine is simple yet delicious. During your sailing vacation, you will come across the freshest ingredients, the best olive oil in the world and a growing variety of excellent locally produced wines. Local specialties vary from region to region, but the most popular food types are:
- Tzatziki; a fresh cucumber, and mint dip. Perfect with Pita.
- Proper greek salads - with decently sized feta cubes!
- Gyros. Greek equivalent to a kebab. Thick pita bread with Taziki, salad, chips, meat and sometimes with halloumi. These normally cost around 2-4 euros
- Fresh Octopus.
- Crispy deep-fried aubergines (eggplant) and courgette (zucchini).
- Saganaki, similar to Halloumi. 
- Fresh-grilled fish.
- Moussaka.
- Olives.
- Sweet baklava.
- Of course, no one should leave this country without having had a Souvlaki.


Certain islands, such as Sifnos, are renowned for their role in the fabulous foodie scene, so tuck into the golden Calimari, a meze platter and the local biscuits with orange flavour. Why not have a look at our blog on the very best of Greek gastronomy? Then, when you are in Athens, be sure to check out Kuzina, our broker's favourite restaurant which combines Greek and Italian cuisine and an unmissable view of the Acropolis.
Our Top Rated Greece Charter Yachts Our Greece Yacht Charter FAQ
---
Other Greece Charter Destinations: Athens | Cyclades Islands | Ionian Islands | Saronic Islands | Sporades Islands | Dodecanese Islands
Charter destinations