7 Day Northern Sardinia Crewed Catamaran Itinerary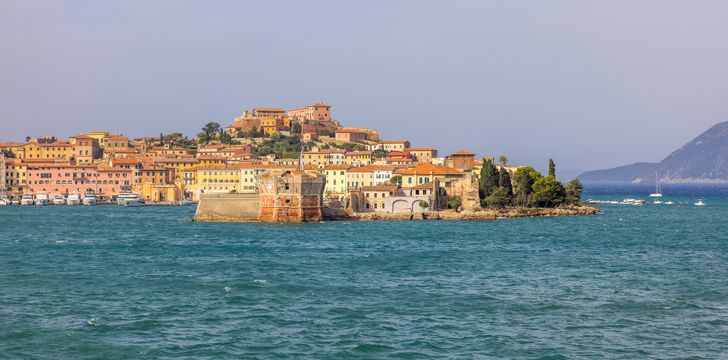 Sail between the Emerald Coast and the Maddalena Nature Park onboard a luxury crewed catamaran for an extraordinary charter vacation in Northern Sardinia
Day 1: Portisco to Porto Rotondo | Day 2: Porto Rotondo to Pevero Bay | Day 3: Pevero Bay to Porto Cervo | Day 4: Porto Cervo to Caprera | Day 5: Caprera to Lavezzi | Day 6: Lavezzi to Budelli | Day 7: Budelli to Baja Sardinia | Day 8: Disembark in Portisco
Remaining largely unspoilt, yet highly exclusive, Sardinia is an effortlessly charming island to embark on a sailing vacation for several reasons. Her wild interior is fringed by a glamorous coastline of chic resorts, authentic seaside villages and idyllic coves - particularly in the Costa Smerelda region. Characterized by breathtaking scenery and truly splendid beaches, these islands will make a beautifully secluded cruising destination in the Mediterranean for yourself and family or friends this summer onboard a luxury crewed catamaran in Sardinia.
Contact our Charter Experts today for a bepoke itinerary and begin planning your wonderful crewed catamaran sailing vacation to Northern Sardinia.
---
Map
---
Day 1: Portisco to Marinella and Porto Rotondo
Step onboard your Sardinian luxury crewed catamaran in Portisco, located in the province of Olbia-Tempio. Once settled onboard, cruise to the quaint seaside village of Marinella for a swim and splash on the water toys. Following lunch on the aft-deck, raise the anchor and set sail to the stylish hub of Porto Rotondo to soak up an impressive display of yachts and imposing mansions. This evening we suggest stepping ashore for sundowners at one of the waterside bars.
---
Day 2: Porto Rotondo to Cala di Volpe and Pevero Bay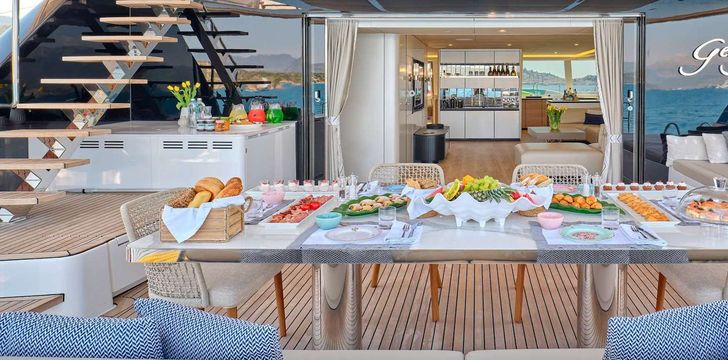 Wake early for a swim before a glorious, continental breakfast under the Sardinian sun. Once satisfied, set sail to Cala di Volpe - which for the James Bond fans amongst you - shot to stardom when the hotel of the same name featured in The Spy Who Loved Me. Lured by crystal clear wates, you will spend most of your day in this bay either enjoying everything the water has to offer or making a lunch reservation at the hotel. Come early afternoon, embark on a sunset sail to Pevero Bay for an indulgent, multi-course dinner on the aft-deck.
---
Day 3: Pevero Bay to Liscia di Vacca and Porto Cervo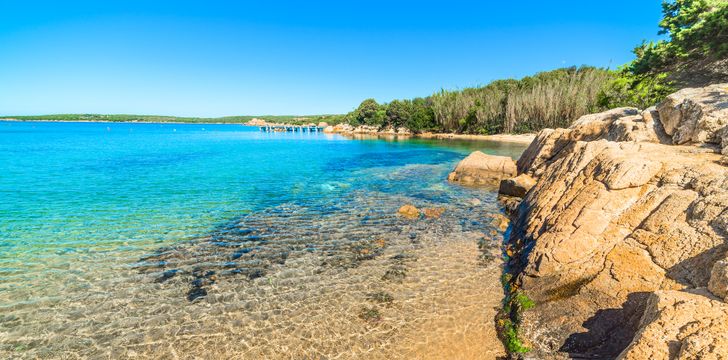 It's day three and time to make your way into Sardinia's famed Porto Cervo; the glamorous hangout for the Mediterranean's most luxurious yachts. Before berthing here for the night, we suggest cruising around to one of the smallest beaches in the Costa Smerelda; Liscia di Vacca. Secure a beautiful anchorage and enjoy a freshly prepared lunch and all the water has to offer.
Having secured your berth in this Italian waterside resort, step ashore to discover exclusive outlets, indulge in some of the finest restaurants the Mediterranean has to offer and sample the Sardinian nightlife.
---
Day 4: Porto Cervo to Caprera Island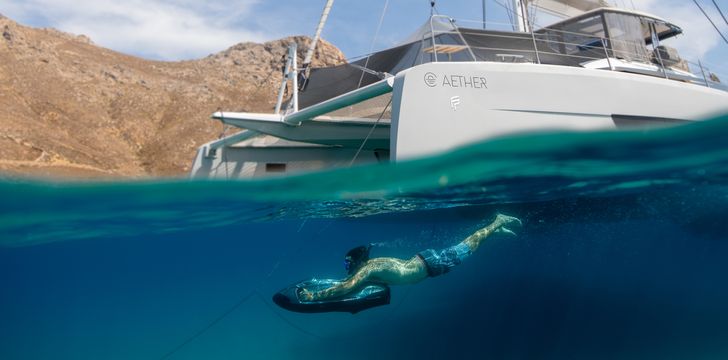 Make the most of Porto Cervo and step off your catamaran for an early morning stroll through the town before embarking on a lengthy sail for what is possibly the most idyllic island oasis in Sardinia; Cala Coticcio, on Caprera island. Situated in the Maddalena National Park, where sandy swathes are fringed by rose tinted cliffs blanketed by luscious vegetation, this is the place to dip below the surface in search for vibrant aquatic life or find an isolated anchorage perfect for water sports.
Come mid-afternoon, set sail around the northwest of the island to Cala Serena in the Strait of Bonifacio. Largely deserted, teeming with flora and fauna, and beautifully untamed, this island offers the wonderful opportunity to spend the night totally isolated at anchor.
---
Day 5: Caprera to Cavallo and Lavezzi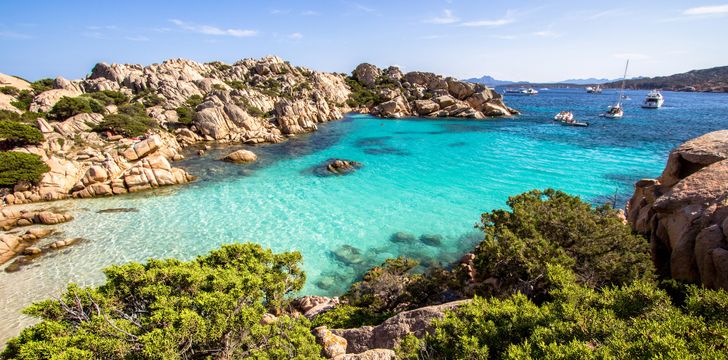 This afternoon, embark on a long sail (which will take most of the day) to Capo Coda Cavallo beach; a beautifully sheltered bay known for its shallow waters, therefore best accessed by a crewed catamaran as you can drop the anchor a lot closer to the shore than monohulls and motor yachts due to a shallow draft.
Come late afternoon, cruise to Lavezzi; a snorkeller's paradise and sheltered overnight anchorage for sundowners and another delicious meal by your private chef.
---
Day 6: Lavezzi to Razzoli and Budelli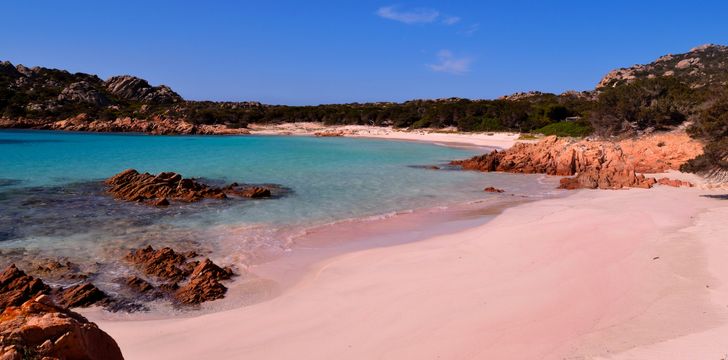 Rise early to breakfast on the aft-deck and a lazy morning under the sun on the foredeck. Come mid-morning, raise the sails and make way to Razzoli. Once anchored, we recommend taking the tender ashore and hiking to the island's lighthouse, from which you can look over to the cliffs of Bonifacio.
Following a lunch of fresh fish and salads onboard, set sail to unveil the The Pink Beach of Budelli; a fascination amongst charterers. Unspoiled and only 1.6 square km, Budelli is widely considered the most idyllic island in the Maddalena Archipelago. Anchor here for what will be your final celebratory dinner onboard, to make the most of this awe-inspiring sight.
---
Day 7: Budelli to Spargi and Baja Sardinia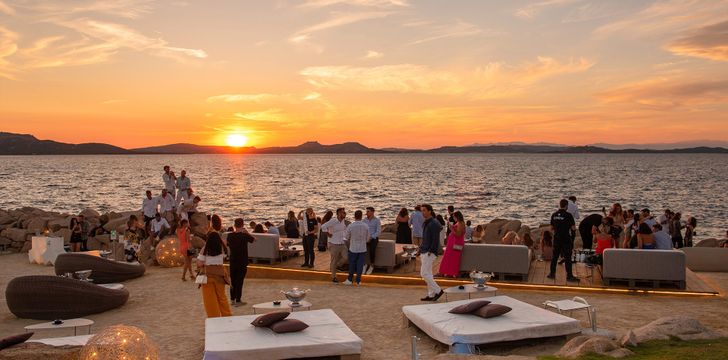 Only accessible by boat, Spargi is a wonderful island to crusie to for a morning swim and lunch onboard. For the dreamiest final full day on the water, while away the hours in the utmost exclusivity at your secluded anchorage enjoying blissful relaxation and watersports, before heading to Phi Beach on the island of Baja Sardinia. Representing the ultimate sunset spot to see out your Sardinian vacation, Phi Beach serves up the best apertivo accompanied with a DJ.
---
Day 8: Disembark in Portisco
This morning, take one final dip in Sardinia's renowned glassy waters before moving underway to Portisco where you will disembark your catamaran and say farewell to your Captain and crew. Before returning home, we suggest you explore this lovely harbour, home to a selection of boutiques, charming cafés, sandy beaches and excellent cuisine - making it a great embarkation and disembarkation point.
Book Today Our Sardinian Motor Yachts 
---
Other Mediterranean Destinations: Italian Riviera | Sicily | Mallorca | French Riviera | Monaco | Corsica | Ibiza | Croatia
Other Articles of Interest
Charter destinations