Aeolian Islands Yacht Charter Guide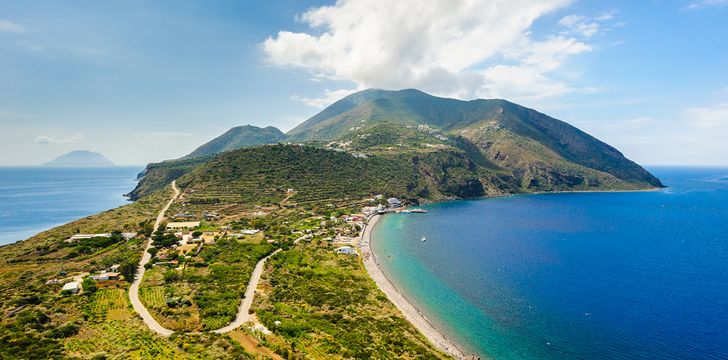 Charter a crewed motor yacht, crewed catamaran or bareboat sailboat in Italy and discover Sicily's beautiful Aeolian Islands of Lipari, Panarea, Stromboli and Vulcano
About the Individual Islands | Getting There | History of the Aeolian Islands | Food and Wine | Our Charter Yachts
An Aeolian islands Yacht Charter (Isole Eolie) is the only way to spend summer with your friends and family. These geological gems in the Mediterranean sea are a group of seven beautiful islands about 25-50 km north of the Sicilian town of Milazzo, the perfect place to meet your bareboat sailboat or Sicily crewed motor yacht. These seven little islands have a history of sea adventures tracing back 5000 years. The main island Lipari, the green landscapes of Salina, the wild nature of Alicudi and Filicudi, the sophisticated Panarea and the charming Vulcano and Stromboli await. 
The sea surrounding the Aeolian Islands is a beautiful cobalt blue. The mountains are covered with wildflowers, vineyards and trees including lemon, caper and olive. The little towns and villages are timeless and delightful. The inhabitants are very friendly and helpful. The islands are also a real paradise for nature lovers, hikers and scuba divers. Since 2000 the islands have been declared a World Heritage Site by UNESCO. This diverse group of volcanic islands is becoming the most popular charter destination for yachting enthusiasts and experienced sailors, particularly during the peak summer months.
Crewed Motor Yachts Crewed Catamarans Bareboat Sicily
---
---
Map
---
About the Individual Aeolian Islands
Lipari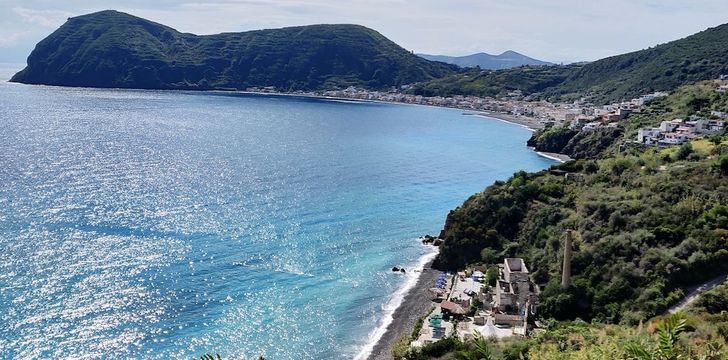 Attractively nestled between two harbours, Lipari is the largest Aeolian Island. Within easy reach of the hotel are the castle and its museum, archaeological park and the Cathedral. Shops, cafés and restaurants are just a short stroll away. The volcanos are considered inactive, though steaming fumaroles (emissions of hot gas and steam) may still be seen. As a result of the volcanic origins, the island is covered with obsidian and pumice, the latter giving the surrounding water a brilliant turquoise hue. Pumice mining has become a large industry on Lipari, and the pale pumice from Lipari is shipped internationally. Around the site of the pumice evacuation, the beach looks like talcum powder.
Bareboat Sicily Crewed Catamarans Crewed Motor Yachts
---
Vulcano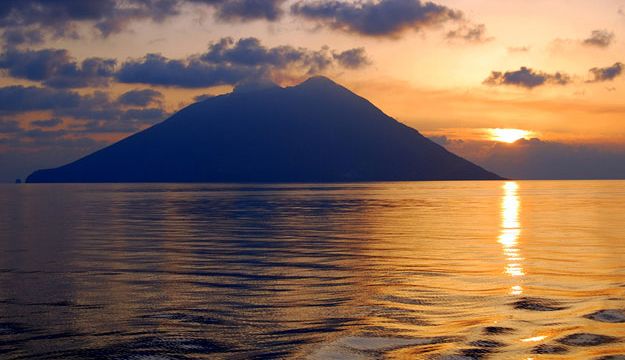 Right next to Lipari, Vulcano island is dominated by the Gran Cratere volcano cone giving off clouds of sulphurous gas. This peak gives mindblowing views while the island is popular for its pretty beaches and mud baths (good for the skin). The English word 'volcano' owes its origin to Vulcano. The Roman god of fire, responsible for making the weapons of the gods, was called Vulcan; he lived within the volcano known as Vulcano.
---
Salina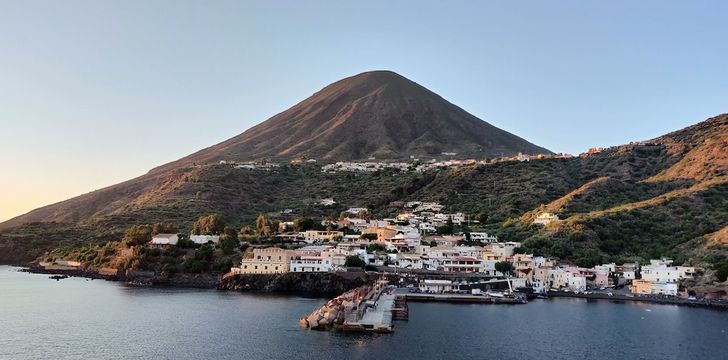 Salina is lush and hilly - great for an energising walk before a long leisurely lunch onboard your yacht (or after, for that matter, to work off all the pasta and vino). Together with Lipari, Salina is one of the most populated islands. Its vegetation is particularly beautiful and it has many little bays and headlands as Pollara, a very attractive bay created by a beautiful underwater crater. (And it has a natural arch, as can be seen on the right). Pollara's evocative atmosphere led Massimo Troisi to choose it as the location for his last masterpiece, the film Il Postino.
Bareboat Sicily Crewed Catamarans Crewed Motor Yachts
---
Panarea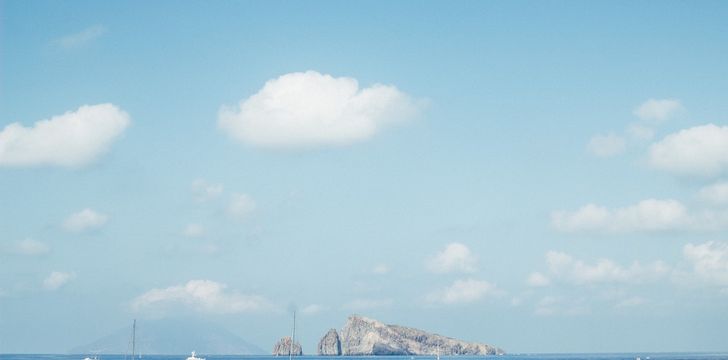 Panarea is a gleaming beacon of an island with enormous appeal to visitors. The smallest of the Aeolian Islands, Panarea is a romantic, upmarket little island featuring several quaint hotels, elegantly laid-back bars and restaurants serving delicious Sicilian specialities, complete with stunning views across to Stromboli.
Panarea's buildings are immersed in beautiful gardens surrounded by the luxuriant vegetation typical of the Aeolian Islands. Go ashore via your tender or if you like you can go for a midnight swim. There is plenty of entertainment in Panarea: splendid bays such as Lisca Bianca, Il Bottaro, Basiluzzo, Dattilo, etc, bars and discos where you can bump into all sorts of interesting and well-known people.
---
Stromboli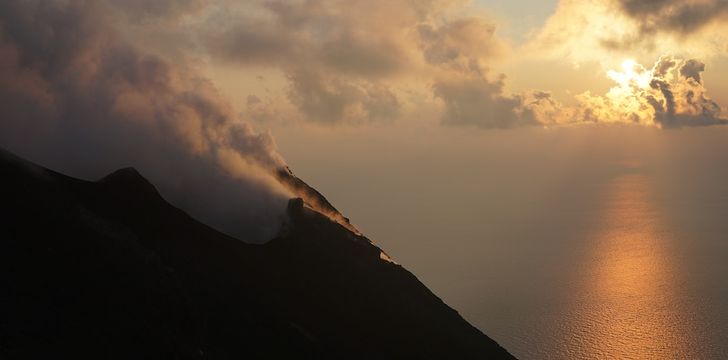 The most remote of the islands, Stromboli is little more than a volcano rising out of the sea. Stromboli is a fully active (and typically cone-shaped) volcano in a constant state of mild activity, punctuated by occasional larger and fiercer eruptions. The most recent violent eruption was a brief event in March 2007 which caused the closure of the summit area. Stromboli is popular for trips out at night to see magma spurting out of the cone-like a dramatic natural fireworks display. (Though for the less brave at heart, a panoramic view from another (safer) viewing platform, such as your yacht would suffice).
Bareboat Sicily Crewed Catamarans Crewed Motor Yachts
---
Filicudi and Alicudi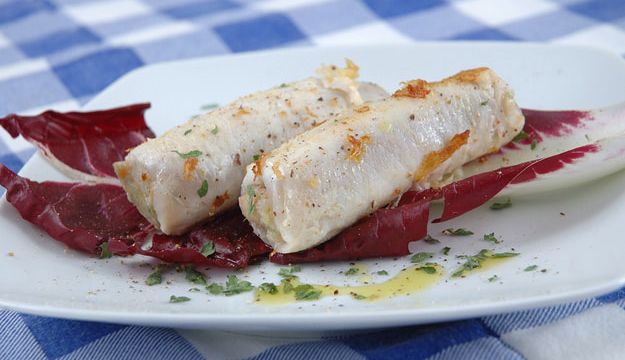 Filicudi and Alicudi lie to the West and are comparatively much less visited islands, particularly Alicudi; but both are spectacular and have appealing anchorage spots for (another) long lunch of involtini alla melanzane, freshly caught 'totano" calamari or fish… and plenty of Sicilian wine. The completely uninhabited western side of Alicudi reveals particularly magnificent rock walls plunging into the water.
See our Luxury Itinerary for the Aeolian Islands
---
Getting There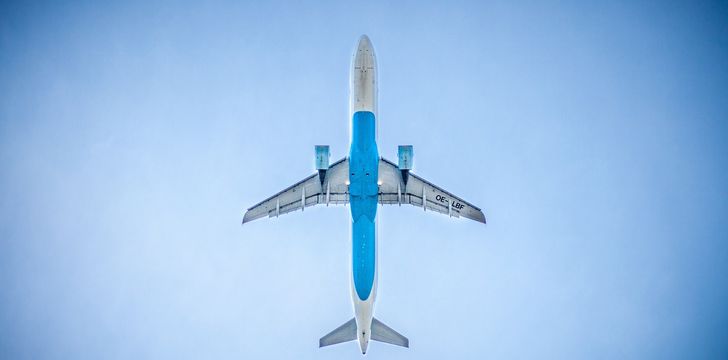 You would normally fly to the Sicily airports of Catania or Palermo, where most of the charter boats are located. From these ports it's approximately 2 hours cruising by motor yacht to the Aeolian Islands or a day's sail to get to the island of your choice.
Bareboat Sicily Crewed Catamarans Crewed Motor Yachts
---
History of the Aeolian Islands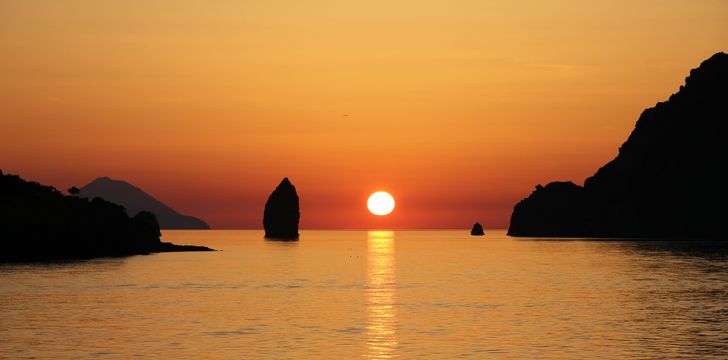 The earliest settlers of these islands arrived as early as 4000 BC to reap the bounty from obsidian (a hard volcanic rock used to make tools) and pumice. The islands have had strategic importance (and plenty of bloodsheds) due to their location near Sicily and the Italian Peninsula. They have been the site of several battles between empires controlling the area, most notably a key battle between Carthage and Rome in 257 BC. They have been controlled at different times by Ancient Greece, Rome, Syracuse and Carthage. In 839 the island was sacked by Muslim Marauders and did not really come back to life until settled by Benedictine monks in 1100. Lipari was sacked by pirates in 1540 and later rebuilt and repopulated under Carlo V of Naples. Its history from this point mirrors that of Sicily and the Kingdom of Naples.
---
Food and Wine: Culinary Delights Alla Siciliana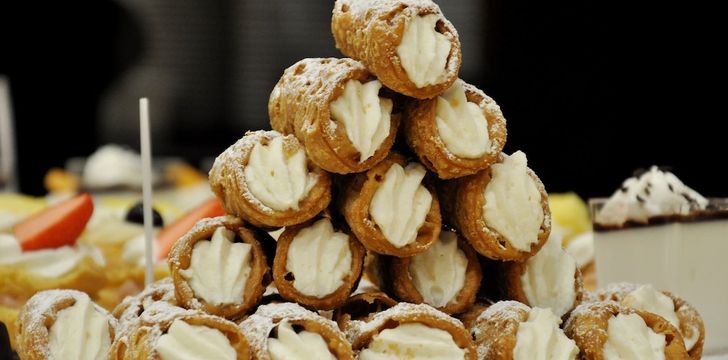 Fabulous yachting conditions and breathtaking scenery aside, without a doubt food and wine are among the Aeolian Island's main attractions. It is virtually impossible not to be tempted by the incredible array of divine Mediterranean food and wine. Local produce includes eggplants, citrus fruits, almonds, capers, olives, peppers and home-made pasta, plus of course fish dishes such as swordfish (a typical fish of these waters), stuffed squid in tomato sauce, or various delicacies 'alla Siciliana' with capers, red peppers and herbs.
Other specialities are: "maccheroni", aubergine rolls (involtini), smoked ricotta cheese and the aromatic capers (their flowers are called the 'orchids of the Aeolian Islands"). There is also a selection of excellent, strong and spicy local wine and a frighteningly delicious choice of handmade pastries and desserts. Cassata is a popular dessert made with ricotta, candied fruit and pistachios and cannoli are almond biscuits stuffed with ricotta. The Aeolian Islands provide all the ingredients for a perfectly flavoured Italian yachting holiday. What more temptation do you need?
Our Sicily and Aeolian Islands Charter Yachts
---
Our Aeolian Islands Charter Yachts
Boatbookings can find you the ideal charter yacht in Sicily and the Aeolian Islands. Click here to see our the Sicily and Aeolian Islands Charter Yachts or simply contact us and we'll recommend the best boat for you.
Our Sicily and Aeolian Islands Bareboats Contact us to plan your Charter
---
Other Italian Yacht Charter Destinations: Sicily | Amalfi Coast | Naples | Tuscany | Sardinia | Liguria/Italian Riviera
Other Articles of Interest
Charter destinations