Sardinia to Naples 10 Day Crewed Motor Yacht Itinerary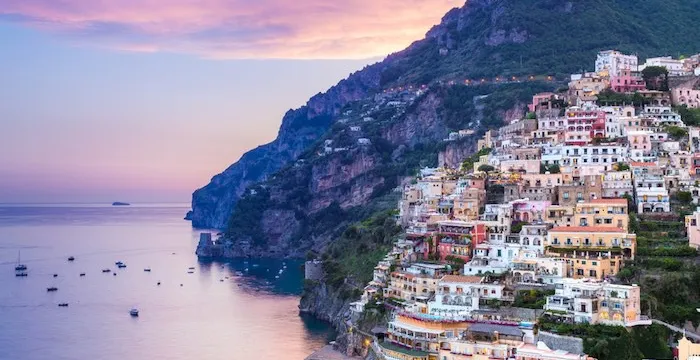 Sardinia and Naples 10 Day Crewed Motor Yacht Itinerary - Discover La Maddalena, Bonifacio, Porto Cervo, Ponza, Ischia, Capri, the Amalfi Coast, Sorrento & Naples
Key Destinations: Olbia | Cala Gavetta | Cala Spalmatore | Bonifacio | Poltu Quatu | Porto Cervo | Ponza | Ventotene | Ischia | Capri | Amalfi Coast | Sorrento | Naples
Sardinia is the perfect destination for you and your guests to start a luxury yacht charter holiday; there is something for everyone along the Costa Smerelda, with some of the most beautiful beaches in the world, a breathtaking national park in La Maddalena Archipelago, and an abundance of bustling bars, restaurants and nightclubs around the yachties' paradise of Porto Cervo.
From Sardinia, you and your family and friends can easily do an overnight cruise over to the beautiful Amalfi Coast. This stretch of the Italian coastline is renowned for its dramatic landscape and beguiling beauty; abundant forests, plunging cliff faces and charming seaside towns combine to provide the perfect setting for a luxury yacht charter! If this isn't tempting enough, you can save considerably on sales charges as a result of cruising through international waters, giving you a chance to devote these savings to something extra special during your holiday in the sun.
Day 1: Olbia to Cala Gavetta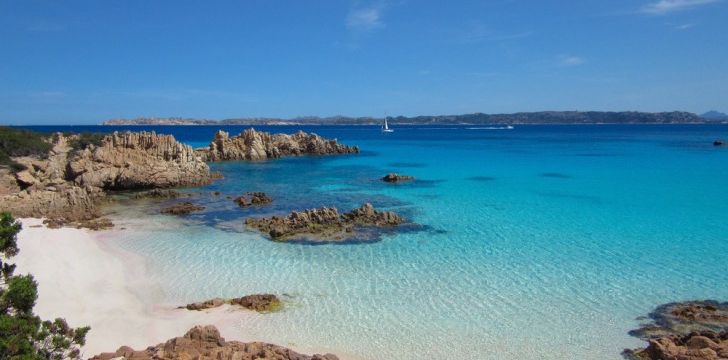 As you will most probably be flying into Olbia, Sardinia, this is the most convenient location for you to start your yacht charter journey. This city is not to be underestimated; there is a wonderful 'centro storico' (historic centre) where you will find an abundance of charming boutiques and bustling piazzas – perfect for an evening 'passeggiata'.
After getting to know your crew and becoming accustomed to your new luxury surroundings, you can set sail towards Caprera Island, where you can enjoy lunch at the Cala Portese with a beautiful view of the bay. Then head on to visit Cala Coticcio where you can spend the afternoon jumping into the crystal clear waters and exploring the spectacular rock pools and white sandy beaches. Finally, retire for the evening over at Cala Gavetta on La Maddalena Island and enjoy a delicious meal in one of the classic Sardinian restaurants.
Day 2: Cala Gavetta to Cala Spalmatore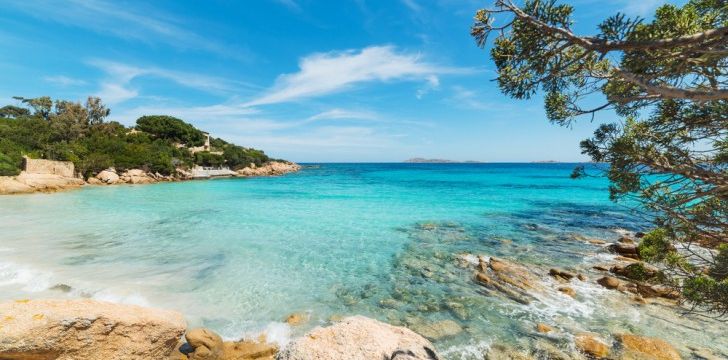 Today you can make the most of your time discovering the Maddalena Islands and the breathtaking national park that boasts the bluest-of-blue waters and idyllic landscapes. You can set up for a delicious lunch made for you by your talented on-board chef at Cala Garibaldi and soak up the wonderful Mediterranean sunshine. Then cruise over to Cala Spalmatore and spend the night admiring the stars at anchor.
Day 3: Cala Spalmatore to Bonifacio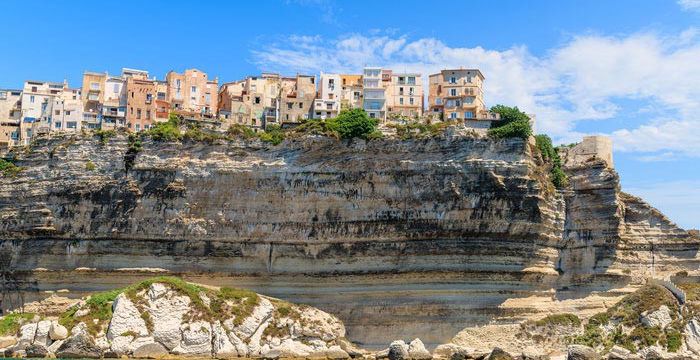 Continue your island odyssey by visiting the Islands of Budelli, Razzoli and Santa Maria. Budelli is where you will find the gem of Sardinia, La Spiaggia Rosa, where you can see the lovely rose tinted sandy beaches due to small fragments of shell providing an extraordinary colour – truly an unforgettable sight! After this you can explore the picturesque coves of Razzoli and Santa Maria and see some vibrant and colourful fish whilst snorkeling. Stay overnight in Bonifaccio, on the southern tip of Corsica.
Day 4: Bonifacio to Poltu Quatu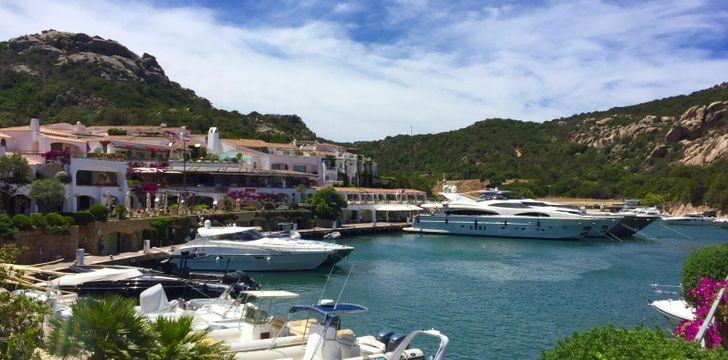 On Day 4 you can spend the day visiting the French Island of Lavezzi where you can experience pure bliss. This uninhabited island is blessed with exceptionally rich marine life and a rugged, dynamic landscape, making it the perfect spot to do some diving or snorkeling. If you are looking to try something new, why not give kayaking or windsurfing a try too as this is the ideal area to do so when the wind picks up! In the evening you can make your way over to Poltu Quatu, and if you are feeling like a lively soirée with cocktails and dancing, why not check out Phi Beach Club that is known to be a hotspot for partygoers!
Day 5: Poltu Quatu to Porto Cervo (Overnight to Ponza)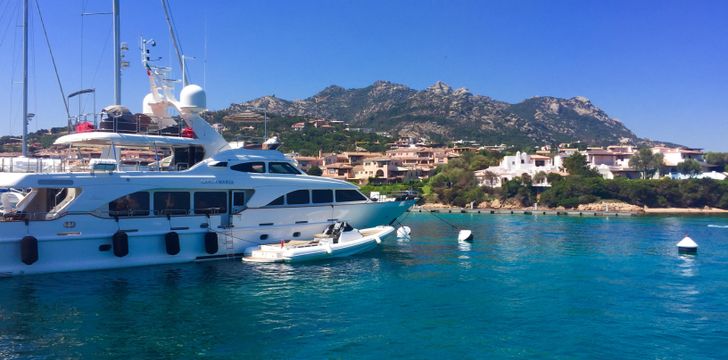 Today you can stop for lunch at the celebrated Cala di Volpe Hotel, which is a heavenly Sardinian Paradise where you will be sure to taste some extraordinary dishes. Then on your last afternoon in Sardinia, explore the bustling town of Porto Cervo that is known by yacht enthusiasts all over the world. Providing a great atmosphere, there is an array of boutiques that will satisfy the shoppers in your party, and there are countless charming bars and restaurants to suit everyone. Then hop on board for the overnight cruise over to the Pontine Islands of Ponza and Ventotene.
Day 6: Ponza to Ventotene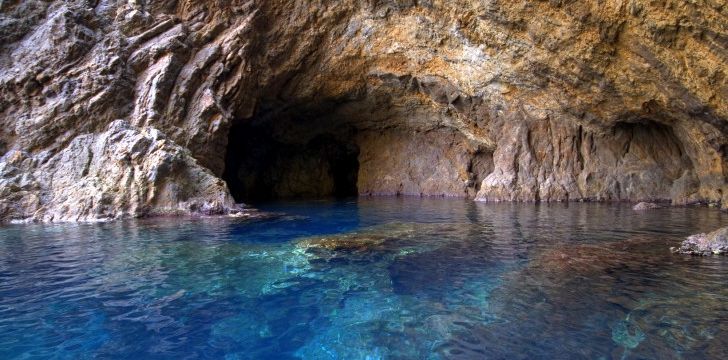 Enjoy the day discovering the jewel-toned waters of Ponza and Ventotene, the two largest islands of the Pontine Archipelago. These are very quiet islands that are largely undiscovered by tourists, but provide interesting ground to explore with Etruscan and Roman Archaeological ruins and some extraordinary rock formations. As you have already had a long overnight cruise the previous night, we would suggest staying in either in Ponza or Ventotene for the night and having a calm and relaxed evening to yourselves.
Day 7: Ponza to Ischia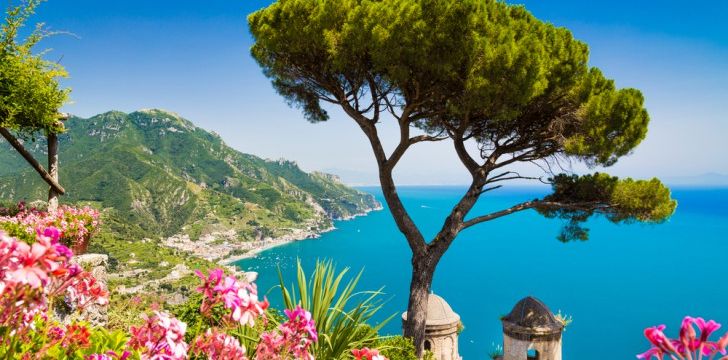 In the morning cruise over to one of Italy's most stunning Islands, Ischia, to discover the historic Thermal baths and taste some of the best seafood in the region! This island has so much discover and is often overlooked by tourists that head to Capri instead. Spend the night here and take advantage of the wonderful bars and restaurants including Indaco, a fine-dining restaurant where you can taste some awe-inspiring dishes. Spend the night in Ischia Porto.
Day 8: Ischia to Capri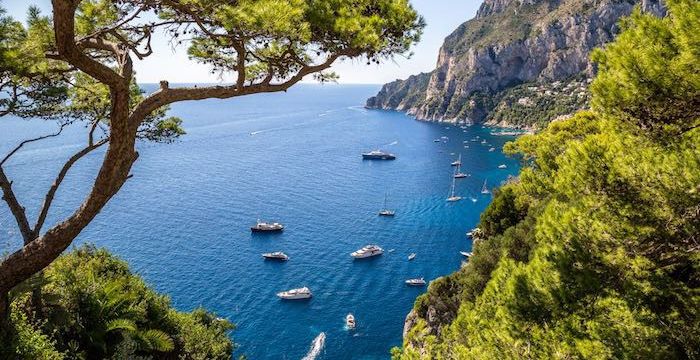 After a morning cruise over to Capri, you can start exploring this fantastic island. The stunning grottos of Capri will inspire both children and adults, providing a fabulous day activity that is unlike any other. Make sure you visit La Piazzetta, the centre of life on the island, and watch the world go by with an Aperol Spritz in hand! Then for dinner and drinks you must try the Michelin Star restaurant of Il Ricchio where you will taste an array of astonishing Italian flavours in the chef Salvatore Elefante's dishes made from on the best local produce.
Day 9: Capri to Nerano & Positano on the Amalfi Coast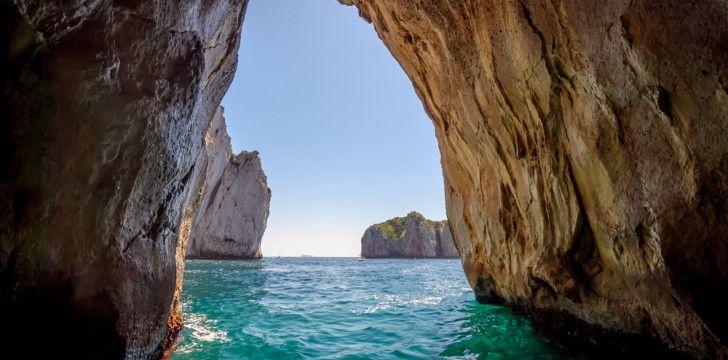 Today the crew on your luxury yacht will take you towards the Islands of Nerano and Positano on the Amalfi Coast. Nerano is the perfect place for a morning dip and Positano will be sure to delight your guests due its captivating appearance, with multicolored pastel buildings climbing up the lush mountain side. Afterwards visit the Belmond Hotel Caruso in Ravello, which provides the perfect setting to look out onto the sunset and delight in the beauty of the Amalfi Coast, and experience a superb onshore dinner. Enjoy a stay at your favourite Amalfi spot overnight.
Day 10: Amalfi Coast to Sorrento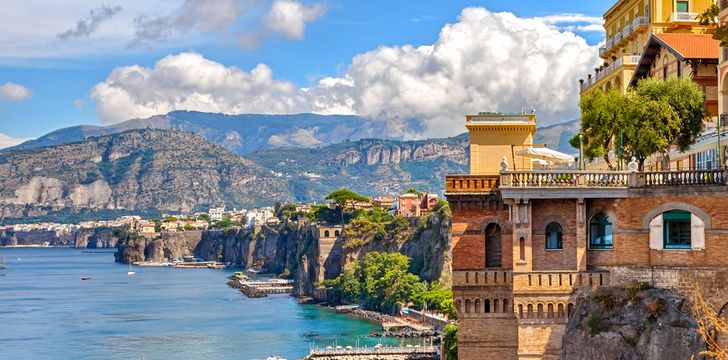 In the morning of Day 10 explore the last sights of the Amalfi coast and then enjoy a smooth sail up to Sorrento. This town set on the Sorrentine Peninsula has spectacular views of Naples, Vesuvius and the Isle of Capri. Why not make the most of your last moments on board your luxury yacht and have a final go at some of the exciting water toys you have on board in the beautiful bay. Then explore the town and the fantastic shopping it has to offer, not forgetting the obligatory final Gelato that is bursting with the flavours of Italy!
Day 11: Sorrento, disembark Naples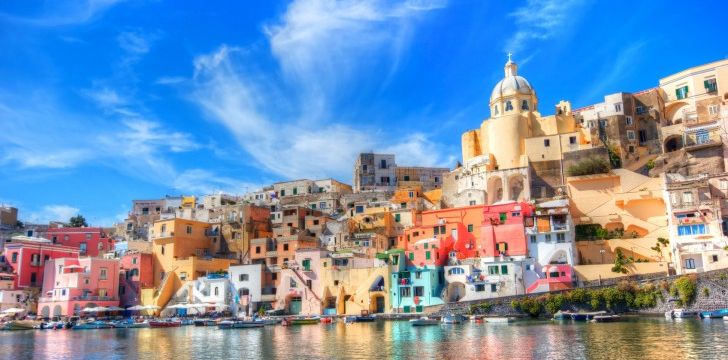 On your final morning you can say your goodbyes to the crew and thank them for all of their amazing work. After enjoying a last al fresco breakfast on board your stunning yacht, head back to Naples where you will certainly be tempted to stay for a couple of extra nights and make the most of this enthralling city! 
See our Amalfi Coast Charter Yachts See our Sardinia Charter Yachts Contact Us
Nearby destinations: French Riviera | Corsica | Sardinia | Amalfi | Naples
Other Articles of Interest
Charter destinations