A Day at Phi Beach Club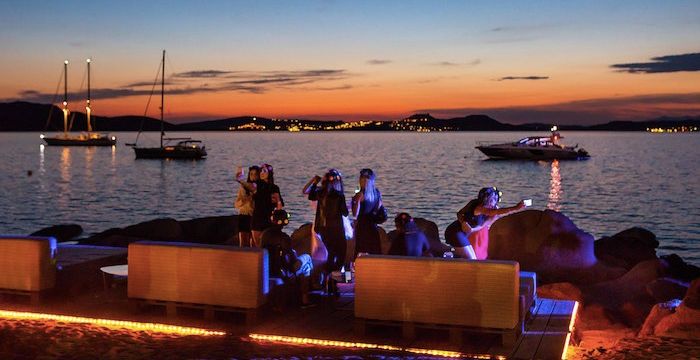 A short distance from Porto Cervo and its high season bustle, Phi Beach club provides the perfect escape for the day – the all-day and all-night beach club entertains the trendiest crowd of Sardinia–goers with tanning, DJ fuelled partying, and light lunches on its picturesque beach. Nestled between an 18th century Naval Fortress, and beguiling rock formations, it has, since its launch in 2005, become the place to be, and be seen. Revel under the sun in one of their VIP lounges with bottle service complemented by excellent views. Or, perhaps, order one of their medusa shisha pipes and simply relax.
Phi Beach Club also provides chic dinners on the beach, serving an infusion of traditional yet contemporary Mediterranean cuisine before becoming an open air nightclub. Where the dance floor is eclectic, an in-vogue crowd is buzzing, and only the very best DJs light up the night.
Whether you want to spend the whole day at Phi Club, or simply enjoy it as part of a long lunch on your Sardinian day charter on the coastline, or from the likes of Porto Cervo and Poltu Quatu, we would highly recommend that you book ahead in order to enjoy an unforgettably fun day out! Why not try out some of the other best places to visit in our Sardinia Itinerary?
Other Articles of Interest
Charter destinations