Tavolara Yacht Charter and the Tavolara Film Festival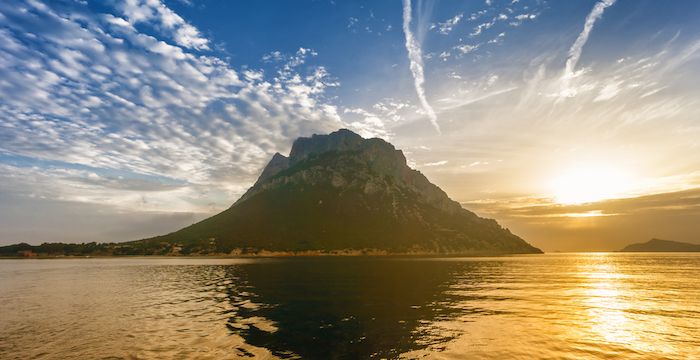 The islands of Tavolara, Molara and Molarotte are the key islands of a protected marine area in the northeast of Sardinia, a region extending from Capo Ceraso to Capo Coda Cavallo. They are rich in Mediterranean colors and offer numerous inlets, sandy beaches, stunning bays and promontories, making them one of the most fascinating sailing regions of Sardinia.
Tavolara marks the southern boundary of the gulf and is a true limestone island, different from nearby Molara which is granite. 600 meters high, 4 km long and 1 km wide, the island truly looks like a big table. The colorful high cliffs with sheer drops to the a sea offer a perfect wildlife sanctuary.
In the 19th and 20th century Tavolara island was ruled by the Bertoleoni family as the Kingdom of Tavolara, one of the smallest kingdoms on the planet. It is now simply part of Italy, although it was never formally annexed.
The present King Tonino of Tavolara is an Italian citizen named Tonino Bertoleoni, who runs Da Tonino, one of the two quaint little restaurants on the island that offer extraordinary fresh seafood.
Each year in July, the island hosts a famous event called Una Notte In Italia (One Night In Italy). It is a small film festival, that is a delight to attend. For three consecutive evenings different independent Italian movies are presented underneath the stars.
As for food, you can either enjoy the delicious seafood in one of the two restaurants or if you bring your own picnic with Peccorino cheese, bread and a local red wine, in any case you will feel like... being in a movie!
Return to your yacht under the moonlight in the beautiful inlet of Tavolara - to finish an amazing day. Have a read of our Sardinia itinerary to see what other wonderful places there are to visit!
Boatbookings can offer you many different types of yachts to see Tavolara: sailing boats, catamarans, motor and super yachts. Just sort through the yachts listed below and let us know which is the right one for your next unforgettable vacation!
Sort through the charter yachts below or use these handy links to quickly find the yachts that best fit your needs:
Motor Yachts: Bareboat (inc. Bareboat with Skipper) | Crewed
Monohull Sailing Yachts: Bareboat (inc. Bareboat with Skipper) | Crewed
Catamarans: Bareboat (inc. Bareboat with Skipper) | Crewed
Yachts for Special Events: Motor Yachts | Sailing Yachts
User Ratings: Top-rated yachts
Other Articles of Interest
Charter destinations