Ponza and Amalfi Coast Crewed Motor Yacht Itinerary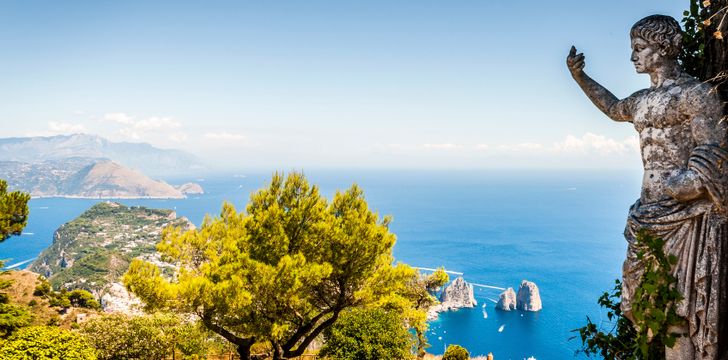 Pontine Islands and Amalfi Coast Crewed Motor Yacht Itinerary
Naples | Ischia | Ventotene | Ponza | Ischia | Capri | Amalfi | Sorrento
Map
Day 1: Naples, Procida and Ischia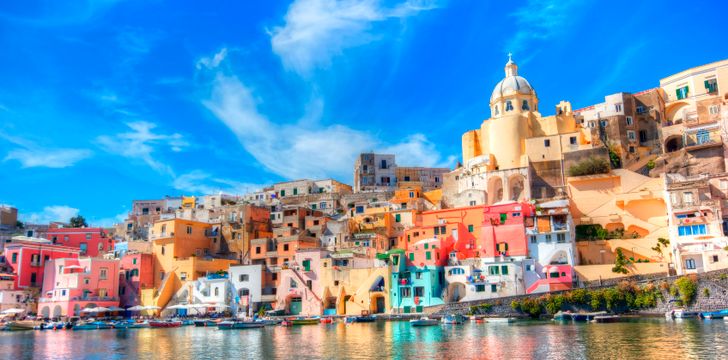 Your first day in the Mediterranean paradise of Italy's west coast sees you board your luxury yacht in Naples, the birthplace of pizza. From here, you'll sail across the pristine waters of the Gulf of Naples to the small island of Procida, a delightful stop off point on the way to Ischia. Formed by the eruption of four volcanoes, now submerged in the surrounding waters, Procida has an impressively jagged and rocky coastline. The colourful town that sits on the edge of the tiny island is filled with history and is a superb place to stop for lunch, before setting sail for Ischia. Another volcanic and mountainous island, providing some awe-inspiring scenery, Ischia is home to Indaco, a fine dining restaurant which also provides thermal spas for a spot of relaxation before dinner. Enjoy an overnight stay in Ischia Porto.
Day 2: Ischia to Ventotene
Leaving the island of Ischia behind you on the horizon, your second day on Italy's waters will take you to Ventotene. Once an island where Roman emperors would banish their disloyal family members, Ventotene is now a hotspot for those wanting to see some real Italian history. With some structures in the port still built with ancient volcanic rock, a fully functional 19th century lighthouse and the Piazza Castello, this small island packs a fascinating punch. One of the best ways to explore this island is to get off onto a paddleboard and explore the coastline via its beautiful turquoise waters – adding some modern exploration to this historical location.
Day 3: Ventotene to Ponza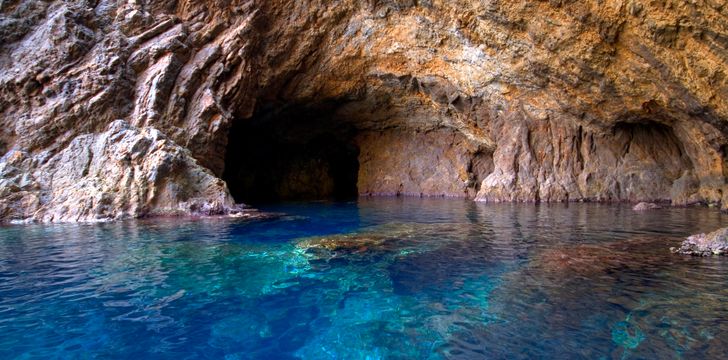 After a delightful al fresco breakfast enjoyed on your aft deck, the cruise from Ventotene to Ponza is the ideal opportunity to get back in the water. Why not take the tender out to try some water-skiing or wakeboarding to work up an appetite for lunch. After you've dried off and tasted your chef's marvellous creations you'll have arrived at Ponza, the largest of the Pontine Islands. Again surrounded by crystal clear turquoise water, this is another picturesque Italian island complete with a colourful and quaint harbour. Famous for its blue grottos, Ponza is a visual delight. Built by the Etruscans, these small caverns allow the perfect amount of light in at the waterline to create a stunning sapphire blue glow. Don't forget your go-pro as you explore this coastline with your snorkelling equipment.
Day 4: Ponza to Ischia Sant'Angelo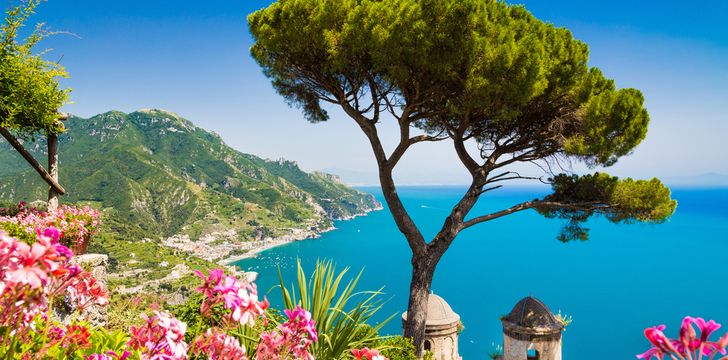 As you head back to Ischia for your fourth day on board your yacht, you'll see the glistening blue waves and Italian sun illuminating a huge rock erupting from the sea. Joined to the island of Ischia only by a short sandy stretch, this landmark marks the town of Sant'Angelo, a truly magnificent little village. Before you take the tender ashore, watersports are a treat with the backdrop of the unique coastline. There are shops, restaurants and beautiful views of Capri from Sant'Angelo, but if you want to experience a real phenomenon then head to Le Fumarole beach. Volcanic activity causes steam to rise through the earth, making the beach so hot in parts that locals often cook food right there in the sand.
Day 5: Ischia to Capri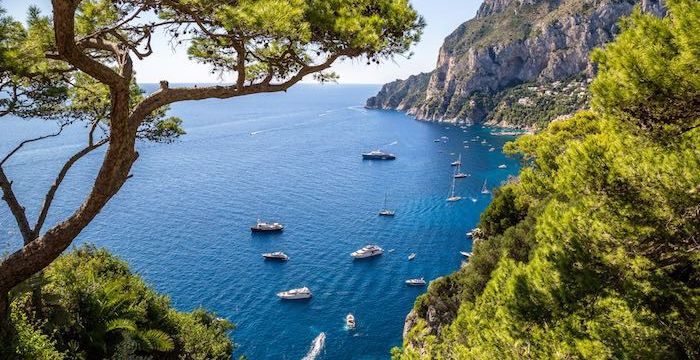 If your charter so far has been unforgettable in terms of sights, sports and discovery then your fifth day in the Italian islands will be a memorable culinary journey. After a cruise over to Capri, stop for lunch at Il Riccio – a Michelin starred restaurant ran by chef Salvatore Elefante who only uses the best local produce to create an array of remarkable Italian dishes. From the culinary masterclass of Il Riccio, your evening meal could take place in the conceptual artistry of E' Divino. This restaurant combines spectacular food with the interior design of an Italian nonna, as the dining areas are styled simply on a traditional Mediterranean home. You could enjoy your gourmet creations outdoors under the lemon trees or in bed, by the open fire. It really can't be missed. Spend the night docked in the Marina Grande. 
Day 6: Capri to Nerano, Positano & Amalfi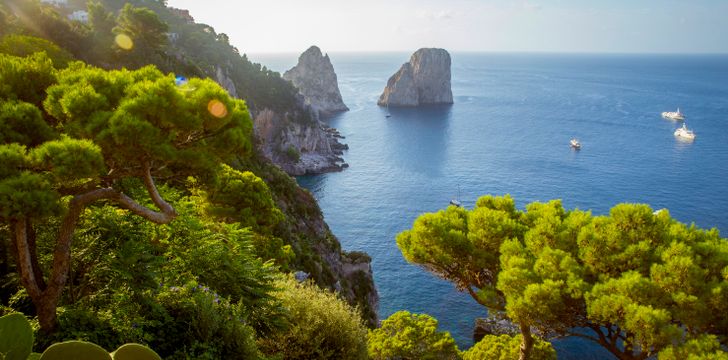 Capri is home to the most famous of Italy's blue grottos and 'Grotta Azzurra' is worth a visit on your final morning by the island. Afterwards, your charter could take you towards the Amalf coast and the towns of Nerano, Positano and Amalfi itself. The sheltered beaches of Nerano are warm enough for swimming right up to late October, while Positano is one of the most aesthetic towns in the Mediterranean. The buildings clamber up the green mountain side away from the beach, climbing high and impressively above the sea level. From your yacht, you can ask your chef to cook you up something new, exciting and delicious to enjoy on deck while you take in the multi-coloured patchwork Positano. A World Heritage Site and the main town of the coastline it occupies, Amalfi will be your home for the night.
Day 7: Amalfi Coast to Sorrento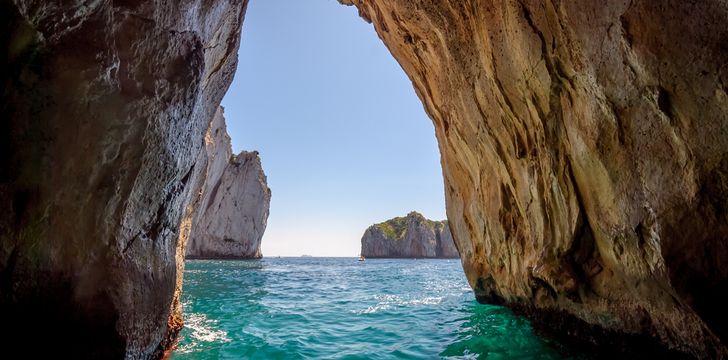 For your final full day on your floating five star hotel, you'll cut through the waves to Sorrento, a town located idyllically on a peninsula with views of the Bay of Naples and the towering volcano Vesuvius. The tapestry like backdrop that greets you as Vesuvius rises on the horizon is a fantastic place to have one last run out on your favourite water toy, be it the jetski or a ride in a donut. The home of limoncello, disembarking and grabbing a bottle or two to take home is a necessity. After you've bought your presents, your evening can be spent with one final taste of Italy. Terrazza Bosquet was awarded its Michelin Star in 2014 and is still in the safe hands of award winning Luigi Tramontano. The Neapolitan delights on offer here can be sampled in the restaurant or at the poolside bar – both complemented by views of the breath-taking sunset.
Day 8: Sorrento, disembark Naples
Sadly, your final day on board has arrived. However, it's not too late to have one last al fresco breakfast on deck and thank the crew for all their wonderful work. You'll disembark back in Naples, a city with so much to offer you'll struggle to not stay for a day or two.
Other Articles of Interest
Charter destinations