Sicily Yacht Charter Guide | Italy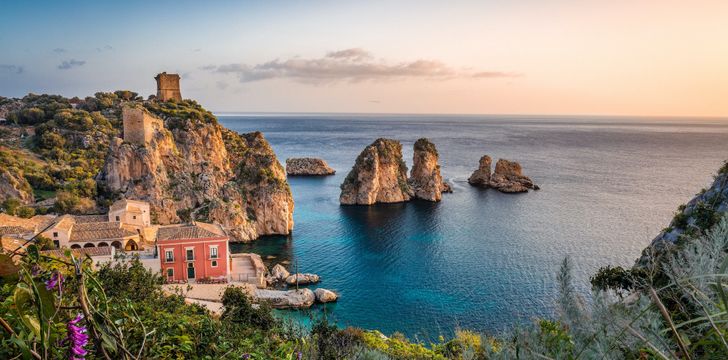 Charter a crewed motor yacht, crewed catamaran or bareboat sailboat in Sicily and discover the Aeolian Islands, Taormina, Syracuse and Panarea
Sicily Yacht Charter Regions | Sicily Top Attractions | Climate | Cuisine | Special Events | Our Charter Yachts
A Sicily yacht charter experience is quickly becoming one of the most sought after cruising destinations. Located only 100 nautical miles south of the ever-popular Amalfi Coast, Sicily has an incredible history, geographical phenomena and the best cuisine in southern Italy. If you can't decide between Sicily and the Amalfi Coast, combine the two for the best of both worlds.
Mount Etna, located to the east of the island, is the tallest active volcano in Europe and one of the most active in the world. Sicily's volcanic foundation makes for an amazing variety of terrains and some amazing rock formations along the coast, which contrast beautifully with the cerulean waters. Sicily's geographical position means that you will enjoy hot, dry summers - it is a destination where you will enjoy pleasant sunny weather no matter which month you charter. 
Chartering a yacht in Sicily will cast a spell on you with its stunning geology, culture, arts, cuisine, architecture and language, as well as magical island hopping. Combining your Sicily yacht charter with the Aeolian Islands off the northeast coast will capture the essence of the areas natural beauty which makes this area one of the most celebrated charter destinations in the Mediterranean. 
Crewed Motor Yachts Crewed Catamarans Bareboat Sicily
---
---
Sicily Crewed Motor Yachts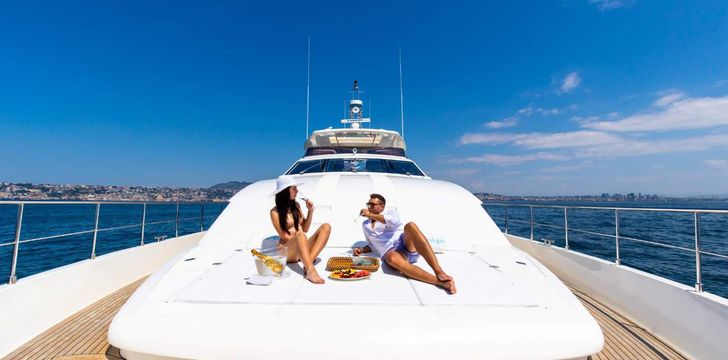 Chartering a crewed motor yacht in Sicily will showcase the best that the island has to offer.  Your dedicated crew on board have the expertise to enlighten you with the fascinating culture and history on your Aeolian Islands Crewed Motor Yacht Itinerary. Your service orientated yacht charter crew will help you discover the most beautiful bays found in Panarea and Lipari, the coves and anchorages of Alicudi and Filicudi, leaving you with a lifetime of memories. Your chef will take inspiration from the local markets to deliver unrivalled Italian cuisine designed around fresh pasta dishes, fish and seafood.
Sicily Crewed Motor Yachts Sicily Crewed Motor Yacht Itinerary
---
Sicily Crewed Catamarans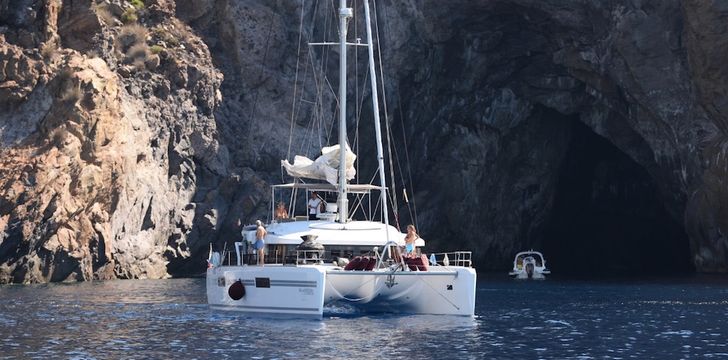 With many of the advantages of a Sicily crewed motor yacht, a crewed catamaran in Sicily has the added benefits of low fuel consumption, shallow drafts and lots of volume for the price. Your Italian charter crew will show you the area's most spectacular anchorages, beaches, islands and sunsets, which really make chartering a catamaran perfect around Sicily and the neighbouring Aeolian Islands. Chartering a crewed catamaran is prime for discovering the majestic Aeolian Islands - be sure not to miss the islands of Alicudi, Filicudi and Lipari. 
Sicily Crewed Catamarans Sicily Crewed Catamaran Itinerary
---
Sicily Crewed Sailing Yachts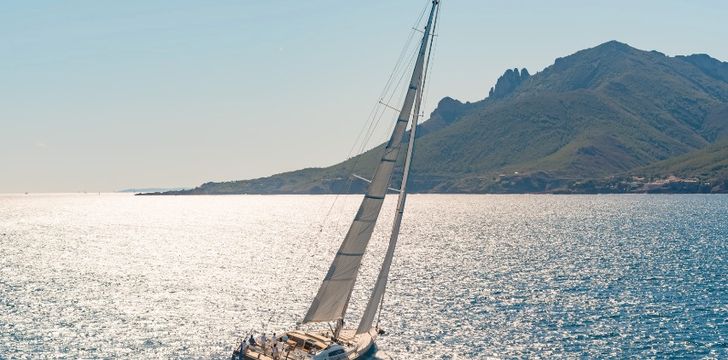 Whether you take a classic yacht or an ultra-modern luxury sailing yacht, you'll experience the seas how they were meant to be sailed. Your crew will make sure your every need is tended to with a smile as you pore over the sublime mountainous views of Sicily. Anchor at Stromboli, Filicudi and the uber-chic Panarea, regarded by some as the 'St Tropez of Sicily'.
Sicily Crewed Sailing Yachts enquire now!
---
Sicily Bareboat Yachts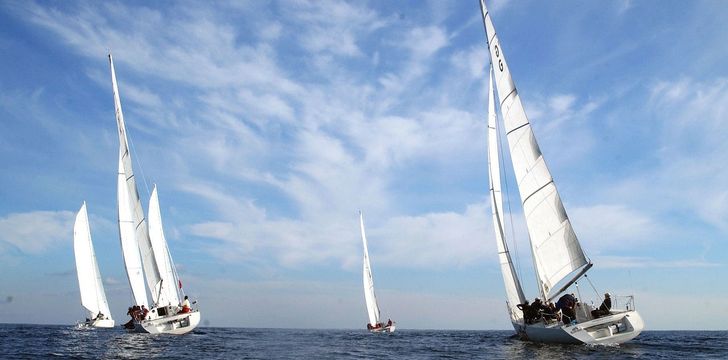 Grab the Sicily bareboat wheel and set sail for the Aeolian Islands. Being the biggest Italian island, Sicily boasts an almost endless amount of hidden charm and places to discover, while the volcanic beaches of the Aeolian Islands are well worth a visit. Added privacy and intimacy are a bonus when chartering bareboat so it's perfect for enjoying Sicily with your family and friends. You are most likely to embark in the coastal cities of Milazzo, Capo D'Orlando or Portorosa before your 7 night Sicily bareboat charter itinerary.  
Sicily Bareboat Sailing Yachts Sicily Bareboat Catamarans
---
Sicily Yacht Charter Regions
The Aeolian Islands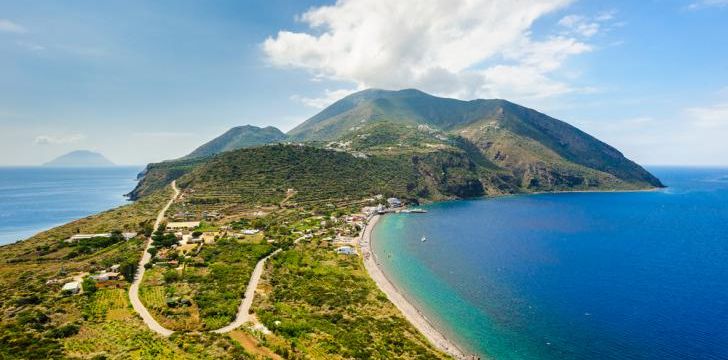 A Sicily yacht charter has to include the 7 magical Aeolian Islands; the largest island Lipari, the lush landscapes of Salina, the natural Alicudi and Filicudi, the prestigious Panarea, volcanic Vulcano and striking Stromboli. Embark your Sicily crewed motor yacht in Milazzo and explore the towns, discover the underwater marine life and sample the finest Italian seafood in the area. 
Bareboat Sicily Crewed Catamarans Crewed Motor Yachts
---
Lipari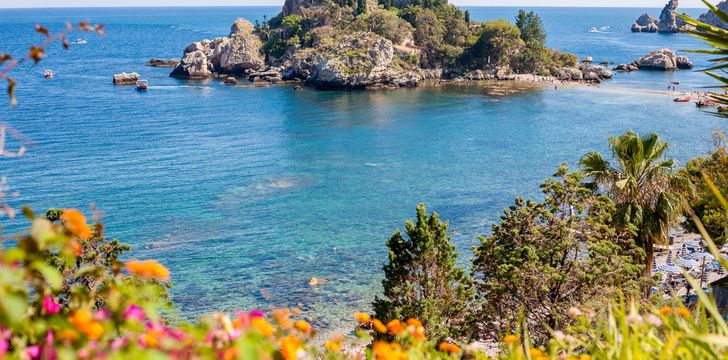 Often referred to as the Aeolian Islands, the Lipari Islands are a volcanic archipelago visible from Sicily's eastern Tyrrhenian coast, easily accessible by yacht from Milazzo or Messina. The principal islands are Lipari, Salina, Filicudi, Alicudi, Stromboli, Panarea and Vulcano. Here you'll find breathtaking scenery, volcanoes, castles, thermal resorts, fishing and, of course, some great beaches.
Aeolian Islands Yacht Charter Guide enquire now!
---
Sicilian Cuisine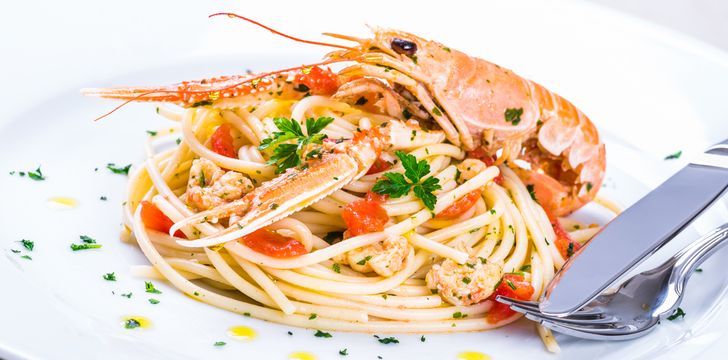 Sicily is home to some of the most splendid gastronomic experiences in the world! From the blend of Greek, Roman, Arab and Norman invaders, comes a luscious range of local foods, making this region a culinary paradise!
When most people think of Italian food, pasta and pizza come to mind. But Sicilian cuisine transcends these omnipresent culinary delights. To start with, let's take a look at some appetizers. The delicious Caponata, is a salad made with eggplant, olives, capers and celery. Sfincione is a local form of pizza made with tomatoes, onions and (sometimes) anchovies, prepared on a thick bread is more likely to be found in a bakery than in a pizzeria. Crocché (croquet) are fried potato dumplings made with cheese, parsley and eggs.
Sicily is also renowned for its seafood. Seppia (cuttlefish) is served in its own black sauce with pasta. Meat dishes are always popular, of which many are traditionally made with lamb or goat. Best known outside Sicily is vitello alla marsala (veal marsala), one of many regional meat specialities.
And let's not forget about desserts! The mouthwatering Cannoli are tubular crusts with creamy ricotta and sugar filling. Frutta di Martorana (or pasta reale) are almond marzipan pastries coloured and shaped to resemble real fruit and of course we could not forget the Sicilian gelato (ice cream)!
Bareboat Sicily Crewed Catamarans Crewed Motor Yachts
---
Special Events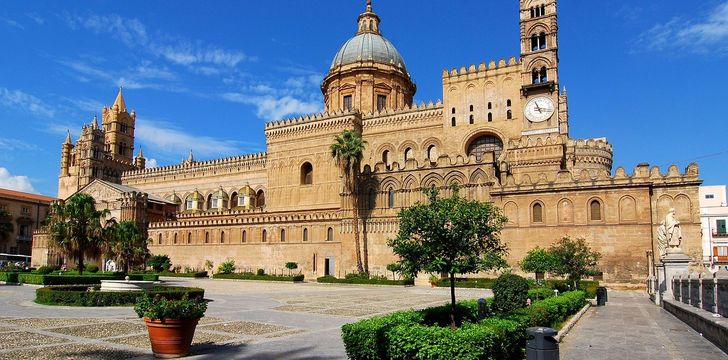 During the summer months, Sicily offers a wide range of cultural events appealing to all ages and nationalities. Every year in June, the Taormina International Film Festival takes place; In July the WOMAD festival returns every summer with three nights of concerts, in the stunning Greek Theatre in Taormina, while in Palermo, The Feast of Santa Rosalia, holds a special place in the hearts of many residents, this festival is the most famous and popular in Sicily. During the week of the festival, the city becomes an open-air theatre.
Bareboat Sicily Crewed Catamarans Crewed Motor Yachts
---
Palermo
Palermo, the capital of Sicily, is a Mediterranean city with a chaotic nature and a liking for rule bending. An increasing number of great restaurants and nightclubs means it's also fun after dark. This district of Palermo on the western side of Mount Pellegrino seems like a separate town, and in many ways it is. Mondello is the part of Palermo that most resemble the residential areas of medium-sized North American towns. Mondello is particularly crowded on weekends, especially during the warmer months, and especially in July and August, when Sferracavallo, a few miles away, might be a better choice for dining.
Palermo Charter Yachts enquire today
---
Taormina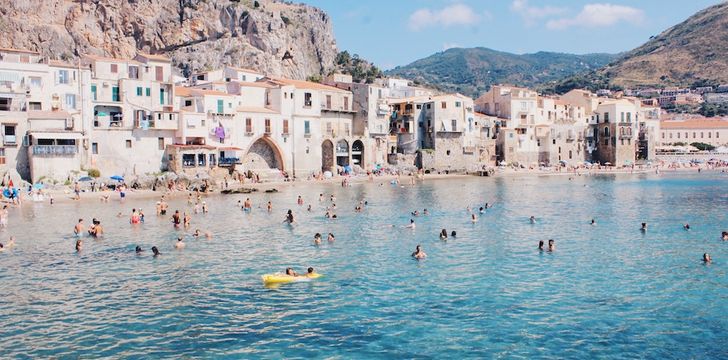 Taormina is a small town on the east coast, between Mesina and Catania. A very popular destination since the 19th century, it is said to be the Sicilian Monte Carlo. Anybody who has been to Monte Carlo, or Positano, will find it very similar yet very different. It is Sicily's most famous resort town, if you're want to see Sicily's beauty and history in a single place, this is a good choice. It has gorgeous beaches on the Ionian, an extremely warm sea with very high salt content.
---
Marsala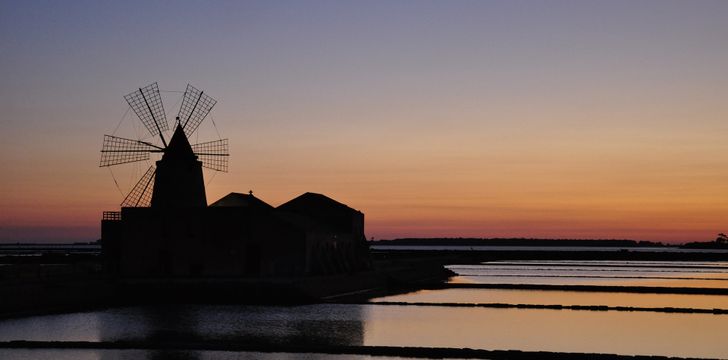 Marsala, worldwide famous for its winemaking, it is one of the main ports to start your charter from. Just off Sicily to the north, we find the gorgeous Aeolian Islands and to the South, the unique Island of Pantelleria.
---
Pantelleria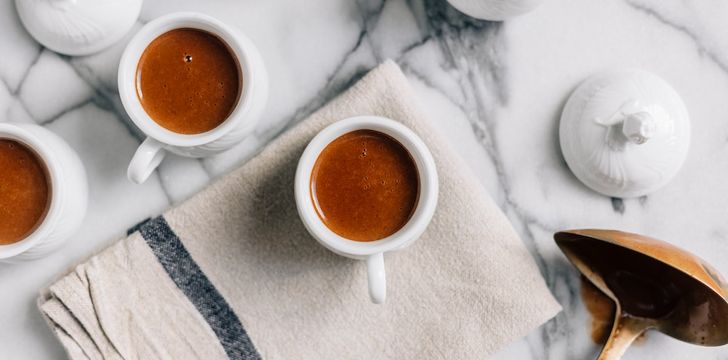 Pantelleria is located in the Strait of Sicily, just 70 km east of the Tunisian coast. A volcanic island, it has both a strong Sicilian and Arab influence. With a great emphasis on the art of hospitality, it has become quite a fashionable destination. Striking and hilly, there are no beaches so people swim off the black rocks. Pantelleria is also known for producing highly regarded, sweet wines of a golden-apricot colour, from the island's three wineries.
---
Sicily Top "Must See" Attractions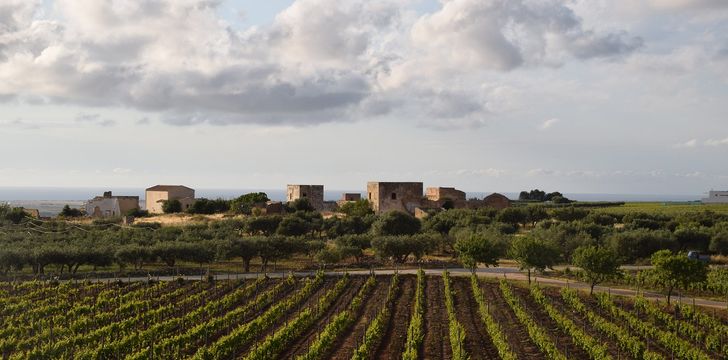 Here are our must-see Sicily Attractions as per our local experts and recommendations from readers through Facebook and Twitter.
Palermo - A fascinating jewel of a city
Erice - Ancient mountaintop city with fabulous views
Wine Country - Home of Marsala wine and gorgeous wineries
Cefalù - Mediterranean history, views and grandeur at its best
Aeolian Islands - Volcanoes, castles, thermal resorts, water sports, good fishing and great beaches
Taormina - Sicilian Monte Carlo (without the casino)
Mount Etna - Europe's largest active Volcano
Catania - Roman monuments, baroque and historic churches, palaces, liberty style mansions, urban parks
Siracusa - Cicero called it the Greatest Greek City, and the most beautiful
Piazza Armerina - Pretty town with a "must-see" Roman villa
See a good overview of each of these areas on our Sicily Yacht Charter Blog.
---
Sicily Climate and Monthly Average Temperatures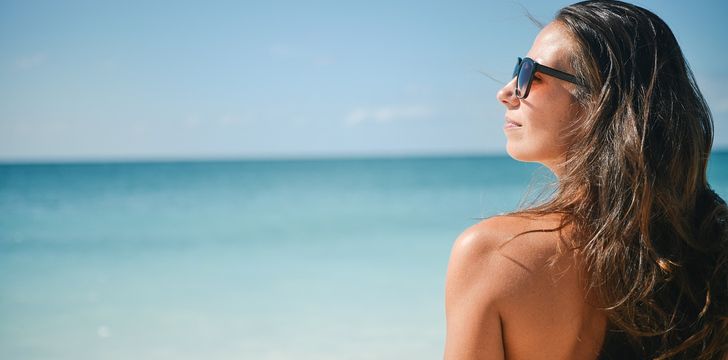 Sicily has a warm Mediterranean climate, perfect for summer yacht charters. The summer months of July and August can be very hot and dry in the late spring and early autumn months normally provide superb weather with fewer tourists - the ideal climate for boat rentals in Sicily!
Month
Daily Mean
Temperature °C
Mean Total
Precipitation (mm)
Mean Number of
Precipitation Days
Minimum
Maximum
Jan
10.2
14.8
71.6
9.7
Feb
10.1
15.1
65.4
10.0
Mar
10.9
16.1
59.5
8.7
Apr
12.9
18.4
44.1
6.1
May
16.0
21.8
25.5
3.2
Jun
19.7
25.1
12.2
1.6
Jul
22.9
28.3
5.1
0.8
Aug
23.6
28.8
13.3
1.6
Sep
21.5
26.6
41.5
4.1
Oct
17.8
22.9
98.0
8.3
Nov
14.3
19.3
94.3
9.4
Dec
11.5
16.0
80.0
10.8
---
Our Sicily Charter Yachts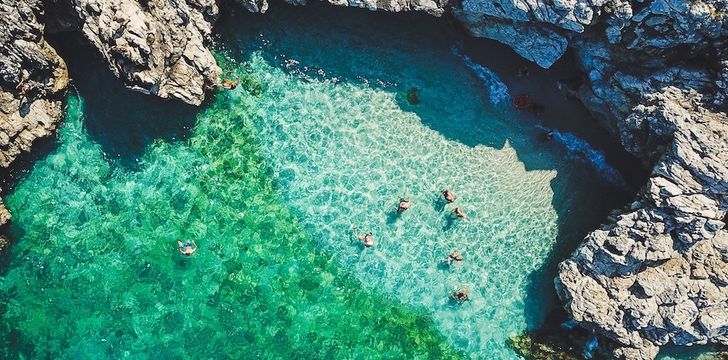 Boatbookings will work with you to understand your needs and match them to the perfect yacht. We can find you the ideal yacht tailored to your individual needs to charter in Sicily and the surrounding waters for your summer holiday, so just contact us below and let's start planning. 
---
Other Mediterranean Yacht Charter Destinations: The Italian Riviera | the French Riviera | Monaco | Corsica | Mallorca | Ibiza | Croatia
Other Articles of Interest
Charter destinations