Northern Sardinia Luxury Restaurant Guide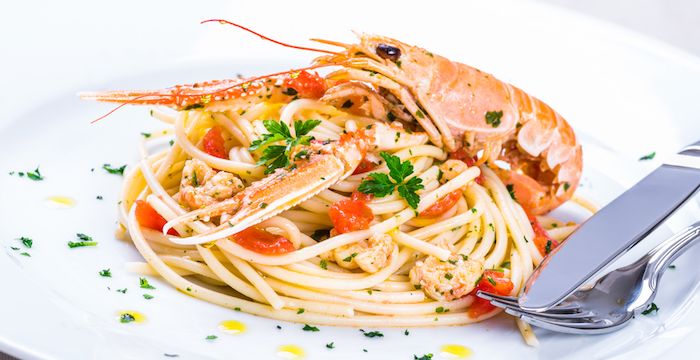 Northern Sardinia Luxury Restaurant Guide
Northern Sardinia has been an exclusive yacht charter destination for many years, due to its lush landscape vista views, clear turquoise waters, and ruggedy island clusters. However, it is as compelling on land as it is at sea - boasting an overwhelming choice of hearty Sardinian restaurants and harbour towns. We have created a guide to help you make sure you make reservations at the best places!
---
Il Pescatore: Porto Cervo
A beautiful water-front seafood eatery located in the heart of Porto Cervo. Undeniably one of the most acclaimed, it has been a culinary icon even before the marina had been built. Expect fresh, locally sourced fish in traditional Sardinian style. The only 'pieds dans l'eau' restaurant in Costa Smeralda, it has earned its indisputable prodigious title and loyal customer base.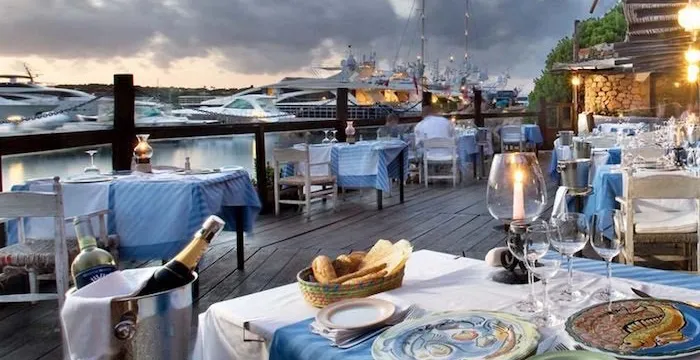 ---
Cala Di Volpe Hotel Restaurant: Poltu Quatu
An absolute favourite amongst jet setters and beautiful people, the exclusive seafront hotel is home to one of the most iconic restaurants of Sardinia, designed by none other than Jacques Couëlle. The restaurant serves a tribute to charming Mediterranean and Sardinian cuisine in its own, unique gourmet style. Decorated in a delicate and refined manner, the interior of the restaurant also provides a chic summer ambiance. Even James Bond stayed at this hotel, in the "Spy Who Loved Me"!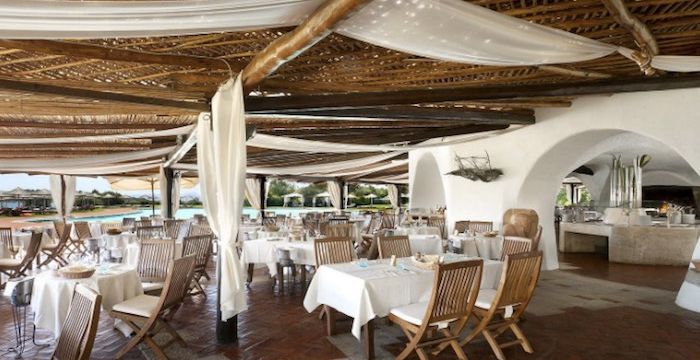 ---
Hotel Pitrizza Restaurant: Porto Cervo
Hotel Pitrizza, a hub of chic sophistication amongst fashinable clientele, boasts a cultivated dining destination offering stunning views of the dazzling Liscia di Vacca Bay and embracing the Sardinian granite pool and lush gardens of the hotel. Serving guests contemporary Mediterranean delicacies, as well as their own twist on International cuisine, the menu never ceases to exceed every expectation. At lunch, guests can enjoy the daily buffet and delicious barbecue offers in an informal setting. Dinner, however, adorns a more formal setting, and bespoke menu options.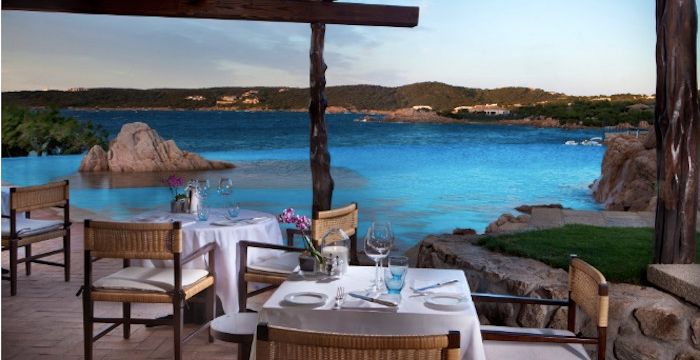 ---
La Casitta: Santa Maria Island
As this truly exclusive luxury restaurant is lodged on the uninhabited island of Santa Maria Island in the Maddalena Archipelago, it is accessible only by yacht or helicopter - it is a favourite for those who seek the highest privacy and the delightfully traditional Sardinian foods, sourced locally, of course.  Expect a great variety of fish and meat delicacies. Moreover, the fortunate few who eat at La Casitta enjoy a truly unique setting, as before being refurbished into a beguiling restaurant, it used to be a house for Shepherds perched on a hill. With breathtaking idyllic views of the shining turquoise waters, it is truly a sight to be seen. Today, she is surrounded by six hectares of land - an ideal hideaway.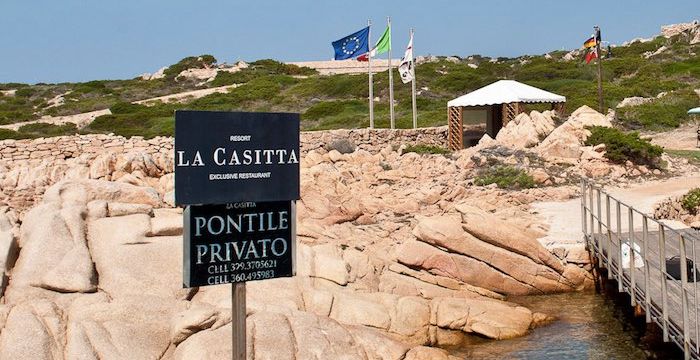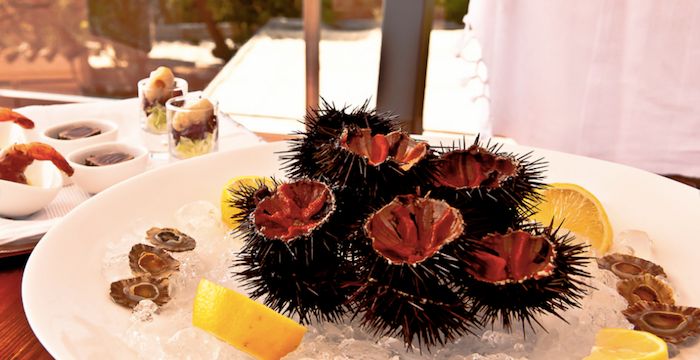 ---
Phi Beach Club: Porto Cervo
Phi Beach Club provides chic dinners on the beach, serving an infusion of traditional yet contemporary Mediterranean cuisine before becoming an open air nightclub. Where the dance floor is eclectic, an in-vogue crowd is buzzing, and only the very best DJs light up the night. Whether you want to spend the whole day at Phi Club, or simply enjoy it as part of a long lunch on your Sardinian day charter on the coastline, or from the likes of Porto Cervo and Poltu Quatu - we would highly recommend that you book ahead in order to enjoy an unforgettably fun day out!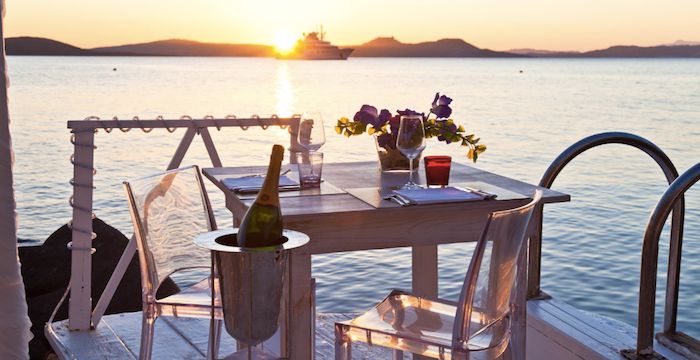 ---
Ristorante Romazzino: Porto Cervo
Restaurant Romazzino is situated on a large terrace with panoramic views of the deep blue bays and vistas, islands and horizon. Surrounded by a refined atmosphere and pampered by an attentive and considerate service, you will be overtaken by the cuisine based on solely fresh specialties typical of the Mediterranean tradition.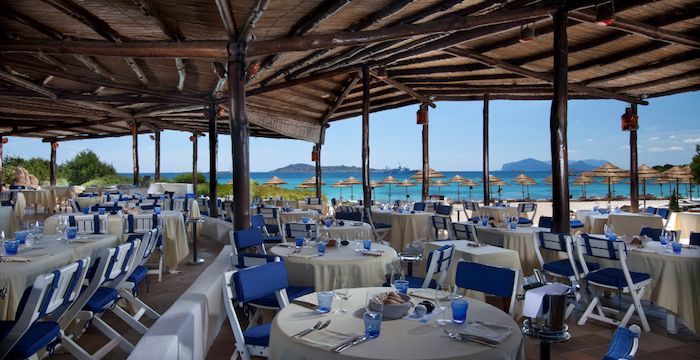 ---
Cipriani: Porto Cervo
Walk into "Billionaire" (the most popular night club amongst the international jetset in Porto Cervo) and reach Cipriani restaurant; with delectable Italian foods and an opulent ambience made of oriental carpets, terrazzo tiles, regency furniture, Moroccan lanterns and stucco walls, indulge in the inebriant smell of great food and lively atmosphere. Cipriani is a worldwide favourite restaurant chain with over 80 years of history in dining the trendiest crowds.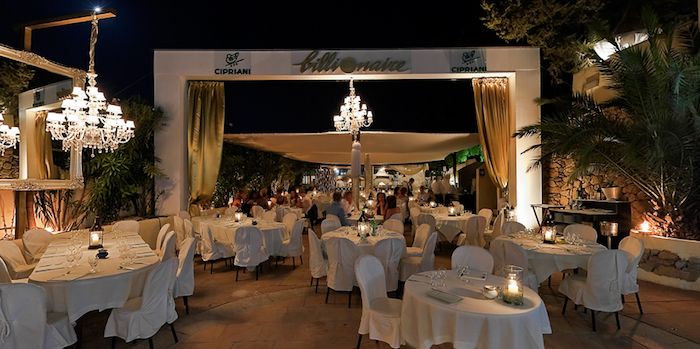 See our Sardinia Charter Yachts
---
See our Italian Yacht Charter Destinations: Naples | Capri | Ischia & Procida | Salerno | Sorrento | Positano
Other Articles of Interest
Charter destinations