Sardinia Charter Itinerary - Gallurese Coast
Sardinia Charter Itinerary
The Gallurese Coast (NE) – From Olbia to Santa Teresa Gallura
See our Sardinia Charter Yachts
Time required: 7 days
The Gallurese Coast alternates between beautiful beaches and small bays surrounded by the emerald green of the typical Mediterranean foliage. The beaches of this coastal area are often plenty of restaurants and other amenities, which allow you to enjoy civilisation while leaving untouched the tranquillity and silence in other areas of Sardinia.
From the small tourist port in Olbia you can leave for several different destinations towards the most popular area of Sardinia – the Emerald Coast or "Costa d'Esmeralda".
The most frequented beaches of this region such as Lo Squalo, La Playa or the Spiaggia dei Sassi, alternate with less crowded areas such as Cala Moresca with the small island of Figarolo and Cala Sabina, inaccessible by land, where it's possible to anchor and enjoy the untouched beauty that nature offers.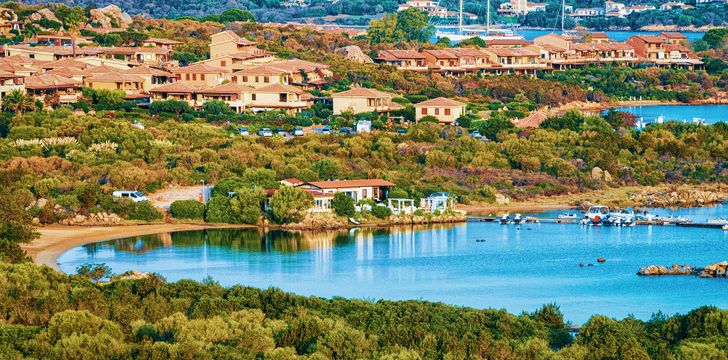 Porto Rotondo, where you can easily berth in the small tourist marina, is a true epic centre of fashionable life and definitely a place to visit on your way north.
Just 18 km from Porto Rotondo further inland, you find the small village of San Pantaleo, built on the rock of Cugnana at the beginning of the XIX century. It still now preserves the characteristic galluresi architecture and is a hotspot for art, crafts and culture. The highlight in summer is the vivid market every Thursday morning!
After leaving Porto Rotondo, a pleasant stop is the Isole Le Camere, which goes together with the Isole di Mortorio and Soffi from the Maddalena Archipelago close to the territory of Arzachena.
The small islands with their windy coast create splendid small bays with red rocks lapped with crystalline water, a fairytale scene, where time seems to stand still in undisturbed peace.
You should include a visit at Cala Punta di Volpe. The cream coloured beaches, with golden traces, found in front of the rocks, which take on different colours according to the time of day.
Stop in Porto Cervo, the stylish yacht marina of the jet set, a village buzzing with designer shops, piazzas and stunning views and do not forget to visit Stella Maris, a beautiful little white church containing a painting that is thought by many experts to be an El Greco. The nearby beaches of Liscia di Vacca and Baia Sardinia invite for sunbathing and relaxing.
One can also take part in fascinating excursions inland in order to discover the most remote roots of the Sardinian population. Not far from Arzachena, you can get to several fascinating archaeological areas such as the tombe a circolo di Li Muri or the tomba di giganti di Coddu Vecchiu (about 10 km from the golfo di Arzachena). Here you can also visit two nuragis: one near Punta di La Ettica, the other La Prisciona.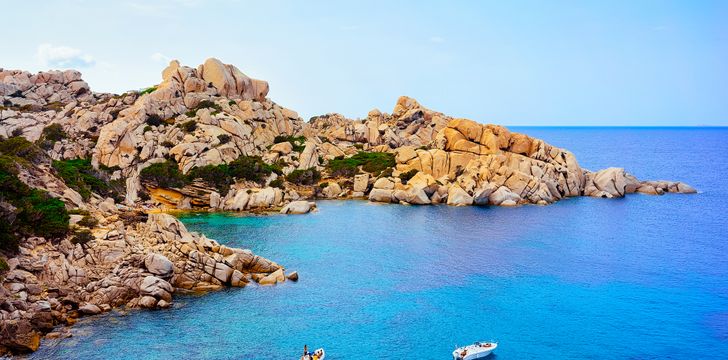 Sailing north from Porto Cervo you enter the territory of Palau. It is characterised by its rock formations such as Orso del Promontorio at Capo d'Orso. This famous rock, which has been sculpted by the wind over the centuries to resemble a bear, is visible for many kilometers.
From here you have easy access to the Archipelago della Maddalena. On the main island of La Maddalena are two ports in which to berth, Cala Gavetta and Porto Massimo, and many beautiful beaches where you can stop to enjoy the natural Gallurese beauty.
At Caprera you can visit the Garibaldi Compendium and the tomb of this hero.
The smaller islands in the Archipelago are a delight of small bays surrounded by red granite and thick vegetation, a true natural paradise, that are in some cases subject to the protection of the Parco Nazionale dell'Arcipelago della Maddalena.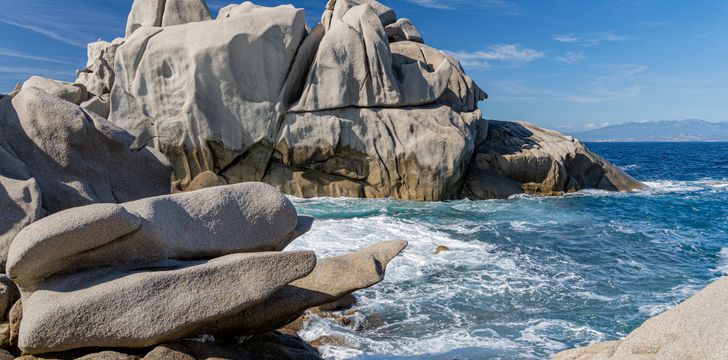 Carrying on sailing towards Santa Teresa Gallura there are several other beautiful beaches, where it is up to you to decide whether or not to stop or to carry on towards other marvellous surprises.
As you approach the unique natural harbour of Santa Teresa Gallura you´ll be amazed by this enchanting costal village. It lies on high cliffs overlooking the open sea and is a magical spot for a delicious meal with a glass of local wine enjoying the sunset.
Our Charter Yachts
If you are interested in this charter, Boatbookings will work with you to understand your needs and match them to the perfect yacht. We can find you virtually any yacht in Sardinia and surrounding waters for your holiday or business event. Click here to see a selection of our Sardinia Charter Yachts or read about Chartering in Sardinia. Or simply contact us and we'll recommend the best boat for you.
See our Sardinia Charter Yachts
Contact us to plan your Sardinia Charter Holiday
Click here to view a slide show on chartering in Sardinia
Other Destinations: the Italian Riviera | Sicily | the French Riviera | Monaco | Corsica | Mallorca | Ibiza | Croatia
Other Articles of Interest
Charter destinations