Bareboat Yacht Charter Guide | Catamaran and Sailboat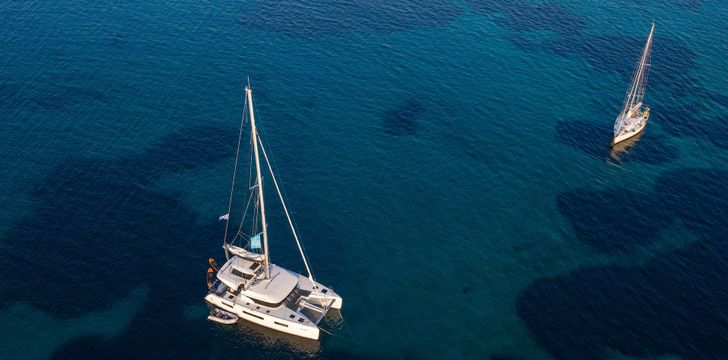 Charter a bareboat catamaran or monohull yacht and embark on the ultimate sailing vacation with family and friends
What is Bareboating? | Bareboat with a Skipper | Types of Bareboats | Successful Bareboat Charters | Choosing your Destination | Our Bareboat Charter yachts | Boatbookings Bareboat Trips 
 Bahamas | British Virgin Islands | Croatia | Greece | Mallorca | Amalfi Coast | Sicily & the Aeolians | Sardinia | Grenadines | Azores | Mexico | USA East Coast | USA West Coast 
---
Chartering a Bareboat Yacht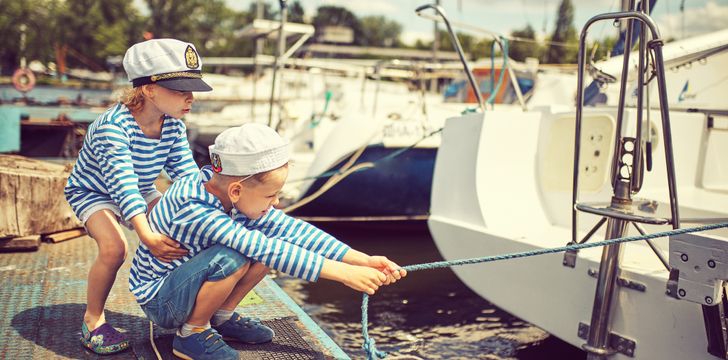 Chartering a bareboat yacht combines a direct mixture of adventure and elegance. Either a sailing yacht or a catamaran provides a base to explore amazing and new destinations every morning in some of the most beautiful waters on the globe and allows you to tailor-make your own itinerary. Bareboat charters provide the exhilaration of being on the water with the wind in your hair, freedom to explore beautiful ports, privacy, the option to add a private skipper, cook or hostess to enhance your charter experience, the opportunity to try local restaurants and a beautiful platform for you and your group to relax and enjoy the beautiful surroundings. 
Choose between a monohull or a catamaran for your next yacht charter. The size and quality of the yachts do vary however catamarans are becoming bigger, better and more luxurious than ever. You will find the best selection of bareboat sailing yachts and catamarans yachts in Greece, Croatia, and Sardinia over the summer months, and then across the Atlantic for some winter sun in the British Virgin Islands, the Grenadines, the Bahamas, and many other exotic destinations.
---
Top Bareboat Charter Destinations
---
What is a Bareboat Charter?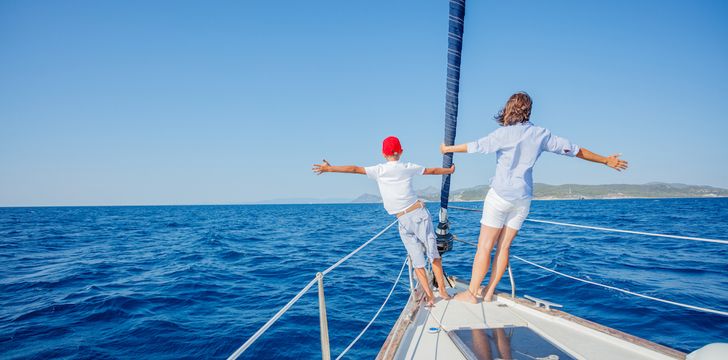 A 'bareboat' charter is a yacht rental where you hire just the yacht without crew. Bareboat charters are normally booked by sailors. On Bareboat charters, there is an option to add a skipper, or a hostess or a combination of the two. If you are chartering a bareboat because you have the relevant license, you will be in charge of everything from navigation, sailing, mooring and safety. It is up to you how you decide to cook or if you decide to eat at local restaurants along the way. 

Bareboat charters offer tremendous freedom to explore wherever, and whenever (weather dependant of course!) offering a truly unique holiday experience for all the family. At least one member of the group must be an experienced sailor, or you can pre-organise to have a skipper on board if you're exploring a new region for the first time and wish to relax and allow a local to guide you around the coast. 
---
Why charter with Boatbookings?
Experienced Travel and Yachting Experts - a multilingual team that plans and build your personalized charter itinerary. We know because we go!
Quality Assurance - skippers, hostesses, and yachts, examined by us for you!
Peace of Mind - we're on hand 24 hours a day, 7 days a week. We're here for you.
Largest Online Library - at your disposal with a click of a button (or few!) we have the best itineraries and all the yachts.
Members of all the Prestigious Yachting Associations in the USA, Europe and Asia - means your experience is financially protected.
---
Types of Bareboat Charters
Monohull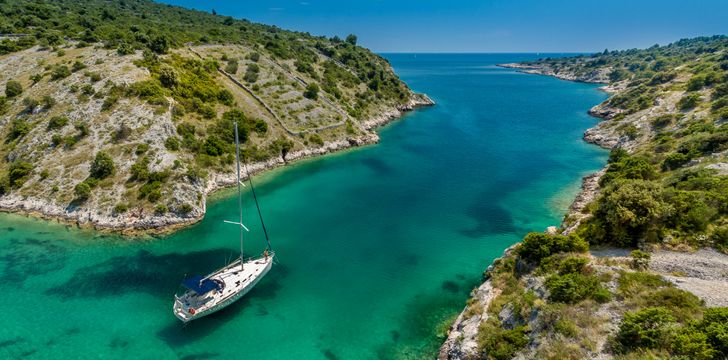 The classic bareboat charter,
monohull
sailboats give you performance, freedom and the true feeling of sailing. There are thousands of bareboat sailboats worldwide, ranging from 30 to 50 feet and from 1-5 cabins. If you want the enjoyment of pure sailing and have experienced sailors aboard, we'd generally recommend a
monohull sailboat.
Our Bareboat Sailboats Enquire
---
Catamarans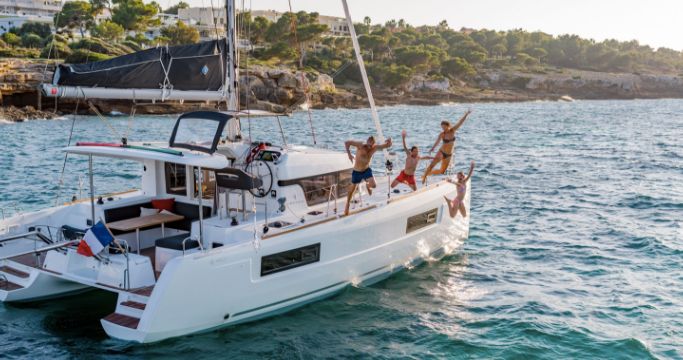 Catamarans are one of the fastest-growing areas of the charter world as they deliver great comfort and privacy, whilst providing expansive communal areas for relaxing with friends and family. Bareboat catamarans don't heel (tip) like a monohull, providing a more stable feeling on the yacht. Catamarans are preferable for those who suffer, or who are worried about being seasick. Their shallow draft also makes them better adapted for getting closer to shore when exploring islands and inlets. Especially in areas like the Caribbean and Bahamas. 
If you are a party of several couples or a family, with inexperienced sailors, we'd normally recommend a catamaran. Please note that catamarans are generally more expensive per person than a monohull because the boat is larger. However, this is compensated by the payback in extra space for everyone!
---
Bareboat with Skipper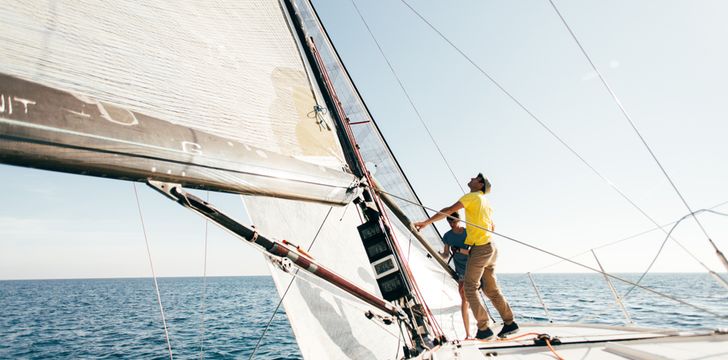 You have the option of adding a qualified skipper to your charters who will take responsibility for sailing/motoring the boat whenever required whilst giving you a personalized, local insight on the area. You have the opportunity to learn sailing tips from a local expert who will usually want you to help them trim the sails and to drop anchor. You can take the helm with the confidence that a knowledgeable skipper is there to assist you or to teach you their best techniques of sailing or maneuvering.
A skippered bareboat is less expensive than a crewed yacht. By having a skipper on your yacht, it totally eliminates the stress of navigating through coral, determining your course. This option allows you to relax with friends and family without worrying about the safety of everyone on board. If this sounds like your type of charter, let us know and we will arrange for you to have a qualified skipper on your bareboat charter and sailing holiday.
---
Tips for Successful Bareboat Charters
A successful bareboat charter begins long before you arrive at the Marina. The entire crew should have a very clear idea of what they're getting into. We highly recommend that you do the following before you book your bareboat charter:
Clearly communicate to all involved what will be expected of them.
Check the weather twice a day! Read our weather page for more detailed information about the types of winds/climate that you could be sailing in. 
Plan an itinerary that is not overly aggressive - unless everyone is experienced, sailors. Remember, many in the party probably want to return refreshed and relaxed from their holiday, not stressed from oversailing!
Get agreement from everyone that they approve of the itinerary, if unsure about your itinerary ask Boatbookings for personalized advice on the best things to do at your chosen destination. The Boatbookings team have sailed extensively all over the world and hold advice in abundance!
Add a hostess and a skipper to create the perfect combination of sailing, local insight, and relaxation.
A list of blog posts written by our team to provide further information.
---
London Boatbookings Team 2019 bareboat Sailing trip!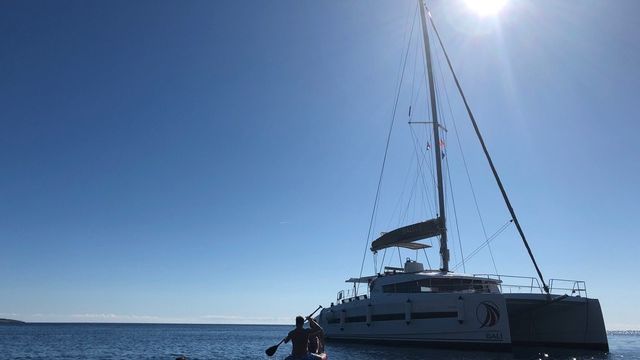 In early October 2019, some of the London Boatbookings team traveled out to
Croatia
to review the Bali 4.5 and
Croatias sailing grounds
. They embarked the
Bali 4.5
in the ancient town of Kastela, and visited some of the most sort after destinations in the Adriatic. The
Boatbookings team
went through the same booking process, handover process, itinerary planning, and provisioning process to give you first-hand information on how the whole charter will run! We are devoted to providing an informative service so you can have the most memorable charter!
Read more about the Boatbookings Croatia trip here!
---
Our Bareboat Charter Yachts
With hundreds of fantastic bareboat destinations to choose from, our top recommendations are the British Virgin Islands (BVI) or St. Vincent and the Grenadines, the Mediterranean, French Riviera, Mallorca, Croatia, Greece and Italy (Sicily, Sardinia, Naples & the Amalfi Coast), or Thailand and the South Pacific. These all have fantastic boats, great sights, reliable winds, and a culture that is supportive of bareboating. Click here for information about many of these destinations in separate articles.
Now the fun begins - selecting your bareboat charter yacht! You have two options: simply contact us and we'll research availabilities and boat models available for you, or you can use our "Real Time" search facility - that will show availability for over 3000 yachts worldwide.
Search and Book Bareboats Real-Time!
---
Bareboat Caribbean | BVI Bareboats | Grenadines Bareboats | St Martin Bareboats | Grenadines Bareboats | Leeward Islands Bareboats | Windward Islands Bareboats
Bareboat Mediterranean | French Riviera Bareboats | Corsica Bareboats | Mallorca Bareboats | Amalfi Coast Bareboats | Ibiza Bareboats | Sardinia Bareboats | Naples Bareboats | Sicily Bareboats & the Aeolian Islands | Greece Bareboats | Croatia Bareboats
Bahamas Bareboats | USA New England Bareboats | USA Mid Atlantic Bareboats
Thailand Bareboats | Indian Ocean Bareboats
Other Articles of Interest
Charter destinations