7 Day Naples to Sicily Motor Yacht Itinerary | Italy
Discover the bay of Naples, Capri, Amalfi, Positano, Stromboli, Panarea, Lipari, Vulcano and Milazzo on your luxury yacht charter this summer
Charter a luxury crewed motor yacht in Italy, from Naples to Sicily and experience some of the most dramatic and beautiful coastlines in the world. Hop from port to port and discover zesty and colourful cuisine and make a splash in the azure waters of the Amalfi Coast. Planned by our Charter Experts, you will fall in love with pastel-hued hillside towns, glamorous boutiques the indulgent gourmet cuisine. Scroll for a little inspiration and begin planning your charter vacation to Italy.
Make an Enquiry Italy Crewed Motor Yachts
---
Map
Day 1: Naples to Ischia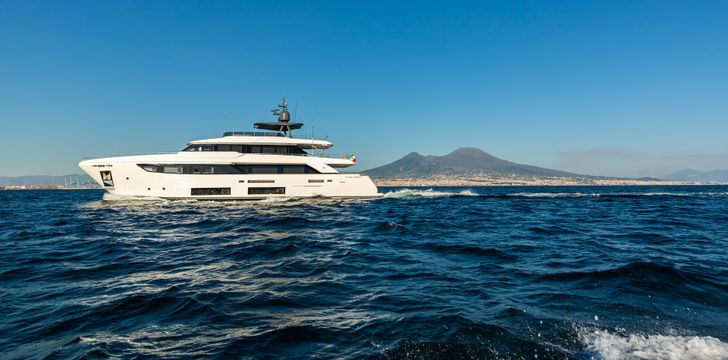 Embark from Naples, a city full of energy and traditional Italian style! Wander the narrow bustling streets and sample pizza from its birthplace. Setting sail and heading out along the Bay of Naples, you may wish to pause for lunch anchored off the quaint island of Procida and enjoy the picturesque shoreline dotted with pastel-hued houses and an essence of the real Italy. From Procida, you can sail to Ischia where you will stay for the night. Wander the cobbled streets of Casamicciola or Lacco Ameno and taste your first gelato or enjoy a more sophisticated dining scene in the evening at Indaco.
---
Day 2: Ischia to Capri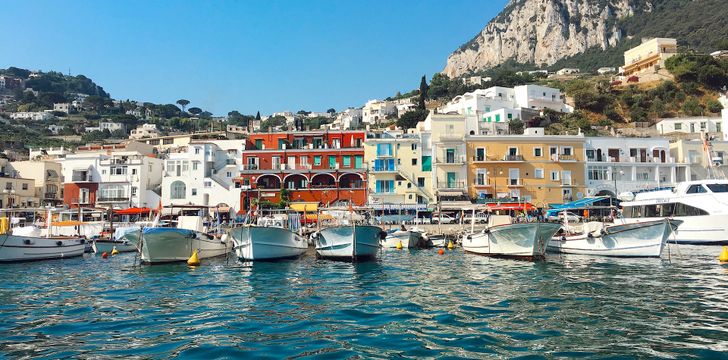 Today you can enjoy a cruise down the stunning sheer cliff coast to Capri; an island with an exciting shoreline to explore as well as glamorous eateries and boutiques. You can enjoy an alfresco lunch next to the striking Faraglioni and try out the tenders and toys to paddle through the sparkling grottoes. The town itself is made up of beautiful whitewash streets and many independent boutiques as well as world-renowned designers, the perfect place to treat yourself to a holiday souvenir... Spending the night in Capri, sip at an Aperol Spritz in the Piazetta before dining at Il Riccio, a Michelin Star restaurant with wonderful sea views. 
---
Day 3: Capri to Amalfi and Positano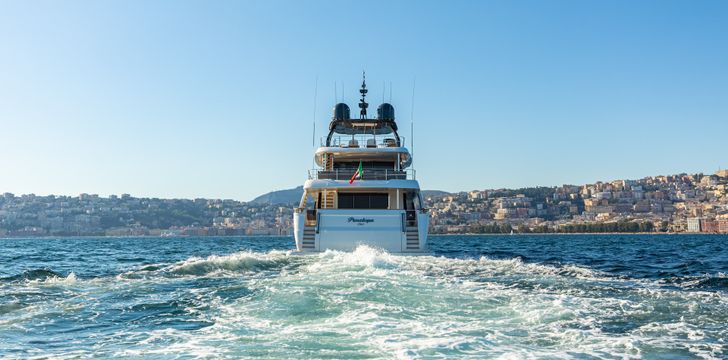 You will fall in love with this vibrant stretch of Italian shoreline with everything from stylish streets to quaint fishing villages such as Nerano, a village on the beautiful Sorrento peninsula and the perfect place to stop for an alfresco lunch. Take a walk through the bustling streets of Amalfi with sun-filled piazzas to sit and sip a limoncello or sit on the beach and enjoy the stunning seaside vistas. This evening you can settle down to sleep while your crew cruise the yacht overnight to Stromboli where you will wake in the morning.
---
Day 4: Stromboli to Panarea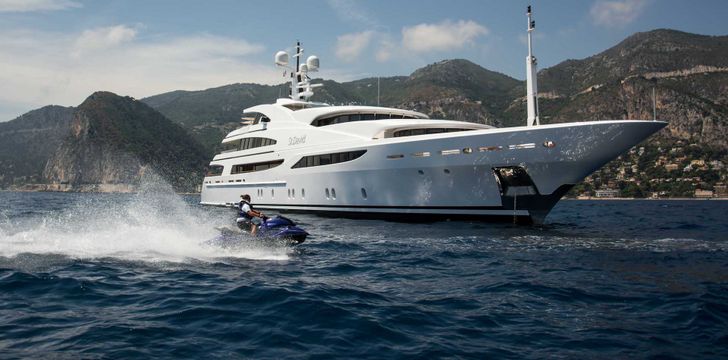 Wake in brand new and exciting Stromboli surroundings and begin by cruising a short distance to explore the island of Panarea. This deluxe location is the most exclusive spot in southern Italy with some fabulous beach clubs, restaurants and plenty of opportunities to try a new water sport. Wander the car-free whitewashed streets of San Pietro and dine with the Milanese Fashionistas looking for a taste of dolce far niente (sweet nothing). For fabulous food and breath-taking vistas, be sure to visit Hycesia where the well-stocked wine cellars and classic Aeolian dishes are sure to make a magnificent meal.
---
Day 5: Panarea to Salina, then Lipari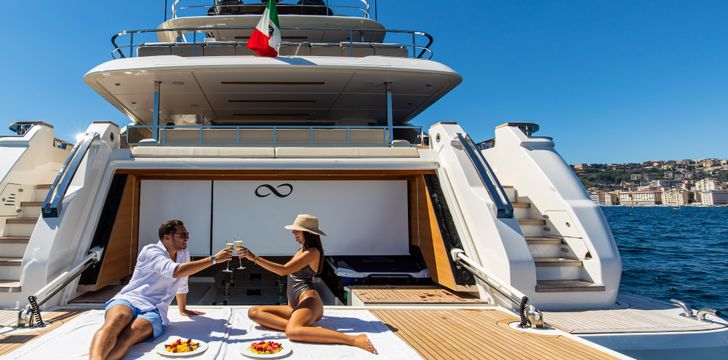 Today you can cruise to the verdant island of Salina, shaped by two extinct volcanoes. With excellent scenery and views to the other volcanic islands, this makes a perfect stop for lunch. The quiet villages of the island will leave you feeling at ease with the world and a long way from the hustle and bustle of home… You can explore the beautiful harbour town with its whitewashed houses climbing up the hillside and for a livelier scene, perhaps take an espresso on Via Risorgimento, lined with cafes and beautiful boutiques. This evening, you may wish to enjoy a wonderful meal on board and watching the sunset over the Aeolian archipelago with a drink from the bar. Overnight, the crew will guide you to the island of Lipari.
---
Day 6: Lipari to Vulcano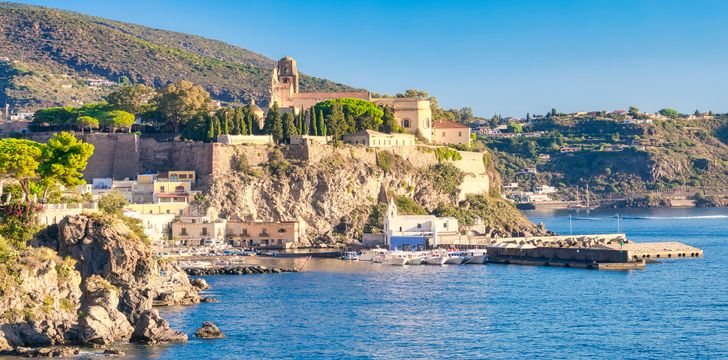 Awake at the largest and liveliest of the Aeolian islands, Lipari and take in the pastel-coloured seafront with plenty to see and do. Walk down Via Garibaldi to discover the atmospheric little Marina Corta, lined with some of the most popular bars and restaurants, you are sure to find somewhere to enjoy a bite to eat. If you fancy a dip in the sea or spending your morning on the beach, then be sure to visit Spiaggia Valle i Muria, with a rustic cave-like beach bar and dramatic cliffs, this will be a memorable morning!
In the afternoon, sail to Vulcano, an incredible island that bubbles and spits with more to do than you might think. Of course, you can climb the crater, visit the mud baths and hot springs but beyond the touristy Porto di Levante, you will discover a different side to this volcanic island. At the centre of the island, you will find lush green gardens, filled with birds or sail for the black sand beaches that often remain deserted apart from the cafes and the near tropical greenery of Spiaggia Canitello.  
---
Day 7: Disembark Milazzo, Sicily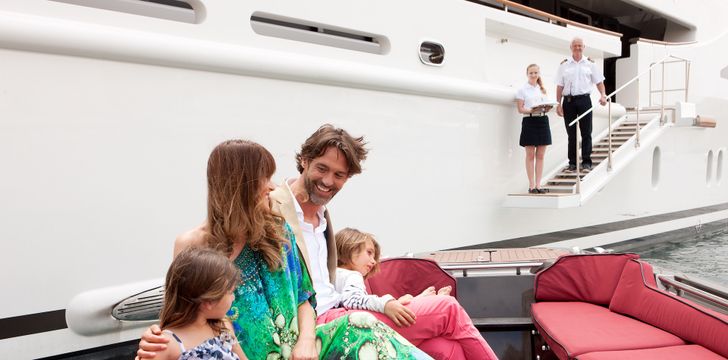 Having sailed overnight, it is time to say goodbye to your crew and leave the yacht at the port in Milazzo, Sicily.
If this itinerary has made you hungry for a taste of Neapolitan cuisine or desperate to take a dip in the azure Aeolian waters, then contact us for a full proposal and a truly fabulous holiday!
---
Other Destinations: the French Riviera | Cannes | Antibes | St Jean Cap Ferrat | St Tropez | Monaco | Sardinia | Sicily | The Amalfi Coast | Greece
Other Articles of Interest
Charter destinations