Improve your green yacht charter credentials and get ready for the summer season by choosing one of Boatbookings' many catamarans.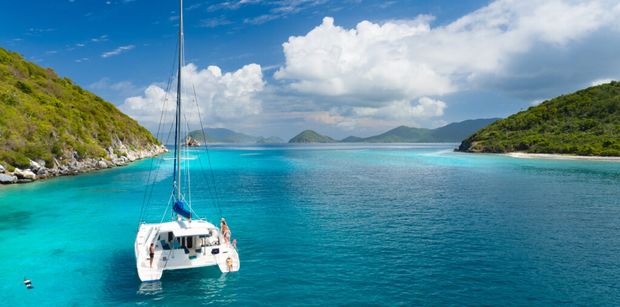 With the approaching summer season, Boatbookings discusses why chartering a catamaran is better for the health of our oceans and picks out some favourite, more sustainable options.
Catamarans continue to become increasingly popular choices for yacht charters. It is no wonder why – a catamaran provides so many benefits.
Whether it be crewed or bareboat, power or sail, you can enjoy their voluminous open-plan living and comfortable accommodation areas, their increased stability, and smoother cruising to that of a monohull.
Recent years have seen the multihull charter market evolving with its offerings, and most importantly, they highlight a significant move toward a greener and low-carbon agenda. We take a look at the ways they are better for our oceans.
Improved efficiency
The efficient hull design of a catamaran drastically reduces its resistance through the water, improving fuel efficiency. Boasting lighter hulls, they also have a lower displacement than monohulls. Power catamarans have a lower overall fuel burn and a steadier rise in speed while sailing catamarans can combine this advantage with nature's wind power.
Fewer emissions
With overall reduced fuel consumption, there will be fewer emissions into our atmosphere; therefore, a catamaran will boast a lower carbon footprint. The benefit of a sailing catamaran is the overall fuel reduction, lessening emissions even more so than a power catamaran. Our emissions calculator can determine the exact footprint of any charter yacht.
Reduced impact
Another characteristic of a catamaran is its shallow draft, resulting in less impact on marine life while enabling more choices for better anchorages. With more out of the water, they have less disruption of the area's marine ecology and the added benefit of less vibration and, therefore, noise. Their drafts also make them popular for specific cruising itineraries, such as the Bahamas and the BVIs.
Renewable opportunities
The wider beam of a catamaran provides more space for renewable energy alternatives. Their exterior can be outfitted with solar panels, perfect for soaking up the Caribbean and Pacific sunshine while also enabling the yacht to operate on less power from the generators and engines. There are also plenty of catamarans that run off electric power, reducing the reliance on fossil fuels.
Choose a greener catamaran today
Catamarans are part of a fast-growing segment of the charter industry. One that, thanks to innovative technology, is ever-evolving and improving its sustainability credentials.
Today there is a vast selection of eco-friendly catamarans that run on wind, solar, batteries and electric motors. As well as these greener technologies, many catamaran builders, such as Sunreef, implement a holistic sustainability process, using naturally-sourced materials throughout the build.
Boatbookings offers some of the best, greener catamaran options available for charter:
Sunreef, E Supercat 60:
This crewed Sunreef sailing catamaran, with nearly zero carbon emissions, boasts electric motors and rechargeable batteries while sailing; her eco-electric propulsion enables six hours of electric cruising.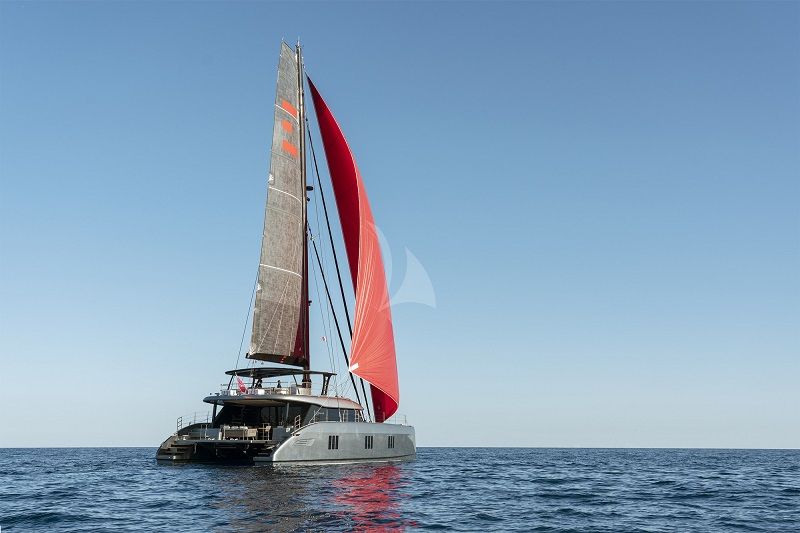 Silent 64:
This Silent 64 power catamaran results in cleaner, electric cruising with zero emissions.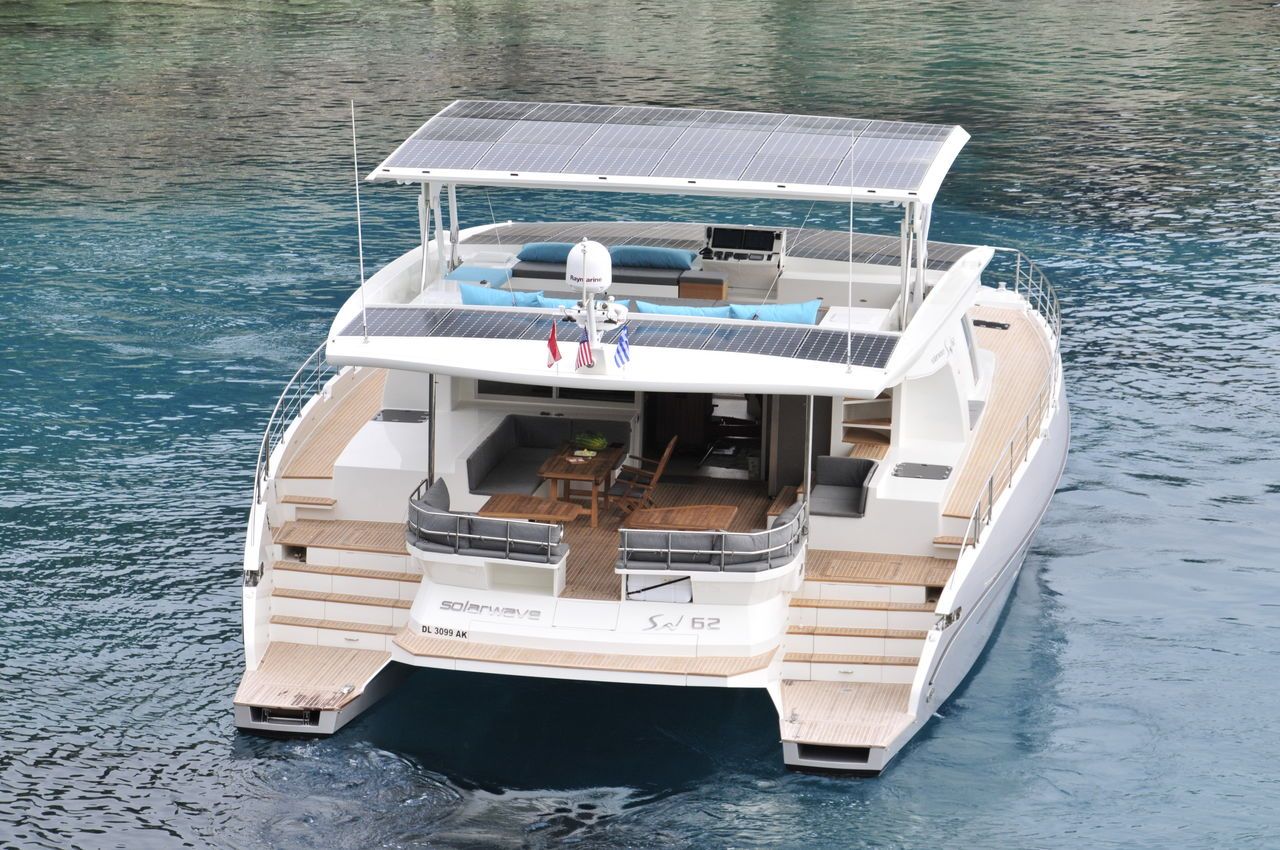 Lagoon 420:
This bareboat Lagoon 420 catamaran offers low fuel consumption and minimal emissions through her two electric motors and power by two sets of six batteries.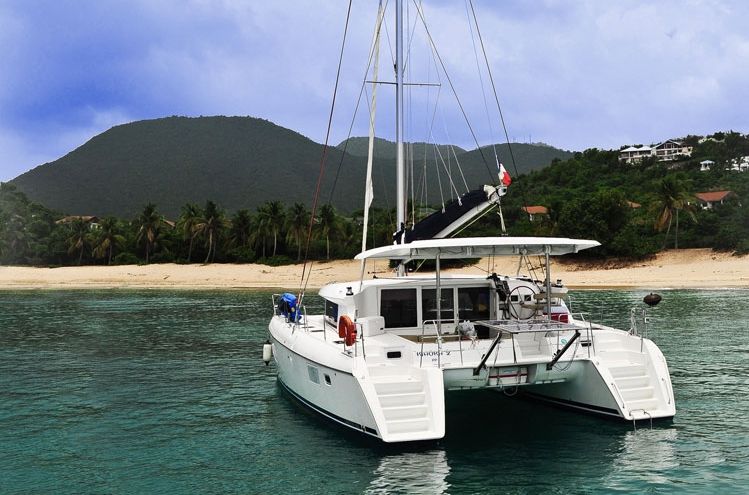 Fountaine Pajot, Aura 51:
This Fountaine Pajot 51 bareboat catamaran offers maximum space, that doubles up to provide renewable energy through its integrated solar panels.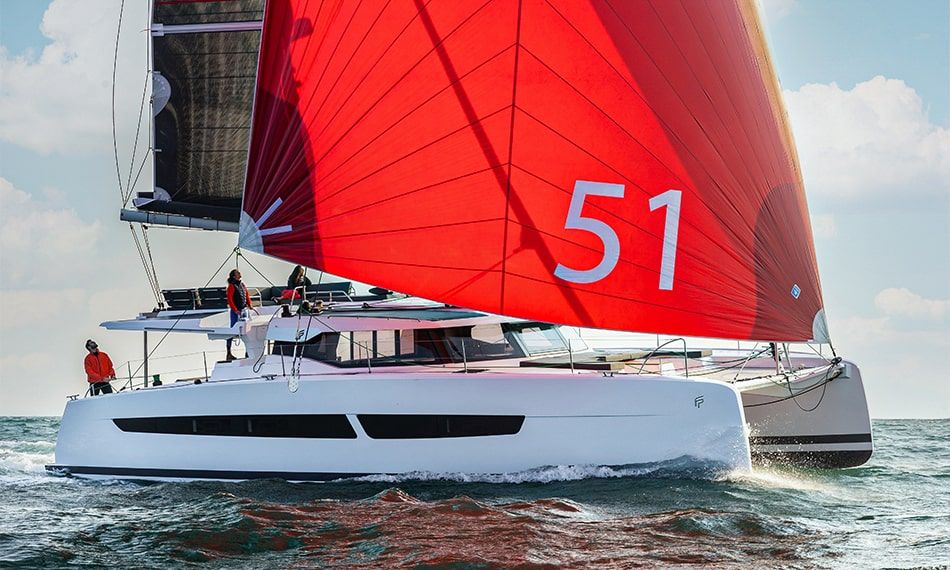 With our oceans facing increasing environmental pressures, considering your next choice when chartering is more important than ever. Not only do catamarans offer a range of benefits, but they are also better for our oceans. Contact the Boatbookings team about your next, greener summer charter and our range of available catamarans.