Decarbonization is an issue of high priority within the boating sector. At Boatbookings, we are passionate about this dynamic topic, regularly staying ahead of the developments and innovations working to reduce the industry's carbon footprint.
At this year's METSTRADE show in Amsterdam, the International Council of Marine Industry Associations (ICOMIA) presented their latest report, 'Pathways to Propulsion Decarbonization for the Recreational Marine Industry.'
The Report
This comprehensive report focuses on boats under 24 meters. It outlines a strategic portfolio of technologies to propel the recreational marine industry toward a greener future.
The research investigated propulsion technologies across nine common recreational watercraft, evaluating the impact on lifetime greenhouse gas (GHG) emissions, financial costs, usability, performance, range, and infrastructure.
The technologies examined included battery electric, hybrid electric, hydrogen, and internal combustion engines (ICE) with sustainable marine fuels and traditional diesel engines.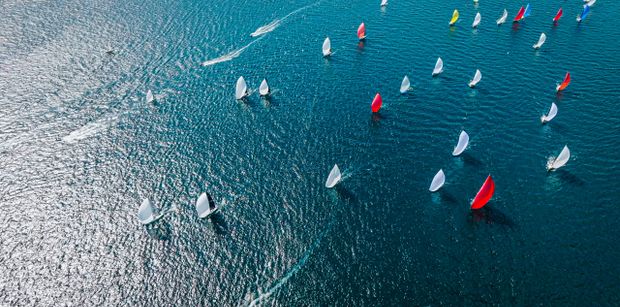 Main Findings
It emphasized the need for diverse solutions in the quest to reduce carbon emissions. Noting that 80% of a car's environmental impact is in its usage, a far higher proportion of a boat's environmental impact comes from its manufacture – as high as 50%. Given the unique on-water environments and varied interests of boats, the study suggests a one-size-fits-all approach is not feasible. Instead, the sector must consider a range of technologies.
Among findings, sustainable liquid marine fuels, such as renewable drop-in fuels, emerge as a highly promising energy source for decarbonizing boats by 2035, potentially reducing emissions by 90%.
Hydrogen also stands out as a potential source for emissions reduction, provided the production process is optimized.
Electric propulsion, while part of the strategy, is stated not to be universally suitable for all types of craft and use cases.
Hybrid boats that use electric motors and ICEs powered by liquid fuels offer the potential to reduce emissions from boats in certain scenarios – boats used for longer periods and over greater distances. Hybrid technology provides the most potential for emissions reduction for charter.
Report Recommendations
The report recommendations included the following:
1. Adoption of a technology-neutral decarbonization approach for marine environments.
2. Acceleration of the development and distribution of sustainable marine fuels, supported by educational campaigns.
3. Collaboration between consumer safety, government entities, and recreational marine industry to establish marine electric technology and safety protocols.
4. Expansion of R&D tax credits and investments to improve electric battery density and hydrogen research applicable to maritime.
5. Continued research to evaluate existing and emerging technologies and optimal application.
No Easy Answer
While an interesting report, there are evidently various connected factors that will prove influential in the coming years. These include innovative products, new technologies, changes in consumer behavior, improvements in recyclability, the reuse of materials, emerging battery technologies, and the availability of these sustainable fuels.
To read the report in full, visit propellingourfuture.com. If you're interested in chartering a greener crewed charter catamaran in the Caribbean this winter, contact one of the Boatbookings team today.