The Bodrum Cup Regatta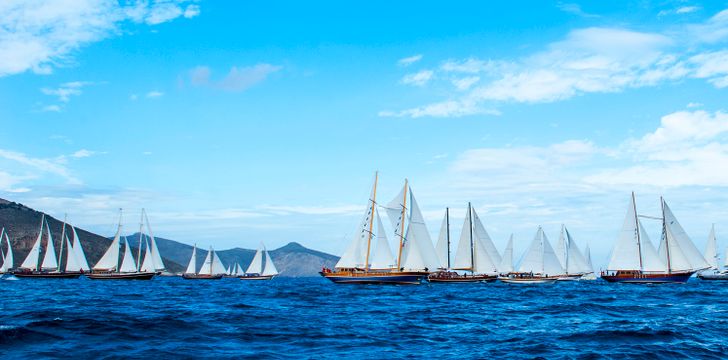 Upcoming Event Dates
The Bodrum Cup Regatta
About the Bodrum Cup | Chartering at the Bodrum Cup | Our Charter Yachts
The Bodrum Cup is the culmination of the gulet regatta season in Turkey and is something really special to behold. Over 150 vessels compete, but these are no ordinary vessels, these are Turkey's majestic fleet of traditional wooden charter yachts known as gulets, ranging from 20-35 meters in length and each weighing over 100 tons, the result is a spectacular battle of the sea titans.
About the Bodrum Cup
The Bodrum Cup is an annual yacht regatta organized by the ERA Bodrum Sailing Club, with its primary intention to promote interest and skill in sailing among the captains and crews of Bodrum's charter fleet. This event has been held in Bodrum on the third week in October every year since 1989 and brings together the usually solitary cruising yachts to celebrate the end of the year's cruising season in some friendly competition. The competing yachts have to be of traditional wooden manufacture, non-wooden yachts being allowed to participate in a non-competitive capacity. The intention is to promote gulets and improve the technology used to manufacture them to make them better suited to sailing.
Many privately owned yachts, Turkish or foreign-flag are also welcome to compete and at the end of each day. All the yachts anchor together to have fun and trade 'tall stories' as is the nature of sailors. The spirit of the event has seen the Bodrum Cup dubbed as an international yacht festival and the magnificent vista of a horizon filled with the sails of the majestic wooden yacht fleet a sight to be savored.
Chartering at the Bodrum Cup
Passengers are also welcome to take part in the event aboard the competing yachts and makes for an exhilarating way to spend your charter holiday.
This is the only regatta in Europe where passengers are allowed on board and can also double as crew; they even have a prize for the best fancily dressed crew! Here is a list of the yachts participating in the Bodrum Cup that you can be a crew-member on.
Our Charter Yachts
Bodrum is a stunning location to start a yacht charter, and if you can do it in context with the Bodrum Cup, wow! Boatbookings knows the region and boats and can find you the ideal charter yacht, be it bareboat, crewed, sail, motor, or catamaran. Click here to see our Bodrum Charter Yachts or simply contact us and we'll recommend the best boat for you.
See our Bodrum, Turkey Charter Yachts
Contact us for a full Proposal
Other Related Articles: Gulet Charter | Croatia | the Italian Riviera | Sicily | Sardinia | the French Riviera | Monaco | Corsica | Mallorca | Ibiza
Other Articles of Interest
Charter destinations