Kalia Cup Rally in Tonga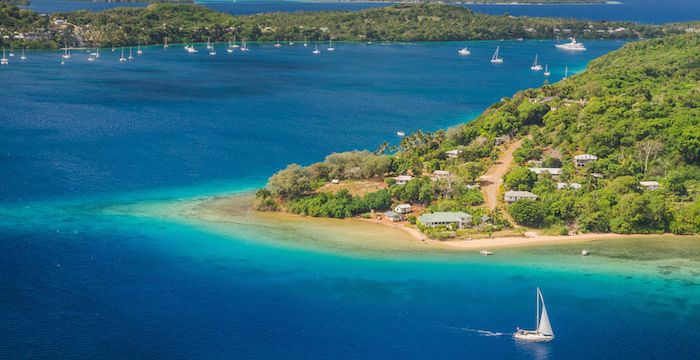 Discover the delights of tropical sailing in Tonga's pristine waters for the Kalia Yacht Rally 2009 from 16th - 26th October 2009. Join more than 300 Humpback whales on their leisurely cruise through the idyllic settings of the 60 islands which make up the Vava'u Island group.
The easy pace of life in this South Pacific billabong will be your holiday tonic during a cruise that will add just a little racing to ten days of island style feasting, whale watching, snorkelling, diving, fishing, sea kayaking and lazing around on pure white sand beaches and the unique humour of the locals will also add to your experience.
Take advantage of this perfect time of year in Tonga, where you'll find the air temperature will be about 26°C, the water temperature about the same and the warm South-Easterly trade wind will generally be 10 - 15 knots across the flat water of these 220 square miles of sailing heaven.
The rally programme includes five lay days to maximise your relaxation.
The Itinerary
Friday October 16
You need to arrive onto the main island the day before the flight to Vava'u
Transfer to the airport for the flight to Neiafu in the Vava'u island group followed by a transfer to the base in Refuge Harbour. After check in relax for the afternoon or try a shake down sail to an anchorage for your first swim in the 26 degree sun. What a welcome!
Saturday October 17 - Race 1 Neiafu to Hunga Lagoon - Distance 12 nm
The race will be across the breeze and then it's into Hunga Lagoon, which you will enter through a key-hole opening in the surrounding cliff. In the evening enjoy some real Kiwi hospitality at the post-race dinner at the Ika Lahi Game Fishing Lodge.
Sunday October 18 and Monday October 19 - Lay Days
Spend your time relaxing in the lagoon or why not see if you can find Nemo's big cousin on a game fishing expedition. Ika Lahi will also be open for lunch and dinner if you would like to revisit for a scrumptious meal. Alternatively, motor down to Blue Lagoon where the legendary Freidel will prepare a meal to remember in his famous Blue Lagoon Restaurant.
The local Hunga village and school have traditionally invited us to visit and we have made donations to assist the school and community. Even the purchase of local crafts is greatly appreciated, so stock up on some traditional Tongan jewellery for some perfect Christmas presents.
Tuesday October 20 - Race 2 Hunga Lagoon to Fonua'One'One - Distance 8 nm
This race will be a work to an uninhabited tropical island with just enough protection on the leeward side for a lunch stop at anchor before setting off for your afternoon race. You won't find too many footprints on the beach that surrounds the island and the snorkelling is terrific.
Wednesday 21st October - Race 3 Fonua 'One'One to Mala - Distance 8 nm
Race across the breeze to Mala Island where we will have a post-race function in another stunning setting with some good snorkelling.
Wednesday October 21 - Thursday October 22 Lay Days
There are many anchorages on the eastern side of the Vava'u group to choose from including Taunga, Ofu, Mafana, Kenutu and Olo'ua. These islands have spectacular beaches, azure water and miles of reefs waiting to be explored. Don't miss an evening at La Paella on Tapana Island, a Spanish restaurant where the floor show has a real twist!
Friday October 23 - Race 4 Tapana Island to Mounu Island - Distance 5 nm
Mounu is completely surrounded by a white-sand beach and turquoise water. The eco resort located on this tiny island has an excellent restaurant and we'll stop there for lunch ashore and a swim. In the afternoon take a leisurely cruise back to Port Maurelle where we'll have a traditional Tongan feast on the beach with music from a local band that will definitely get your feet moving.
Saturday October 24 - Lay Day
Explore the nearby Swallows Cave and, if you're game, dive into Mariner's Cave via its submerged entrance! On Saturday cruise to the Tongan Beach Resort for lunch on the beach and maybe even an inter-yacht sea kayak tournament.
Sunday October 25 - Race 5 Around Luafata and Tuungasita 8 nm
With a start at the Tongan Beach Resort the course will follow a circular route around the islands at the entrance to Port Refuge before finishing back at the entrance to Refuge Harbour.
The final night function will be at the brand new Mango Restaurant at base. The final presentation dinner is always great fun with each crew encouraged to get together a performance to entertain and the local fire dancers also pay a visit. What a way to celebrate your last night!
Monday October 26
Disembark and transfer to the Airport or extend your stay at one of the resorts on the islands.
Want to know more? Enquire now for prices and more information on this rally and we'll make sure we get you on the right boat for your perfect holiday.
Be sure to also check out our charter yachts in Tonga for a private charter or your very own tailor made experience in the South Pacific.
Other Articles of Interest
Charter destinations