Water Toys that Make Your Charter Even More Amazing!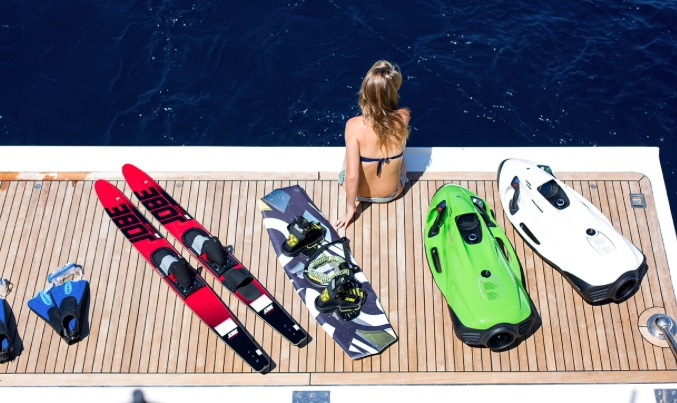 Water Toys add Fun and Excitement to Your Yacht Charter
On a charter, you have easy access to the water.  In order to take best advantage of this, most crewed yachts now come equipped with a wide variety of water toys. These toys range from the calming paddle boards, that allow you to literally walk on water while enjoying a quite time with nature, to water skis, wave runners and jet packs that give you an adrenaline surge while propelling you across, or above the water.
There have been many advances in water toys in the past few years - gone are the days when a charter had "only" a kayak and wind surfer - so we've outlined many of the newest and most desired water toys in this article.
Top Water Toys: Jet Skis | Waterskis | Subwing | Paddle Boards | Towable Toys | Seabobs | Waterslides | Jet Lev | Inflatable Toys
Jet Skis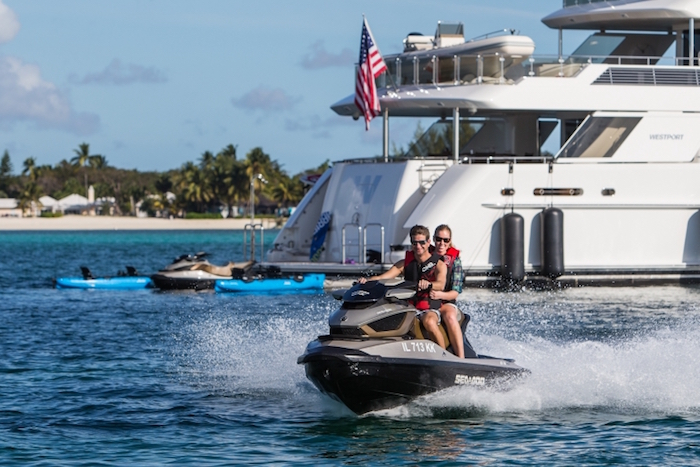 Jet skis are great for thrill seekers and whizzing around the water. If you have a need for speed, jump on a jet ski and feel the wind in your hair. They are great for zipping from place to place, and a bit of friendly competition racing your friends!
Waterskis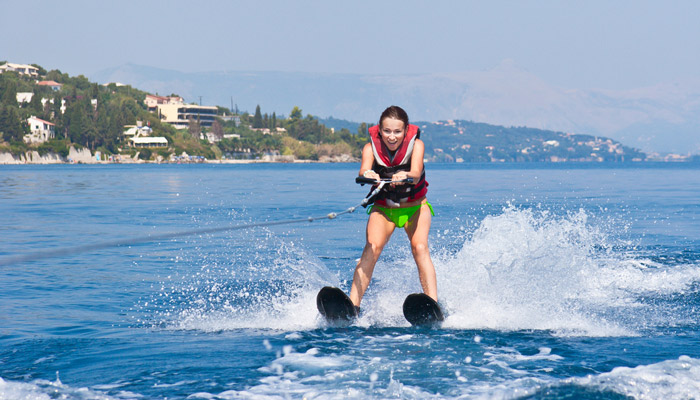 The thrills of the mountain come to the ocean! This is one of the only water toys that suits the whole family, accommodating both kids and adults for hours of fun and laughter. If you have never tried it before, it really isn't as difficult as it may appear! Once you're up, stand up and hold on for your life!
Subwing
A new toy featuring on board some of the most luxurious super yachts, the Subwing has been described as underwater flying with full freedom and great agility. We are sure it is going to be one of the most popular water toys in the coming years, especially with the daredevils!
Paddle Boards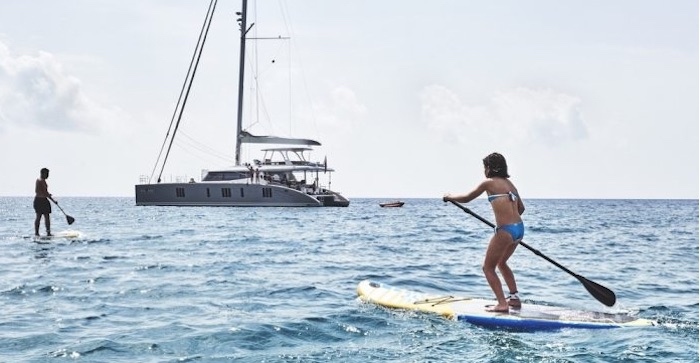 Paddle boards have become almost ubiquitous on charters, because they are relatively easy to master, allow people to propel themselves, and are relaxing while providing a great workout. You can sneak up on a turtle, visit a secluded beach, or just paddle and have fun with your friends! The Virgin Islands are one of the best destinations to explore by paddle board - see our BVI Water Sports Guide to find out where you should enjoy Paddle Board Yoga!
Towable Toys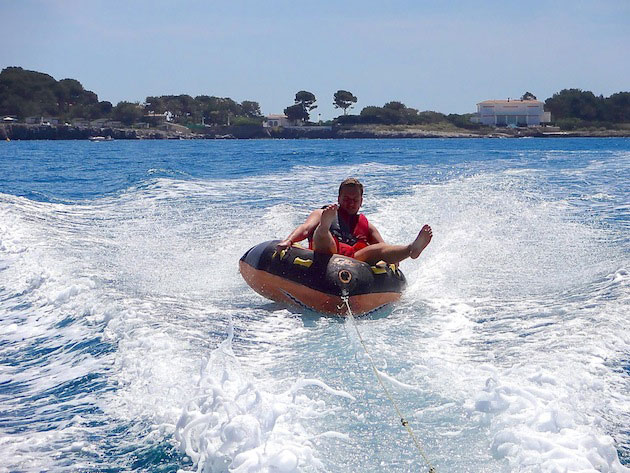 Get close to the water with a wide range of inflatable toys, perfect for towing from your yacht or tender. Inflatables such as donuts and bananas are great for bouncing over the waves at speed, and really test your hanging on skills. It's also great entertainment for those who are watching from the safety of the boat!
Seabobs
Swim with the fish, like you are a fish! Explore the marine life in a peaceful manner, with no need for flapping about with flippers. The Seabob will take you under the water where you can glide along calmly and quietly, it's a far easier way to propel yourself along than with your own feet.
Waterslides
The Freestyle Cruiser is a fantastic slide, custom made to fit the yacht. The slide gives you an exhilarating drop down from the yacht's top deck; it is the quickest and easiest way to get from yacht to water. It creates part of your own private water park, and there are no strangers to get in your way.
Jet Lev
The Jet Lev is the ultimate water toy available for the modern day luxury super yacht. This is a great test of your balance as you find yourself hovering metres above the water, then fly through the air before diving down into the turquoise waters below!
Inflatable Sea Pools/Jelly Fish Protective Nets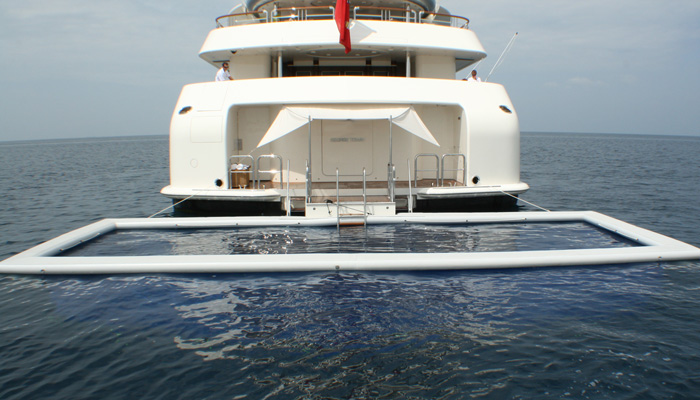 The inflatable sea pool provides a safe swimming environment for both adults and children. Keep yourselves safe from unwanted sea creatures such as jellyfish, and it also protects you from being caught in any currents. The weighted net gives you plenty of space to splash around and have fun, and the inflatable frame is also very strong and provides a perfect sunbathing platform too!
Inflatable Playgrounds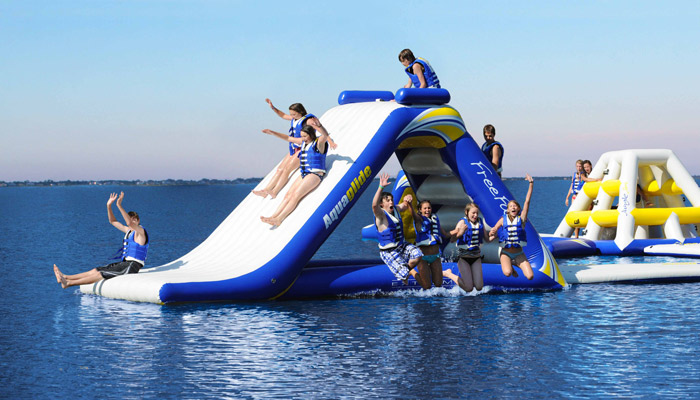 The inflatable playground is fantastic for charters with children - though the adults love it too! There's no need to fear falling - you just land in the water with a splash. The climbing frame is great for getting rid of any built up energy, your children will be entertained all day and ready for bed when the evening comes!
Contact us and to plan the family charter holiday of your dreams!
Charter Destinations: Caribbean | British Virgin Islands | St Martin | Bahamas | French Riviera | Amalfi Coast | Greece | Thailand | South Pacific
Other Articles of Interest
Charter destinations