7 Day Northern Sardinia Motor Yacht Itinerary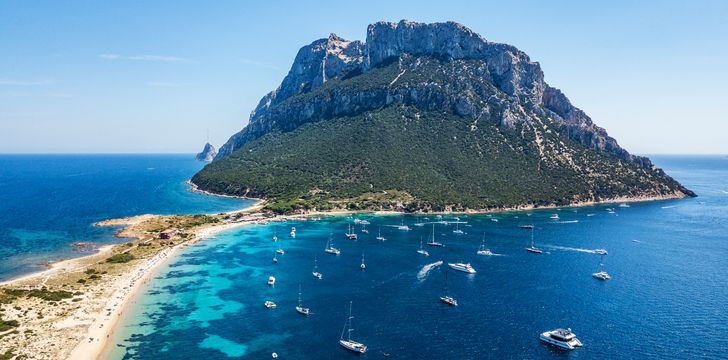 Uncover Northern Sardinia's island oasis of Olbia, Cala di Volpe, Porto Cervo and the Maddalena National Park, as well as Spargi and Baja Sardinia on this 7 day motor yacht itinerary
Day 1: Olbia to Tavolara | Day 2: Tavolara to Porto Rotondo | Day 3: Porto Rotondo to Pevero Bay | Day 4: Pevero Bay to Porto Cervo | Day 5: Porto Cervo to Caprera | Day 6: Caprera to Budelli | Day 7: Budelli to Baja Sardinia | Day 8: Disembark in Portisco
The beauty of chartering a luxury motor yacht in Sardinia, specifically the Costa Smerelda region ("Emerald Coast"), is that you are spoilt for choice with destinations fit to impress the discerning traveller, yet also the hidden gems offering a glimpse into authentic Sardinian life.  
---
Map
---
Day 1: Olbia to Isola Molara and Tavolara
Greek for "happiness", Olbia is a charming destination to step onboard your luxury Sardinian motor yacht for a week on the water with family or friends. Known for its rich history and talcum powdered beaches, we recommend you do some exploring before making the short trip to your first overnight anchorage in Tavolara (the mountainous island in the distance) – dropping the anchor off Isola Molara on the way for a whizz on the water toys.
---
Day 2: Tavolara to Marinella and Porto Rotondo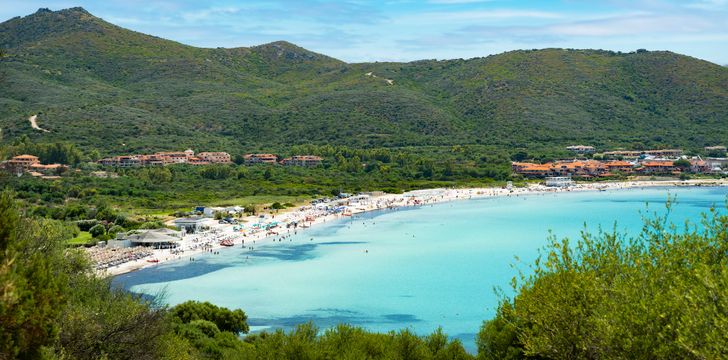 This morning, take a refreshing dip off the swim platform following an indulgent dinner on the aft-deck the evening before. Enjoy an al fresco lunch on board in the bay of the seaside village of Marinella, before cruising to Porto Rotondo – a luxurious fusion of impressive yachts and serene beach life. Defined by imposing mansions, a stylish marina, elegant boutiques and tasteful restaurants, Porto Rotondo is your chance to explore ashore and sample Sardinia's nightlife.
---
Day 3: Porto Rotondo to Cala di Volpe and Pevero Bay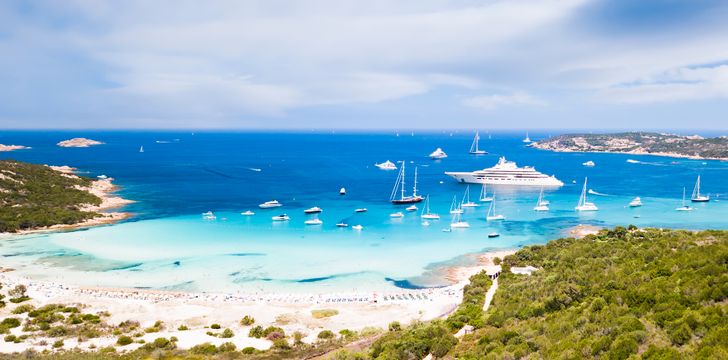 Experience a slower pace of island life in Cala di Volpe, yet with all the glamour associated with Costa Smerelda. Pristine beaches, clear waters and a wide bay makes this an ideal anchorage for water sports and relaxation. Venture inland to the idyllic mountain village of San Pantaleo to discover real Sardinian life and make a lunch reservation at the famed Cala di Volpe hotel which made an appearance on the silver screen in the 1977 James Bond film: The Spy Who Loved Me.
As the sun begins to set, trace the headland north and secure a beautifully sheltered anchorage in Pevero Bay. Settle down for a wonderful dinner onboard and plan tomorrow's adventures with your Captain.
---
Day 4: Pevero Bay to Liscia di Vacca and Porto Cervo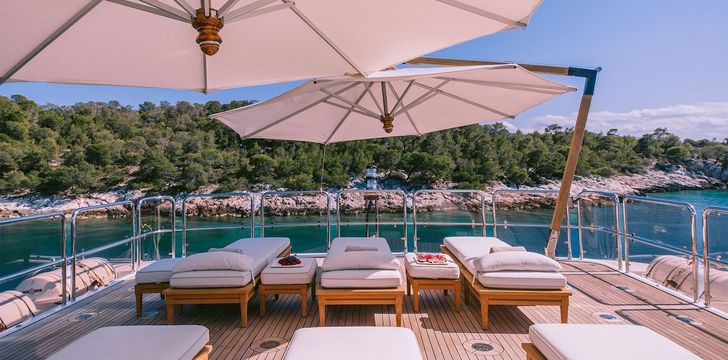 Wake early this morning to moving underway to Liscia di Vacca for breakfast on the deck and a morning swim in this beautiful bay; the smallest beach in the region – just a mere 100m in length. Spend most of the day relaxing in the tranquil waters before heading into Porto Cervo; still one of the most luxurious and exclusive retreats in the Mediterranean.
Dock at Porto Cervo for pampering spa treatments, afternoon cocktails and late-night beach parties. Step ashore and discover the chic boutiques, before sipping a cocktail on the roof terrace of the Yacht Club Costa Smeralda (members and guests only) or in one of the many bars and restaurants that line the port.
---
Day 5: Porto Cervo to Cala Coticcio, Cala Serena and Caprera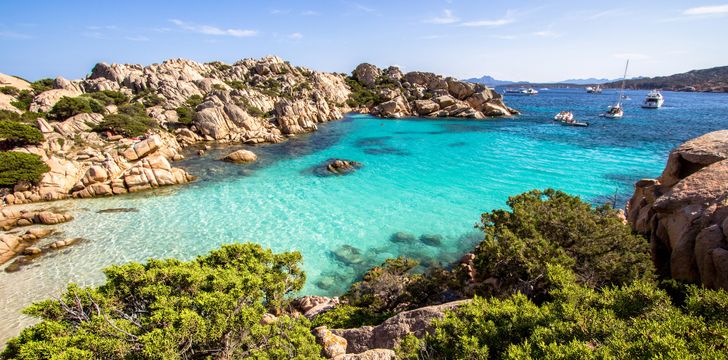 Cala Coticcio is widely known as the most beautiful little cove in the Maddalena National Park, where enticing waters lap pristine sands, fringed by rose tinted cliffs and luscious vegetation. Relatively undiscovered and only accessed by sea or hiking trails, this beach is an environmentally protected natural pool and authentic aquarium ideal for snorkelling enthusiasts. Not far from here is Cala Serena, a sheltered cove perfect for water sports before moving to Caprera for your secluded overnight anchorage.
---
Day 6: Caprera to Cala Lunga and Budelli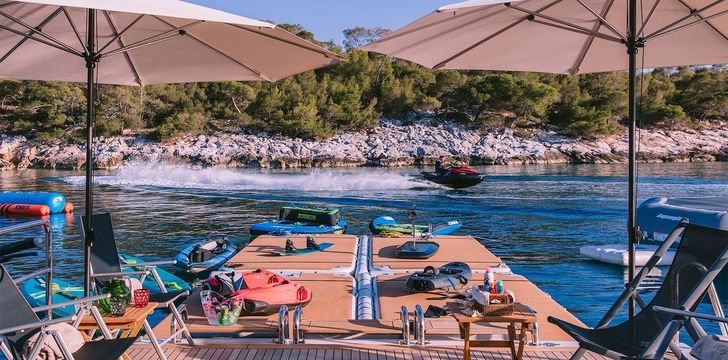 This morning, cruise to the hushed haven of Cala Lunga to enjoy your breakfast at the end of this long narrow fjord. The depth of this rocky bottom fjord makes it perfect for snorkelling and diving.
Cruising between Maddalena and Spargi, you will reach the islands of Budelli, Razzoli and Santa Mariam for the rest of the day. Largely uninhabited, the Maddalena Islands provide secluded, sheltered anchorages which are perfect for water sports. You will also find many old lighthouses in this area which make for some fantastic photos. This evening, enjoy the peacefulness of your isolated anchorage and indulge in a final delicious tasting meal onboard.
---
Day 7: Budelli to Spargi and Baja Sardinia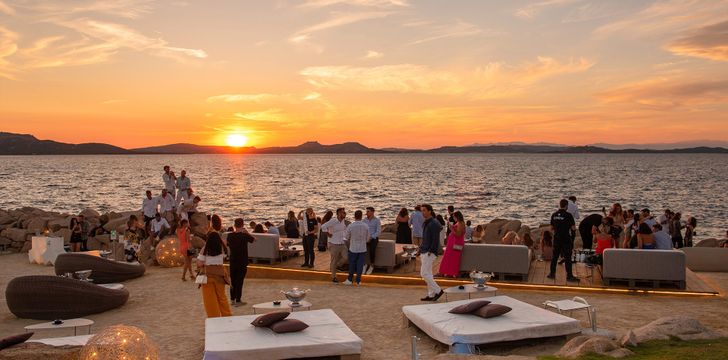 In the strait of Bonifacio in-between Corsica and Sardinia you will discover the serene island setting of Spargi where you will while away the hours soaking up the sun on the deck or exploring away from the yacht on your selection of water toys. Come mid-afternoon, cruise to the famed Phi Beach club on Baja Sardinia for an exclusive evening. The crew will make a reservation at the Phi Restaurant for a spectacular sunset aperitivo, followed by a glamourous night of good food and international DJs to celebrate your time in Sardinia.
---
Day 8: Disembark in Portisco
Today you will disembark your yacht in the small authentic, Sardinian village of Portisco, saying farewell to your Captain and crew and returning home with some incredible memories.
Book Today Our Sardinian Motor Yachts 
---
Other Mediterranean Destinations: Italian Riviera | Sicily | Mallorca | French Riviera | Monaco | Corsica | Ibiza | Croatia
Other Articles of Interest
Charter destinations