7 Day Saronic Islands Crewed Motor Yacht Itinerary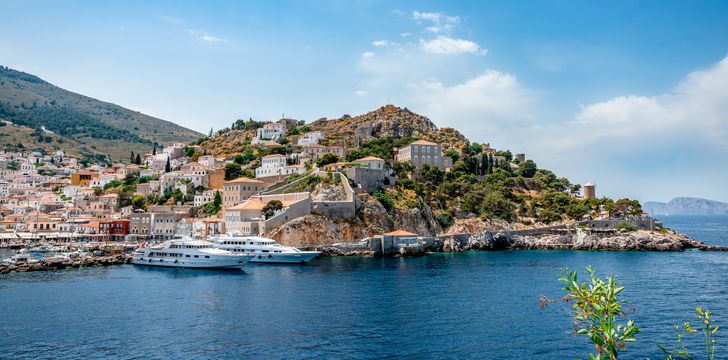 Embark on a 7 day Saronic Islands crewed motor yacht itinerary and discover Hydra, Spetses, Nafplion, Poros, Agistri, Aegina and Athens
Day 1: Hydra | Day 2: Spetses | Day 3: Porto Cheli | Day 4: Nafplion | Day 5: Kounoupi Bay | Day 6: Poros | Day 7: Agistri | Day 8: Athens
The Saronic Islands in Greece is the perfect island hopping destination for you and your friends or family to embark on an epic yacht charter vacation onboard a luxury crewed motor yacht. Offering a fast-track to the Greek island life, there is something for everyone around this breathtaking group of islands, with some of the most beautiful white-sand beaches, fascinating ancient ruins and charming villages filled with the wonderful aroma of pine trees. Aegina, Poros, Hydra, Spetses and many smaller islands have always been at the heart of Greek history.
You will be sure to get plenty of use out of your water toys in stunning open bays and your dedicated and fun crew will look after you throughout your charter – so sit back, relax and make the most of your vacation on the water. Should you wish to incorporate the charming Cyclades into your itinerary, discover our Saronic and Cyclades motor yacht adventure, or venture further south from the Saronic Islands, into the picturesque Peloponnese Region on our 7 day Peloponnese motor yacht vacation. 
Map
---
Day 1: Athens to Hydra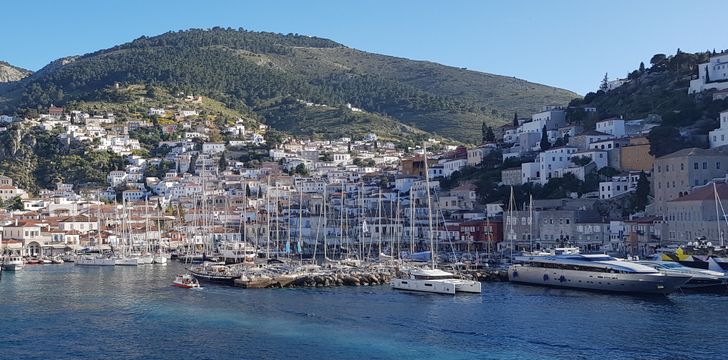 Step on board your luxury motor yacht in Athens and meet the fantastic crew that will be with you throughout your week. Set sail down to the Lilliputian Greek island of Hydra, known as the Saronic showpiece which seduced the jet set and inspired artists like Picasso.
This untoched, car-free island really does have a unique charm to it; wander marble-cobbled lanes, climb to the oldest district of Kiafa and continue up to the 7 windmills at the highest point of Agios Athanasios for breathtaking views. Soak up the atmosphere and grab a bite to eat in one of the traditional Greek tavernas – our reccommendation is Omilos; considered the most famous Bar-Resturant in Greece having hosted the likes of The Beatles, Rolling Stones and Jackie Kennedy. Kodylenia is also a lovely place to sit and have lunch with a sea view.
Later, cruise around to Molos Bay, which is a stunning wide open bay that is the perfect place to try your hand at water-skiing or paddle boarding. Enjoy dinner onboard this evening, watching the sun go down over the island and tasting some delicious dishes made for you by your onboard chef. Stay overnight here at anchor.
---
Day 2: Hydra to Spetses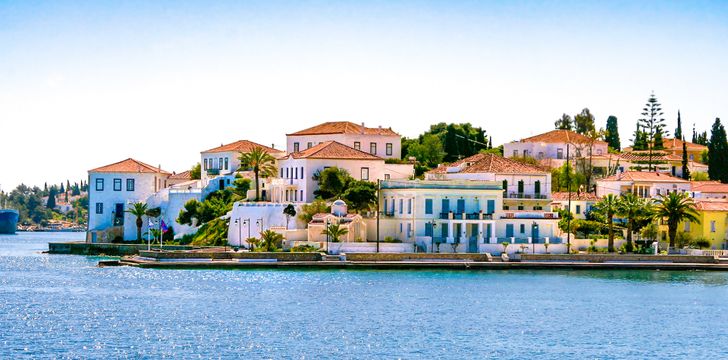 Today, head across to the stunning island of Spetses and embrace carefree island life. With the charming, historic old town being the only town on the island, the rest of the island boasts scented pine forests, wide rolling hills and myriad aqua coves just a few miles from the Peloponnese.
Make sure you visit Zogeria Bay on the island, which is another ideal spot to practice some water sports, with sparkling blue waters that go on for what seems like miles! Spend the night at anchor in Spetses Port, and enjoy a lively night in Spetses Town, which has always been a popular stop for yachties with many bustling bars, restaurants and nightclubs.
---
Day 3: Spetses to Porto Cheli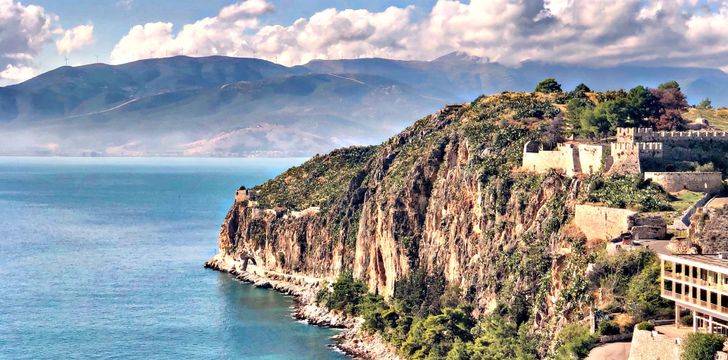 Today, head across to Porto Cheli, a fantastic cosmopolitan hangout in the Peloponnese and a favourite among the discerning charterer. While-away your time browsing the shops and dipping in and out of the traditional tavernas. If you desire, your crew will be happy to book a pampering session at the Spa at Nikki Beach or the Beach Club at Amanzoe.
This evening, tender ashore for an exquisite dining experience at Verandah at the Poseidonion Grand Hotel - and for those wishing to go on into the night, we reccommend Bikini Cocktails & Snacks; a must visit at the Old Port. Or simply relax and enjoy another delicious meal onboard, whilst you watch the sun dip below the horizon with a glass of champagne in hand.
---
Day 4: Porto Cheli to Nafplion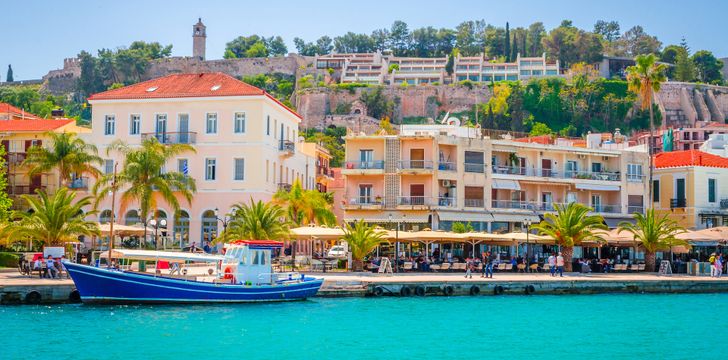 Cruise around the coast to Nafplion, a town that has been influenced heavily by Venice in its architecture, which sits beneath the towering Palamidi Castle - which in order to reach this 1700 fortress, you must climb all 999 stone carved steps. Previously the first capital of Greece after its independence, Nafplion definitely exudes a sense of grandeur as you walk the streets with beautiful neoclassical houses and elegant boutiques.
There are multiple secluded anchorages nearby to Nafplion, we recommend finding Kitheros Bay where you can relax and soak up the sun. Make sure you visit the tiny island of Bourtzi in the middle of the Nafplion harbour, that is home to a striking Venetian Castle. Take up anchor in the port of Nafplion and enjoy this captivating town at night, eating at one of our favourite restaurants: 3Sixty is ultimately a gourmet meat restaurant, Arapakos is renowned fior its fresh fish, and Savouras is a delightful fish restaurant in a renovated 60's dining hall with a wooden feature-ceiling.
---
Day 5: Nafplion to Kounoupi Bay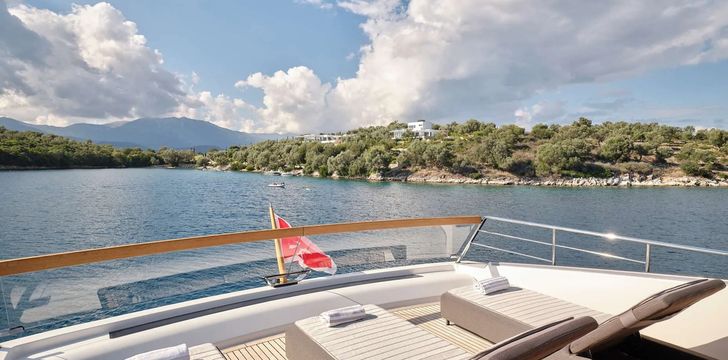 Today is a day for pure relaxation and bliss. In the morning, make your way over to Kounoupi Bay, which is famous amongst locals for having the clearest waters around. The beach here will remind you of an exotic island; with the absence of umbrellas and loungers, you can bask in the simplicity of nature in this secret paradise.
Spend a relaxing evening with your family and friends indulging in an exquisitely prepared dinner whilst swinging at anchor.
---
Day 6: Kounoupi Bay to Poros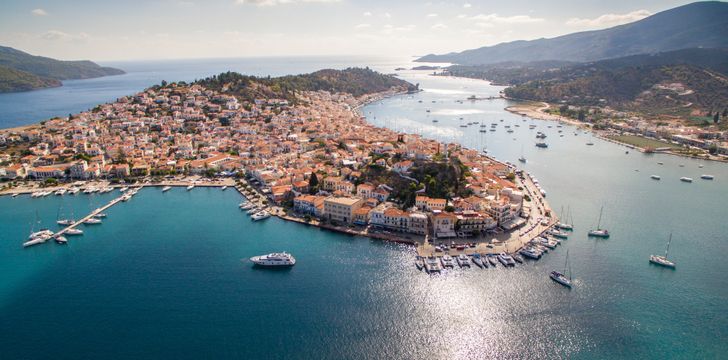 Awaken to whiffs of a continental breakfast prepared for you on the aft deck whilst underway to Poros. This beautiful island is only separated from the mountainous Peloponnese by a small sea channel, which provides the town with the feel of being situated by a delightful lake. The pastel coloured houses of the town climb up the hillside to a charming clock tower, giving you a warm welcome as you arrive in the port.
Spend the day exploring the island. We suggest visiting Monastiri Beach, which is situated just 5km north east of Poros town and is well known amongst locals and tourists for its scenic beauty and crystal clear waters. Later head back to Poros town to spend the night at anchor here and enjoy a fantastic dinner at Aspros Gatos (meaning White Cat), which is Poros' best seafood taverna that is located right on the water's edge.
---
Day 7: Poros to Agistri & Aegina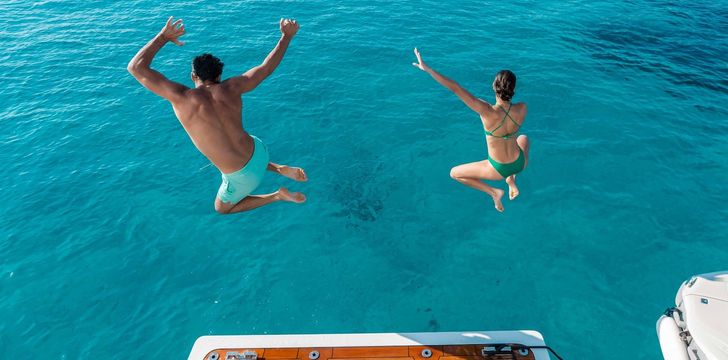 On your penultimate day onboard your luxury motor yacht, visit the breathtaking islands of Agistri and Aegina; a tiny heaven on earth blanketed by pine trees and plants. First, cruise to Agistri and discover why the multiple beaches that line the coast of this tranquil natural oasis makes this a serene haven for nature lovers. Visit Mariza to jump off rocks and explore away from your yacht with waters toys.
Following lunch, make the 10 minute cruise to the picturesque cresent moon harbour of Aegina, peppered with fishing boats and fruit filled caiques. Spend time at Klima beach; one of the most highly renowned snokelling spots. Having secured a secluded anchorage, dip below the surface to uncover an exuberant aquatic life. One of the best-kept secrets of the Saronic Gulf is the Temple of Afaia; a stunning example of ancient Greek architecture and worth tendering ashore for.
Spend the evening swinging at anchor and soak up the peaceful atmosphere over the final celebratory meal prepared by your talented chef for one last night in your Greek island paradise.
---
Day 8: Aegina to Athens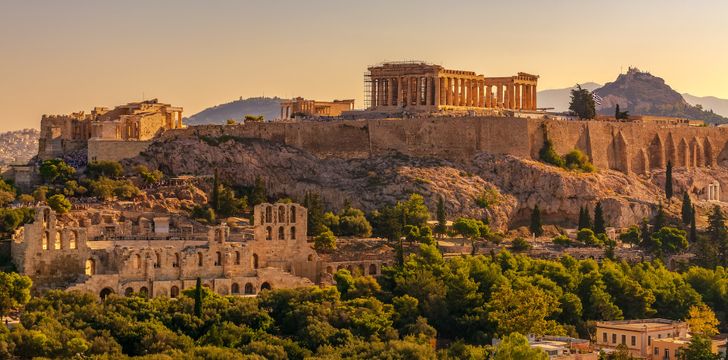 Rise early and enjoy a final breakfast and morning swim or whiz on the water toys. As the sun sets on your time in the Saronic Islands, cruise back to Athens and say goodbye to your wonderful crew that has shaped your charter experience. Explore ancient Athens before leaving with a load of incredible memories.
See our Greece Charter Yachts Enquire Now
---
Other Destinations: Italian Riviera | Sicily | Sardinia | French Riviera | Monaco | Corsica | Mallorca | Ibiza | Croatia
Other Articles of Interest
Charter destinations