7 Day Southern Ionian Sailing Itinerary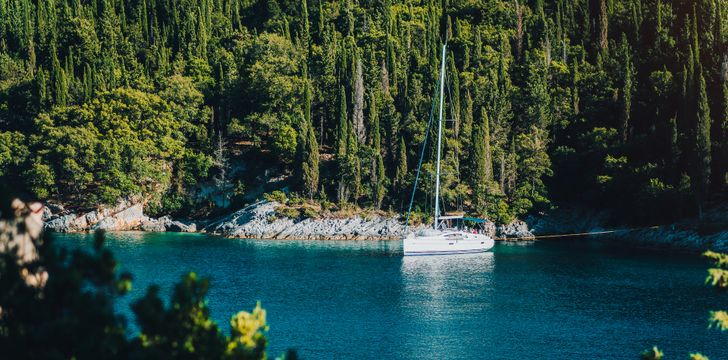 Escape the crowds this summer and explore secluded anchorages and traditional Greek ways of life on our Southern Ionian 7 day sailing itinerary 
Day 1: Lefkas | Day 2: Kalamos | Day 3: Meganisi | Day 4: Ithica 
Day 5: Vassaliki | Day 6: Lefkada | Day 7: Lefkas
Map
---
Day 1 - Lefkas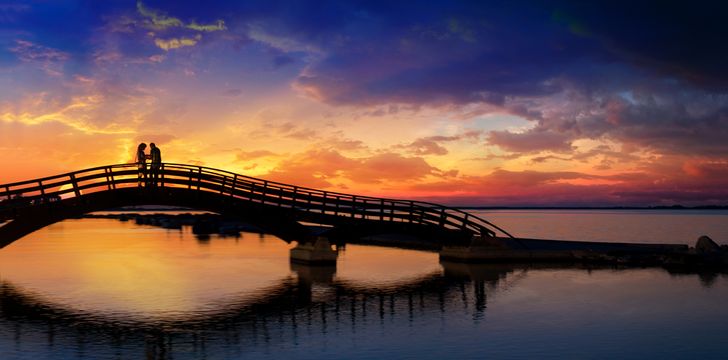 Arrive at Lefkas marina for 5 pm ready to board your own private yacht! The first evening will be spent in the marina where you will receive a handover of the yacht and some local information. Preavasia airport is a convenient 40-minute journey to the Marina which is roughly 25-30 euros by taxi.
Once you arrive at Lefkas Marina, you will then be taken to your yacht and the handover will start. There is a supermarket located in the marina where you can find basic necessities – lookout for their figs, the owner of the supermarket grows them! The supermarket will also deliver the provisions to your yacht if you wish. There's also a Lidl located about a 20-minute walk (or 5-minute car journey) from the marina which offers a broader range of provisions which inevitably is cheaper.
Lefkas is a vibrant, busy town located a five-minute walk from Lefkas Marina. Here you are engulfed by various restaurants, bars and don't forget the incredible ice cream shops! In the square, central to the town is home to some of the best Pizza you can get! Collect a token from the harbor office to enjoy onshore showers, really good, clean facilities. 
---
Day 2 - Lefkas to Kalamos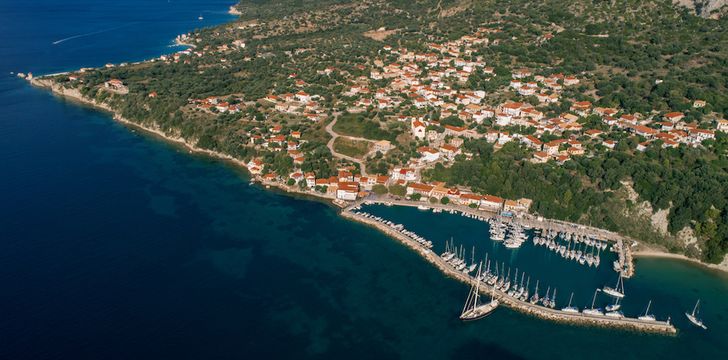 Start early and get out of the Marina! The first day of your holiday! Head south, bear in mind it takes about 40 minutes to get out of the channel. Keep a lookout for the larger yachts, they have a tendency to motor up in the middle. Stay within the buoyage areas as the channel is dredged and it shelves off to under a meter in some places. Once you are out of the channel get some sails up! The winds are normally Force 1-2 in the morning and reaching F3-4 in the afternoons. This makes for relaxing mornings.
Over your port side as you head SW you will go past Greek mainland, various sheltered anchorages with good holding. As you travel down to the stunning Island of Kalamos get ready to anchor stern to or bow to stern. George, the unofficial harbormaster, will come out and greet you on his white motorboat! He's a great chap who owns George's Restaurant at the back of the town quay, great fresh food, locally caught fish and fantastic service - can get busy to head down there and book a table.
This town quay does get fairly busy, flotillas come into the quay as well. It's also possible to free swing near the entrance, which provides good holding. Sometimes the winds roll off the surrounding hills, so do check the evening forecast. Limited provisioning here in this small, sleepy Greecian town. There is a small bakery based on top of the hill with the most incredible bread. Advice: send someone fit and healthy as it's a 15-minute walk with a seriously steep incline! Great views over the Ionian and across to Kastos (Kalamo's sister island). 
---
Day 3 - Kalamos to Meganisi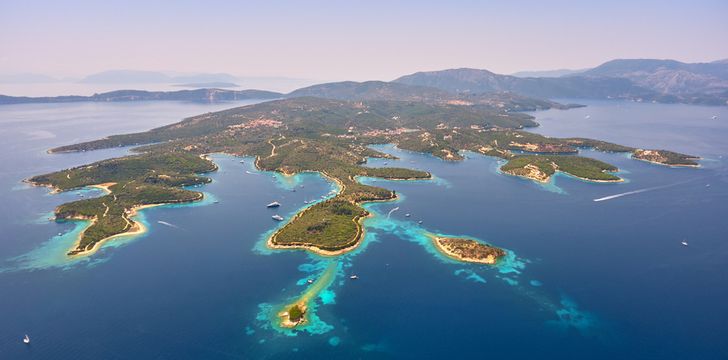 Wake up fresh and rejuvenated! Grab some freshly baked bread from the bakery and set the yacht for another incredible Ionian sailing day. Travelling NW, you will come across a beautiful little anchorage called Port Leoni, there are no Tavernas here, only a small church in the hill which locals look after. Port Leoni was hit by an earthquake in '53 and was deserted. As a result, it has left a quiet, stunning lunch spot with some of the clearest water. Really great holding here, very sheltered and can even be used as an overnight stop. In August bees tend to swarm the area which is particularly annoying. 
Come the afternoon the wind start to pick up so time to shake out the sails and get going! Head up to Meganisi, to the town of Vathi, nicknamed Little Vathi, as not to be confused with Big Vathi on the island of Ithica. Great provisioning in the town, with some of the best Gyros in Greece, only 2 euros (2018)! Restaurants and bars line the harbor wall with a great vegan restaurant. On the port side as you enter Vathi a sunken airplane is just below the water level which is great to snorkel around. Water and electric available on the town quay.
---
Day 4 - Meganisi to Kioni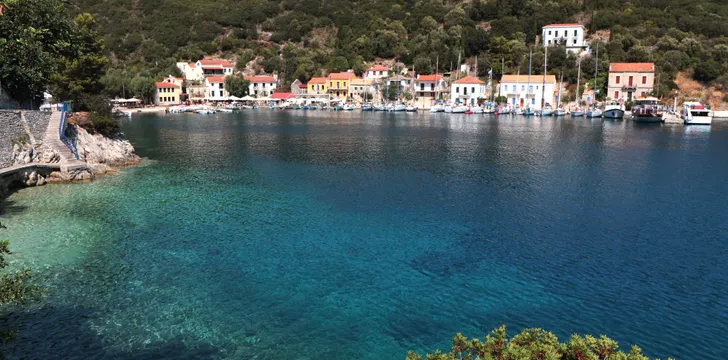 Slip the lines and head SW to the most beautiful island in the whole Ionian, in my..personal opinion! Ithica, a beautiful lush green island that sits next to the famous Kefalonia. Head straight onto the town quay, or long line to the port side of the bay for a quieter evening. Kioni is a tiny little village littered with fishing boats and stunning hillside restaurants.
Kioni provides great holding, there can be some deeper patches on the sea bed, so our advice is to motor in and find a good depth to anchor in by using your depth gage. Kioni does have the tendency to get windy from 6pm but does die off towards 8pm. Do make sure that if you're long lining that you have both port and starboard tied off properly and that the anchor is holding strong. The wind is caused by the NW prevailing wind that funnels between the hills around the village.
The water around Kioni is incredible for several reasons. It's really clean and clear, so great for snorkeling and discovering shoals of fish. Come the evening you can expect to see phosphorescences! As you disturb the water on your midnight swim underneath the stars you will notice sparkles, this is the Algae, they emit a glow whenever they are jostled!
---
Day 5 - Kioni to Vassaliki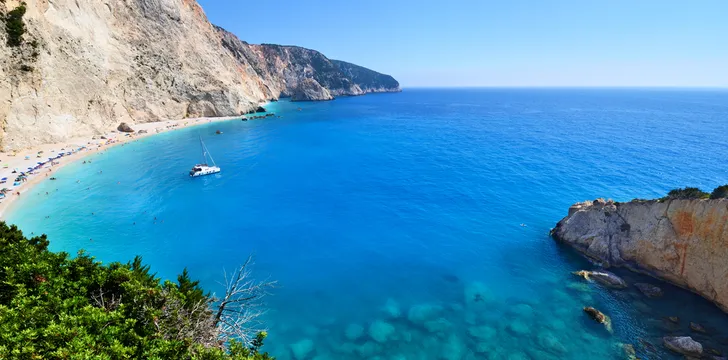 As you leave the stunning bay of Kioni, why not pop round to the island of
Kefalonia.
 The famous Fiskhardo town filled with high-end shops and upmarket restaurants.
There's a bay just south of the town called Foki bay. A stunning inlet where tall green ferns grew, we named it Little Canada when we visited! 
Once you've moored up you can either go to the small beach or explore the disused limestone mine which is home to a labyrinth of tunnels. Takes shoes and a torch, no flipflops as your feet will slide everywhere - trust me! You can access the caves by dinghy, or you can swim in. Foki Bay can be used as an overnight stop but is exposed to easterlies.
Head North to Vassiliki, a popular destination for windsurfers due to the anabatic winds. It is my advice that you get onto the quay before 2 pm or after 3:30 pm. The prevailing winds travel from west to east and can affect your mooring on the quay. It has been known to reach F7 from a F2 within 10 minutes. If you are wanting to explore the land, we can recommend going to Porto Katsiki by car, or day charter from the harbor. Porto Katsiki provides blue warm waters with bright white cliffs offering dramatic landscapes for miles. This west side of the Lefkada is very exposed to the prevailing winds, so our advice is to not sail around there but to go by car or ferry instead. 
---
Day 6 - Vassiliki to Sivota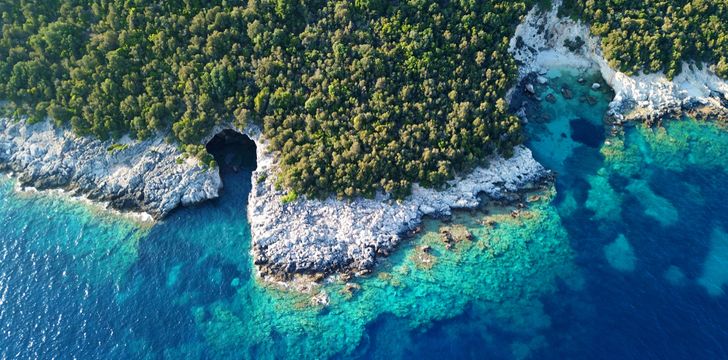 Why not start the day off with a walk along the sandy beach of Vassaliki? Don't forget your swimming costume! The water is so warm on this coastline due to a large sandbank that retains its heat. Stop off on the way through town and pick up a freddo cappuccino at one of the many town quay coffee shops. Crossing anchors in this harbor can sometimes happen, keep a lookout on any unusual vibrations or strain on the windlass.
Head out and travel NW. There are some lovely anchorages on the east side of Lefkada island, all providing great shelter and supremum swimming opportunities, head past Sivota to the next bay around – Poros for a swim and a spot of lunch. Head back around to Sivota, a hidden town up in the hills.
Sivota is a small town with a row of restaurants, be sure to pop into the Pirates and 12 Gods, one of our favorite restaurants with great service. They also have a quay which has water and electric for free if you eat there. Phone beforehand because they do get busy! There is also the opportunity to free swing in the bay. In high season it gets very very busy in here, free swing with caution. Sivota regatta ends/starts in this area so if you are looking for a quiet time do avoid those dates!
---
Day 7 - Sivota to Lefkas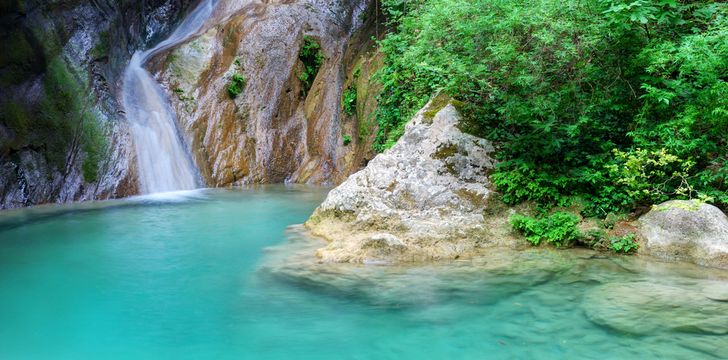 Leave Sivota and head across back to the western side of Meganisi to explore the incredible Papanikolis Cave! It's too deep to anchor here, so someone will have to say on the yacht. Go in by paddleboard or dingy, watch out for the bats! Do not sail into the cave, although it looks big enough it isn't! 
As you come further north you will come across the island of Skorpios, keep well away from this island! It is privately owned, and there are armed guards that patrol the grounds and the surrounding waters. The channel between Skoripos and Sparti is blocked off and is also out of bounds.
Up along the coast, you have various points of anchoring, one of which is the town of Nydri. Nydri is prone to being busy during the high season which can affect anchoring space. Inland Nydri is host to a collection of natural waterfalls that can be accessed by car or tour bus. Surprisingly Nydri has a brilliant Chinese restaurant that is well priced on the quay wall! This town is great for trinkets and gifts for those at home. Keep traveling North up the channel and you are back where you are started!
The channel can get busy with Sunsail yachts, as their base is in Lefkas harbour. The flotillas and other bareboats are normally filled up with diesel at Lefkas fuel quay by 5 pm. Once you are in the harbor, head over to Portos Cafe for a refreshing drink and talk about the holiday! Lefkas also has a fantastic laundry department which iron, clean and fold 1 load for 15 euros. Head into town for the last dinner and enjoy the last moments of your Ionian holiday!
Other Articles of Interest
Charter destinations