7 Day Saronic and Cyclades Motor Yacht Itinerary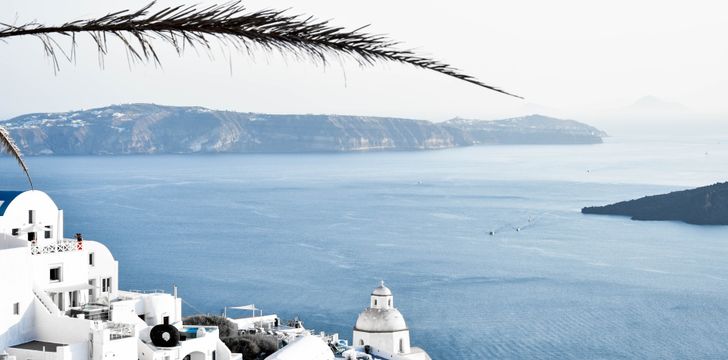 Discover Hydra, Mykonos, Spetses and many other hidden Greek treasures of the Saronic and Cyclades islands onboard a luxury crewed motor yacht
Day 1: Hydra | Day 2: Spetses | Day 3: Milos | Day 4: Poliegos & Kimolos | Day 5: Mykonos | Day 6: Siros | Day 7: Kithnos & Kea
From picturesque fishing ports and whitewashed architecture drenched in bougainvillea, to striking cliff formations and pine-blanketted slopes, Greece has a lot to offer. Charter a luxury crewed motor yacht in the Cyclades and Saronic Islands from Athens and cruise from sleepy traditional villages to buzzing cities with pristine bays for plenty of blissful moments of relaxation, on the water exploration and opportunities to tender ahsore to traditonal Greek tavernas in between. 
The Sarionic Gulf is collection of islands with their own unique character and personality, only a couple of hours from the Greek Capital. Here, you will find serene beaches, almost intact ancient temples, high-end hotels and scenery of unmatched beauty. The "Cyclades" means circular islands and refers to the islands forming a circle around the sacred island of Delos. According to Greek mythology, Poseidon was furious with the Cyclades nymphs and turned them into islands.
Contact one of our Charter Experts for a bespoke proposal and suitable yacht options for you and your family or friends. Sould you wish to cruise solely the Saronic Islands, embark on our weekly Saronic motor yacht adventure, or venture south onboard a luxury motor yacht to the charming Peloponnese.
---
Map
Day 1 - Hydra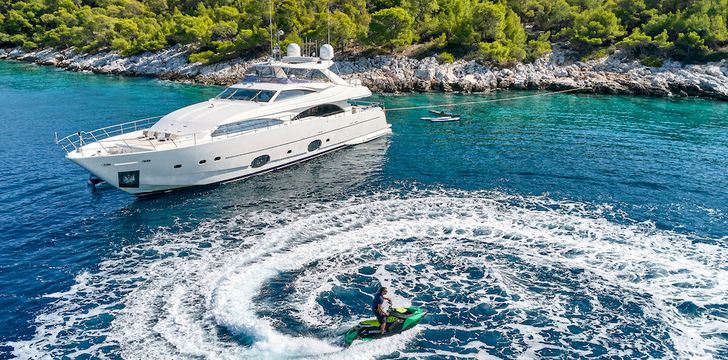 Step onboard your luxury motor yacht and embark from the hustle and bustle of Athens on course for the charming island of Hydra; one of the richest Greek islands which heavily contributed ships and funds during the 1821 Greek Independence War.
Stop off at Bisti Beach, a beautiful, secluded bay and tuck into a feast of fresh fish and a hearty Greek salad, loaded with creamy goats cheese and juicy tomatoes meticulously prepared by your chef. Sit back and admire Greece's golden cliff tops and sparkly blue waters from the comfort of the sundeck.
In the afternoon prepare to get active; take to the water and explore Hydra's coastline by kayak or go beneath the surface to discover vibrant schools of fish. When it gets to early evening, make sure to head over to Sunset Restaurant for cocktails soaked in the warm, orange glow of the sunset over the cliff tops.
---
Day 2 - Spetses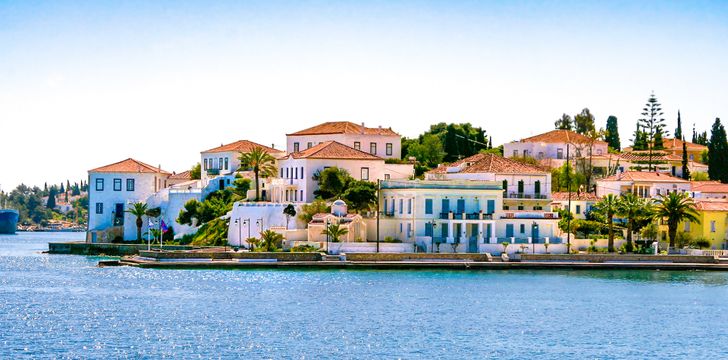 Wake up in your cosy cabin and make your way over to the aft deck for a breakfast with a view. Feast upon fresh fruit and thick, creamy Greek yoghurt, drizzled with sticky, golden honey as your yacht cruises to the quaint island of Spetses.
Spetses is a beautiful traditional Greek island, adorned with whitewashed houses with red-topped roofs, glassy, turquoise waters lining picturesque beaches and luscious countryside filling the gaps. Spend the day at Zogeria Bay, one of the best beaches on the island, and soak up the sunshine with beautiful views of intricate cliff formations and flourishing flora and fauna.
Built in the roaring twenties under a unique belle epoque shell, hides the five star Poseidonion Hotel in Spetses Esplanade - our top reccommendation for a delightful evening ashore. Alternativly, if you are longing to visit a traditional taverna for dinner, we recommend Liotrivi for incredible views and even better food. 
---
Day 3 - Milos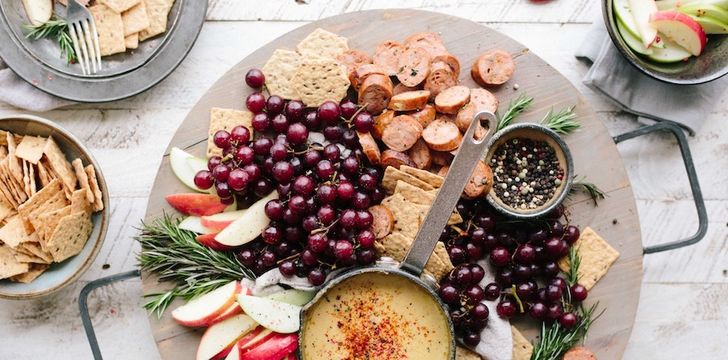 Enjoy a slow breakfast and lazy morning in stunning Milos: a striking island embellished with pearlescent cliffs emerging from the dazzling cerulean sea which has sculpted the coastline into countless indentations and inlets. Milos is home to a civilisation thought to be as ancient as that of Crete, spanning a period of atleast 5000 years.
Anchor in Kleftiko Bay where you can snorkel, whizz around on a seabob or simply sprawl out on the sundeck in a picture-perfect paradise. Venture to the lunar landscape of Sarakiniko; shaped by white, volcanic rock this is ultimately the most visited site on the island. Or, for some ancient histroy take a trip to Phylakopi, one of the most prehistoric settlements in the Aegean.
Milos' vines flourish in volcanic soils, so for those looking to sample this island's wines, head to Apollonia on the north-east coast to the Konstantakis Cave Winery. When day turns to night, your chef will prepare you a delightful dinner on the aft-deck under the stars. Devoure creamy tzatziki and smooth humous, juicy olives and homemade pitta bread and succulent, herby lamb chops.
---
Day 4 - Poliegos & Kimolos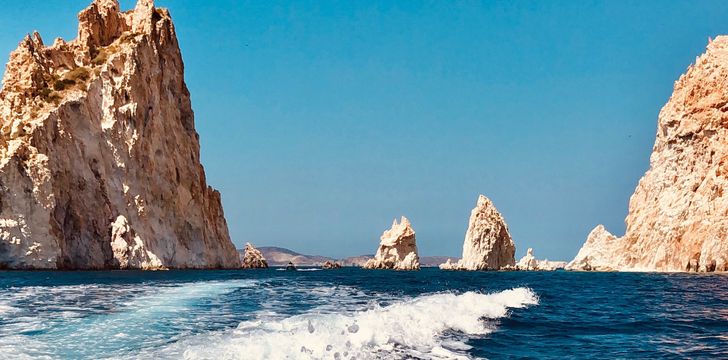 Enjoy a delicious breakfast of stacked pancakes, fresh fruit and sticky syrup or runny poached eggs on toast as the Captain sets sail for Poliegos and Kimolos. Two captivating little islands, characterised by their fascinating, pearly cliff formations and charming, narrow, winding streets lined with ivory buildings flaunting sea-blue doors dripping in fuchsia Bougainvillea.
These islands are perfect for diving; submerge yourself and explore what lies beneath. See if you can spot the spooky shipwrecks or simply admire the beauty of the underwater world. After a fabulous lunch, you will make your way over to Paros to explore Naoussa Bay's heavenly beaches and go for a dip in the sea, or make the most of your yacht's water toys. For dinner, try out Mario's Restaurant for mouth-watering fish dishes, multiple glasses of Greek wine and astonishing views to top it off.
---
Day 5 - Mykonos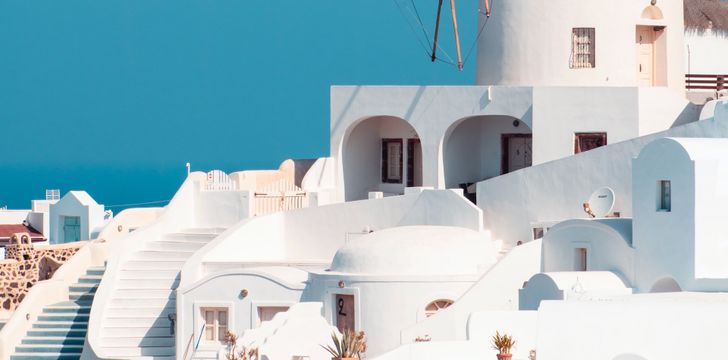 Come the second half of your charter, it is time to cross to the cosmopolitan hub of Mykonos. Watch the world go by from the beauty of the majestic sea, whilst devouring fresh juice, a steaming mug of coffee and fluffy, homemade cake for breakfast. Spend the late morning strolling through ethereal, narrow streets and exploring hidden boutiques. Anchor in either Psarou or Paranga and dip below the surface from the swim platform to unveil the Aegean's aquatic life, snorkelling over caverns inhabited by colourful fish and anemones. 
Attend the trendiest beach club in Mykonos, Nammos, for delectable sushi and champagne cocktails. Prepare for an exquisite evening of Peruvian cuising at Coya. Or, arrive at the Buddha Bar for the signature atmosohere of the renowened restaurant with views over the Aegean Sea, immersing yourself in the wild Mykonos nightlife.
If time allows, head to Delos; the island of which Zeus and his wife Leto gave birth to Apollo and Artemis. Discover this UNESCO World Heritage Site alongside an educated archaeologist and recount the mythological story to your children.
---
Day 6 - Siros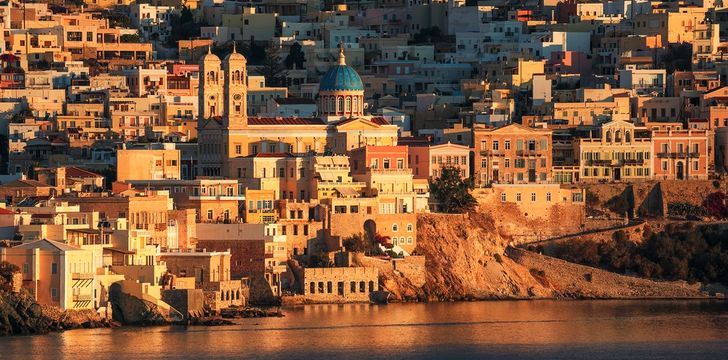 Awaken to whiffs of an exquisite breakfast on the aft-deck: eggs benedict, a cup of coffee and juicy fresh fruit and yoghurt will energise you for another day of on-water-exploration. Today, you will go to enchanting Siros: a quaint, traditional Greek island loaded with fascinating history and breath-taking architecture. Wander around the town for a spot of shopping; explore the charming boutiques for unique souvenirs, getting lost in the winding streets.
For the thrill-seekers, take advantage of the water skis onboard for hours of adrenaline-filled fun. Head back and sit on the sun pads as you cruise across to Kithnos and drop anchor in the gorgeous Kolona Bay, with its unusual sandbar lined by the sparkling, turquoise sea. Allow the chef to prepare you an incredible meal of fresh lobster in a butter tarragon sauce or tuck into a succulent beef fillet with gooey Dauphinoise potatoes before sinking into your cabin for a blissful nights sleep.
---
Day 7 - Kithnos & Kea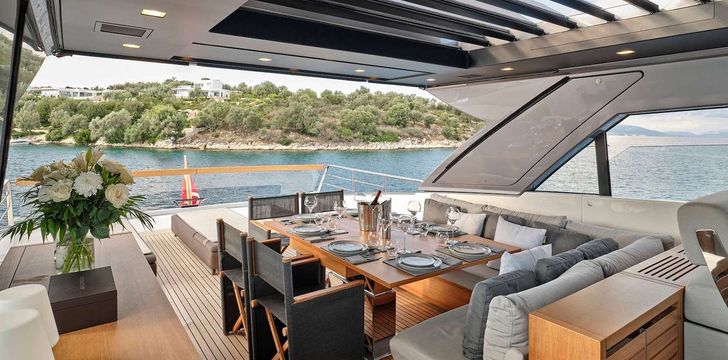 Lounge around on the sun pads and soak up the sun, enjoying beautiful views as you cruise across to Kithnos and Kea. These picturesque islands with golden, sandy beaches are tucked away in beautiful, secluded coves and amiable traditional Greek villages. Squeeze the most out of your last day exploring the villages, paddling along the glassy blue shore or flying through the ocean on water toys.
Allow the crew to throw you a party to say farewell with plenty of delicious Greek treats, music and dancing! Have one last feast and drink and dance long into the night beneath the glistening Grecian stars.
---
Day 8 - Disembark
Tuck into a delightful breakfast for the last time as you make your way back to Athens for disembarkation with hundreds of memories and maybe a few extra pounds from all the exquisite food.
If this itinerary inspired you, do feel free to get in touch with one of our expert brokers who would be delighted to put together a bespoke proposal of yachts for your consideration. This recommended itinerary starts in Athens and cruises the Saronic and Cyclades but we have all manner of recommended itineraries cruising the Ionian islands, Cyclades islands and many many more.
Other Articles of Interest
Charter destinations