7 Day Saronic Islands Crewed Catamaran Itinerary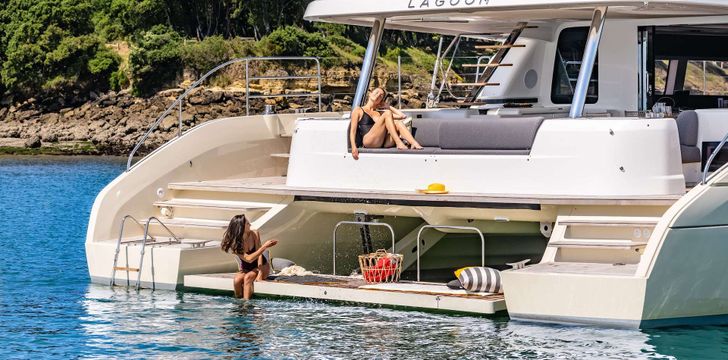 Embark on a luxurious crewed catamaran charter from Athens to Aegina, Poros, Spetses, Monemvasia, Gerakas, Kiparissi and Hydra for an epic adventure in the Greek islands.
Day 1: Aegina | Day 2: Poros | Day 3: Spetses | Day 4: Monemvasia | Day 5: Ierakas | Day 6: Kiparissi | Day 7: Hydra | Day 8: Athens
Step onboard your luxury crewed catamaran in Athens and venture deep into Greece's Saronic Islands; multiple islands representing a tiny haven on earth blanketed by pine trees, drenched in history and vibrant houses. Escape from modern life and connect with the wind alongside a fun Captain and their charter-savvy crew, indulging in traditional Greek delacies - both onboard and onland in rustic tavernas. Swing at anchor in picturesque bays fringed by olive groves and cyprus trees, whiling away afternoons dipping below the surface, exploring ashore or further afield on one of the yachts many water toys.
Contact our Charter Experts for a bespoke proposal and begin planning your extraordinary sailing adventure through the Saronic Islands.
---
Map
---
Day 1: Aegina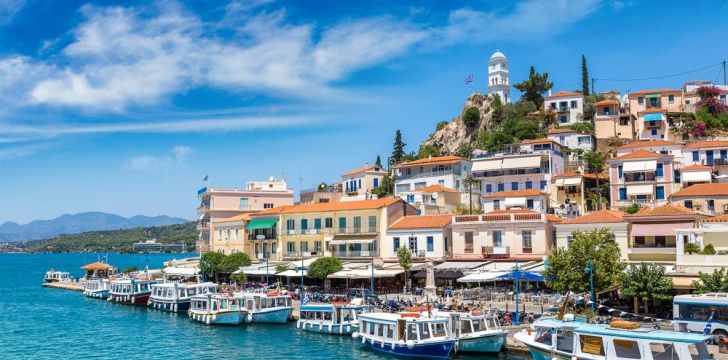 Set sail on your fabulous crewed catamaran from Athens towards the islands of Agistri and Aegina; a beautiful island oasis inhabited since around 3000 B.C. First, cruise to Agistri and discover why the multiple beaches that line the coast of this tranquil natural oasis makes this a serene haven for nature lovers.
Make the 10 minute cruise to the picturesque cresent moon harbour of Aegina, peppered with fishing boats and fruit filled caiques. Spend time at Klima beach; one of the most highly renowned snokelling spots. The small village of Perdika, perched on the island's shoreline is a must-visit with its picturesque narrow streets and typical Aegean-style houses.
The beaches of the island are calm and lined by the landscape of large pine trees, leaving a refreshing scent to the air. For a beach with crystal clear waters for swimming, head to Klima on the south side of the island. With your experienced crew, you can sail into the shallows to make the most of this beautiful spot. Dinner is the perfect time to enjoy some of the local seafood caught fresh by the local fishermen and cooked in an exquisite Greek style.
---
Day 2: Poros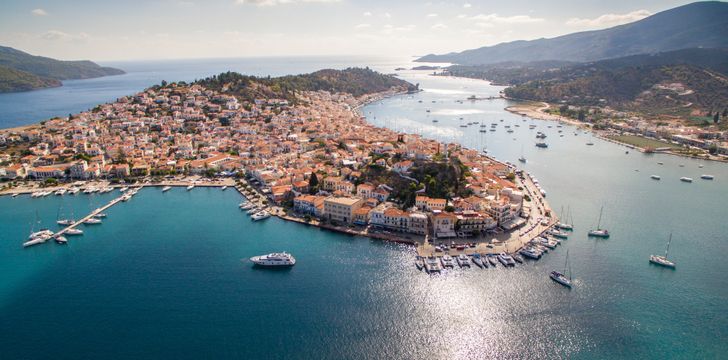 In the morning, you will sail to Poros situated in the southwest of the Saronic Gulf and covered in lush greenery. Poros is made up of two islands – Sferia and Kalavria that are joined by a bridge. The port is buzzing with life, with plenty of options for dinner. Enjoy the traditional Greek music that drifts from the taverna and the quaint souvenir shops.
The island is famous for the temple of Poseidon, found towards the north of the island, believed to back to around 520 B.C. For stunning scenery and the wonderful scent of lemon blossom in May, take a walk to the lemon forest where the breath-taking landscape of this island, dotted with watermills and teeming with life is sure to be an unforgettable experience.
---
Day 3: Spetses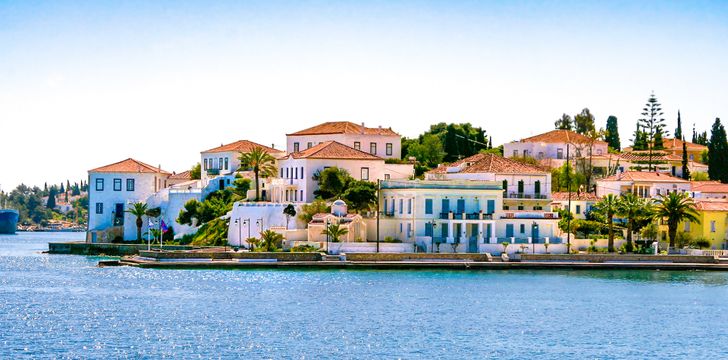 For sandy beaches and secluded bays, sail for the island of Spetses. While away the hours spending your time swimming with the Greek marine life, using the great water toys available onboard, or simply enjoy the clear waters lapping against the hull as you circumnavigate this beautiful island. 
Tender ashore towards picturesque villages, rich in historical architecture, narrow pathways and wooden balconies drenched in bourgainvillea. Strolling out of the village, you will discover rolling hills and yet more stunning pine forests.
Built in the roaring twenties under a unique belle epoque shell, hides the five star Poseidonion Hotel in Spetses Esplanade - our top reccommendation for a delightful evening ashore. Alternativly, if you are longing to visit a traditional taverna for dinner, we recommend Liotrivi for incredible views and even better food. 
---
Day 4: Monemvasia
Today you will sail to Monemvasia, an islet joined only by a single bridge to the mainland with formidable cliff faces and a magical town hidden behind its walls. The medieval town of Kastro is surrounded by thick fortifications, but walking through these thick stone walls will reveal a web of winding streets leading to everything from tavernas to a 13th-century cathedral.
Anchor off the shores of Pori beach and enjoy its blue flag waters and this long stretch of sand. Dive in with a snorkel and mask or while away the hours floating on the surface of the serene sea. From here you can enjoy spectacular views of the castle and the surrounding old town.
---
Day 5: Ierakas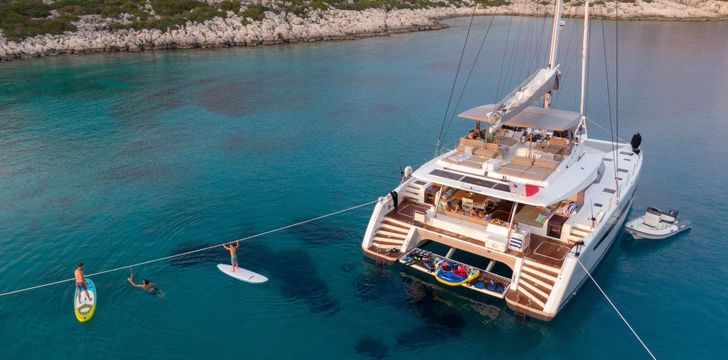 Sail up this gorgeous coastline until you reach Ierakas, stopping to enjoy some of the water toys and a lovely lunch on board. This inland saltwater lagoon offers something completely different, with shallow waters and a shore lined with taverna, this will be a wonderfully memorable stop on your catamaran.
Visit the Acropolis on the northern point of the entrance dating from Mycenaean times and the perfect place to experience some of Greece's amazing ancient history. Enjoy the clear shallow waters below you as your crew navigates the beautiful lagoon and enjoy a simply delicious fresh fish meal in one of the local tavernas for dinner.
---
Day 6: Kiparissi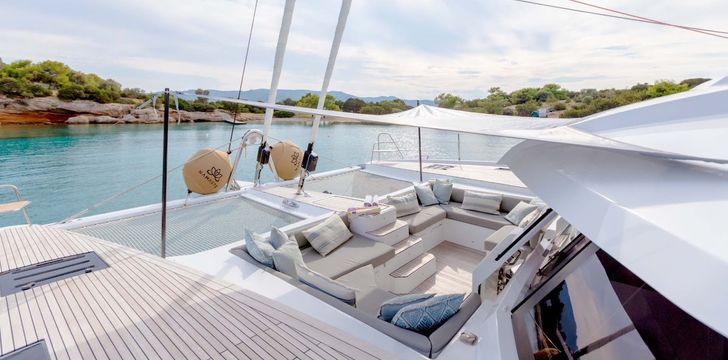 You will find some spectacular anchorages today as you sail from Gerakas to Kiparissi. These are the perfect places to stop sheltered from the sea for lunch, a swim and a snorkel. When reaching Kiparissi, you will discover a quaint village with a choice of three ports, meaning that you can always be sheltered from the wind.
There are many beaches surrounding this lovely village, perfect for anchoring off and swimming ashore to explore. Largely untouched by tourists, this village is the perfect place to enjoy the peace and beauty of small Greek settlements. The main port offers a fabulous array of restaurants and shops making the town the perfect place to spend your evening.
---
Day 7: Hydra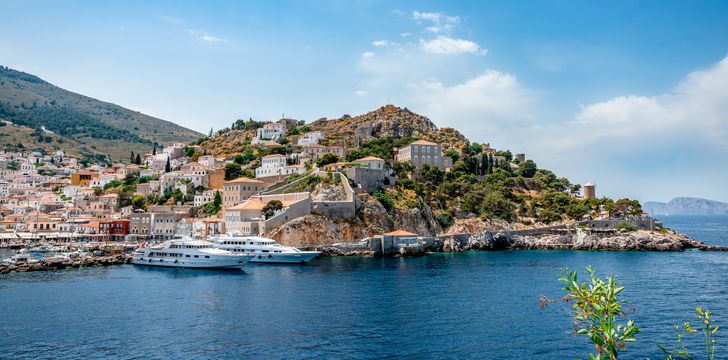 Popular with everyone from Leonard Cohen to prominent sea captains, the island of Hydra is one of the richest Greek islands which heavily contributed ships and funds during the 1821 Greek Independence War and has offered a sophisticated and beautiful welcome to visitors for hundreds of years. The amphitheatric style in which the quaint houses are arranged around the marble portside makes this an architecturally perfect place to visit.
Wander the cobbled streets accompanied only by donkeys – no motorised traffic is allowed in the towns. Visit the restaurant Kodylenia for fabulous waterside dining, freshly caught squid and a spectacular sunset. If you're not ready for the day to end there, then there are a host of bars and clubs to liven up your night!
---
Day 8: Athens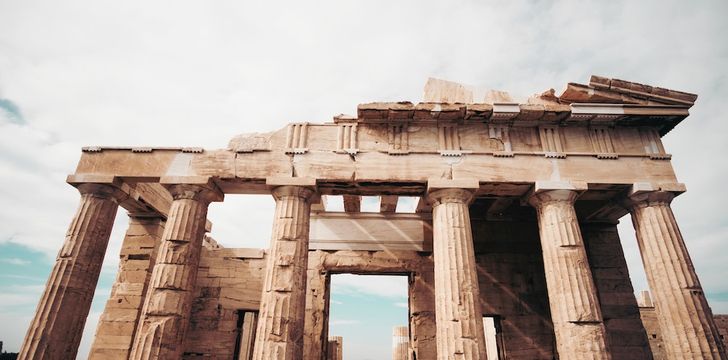 Today you will return to Athens and say goodbye to your fabulous crew and catamaran. The adventure isn't over just yet though. Be sure to take time to visit some of Athens wonders, such as the Acropolis and the rest of this ancient city full of life, culture, and history.
---
Our Greek Charter Yachts
Boatbookings can find you the ideal charter yacht in Greece. Click here to see our Greece Charter Yachts or contact us and one of our Charter Experts will get back to you with a bespoke proposal and itinerary.
Greece Yacht Charter FAQ Our Greece Yacht Charter Guide 
---
Other Destinations: The Italian Riviera | Sicily | Sardinia | the French Riviera | Monaco | Corsica | Mallorca | Ibiza | Croatia
Other Articles of Interest
Charter destinations