Saronic Gulf Yacht Charter Guide | Greece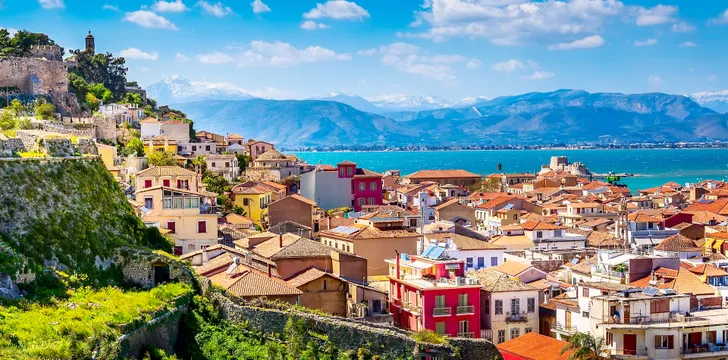 Charter a luxury motor yacht, crewed catamaran or bareboat sailboat in the Saronic Gulf and discover Aegina, Hydra, Poros and Spetses
Athens & Saronic Islands | Athens & Saronic Yacht Charter | Charter Destinations | Motor Yachts | Catamarans | Sailing Yachts
Aegina | Agkistri | Hydra | Poros | Salamina | Spetses | Athens & Saronic Cuisine
Aegina, Agistri, Spetses, Hydra, Poros, Salamina and the peninsula of Methana complete the Argosaronic island complex and what is a wonderful destination all year round for your luxury yacht charter due to its sheltered location and delightful natural beauty; be it for a weekly motor yacht vacation or crewed catamaran adventure. Steeped in ancient mythology, the Saronic islands have been a paradise and hushed haven for people for thousands of years, and will continue to be so.
Enjoy the glamorous setting, unique architecture and romantic atmosphere that you will find in the mix of cosmopolitan towns and sleepy fishing villages peppering the stunning eastern coast of the Peloponnese on a 7-day motor yacht adventure covering great distance. Should you wish to connect with the wind, embark on a 7 day crewed catamaran charter from athens to Monemvasia and enjoy the winds. Or, spend more time simply island hopping on a weekly motor yacht escape in the Saronic Gulf.
Located within easy reach of Athens, this charming and understated group of islands has much to offer both the avid and novice charterer. Expect great dining experiences, boutique shopping, charming Greek towns, and the convenience of its proximity to the country's dynamic capital. Should you wish 
---
About the Saronic Gulf
With the greatest concentration of both luxury motor yachts and crewed catamarans located in Athens, this bustling city remains by far the most important yachting hub in the eastern Mediterranean. As well as having a huge variety of stunning yachts to choose from, it is also very centrally located meaning you can easily charter to the Ionian islands, Cyclades islands, Sporades islands and even the Dodecanese islands if you wish.
Weather Conditions and times to charter: The Saronic, Argolic and eastern coast of the Peloponnesian Gulf is a very well protected cruising area making it fantastic for those charterers looking to cut their teeth sailing for the first time. It has mild winds, usually from the north to northeast and that average Force 3-4 as it is predominately sheltered from the strong Meltemi wind that affects most of the other Island groups in Greece.
In the Argolic Gulf and Hydra Island, the wind blows mainly from the southeast. The Meltemi wind can be strong in the afternoon, but otherwise, it is normally calm. The Katabatic wind also affects the region coming off the mountaintops of the Peloponnese though very rarely reaching higher than Force 5 and blowing for short periods. The average temperature from June to September in this region is 25-34C (77-93 F) but in May and October, the weather is a little bit cooler. 
---
Saronic Islands Crewed Motor Yachts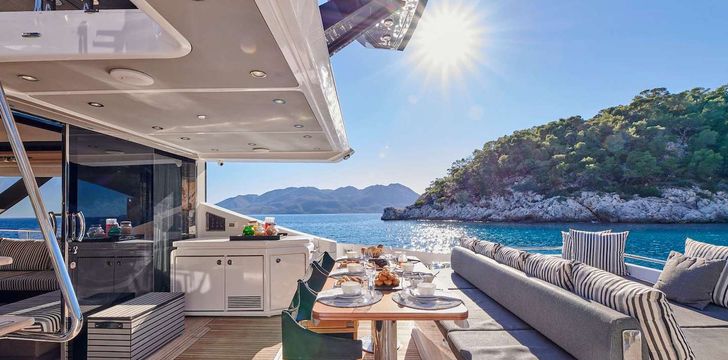 The Saronic Islands are the perfect destination for you and your family and friends to charter a crewed motor yacht. You can get to know the beautiful islands of Poros, Spetses and Hydra, whilst travelling in the ultimate style and comfort. There are multiple advantages to chartering a motor yacht; you can navigate the islands with speed, meaning you can make the most of your time and pack in all of the best sights, and you get a high-class service and all-around glamorous experience.
Crewed Motor Yacht Itinerary Our Motor Yachts
---
Saronic Islands Crewed Catamarans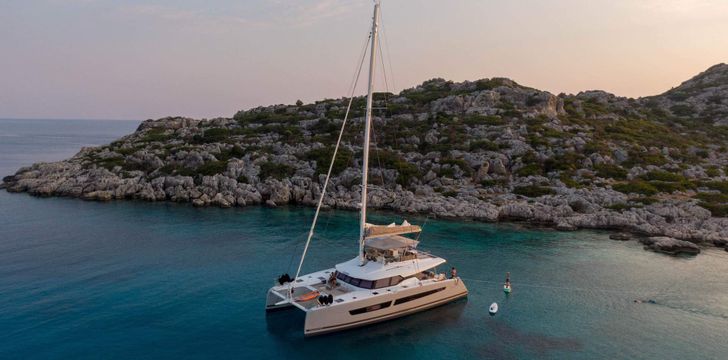 Many would say that crewed catamarans are now just as luxurious and provide the same amount of comfort as crewed motor yachts. Catamarans are extremely spacious, with stunning interiors and exteriors, and fantastic crews that will give you an extremely high-quality service. You can cruise through the Saronic Islands at a leisurely pace, which is easy to do due to the islands' proximity to each other, and relax while looking out onto the beautiful Greek sunsets. Crewed catamarans are an extremely popular option, as they provide stability on the water, yet you still get the feeling of the authentic sailing experience.
Crewed Catamaran Itinerary Our Crewed Catamarans
---
Saronic Islands Crewed Sailing Yachts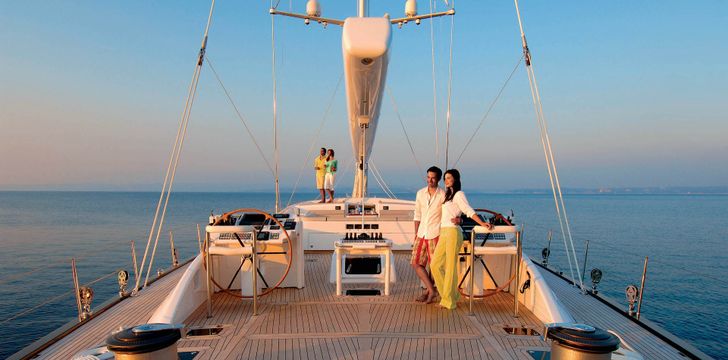 The Saronic and Argolic Gulfs and the eastern coast of the Peloponnese are very well protected areas with light and consistent winds, allowing for relaxed sailing throughout the islands. As the islands are so close together your navigation is predominantly by sight, making life much easier for yourselves and your crew. The Saronic islands are a great place to charter a crewed sailing yacht; you can gain the true sailing experience and feel the breeze in your hair whilst exploring these quieter, historic Greek Islands.
Crewed Sailing Yacht Itinerary 
---
Charter Destinations
Aegina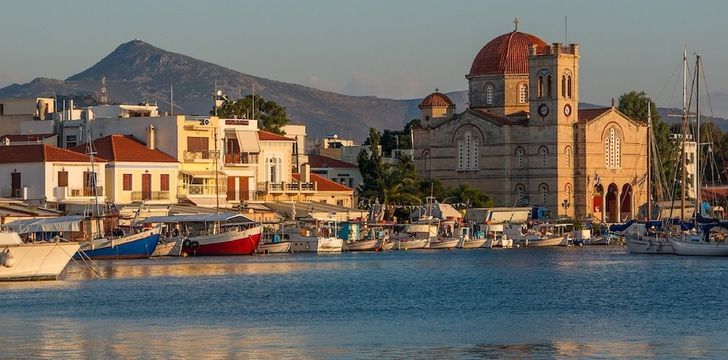 The island of Aegina is located only 16.5 nautical miles from Athens and the port of Piraeus but has still retained its charm and culture. According to legend, Aegina took its name from a nymph whom Zeus fell in love with and took to the island! Indeed this island has over 3000 years of history meaning that there is a plethora of incredible sights and places to explore.
One of the most famous of which is the Temple of Apnea Athena, built to form an equilateral triangle with the Parthenon and the Temple of Poseidon at Sounion, the so-called 'holy triangle" of the antiquity. Other sights to note if you step ashore are The Sanctuary of Apollo Delfinios located right near the harbour and Palaiohóra. Outside Aegina town, the vibrant capital of the island, you can find charming traditional villages such as Kypseli, Agii and Vagia as well as many interesting smaller islands and islets such as Moni, Metopi, Diaportia, Lagouses and Kyra - perfect to explore on the privacy of your luxury yacht.
There are some exciting places to eat around Aegina, including Nonta's Fish Restaurant which is set in the picturesque fishing village of Perdika. These traditional Greek tavernas are not to be missed as they create some delicious seafood dishes.
Agistri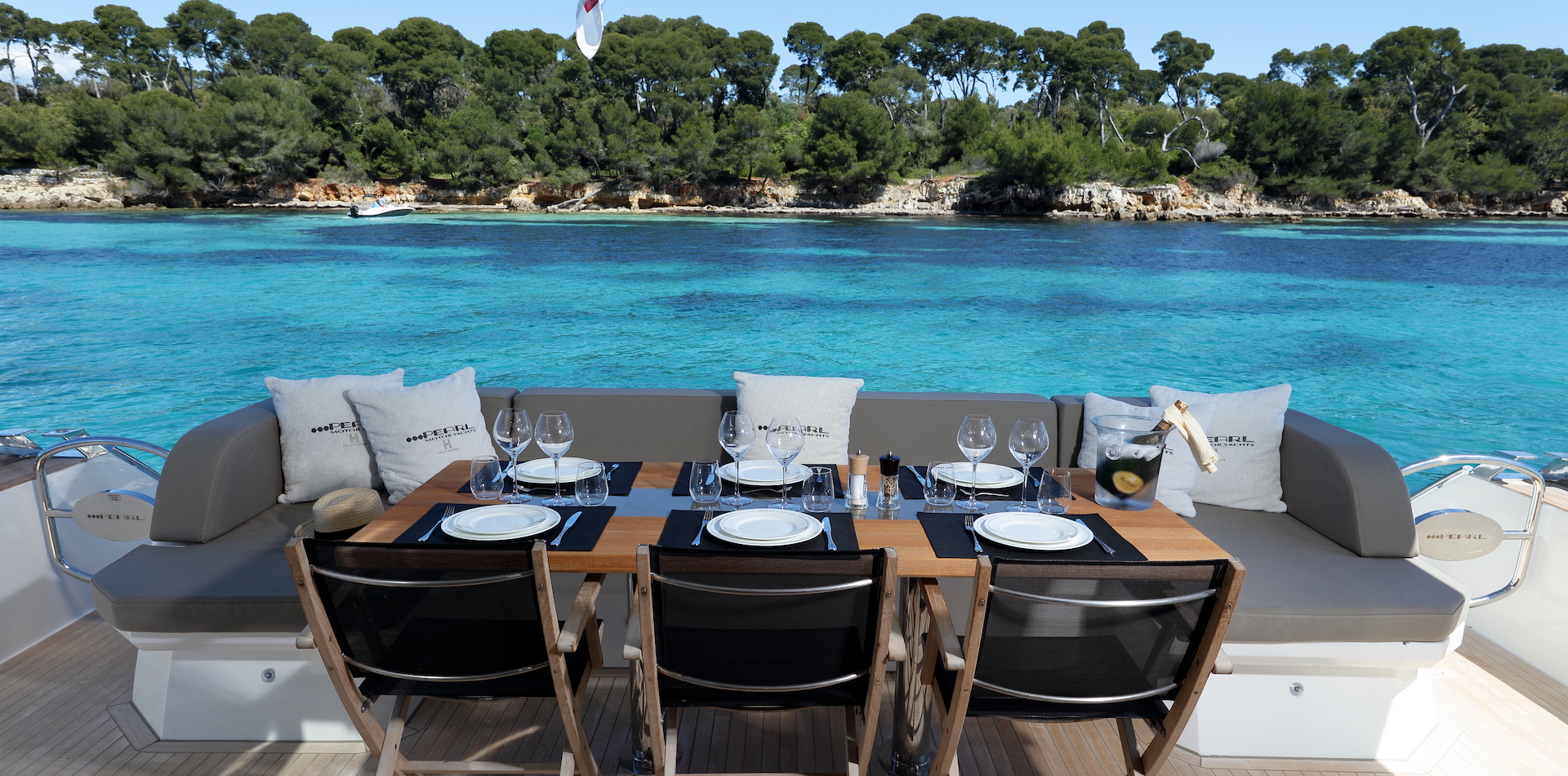 Agistri is yet another easily accessible island in the Argosaronic Gulf. Located just 19 nautical miles away from the port of Piraeus, it is an island of fewer than 1000 inhabitants that is covered in a blanket of fragrant pine trees and lush vegetation where many bird species find refuge.
The main towns to visit are Skala and Megalochori where you can find a large variety of bars and restaurants to sample some of the local cuisines; Hook Club and Agistri Club Hotel in Skala are both excellent spots to sit and have a drink and admire the stunning views of the bay, and Sporos in Megalochori is great to try something typically Greek. 
Sailing between these two towns you will find both golden and rocky beaches embedded in the azure blue waters of the Mediterranean such as Dragonéra beach with its stones covered with messages for loved ones or Limenaria village and its rocky beach that is so suited for diving. The island of Aponisos is surely one to visit with its stunning lagoon, beaches and taverna for a traditional lunch.
Hydra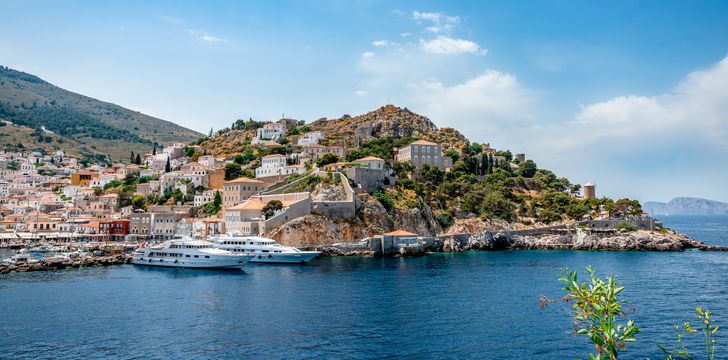 Hydra is a romantic, extremely picturesque island lying between the islands of Poros and Spetses, near the coast of the eastern foot of the Peloponnese. Resisting the march of the modern world, Hydra has banned all cars from this island which has created a unique and special atmosphere. Its stone-paved narrow alleys and red-tiled houses with tavernas and restaurants scattered throughout provide a beautiful and tranquil island to visit on your luxury yacht charter - quite in contrast to the mythological creature of Hydra from whom the island's name was supposedly taken, who was depicted as a tempestuous nine-headed water snake!
It is a popular luxury yacht destination with both sailing boats and large luxury motor yachts crowding the waterfront that is surrounded by lavish stone mansions, monuments and museums. What's more, there are a nice selection of beaches such as Ayios Nikolaos, a sandy beach located on the west of the island that is accessible only by yacht and Limnióniza, considered one the most beautiful beaches on the island. Téchnē Restaurant and Social is a new restaurant on Hydra Island and is already gaining a world of praise - we highly recommend trying their wonderful selection of traditional Greek dishes.
Poros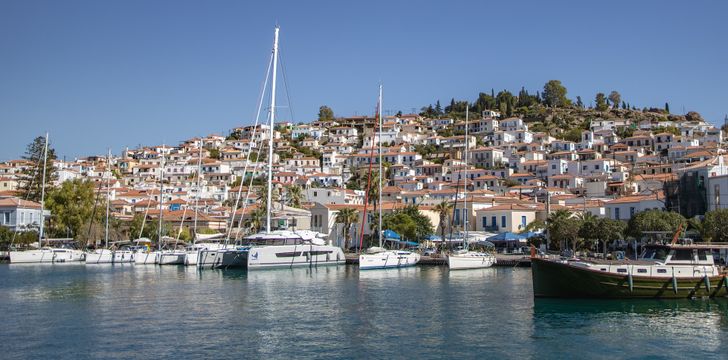 Poros is a small verdant island covered with pine, olive and lemons trees that is only separated from the Peloponnese peninsular by just 200 metres. It consists of two islands: Sphairia, an island of volcanic origin and Kalaureia, its northern and larger twin.
Poros town is a cosmopolitan and picturesque settlement that boasts a lively waterfront adorned with cafes, bars and traditional mansions. There is something for everyone on this island, be it bars and clubs for those that wish to let their hair down or cultural attractions such as the Temple of Poseidon or the historic Clock tower on its hill where you can enjoy panoramic views of the whole town. 'Aspros Gatos' is a great little place that has been said to be Poros' best seafood taverna, it is located just across the tiny isthmus offering stunning views back to Poros Town.
Spetses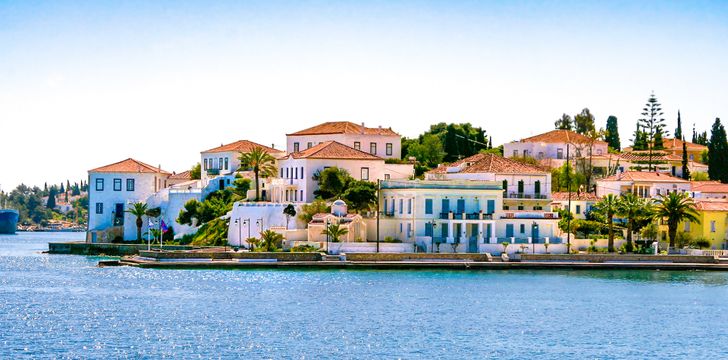 Spetses island, known as 'Pine Island' or 'the Island of fragrance' thanks to the wide variety of different herbs growing natively is an ideal stop on your luxury yacht charter. Bearing marks of its tempestuous past and role in the 1821 War of Independence, wander along the picturesque old harbour and Dápia, the heart of the island's entertainment admiring the well-preserved grand captain mansions.
Spetses is a lovely relaxing destination with sun-drenched beaches and many quaint coves and bays. If you are looking for a great cocktail bar, Palms On The Verandah is the ultimate spot to enjoy heavenly cocktails while admiring the magnificent view of the Saronic Gulf! 
The beaches to look out for on Spetses island are Xylokériza, an amazing secluded beach 8 km from Dapia, on the south-eastern part of the island, Vréllos a gorgeous beach surrounded by pines and aptly named 'Paradise', or perhaps Zogeriá, one that the locals consider to be the most beautiful beach on the island. If you are chartering during September don't miss out on the huge re-enactment of the naval battle that takes place every year.
---
Athens & Saronic Cuisine
As throughout Greece, food in Athens and the Saronic islands is integral to the structure of the day. Restaurants are more than places to grab a quick bite to eat, very often they form the evening's entertainment as well. You can expect a rich variety of food made with the finest ingredients.
Look forward to appetizers such as "horiatiki salata" (tomato, cucumber, olives, and feta cheese), "melitzanosalata" (eggplant salad) followed with a choice of grilled meat, Greek souvlaki, or gyro. With so much of Greece having access to such a rich bounty of seafood from the Aegean, seafood such as octopus, red snapper and lobster are regulars on the menu. Deserts such as "baklava" (syrup cake) or "kataifi" (shredded filo soaked in honey) are the perfect sweet delights to finish a typical Greek meal.
Contact Us Greece Yacht Charter Guide
---
Similar Destinations: the Italian Riviera | Sicily | Sardinia | the French Riviera | Monaco | Corsica | Mallorca | Ibiza | Croatia
Other Articles of Interest
Charter destinations