Ionian Islands Yacht Charter Guide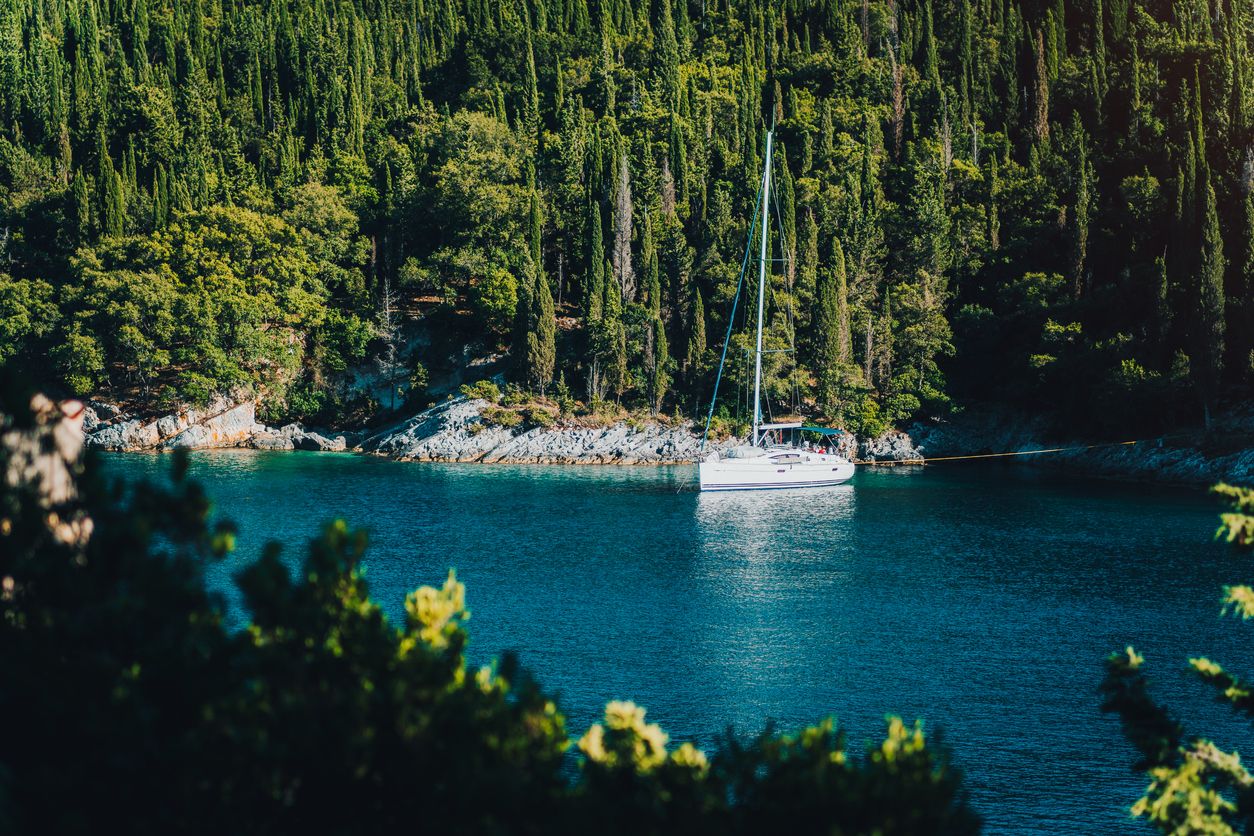 Discover Corfu in the Northern Ionian, and sail between the Southern Ionian islands such as Lefkas, Meganisi, Kalamos, Kastos, Ithica, Kefalonia and Zakynthos
Overview | Motor Yachts | Catamarans | Sailing Yachts | Bareboats
Destinations | Cuisine |Our Ionian Charter Yachts
---
---
About the Ionian islands
The Ionian Islands are formed by seven large and a dozen smaller green emeralds sprung out of the turquoise waters on the west coast of Greece. Heavily influenced by neighboring Italy, the Ionians are distinctly different than the more renowned Cyclades. They boast trees hugging the coast, a myriad of small, protected bays and islets and multi-colored houses, which make for an ideal cruising ground. This is a tranquil cruising area, with great restaurants but no big beach clubs like in Mykonos. There is, however, a unique coastal morphology to be explored with literally hundreds of protected beaches and anchorages, lovely smaller and bigger caves by the sea, lively little ports and – if you care for some nightlife - the big islands have lots of bars and clubs!
The Ionian Islands culture represent a unique blend of East and West (with the West being more dominant). Whilst walking in the old city of Corfu you might think you are in a Northern Italian city center with the back to back buildings and the spacious arcades. Similarly, the rural areas and villages are displaying a Tuscany-like image of rolling hills with colored houses. There are very few boats actually based in the Ionians, mainly due to the fact that Greek Yacht owners live in Athens and they wish to have their vessels based next to them. However, we solve this issue by relocating to the Ionians for a charter, in which case the client will pay extra for the relocation fees.
The best option is to cross the spectacular Corinth Canal (pictured above) and finish in one of the Ionian islands: your first day will have a lot of cruising as you will have to cruise as much as possible of the 100-mile long Gulf of Corinth. Normally, you will spend the night in the nice little town of Galaxidi and continue early the next day so you can be in Kefalonia by noon. Then onwards you can cruise the Ionians at your ease and disembark in one of the islands with an airport (Corfu, Kefalonia or Zakynthos). Relocation fees will apply for the boat's return to Athens. Of course, you can do the opposite, i.e. start in one of the Ionian Islands and finish in Athens.
Once you get to the Ionian Islands, cruising is relaxed and distances relatively small. A typical itinerary starting in Kefalonia or Zakynthos and finishing in Corfu will involve 1-2 hrs cruising per day and the total mileage will not exceed 150-200 miles. There are motor yachts for all tastes and sizes, from mega yachts of 50+ meters down to normal 70-80ft luxury motor yachts. The advantages of a luxury motor yacht are the speed (which allows for a fast island hopping), the high-end service and the overall glamour.
See our Crewed Motor Yachts enquire now!
---
Ionian Islands Crewed Catamarans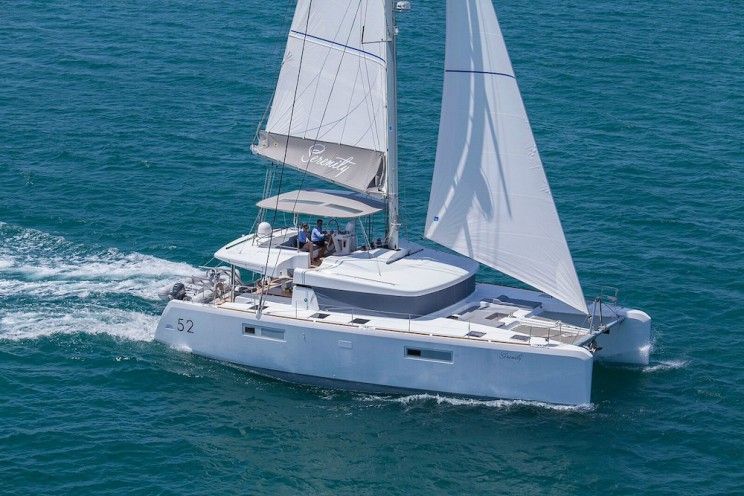 Most crewed catamarans are based in Athens, but quite a number of them deliberately seek charters in the Ionian islands due to the calmer weather in July and August. This way, it is relatively easy to find a crewed catamaran starting and finishing in the Ionians, as long as you have some flexibility with starting and finishing ports so you can adjust to the boat's schedule.
Catamarans are in many ways as good, and economy-wise even better than motor yachts. New, modern luxury catamarans are extremely spacious and offer a fantastic alternative to the normal monohull/motor yacht option. They offer all the luxury amenities found in motor yachts and have great crews (on the biggest crewed catamarans the overall service is comparable to motor yachts of the same size and cost). An important reason for the popularity of crewed catamarans is the extremely low fuel expense, which however is related to the moderate speed, a catamaran cruises at 10 knots. Overall, crewed luxury catamarans are extremely popular and, as they are limited in numbers, they get booked very well in advance, so we recommend a prompt decision.
See our Crewed Catamarans book now!
---
Ionian Islands Crewed Sailing Yachts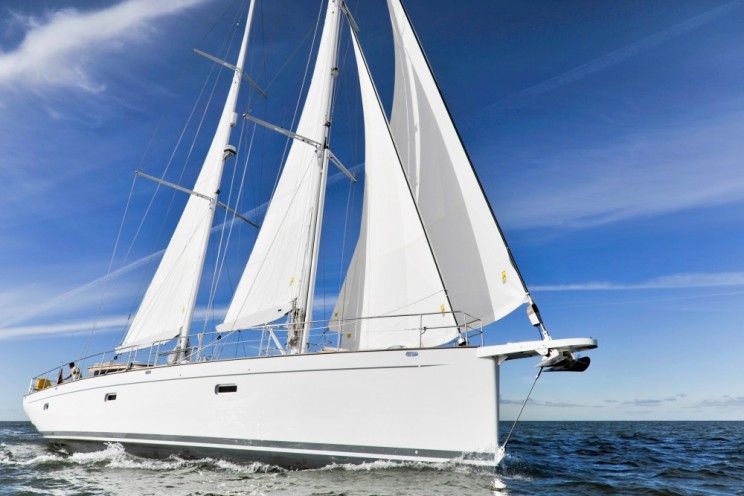 The same conditions as with motor yachts and catamarans exist for sailing yachts: there are a limited number of yachts based in the Ionian, however, more often than not, yacht owners can and will relocate - this will come at an extra cost. One thing you should bear in mind is the relatively calm winds of the Ionian islands are not a good match for sailing yachts. On the other side, the area is truly stunning, distances between the islands small and if you love sailing yachts then the Ionians are as good as any other destination!
See our Crewed Sailing Yachts enquire now!
---
Bareboats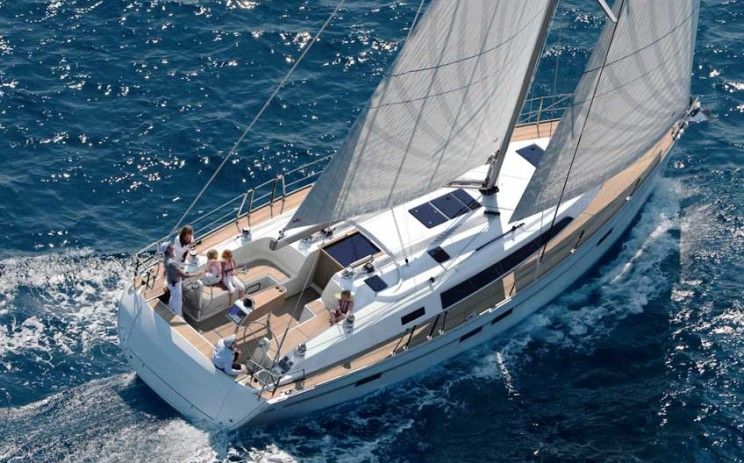 Starting from either Corfu or Lefkas, the Ionian Islands are a fantastic place to charter a bareboat for experienced and first-time sailors alike. The gentle afternoon winds make it a delight for those embarking on a charter in search or relaxation and luxury. The long sandy beaches and bustling towns that are found amongst these beautiful islands make great anchorages to stop for some amazing local food and drink.
---
Key Ionian Islands and Charter Destinations
Corfu | Paxoi/Antipaxoi | Lefkas | Kefalonia | Zakynthos
Corfu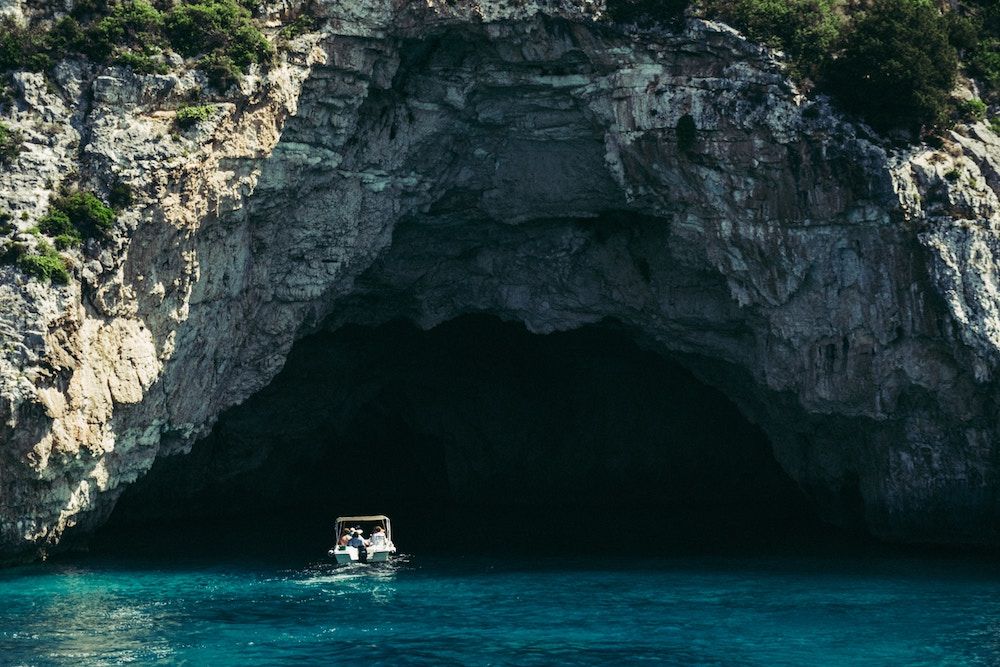 Corfu is the second largest of the Ionian islands and, perhaps more than the others bears the marks of a tempestuous past in the form of imposing castles that dot the landscape. The island of Corfu combines traditional villages and large modern resorts (it was one of the first islands to truly embrace tourism) with a fantastic array of wildlife and beaches.
Corfu offers endless opportunities for your sailing holiday. Two of the most popular beaches are Myrtiotissa beach, named after the Monastery of Virgin Mary Myrtiotissa located above it, or the stunning Nissaki beach is just two to consider as you pass by on your charter.
See our Corfu Guide enquire now!
Paxoi/Antipaxoi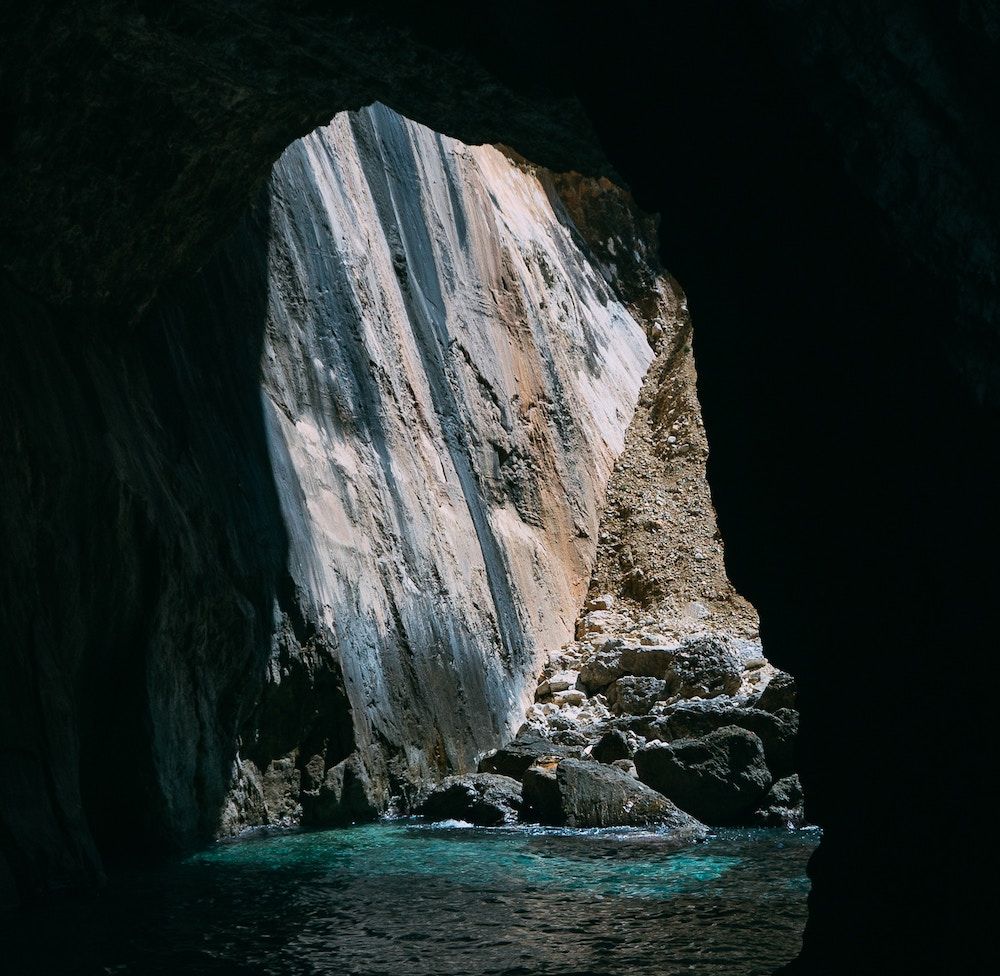 Paxi is the name given to a small cluster of islands, the largest being Paxos and Antipaxos. Legend has it that they used to be part of Corfu until Poseidon tore them apart with his trident so that he could have some peace and quiet. Nothing has changed and charterers can still find this peace on these islands. Being difficult to get to by anything but yacht, it is a charterer's dream.
Look to explore the many sea caves, hauntingly beautiful beaches and shipwrecks on the south coast of Paxos or soak up the traditional Greek atmosphere in the harbor towns of Gaios, Lakka or Loggos on the east coast. When you step ashore, the Venetian fortress of Agios Nikolaos and the English Governor's house is not to be missed. Take part in the music festivals that go on throughout the summer, particularly in July when you can experience the festival of 'Water and Wine' that celebrates traditional folk music.
Lefkada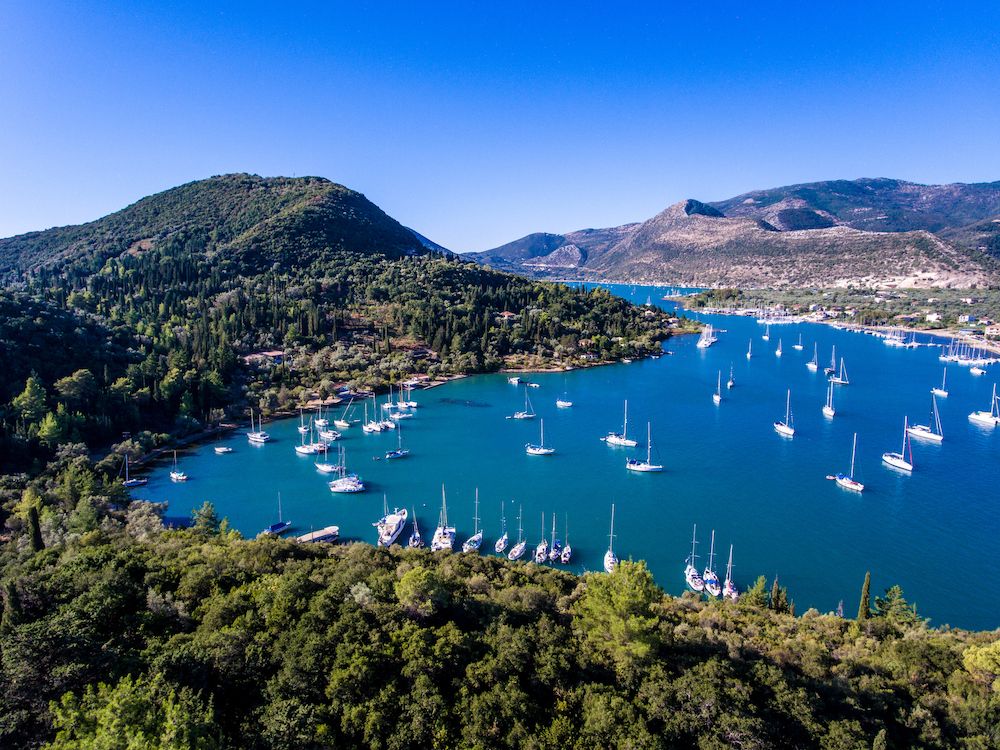 Lefkada is actually connected to the Greek mainland by a small bridge but despite this access for cars, it has maintained many of its traditional sleepy villages, coastal taverns, and wonderful beaches. Lefkada was named after Lefkatas, the island's southernmost cape with its imposing steep white rocks. It is surrounded by 24 islets that provide the charterer with a plethora of secluded bays and coves to anchor off and explore with your snorkeling gear or tender. Lefkas is traditionally where most of the bareboat and crewed charters begin. The marina is well maintained with a supermarket, onshore showers, laundry facilities and a wealth of restaurants in the town. It makes for the perfect first night and equally the end night too!
Kefalonia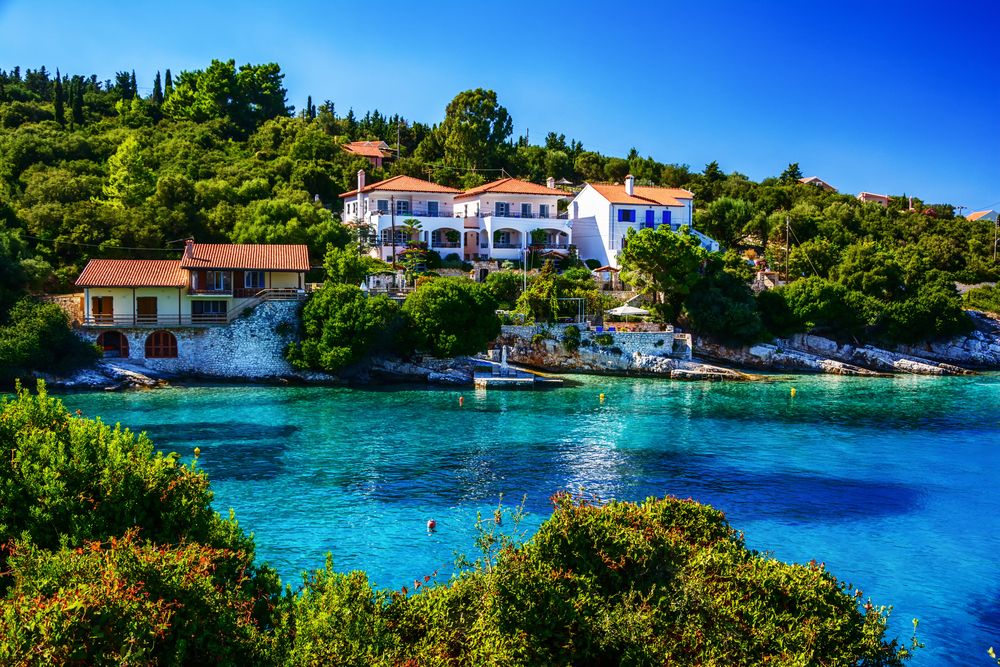 Kefalonia is the largest of the Ionian islands at 781km2, its magical natural beauty clearly shines through and provides a breathtaking yachting destination. Kefalonia is known for its lush forests, incredible beaches surrounded by sheer cliffs, high mountains, and its friendly and caring people. If you visit Kefalonia in autumn, make sure you pass by on October 20th during the festival of St Gerasimos when the whole island celebrates together. Taste some of the traditional cuisine, unique in its Italian and Austrian influences. Other recommended destinations are Myrtos beach and the smart restaurants of Fiskardo.
Zakynthos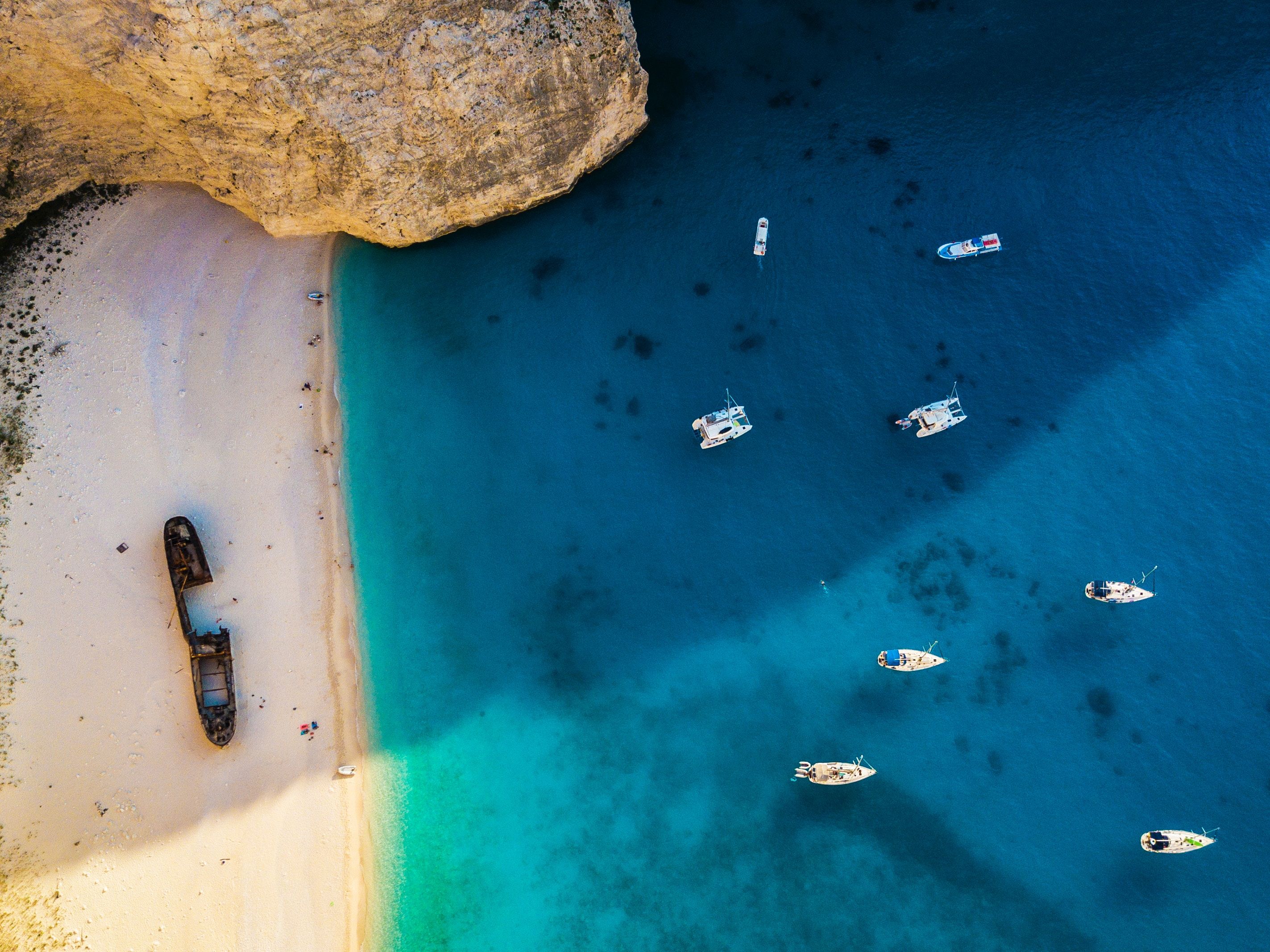 Zákynthos is a pine-studded, verdant and fertile island, known by the Venetians as 'Fiori di Levante' on account of the incredible number species of flowers that flourish there. Sail along the south-east coast for golden beaches, secluded coves and the fantastic sea turtle colony on the exotic island of Marathonisi before heading around to the western side for its dramatic cliffs and underwater beauty. Shipwreck Bay is one of the most famous beaches in Zakynthos and what's more, is only accessible by yacht! Further to the north, Cape Schinari and the famous Blue Caves are not to be missed with its fantastic rock formations, arches, sea caves, and shipwrecks. 
---
Ionian Cuisine and Wines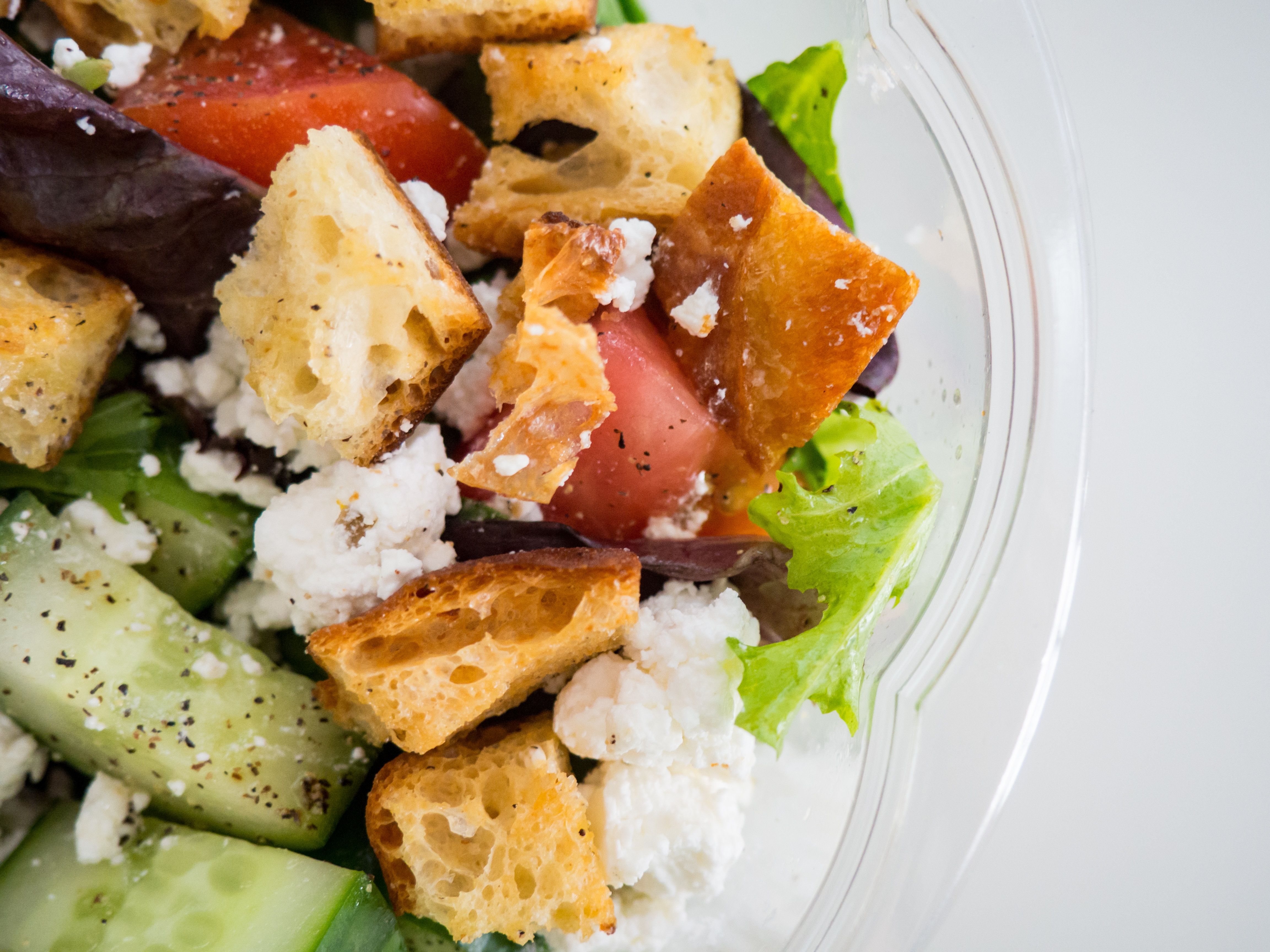 As a melting pot between West and East, with heavy Italian influences, the Ionian islands have a unique cuisine full of local, ingredients. Local vegetables, fish and crustaceans from the surrounding seas, local meats and several local wine labels, created from indigenous grape varieties (Robolla being the most known, but other grapes include Vardea, Mavrodaphne, Verzami and Moscatella). Wines produced on the Ionian Islands have little in common with those produced elsewhere in Greece, thanks both to the grape varieties used and the Ionian wine-making traditions, which were heavily influenced by neighboring Italy.
---
Our Ionian Charter Yachts
The proximity of these islands, the interesting sailing conditions, and the unbelievable beauty on offer makes this region one of the most desirable chartering destinations in the world. Boatbookings offers years of experience sailing in these islands and personal knowledge of the yachts we offer. We can find you the ideal charter yacht, be it bareboat, crewed, sail, motor or catamaran.
Click here to see our Ionian Charter Yachts or simply contact us and we'll recommend the best boat for you! Our service is free, and there are very good reasons to charter in Greece via a reputable yacht charter broker such as ourselves.
Greece Yacht Charter FAQs Our Greece Yacht Charter Guide
---
Similar Destinations: the Italian Riviera | Sicily | Sardinia | the French Riviera | Monaco | Corsica | Mallorca | Ibiza | Croatia
Other Articles of Interest
Charter destinations