7 Day Ionian Crewed Catamaran Itinerary | Corfu

Discover the idyllic Ionian Islands onboard a luxury crewed catamaran from Corfu to Paxos, Lefkada, Ithaka and Kefalonia
Day 1: Corfu & Paxos | Day 2: Antipaxos & Lefkas | Day 3: Meganisi | Day 4: Kioni, Ithaka | Day 5: Fiskardo, Kefalonia | Day 6: Assos | Day 7: Foki Beach & Sami | Day 8: Disembark at Noon
Venture into the heart of the charming Ionian Islands from Corfu in the north, to Kefalonia in the south, for what will be an epic 7 day sailing adventure onboard one of the Greek Island's most highly sought after crewed catamarans. Escape from modern life for charming towns drenched in rich history and ancient ruins, pristine pebbled bays fringed by sprawling olive groves, extraordinary vistas and traditional tavernas.
Contact our Charter Experts for a bespoke proposal and begin planning your summer sailing vacation to perhaps the most serene island chain in the Mediterranean. Alternatively, should you wish to cover more distance with speed, view our 7 day Ionian motor yacht itinerary for inspiration.
---
Map
---
Day 1: Corfu & Paxos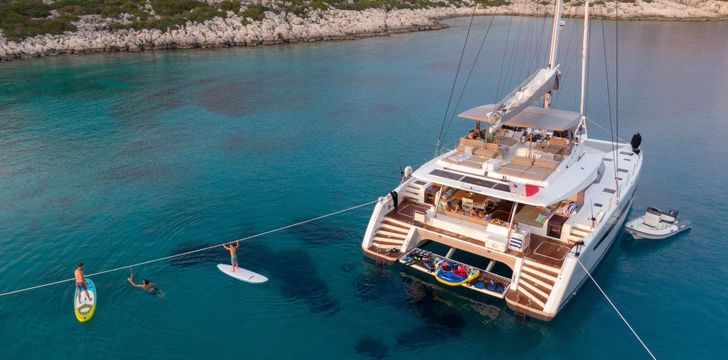 Step onboard your catamaran in Kerkyra Island, Corfu to be welcomed by your Captain and his charter-savvy crew. Once settled, embark on a what will be a week of luxury onboard a floating retreat in a Greek island oasis. Hug the eastern coast and admire architecture inspired by Corfu's Italian neighbours as you make your way to Syvota, connecting with the wind following a day of travel.
Your catamaran's shallow draft will allow you to anchor in a beautifully shallow bay in Syvota – on mainland Greece. Take a refreshing dip in the azure waters, explore wia water toys below the surface, or paddle to the pebble beach before sailing towards the charming island of Paxos. Paxos can only be accessed by boat - and most recently, sea plane - therefore protecting itself from the pressures of modern tourism and instead providing the ultimate escape. Berth for the night in Gaois Port which is a vibrant town most recently known as millionaires' paradise.
Day 2: Antipaxos & Lefkas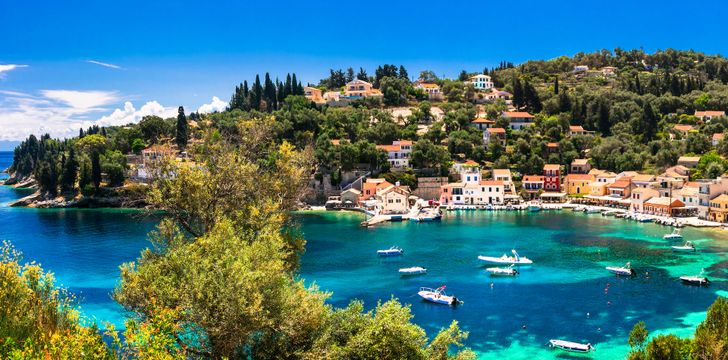 Wake early and enjoy a relaxing sail as you venture north to either charming fishing villages of Loggos or Lakka for cobbled streets, small boutiques and olive oil stores, before settling down for lunch. We highly recommend berthing in Lakka for fresh seafood and homemade pasta at Akis, or anchoring in Loggos' harbour and devouring traditional Greek dishes made with the finest ingredients found on Paxos island.
Following an early lunch, head south to Antipaxos and swing at anchor off Voutoumi Beach; arguably the most picturesque bay in Greece distinguished for its tropical scenery and turquoise waters. Enjoy moments of uninterrupted bliss on the foredeck or swim ashore for some barefoot bliss before spending this afternoon sailing to Lefkas Town for the night. If you would like to step ashore once in port, we highly recommend making a reservation at Thymari; a fine dining Greek restaurant and wine bar (with more than 150 wines to chose from) in the town's historical centre.
Day 3: Meganisi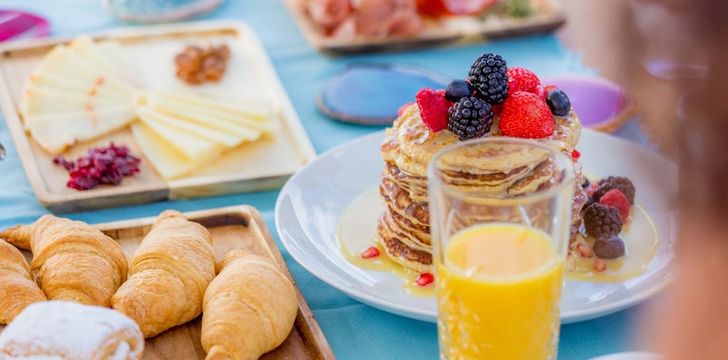 Awaken early to delightful whiffs of breakfast and enjoy this on the aft-deck before leaving Lefkas for another day of serene adventure onboard your catamaran. Set sail towards the wonderfully unspoilt Meganisi, making a quick stop at Onassis' private island of Skorpios for a swim and guided tour of the island.
On approach to Meganisi, the island's relaxed pace of life will become apparent. Anchor and take the stern lines ashore for your own private area of the bay. Tender ashore and explore sleepy whitewashed villages, pebble beaches and - for the foodies amongst you - Meganisi's main harbours of Vathi and Spilia. Authentic Greek cuisine is best sampled at Tilevoes; although Italian is also on the menu should you crave this. Errikos is a traditional fish tavern besides the sea which makes for a delightful evening ashore.
Day 4: Kioni, Ithaka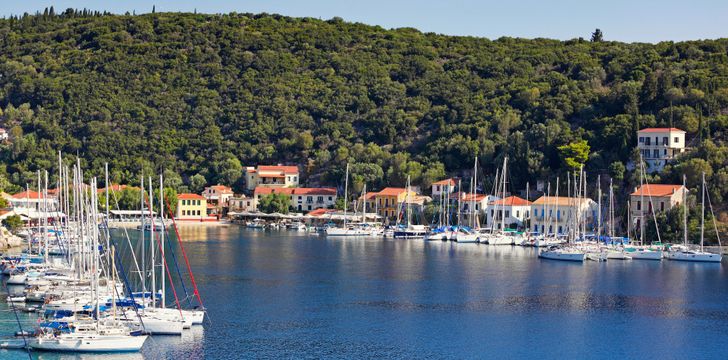 This morning, following a refreshing dip off the swim platform, set sail to Ithaka to unearth the island's rich culture. Avid divers have the option to make a short stop in Cape Ducato on the south side of the island. Here, you will arrive at The Lighthouse of Lefkas; a preferred scuba diving spot which reaches depths of 40 meters and where lobsters are plentiful. However, a dive is only recommended alongside an expert guide due to strong currents.
Alternatively, we recommend continuing to round the the headland and anchoring at Port Katsiki Beach, for a swim and afternoon of adventure on one of the yachts many water toys before enjoying a sunset sail to Ithaka; home of Odysseus and perhaps Homer. Cruise into Kioni Village as the low Mediterranean sun glows on pinks and orange hued houses; rightfully one of the most famous islands of the Ionian Sea.
Your expert crew will secure a beautifully sheltered berth – or anchorage should you prefer - for you to enjoy an exquisitely prepared alfresco meal under the stars or ashore at a traditional taverna. Should you choose the latter, Calypso offers a wide variety of traditional and international flavours.
Day 5: Fiskardo, Kefalonia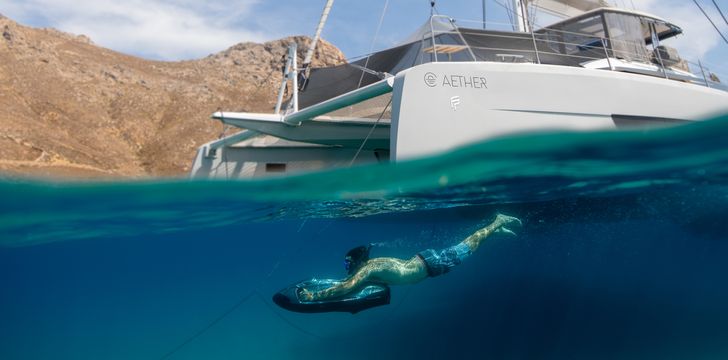 Step ashore for an early morning wander through Kioni Village before rounding the headland for a morning swim at Afales Beach. Alternatively, this morning you have the option to venture south to the church of Savoir Christ in the tiny islet of Lazaretto, which in 1864 was converted into a prison and later demolished by the 1953 earthquakes. All that remains is this beautifully whitewashed church. After a deliciously light lunch onboard, connect with the wind and set sail to Fiskardo, Kefalonia.
Kefalonia is the largest of the Ionian islands and a population who take a lot of pride in the islands' appearance, with tasteful buildings drenched in vibrant bougainvillea and lovely mosaic pavements in the capital. The village of Fiskarado is where cypress and pine tree-smothered hills meet pebble beaches and vibrant, architecturally fascinating houses meet the water's edge. We suggest stepping ashore to enjoy some of the island's best food at Tassia, whilst soaking up views over to the mythical Ithaka.
Day 6: Assos & Myrtos Beach, Kefalonia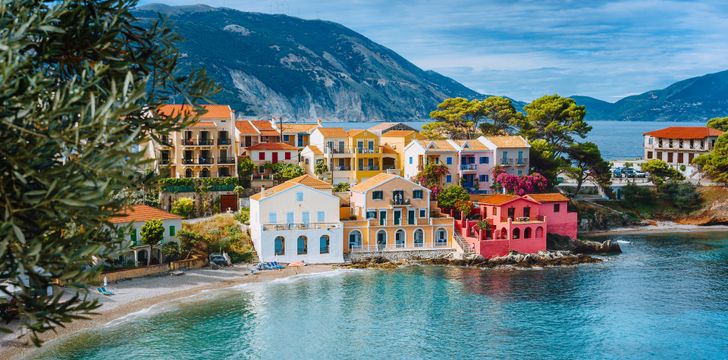 This morning, enjoy a great sail south down the western coast pass the idyllic bay of Assos, to the stunning Myrtos Beach which comes out top of the list of best Greek beaches. While away the hours enjoying water sports and relaxing moments swinging at anchor in a serene island setting. Your talented chef will serve up a spread of Greek delicacies to indulge on before drifting through tourmaline seas towards your overnight anchorage in Assos.
Assos is a hushed haven where a relaxed ambiance and almost mystical atmosphere radiates across pastel hued houses built amphitheatrically around the homonymous peninsula. Lost in time, Assos is ultimately one of the most picturesque villages in the Ionians.
Day 7: Foki Beach & Sami, Kefalonia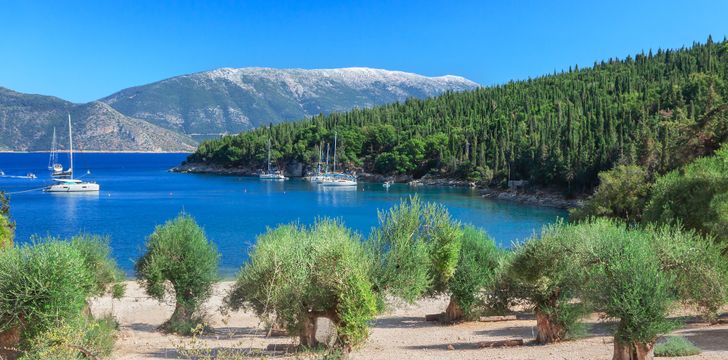 This morning, soak up final views of Assos by embarking on a hike to a beautifully crumbling Venetian Castle on the hill, which once there offers wonderous views over this remote little bay. Once back onboard the yacht, prepare to head back on yourself to the Northeastern tip of Kefalonia where your Captain will drop anchor in the charming cypress-fringed bay of Foki Beach.
We reccommend spending the best part of the day at Foki Beach. Home to some of the clearest waters in the Ionians, you will snorkel around the rocky edge, or paddle to the pristine pebble beach. Soak up the sun on the foredeck and sink into deep relaxation. Should you wish to tear around on the water toys, cruise to the peaceful Kamini Beach where you can enjoy watersports out of. Come late afternoon, connect with the wind and tack south to final stop Sami in time for sundowners on the foredeck and a final celebratory dinner onboard.
Day 8: Sami, Kefalonia - Disembark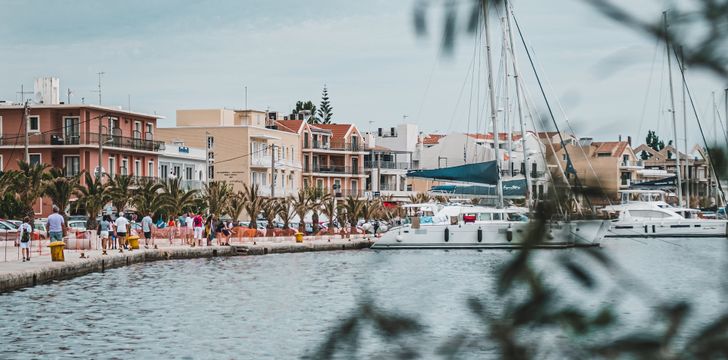 Today at noon, it is time to disembark the yacht and say your farewells to your Captain and crew. Before catching a flight home, we suggest exploring inland a little. For wine lovers, Kefalonia's wine tradition dates-back to ancient times. Should you wish to visit a winery, we suggest driving half an hour inland to possibly the most famous; Robola Cooperative in central Kefalonia, which also has a small museum in the picturesque yard.
---
Contact Us Our Ionian Charter Yachts
See our Other Mediterranean Destinations: Italian Riviera | Sicily | Sardinia | French Riviera | Monaco | Corsica | Mallorca | Ibiza | Croatia