7 Day Peloponnese Crewed Motor Yacht Itinerary | Saronic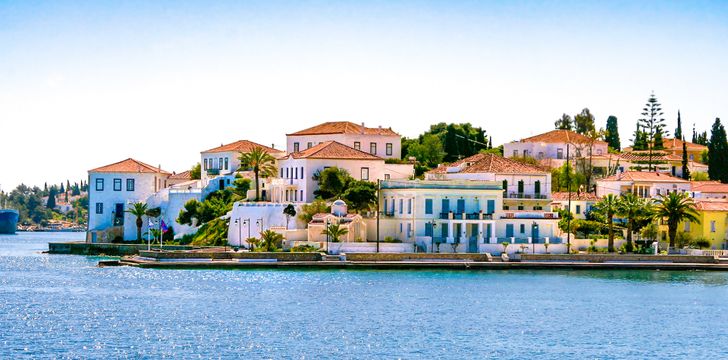 Explore the enchanting Peloponnese onboard a luxury motor yacht for the ultimate charter vacation in Greece
Day 1: Agistri & Aigina | Day 2: Epidaurus | Day 3: Hydra | Day 4: Nafplion | Day 5: Kyparissi | Day 6: Monemvasia | Day 7: Spetses
Experience the pull of the Peloponnese; a picturesque paradise of vibrant fishing villages, fragrant olive groves and azure bays bordering the Saronic Gulf. Charter a luxury motor yacht and cruise from Athens, through the Saronic Islands and into the Peloponnese Region for the ultimate yacht charter in Greece.
For those seeking cultural exploration, this coastline is home to passionate locals fiercly proud of their homeland and ancient history; step back in time and journey through a land peppered with Venetian fortresses, Mycenaean palaces and Byzantine cities. Alternatively, the Peloponnese is an idyllic destination to hotfoot it to for a week of stress-free bliss, cruising from one secluded anchorage to the next. Indulge in fine cuisine both onboard and onland, and sample outstanding wines from the Peloponnese vineyards, amidst a backdop of the most beautiful Greek landscapes.
This itinerary has been expertly designed and includes the best of the two regions with a combination of long and short cruising distances - enabling you to make the most of onboard amenities and island attractions. Contact our Charter Experts for a bespoke proposal and start planning your epic vacation in the Peloponnese, this summer.
Map
Day 1: Agistri & Aigina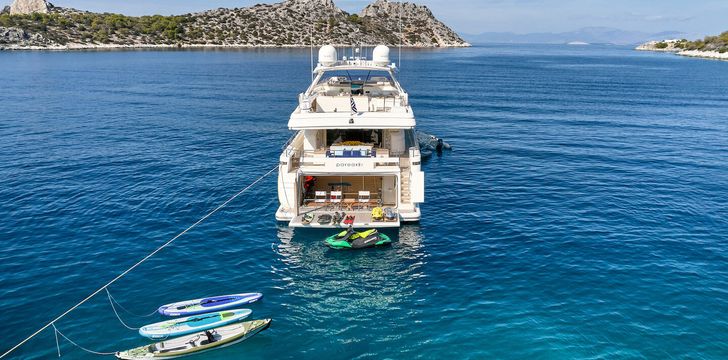 Step onboard your luxury motor yacht and be greeted by your crew and refreshments which you will enjoy underway to Agistri, a stone's throw from Athens where you will embark the yacht. Agistri is a small haven of beautiful beaches backed by luscious greenery and pines; the perfect first anchorage for a delicious light lunch on the aft-deck and a dip in the crystal clear waters. Head to Mariza to jump off rocks, or go snorkelling at Aponisos.
This afternoon, soak up the sun on the foredeck as you make the short cruise to Aigina - an island famed for its pistachio nuts and relaxed ambiance which radiates across idyllic beaches and quaint towns - for your first overnight stop. Should you wish to step ashore, a great example of ancient architecture is the Temple of Aphaia; built to honour the Minoic Goddess Aphaia, daughter of Zeus. 
---
Day 2: Epidaurus
Rise early to an alfresco breakfast beautifully prepared for you by your Chef and enjoy views over Aigina before raising the anchor and drifting through tourmaline seas to Epidaurus; among the most famous archaeological sites in Greece. The Sanctuary of Asklepius was a sacred healing place devoted to the healing god; Asklepius and is located next to The Ancient Theatre which still today, hosts ancient Greek dramas throughout the summer.
Your knowledgable crew, having secured a secluded anchorage will prepare the water toys for a fun afternoon of watersports. Alternatively, enjoy moments of bliss on one of the many exterior lounging spaces and enjoy a drink as the sun dips below the horizon. Settle down for an exquisite dining experience onboard this evening.
---
Day 3: Hydra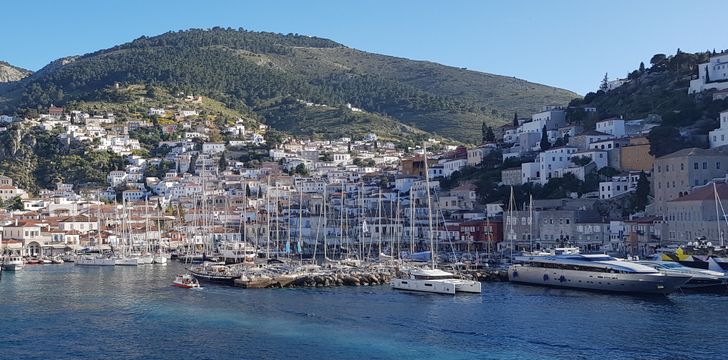 Scale the headland this morning as you make your way to Hydra; the Lilliputian Greek island which seduced the jet set and inspired the likes of Picasso. Truely removed from the modern world, Hydra is the ultimate escape. No cars on the island, means all goods are transported bu hands, mules or trolleys.
Berth in port and wander through narrow streets, laying eyes upon imposing mansions that bear Genoese architectural elements. This afternoon, hike to the highest point of Agios Athanasios Hill for the seven windmills and wonderous views.
Hydra boasts multipe restaurants worth sampling; these include: Omilos; a uniquely designed restaurants with flavours to match, Veranda; a stylish and atmospheric restauranrt branded Hydra's ultimate food proposition, and Sunset; the ideal place for some romantic escapism.
---
Day 4: Nafplion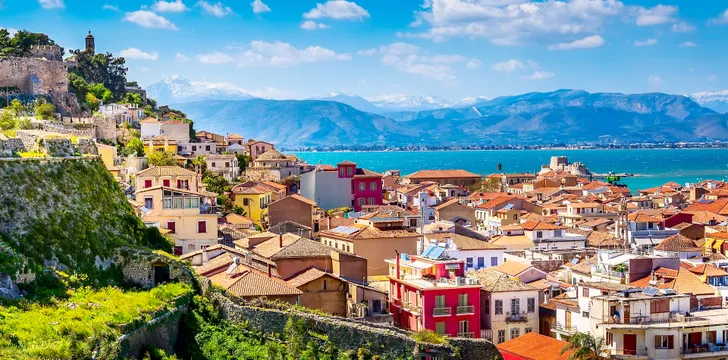 This morning, make way to arguably one of the most romantic and beautiful towns in the whole of eastern Peloponnese; the ancient capital, Nafplion. Drenched in history, this town is home to the Palamidi Castle - 216m above sea level and accessed by climbing all 999 stone-carved steps - and the metropolitan church of Agios Georgios - one of the oldest in Nafplion, in which you will find an incredible replica of Da Vinvi's Last Supper painted by one of his students.
We reccommend tantalising those taste buds over some local Greek cusine at either: 3Sixty which is an all-day cafe-bar restaurant offering wines exclusively from the vineyards of Peloponnese, Arapakos is renowned for its fresh fish and exquisite wines, and Savouras is a delightful fish restaurant serving seafood platters, lobster spaghetti and various Greek salads.
---
Day 5: Kyparissi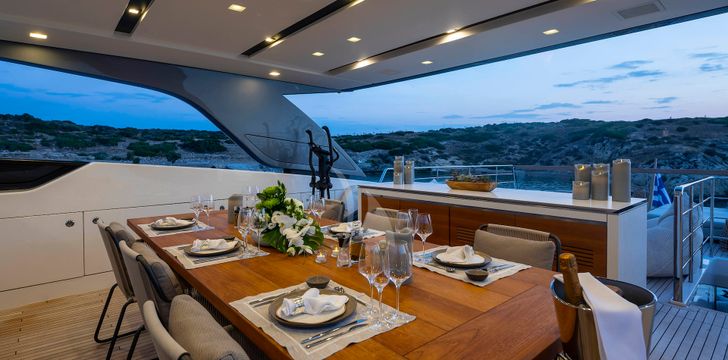 Engulfed by nature, Kyparissi is an undiscovered gem in the Peloponnese Region. Due to its geographical position, Kyparissi remains unspoilt and without a main road out of it up until the 1970s, the architectural style is unique compared to other villages in the Peloponnese as all communication was via the sea.
Secure an isolated anchorage and take in the peaceful atmosphere of this bay. Enjoy sundowner cocktails on the foredeck as the low Mediterranean sun expells a dreamy rich glow onto the small white-washed houses which sail between the Aegean Sea and steep slopes blanketted by olive trees. Sit down for a spread of freshly caught fish and Greek salads, exquisitely prepared by you talented Chef onboard.
---
Day 6: Monemvasia
Today, cruise south towards what is among the most impressive destinations in Greece; Monemvasia. Entirely carved out of the backside of a sea rock in medieval times, Monemvasia is hidden from the mainland, in an attempt to avoid enemy attack. Arched alleyways, crumbling churches and quaint homes makes a walk around the old Castle Town a truly magical and romantic experience and worth stepping ashore for.
For even the most demanding connoisseur of eclectic gastronomic cuisine, Monemvasia includes some of our favourite restuarants in Greece - should you wish to eat on land tonight. Chrisovoulo is an establishment masterfully modernising and recreating Greek traditions, whilst Sterna puts a creative twist on traditional Greek recipes and combines them perfectly with excellent culinary craft.
---
Day 7: Spetses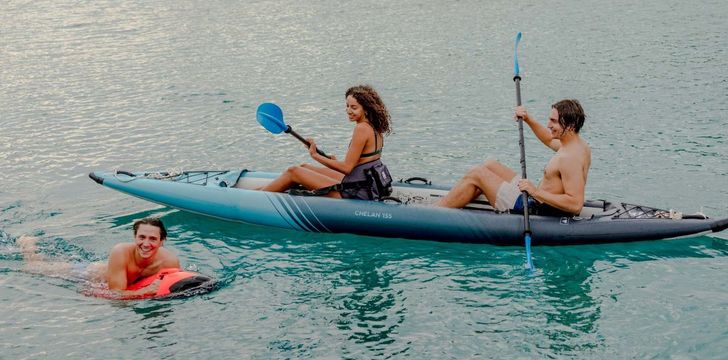 Named the 'Fragrant Isle' by the Venetians because of its wild herbs and pine-covered hills, Spetses is an elegant, yet idyllic island oasis perfect to spend you final day. It has a charming ambience of the 'good old days', represented in the Neoclassical houses and the horse-drawn carriages as a replacement for cars.
Anchor in a secluded bay and drift into picturesque coves with your yacht's paddleboards or kayaks for some peaceful exploration, before a final celebratory dinner onboard followed by a nightcap at one of the bars in the Old Port. Bikini Cocktails & Snacks is a must visit, whilst Guzel Club and La Luz plays Greek music till late.
---
Day 8: Athens - Disembark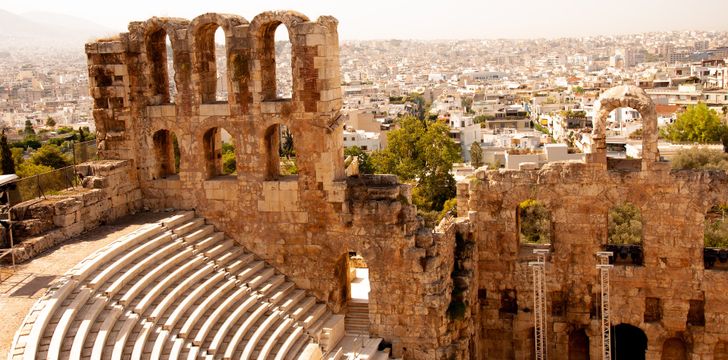 Rise early and enjoy a final breakfast whilst underway to Athens. Take a stroll around this ancient city before the sun sets on your time in the Peloponnese Region; a unique charter destination which encompasses rich Greek culture and history.
If you are inspired by this beautiful area of Greece, similar motor yacht charter itineraries include an epic 7-day Saronic Islands vacation and 7 days chartering both the Cyclades and Saronic Gulf.
See our Greece Charter Yachts Enquire Now
---
Other Destinations: Italian Riviera | Sicily | Sardinia | French Riviera | Monaco | Corsica | Mallorca | Ibiza | Croatia