Charter a Yacht in Tonga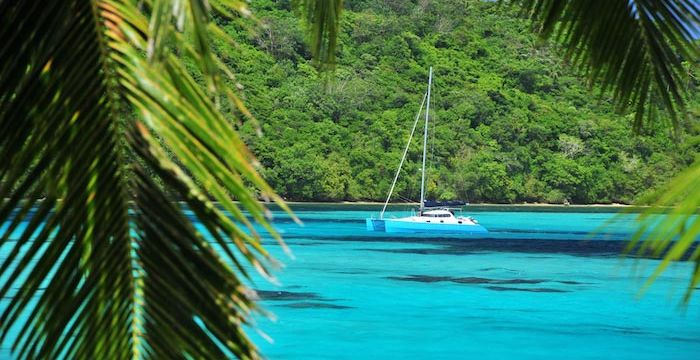 Tonga is the dreamland, full of private, tropical islands awaiting you! The sand disappears into the turquoise oceans, and the trees sway in the sea breeze providing shade and a place to cool down.
Lying just east of the International Date Line it is often referred to as the 'place where time begins', however, the relaxed pace of local life on the 48 inhabited islands has led to the adage that it is in fact the place where time stands still. Tonga has managed to maintain its unique character and traditions allowing you to enjoy a more genuine cultural experience!
The friendly yet sometimes shy character of the local Tongans make this group of islands perfect for the couple looking to get away from it all on a peaceful and private romantic getaway or honeymoon.
Lying further south of her other South Pacific neighbors, Tonga's climate is a little cooler, the humidity is less intense and between June and October humpback whales arrive in the area to give birth and mate allowing you to indulge in some spectacular whale watching.
The best way to see this fantastic group of islands and all the treasures offered for you to discover is by cruising between them on a boat, there are plenty of little inlets to nestle into allowing you to explore these scenic and relatively unspoiled islands with their forested interiors and exquisite beaches. There are good diving and snorkeling opportunities with excellent visibility throughout the islands and the chance to dive when the whales are about, it is said that their songs can be heard by humans underwater for miles.
Boatbookings has an extensive knowledge of the islands and the boats there, feel free to browse through the boats below or contact us directly to find out more.
Sort through the charter yachts below or use these handy links to quickly find the yachts that best fit your needs:
Motor Yachts: Crewed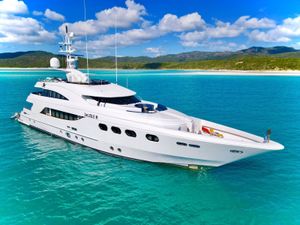 DE LISLE III
Gulf Craft 42m - 5 Cabins - Australia - Fiji - Tahiti
Gulf Craft 42m Luxury Crewed Motor Yacht
Length: 42 m
Year: 2008 (2018 Refit)
Cabins: 5
Berths: 9
From AUD165000 to AUD165000 per week
Berths: 9
Cabins: 5
Crew: Crewed
Type: Motor
Length: 42 m

(142' )

Year: 2008 (2018 Refit)
BOATBOOKINGS SAYS:
"This spectacular crewed motor yacht will make for an unforgettable charter in Australia!"
1 charter yachts found: Currently displaying 1 to 1.
Top Rated Yachts
DE LISLE III - Gulf Craft 42m

Details
Other Articles of Interest
Charter destinations