Americas Cup Yacht Charter | Barcelona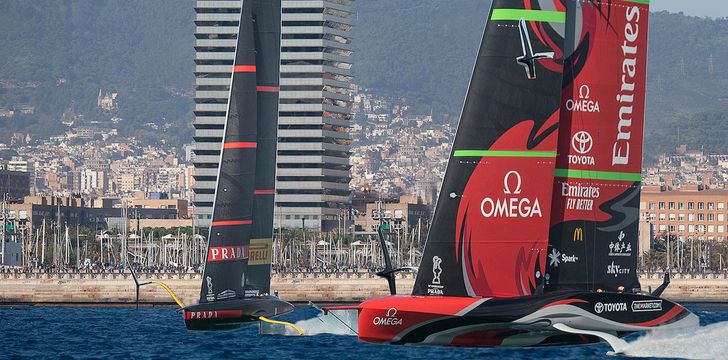 Image credit: Americas Cup
Charter a luxury yacht in Barcelona for the 2024 Americas Cup and watch the race unfold in style and comfort from the water
The Americas Cup, known as the mother of all regattas, holds the oldest trophy in all international sporting events. The first race took place on the 20th August 1851 and has been held periodically ever since.
The 37th Americas Cup in 2024, will be held in Barcelona through September and October, and promises to be one of the most exciting Americas Cups in the history of the regatta; teams are already preparing for the Cup and there is a lot of anticipation preceding the results of the regatta. The cup is not just a sailing race, it is a competition between races and is an event waiting to be crossed off the bucket list. The boats are sleeker, the teams are faster and the crowds will be larger than ever.
Chartering a yacht to catch this regatta can be to catch the entire 3 weeks of racing, a weekend full of fun or for just one week. Chose from a crewed, bareboat or motorboat charter to catch the action of the regatta. Contact our Charter Experts to find out more about chartering a yacht to catch the America's Cup.
---
History behind the race
The first race took place when a group of New Yorkers sailed a schooner America across the Atlantic Ocean to compete in the Hundred Guinea Cup (£100 cup) around the
Isle of Wight
(UK). The New Yorkers succeeded and won the cup, subsequentially naming the cup 'The Americas Cup' and giving the name to the most prestigious
regatta
on the globe.
From this moment, sailing teams from the USA made history and held onto their trophy 24 times from 1870 until 1983 when the Australians made the cup their own.
'Your Majesty, there is no second'. In 1851 when the race begun, Queen Victoria and her husband, Prince Albert sat and watched the race unfold with baited breath. The emergence of an American yacht was seen as a race between the New and Old western world and attracted nationwide attraction. The American schooner made its way around some of the toughest sailing conditions in the world, the Needles on the Isle of Wight is incredibly tidal and often profits from very strong winds. This race was not just a standard yacht race, it was a test which would define the beginning of the new Western age. The Americas Cup, stayed in the hands of American sailors the following 100 years and 24 Americas Cup races before it was eventually taken in 1983 by the Australian racing team.
Other Articles of Interest
Charter destinations