7 Day Croatia Crewed Motor Yacht Itinerary | Split to Dubrovnik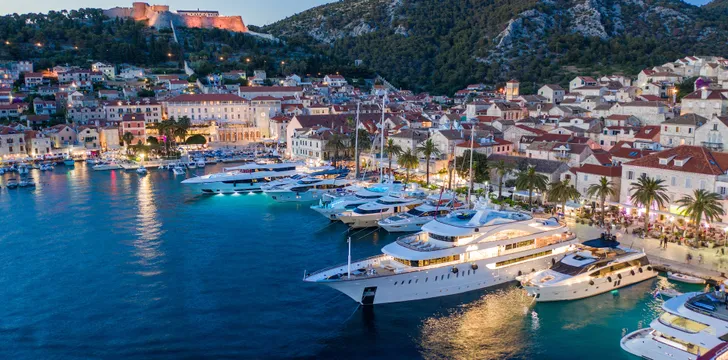 Embrace Solta, Brac, Hvar, Korcula and Mljet on your 7 Day Croatian yacht charter from Split to Dubrovnik onboard a crewed motor yacht this summer
Day 1: Split | Day 2: Brac | Day 3: Hvar | Day 4: Vis | Day 5: Korkula | Day 6: Mljet | Day 7: Dubrovnik
Croatia boasts natural beauty, sophisticated nightlife and delicious food. The turquoise waters and impressive rock sculptures are sure to take your breath away. From historical sights to buzzing beach clubs, there is something for everyone - friends and families alike. Adventurers, food lovers and sun seekers will all be impressed by the towns and coastal morphology in each of these coves and islands.
Our Charter Brokers are experts in all things Croatia. Every year we attend yacht shows, meet the Captains and visit the local hotspots. They are the first port of call for planning a bespoke itinerary for your next vacation.
Make an Enquiry Croatia Motor Yachts
---
Map
---
Day 1: Split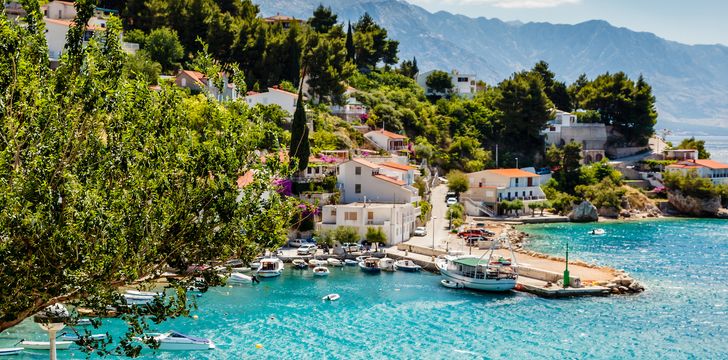 Begin your journey in Croatia by embarking in Split, a city rich in history and culture along the coast. Take in the grandeur of the Diocletian's Palace and the Cathedral of St. Duje. Scale the clock tower in the centre of the old town for breath-taking panoramas and stroll through the streets, maybe even head to Dvor restaurant for mouth-watering seafood dishes in dazzling settings - be sure to sit on the terrace for exquisite views.
The city has great nightlife, so if you want to start your holiday with a fun-filled night out there are plenty of bars and clubs to do so. If it's relaxation you're after, simply make yourself comfortable for your first night on the yacht enjoying the sunset from your deck and sample some traditional Pašticada, a stewed beef dish, prepared by the crew chef exactly to your liking.
---
Day 2: Split to Brac
Enjoy an early morning breakfast before travelling onwards to Brac. As you cruise towards the island there are plenty of spots to anchor and swim in the crystal-clear water, or why not take the Jetski for a spin. Brac is the largest of the Dalmatian Islands and is characterized by its fascinating karst limestone landscape.
A must-see spot on the island is the well-known Zlatni Rat (Golden Horn) Beach that is located just west of the charming coastal town of Bol. This beach is the epitome of Adriatic natural beauty - you can lie here for hours whiling away the afternoon, looking out onto the crystal clear waters and relaxing on the ivory sand. In the town of Bol, be sure to stop at Ranč, a wonderful traditional Croatian restaurant that serves fantastic roasted lamb and octopus. Settle back in on your yacht for a night's rest before heading to Makarska.
---
Day 3: Brac to Hvar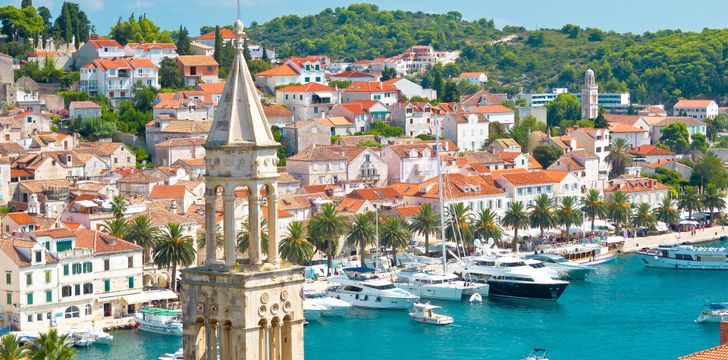 After enjoying a traditional Croatian breakfast prepared by your crew, you will arrive into Hvar Town, known for its exclusive beach clubs, high-end boutiques and restaurants. Hvar Town is brimming with energy - with partygoers and yachties alike coming to experience the elegant restaurants, high-end hotels and VIP parties. 
If you are a looking for a quieter spot why not head to the south-west of Hvar where you will find the Resin Islands or 'Pakleni Otoci'. This small cluster of islands is perfect to explore with a seabob or snorkel! Drop anchor in the isolated coves and spend the day swimming in the turquoise waters in complete privacy. To round off your day, indulge a fantastic traditional dinner made by your chef with some of the local olive oil, honey, rosemary and lavender, used to season cured meats.
---
Day 4: Hvar to Vis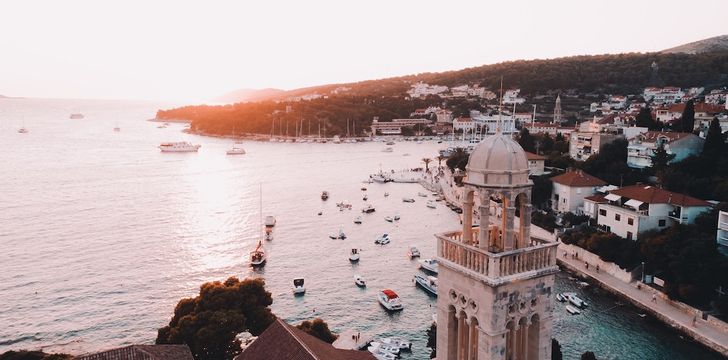 On Day 4 continue your cruise to the Island of Vis. Adventurers - this one will be a true highlight for you! Furthest from the coast and recently discovered it is said to be the most mysterious of the Dalmatian Islands. Used as a military base, it stayed cut off from tourists for years and has only recently begun to attract visitors. 
Disembark here to visit the romantic port town Komiza, perfect for a light lunch at the seafront. For those seeking adventure, cruise over to the smaller island of Biševo in the early afternoon to discover the fascinating Blue Cave for a truly magical experience. In the evening, enjoy dinner on board, followed by a movie or games night.
---
Day 5: Vis to Korcula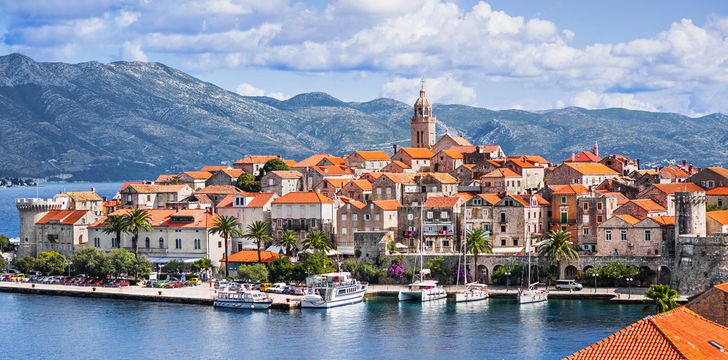 Cruising further south on Day 5 towards Korcula, a unique island, known for its vineyards and dry white grape grown nowhere else in the world, small villages and charming restaurants. This idyllic island was, in fact, the birthplace of Marco Polo! Take a tour around the medieval towns and follow in his footsteps. 
If exploring the villages is not for you, you could take the water toys out in one of the secluded bays and enjoy the clear water surrounding the island. Whilst here, it is a must to try their typical pošip grape white wines that are famous throughout the Dalmatia region. Afterwards, head to your cabin for a tranquil night's sleep or dance the night away on the deck before heading to Mljet in the morning.
---
Day 6: Korcula to Mljet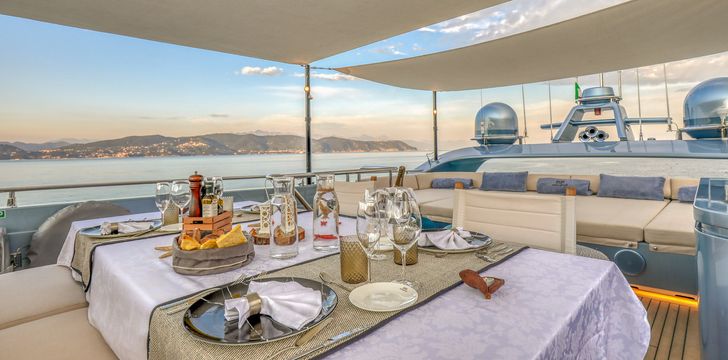 A week into your Croatian adventure you will visit one of the greenest islands in the Adriatic - Mljet. This island is brimming with natural beauty and is a fantastic destination for anyone with a passion for art and history as you can bask in culture and tranquillity alike. Discover crystal-clear seawater lakes and take the snorkelling gear below the surface to admire the unique underwater world. 
One-third of the island was recognized as a National Park and Time Magazine even place Mljet amongst the ten most beautiful islands in the world. Enjoy an beutifully prepeared meal on the deck as the sun dips below the horizon, making this secret gem a truly special place to round up your charter before heading to bustling Dubrovnik.
---
Day 7: Mljet to Dubrovnik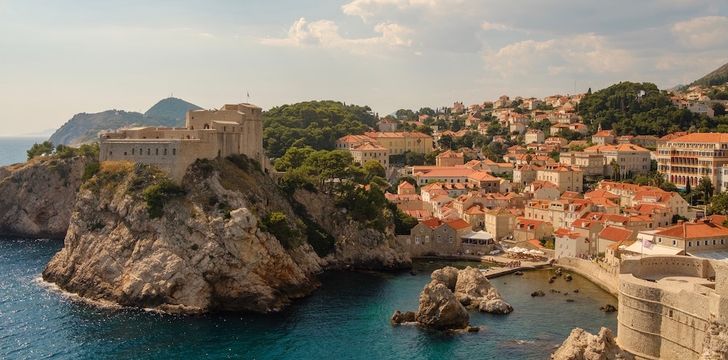 We know you will have loved your food all week, so enjoy a grand finale prepared by the chef as you cruise into the historic and timeless city of Dubrovnik. Anchor at Otok Loktrum and head into Dubrovnik for your final night. Take time to wander the picturesque harbour and its meandering streets. The city is truly a window into forgotten times. Soak up the sun from the flybridge once last time before disembarking at noon. Until next time Croatia!
---
Discover Croatia
Croatia is fast becoming one of our most popular luxury yacht charter destinations. Our Charter Brokers know the area inside and out and as such can recommend the best things to do and the must-see sites during your charter. Enquire today for your bespoke Croatian proposal.
---
Other Destinations: Chartering in Croatia | The French Riviera | The Italian Riviera | Sardinia | Corsica | Gulet Charter in Turkey | Greece | Mallorca | Ibiza
Other Articles of Interest
Charter destinations