7 Day Croatia Crewed Motor Yacht Itinerary | Zadar to Split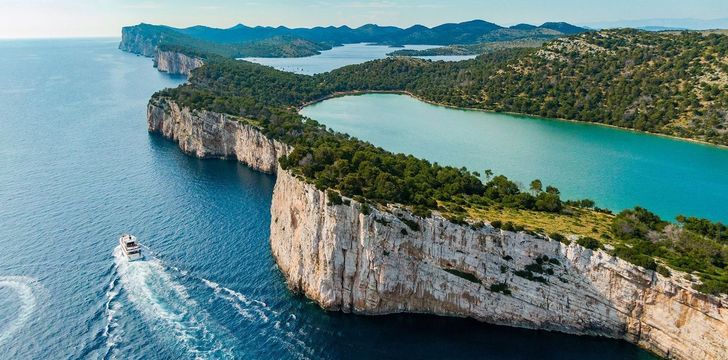 Step onboard a luxury motor yacht in Croatia and discover the Kornati National Park on an epic crewed charter vacation from Zadar to Split
 Day 1: Zadar to Molat | Day 2: Dugi Otok and Telascica | Day 3: Kornati to Opat | Day 4: Skradin | Day 5: Vodice | Day 6: Otok Žirje to Primosten | Day 7: Primosten to Trogir | Day 8: Disembark in Split
With a little over 1,000 picturesque islands to anchor off, Croatia is certainly a top Mediterranean destination to discover if you seek a rich history-woven archipelago, lapped by crystal clear waters and decorated with candy-coloured ports.
A luxury motor yacht in Croatia also grants you access to the usually inaccessible, allowing you to venture off the beaten path and explore the best of the Kornati National Park. This nautical paradise of 140 uninhabited islands, islets and reefs over 300sq km is the largest archipelago in the Adriatic and offers isolated anchorages, traditional restaurants and unparalleled natural beauty. Although mostly barren due to no fresh water sources, the Kornati Islands are an eerie and wonderful sight due to deforestation revealing startling rock formations, caves and grottos.
If you seek less of an off-the-beaten-track vacation, embark on a motor yacht itinerary in the Zadar archipealgo or venture further south from Split to Dubrovnik on a 7 day motor yacht charter. Enquire with our Charter Experts and embark on an extraordinary experience, uniquely tailored to you.
---
Map
Day 1: Zadar to Molat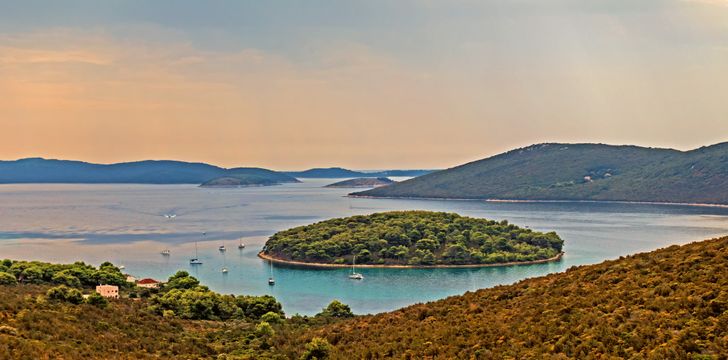 Having arrived in Zadar mid-afternoon you will be welcomed onboard your luxury motor yacht for the week by your Captain and their professional crew, where you will receive a tour of your floating retreat for the week, accompanied by champagne and Croatian delicacies.
Once settled, you will embark on your first cruise towards your first overnight anchorage; Molat. Blanketed by fragrant pines, Molat is the ultimate escape from the fast-paced city life, promoting the relaxed rhythm of island life. Sample your Chef's take on delicious Croatian cuisine onboard tonight whilst swinging at anchor.
---
Day 2: Dugi Otok to Telascica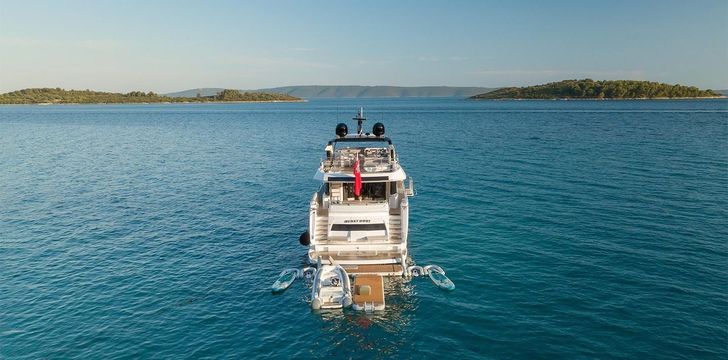 This morning, wake early and embark on a 21 nautical mile cruise to Telascica Nature Park, making a pit stop at Dugi Otok. As one of the most enchanting anchorages, Dugi Otok offers the ultimate retreat to stimulate the soul and soak up serene surroundings. Settle down for a relaxed lunch on the sundeck before spending the afternoon exploring the area on water toys. Come late afternoon, raise the anchor and move underway to your overnight anchorage in Telascica.
Depending on the time, chose to crusie to the south side of the island and lay eyes upon the 'crowns' of Telascica to witness the most famous phenomena found in the Kornati National Park. These are sheer cliffs found on the southwestern islands, due to a tectonic fault plane. Telascica's cliff soars up to 161m above sea-level – quite the spectacle from your motor yacht.
---
Day 3: Kornati to Opat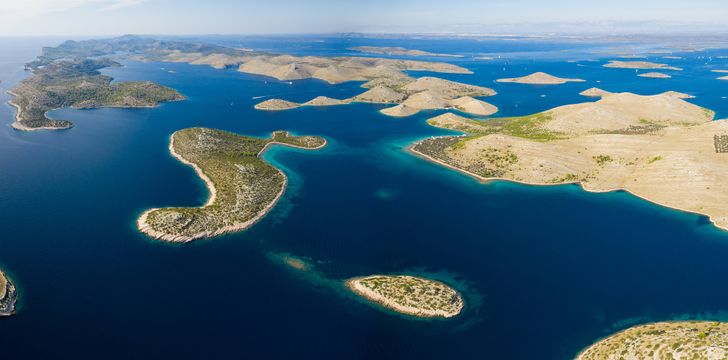 Today you will trace the coastline of Kornati, cruising from one blissful island to the next. Enjoy a beautifully prepared lunch in a peaceful bay whilst your crew open the beach club and prepare the water toys for an afternoon of watersports fun.
Come late afternoon, begin to make your way to Opat for your overnight anchorage. Sip on a cocktail of your choice as the sun dips below the horizon and glide past islands as the evening sun casts a pastel glow onto whitewashed walls of the occasional fishing village. Once anchored, enjoy a multi-course tasting menu onboard.
---
Day 4: Skradin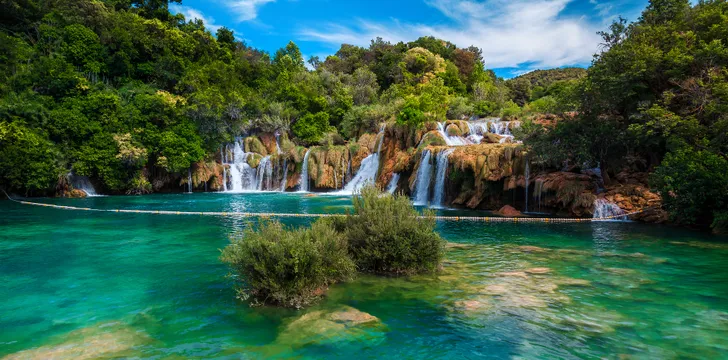 With 30 nautical miles to cover today, you will awaken to breakfast on the aft-deck whilst underway. As you approach mainland Croatia, you will begin to weave through picturesque islands and then up the narrow channel to Skradin. Here, you will have the opportunity to step on land and embark on a waterfall excursion.
On return to your yacht, you will be greeted by sundowners and canapes. Tonight, you have the option to eat ashore at a traditional taverna or remain onboard.
---
Day 5: Vodice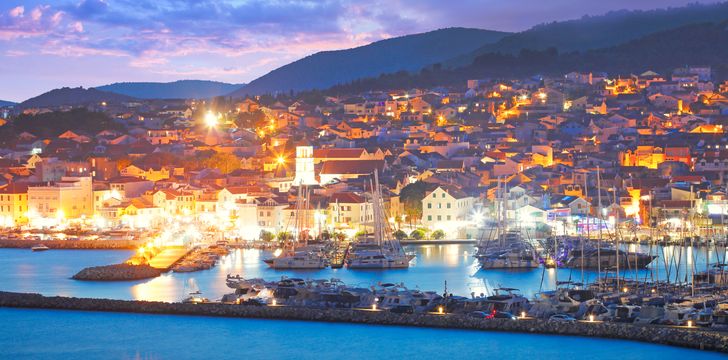 Following an adventurous waterfall excursion yesterday, today is a great opportunity to simply relax onboard and make the most of the amenities available.
Vodice is only a short 13 nautical miles away, leaving you plenty of time to anchor in idyllic bays and explore away from the yacht on water toys before heading into port for the night. This former fishing village, turned popular port is a great place to step off the yacht and spend the evening wandering quaint streets, discovering boutiques and sampling a taste of Croatia at one of the many restaurants.
---
Day 6: Otok Žirje to Primosten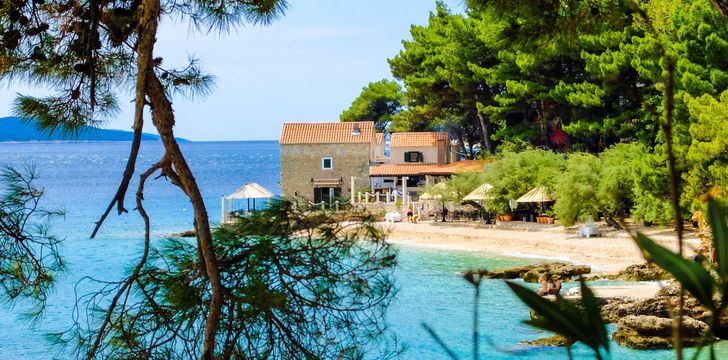 This morning, make way to Otok Žirje; a largely barren isle in the Šibenik archipelago and the oldest self-settled city in Croatia. For those looking for some ancient history, this is the island for that. Step ashore and visit its fortresses of St Nicholas and St John to satisfy that cultural itch.
Spend the afternoon as you wish; soaking up the sun and sinking into a book, swimming ashore or racing about on the many water toys in a secluded bay. Raise the anchor and cruise to the city of Primosten where we suggest making a reservation at one of the many restaurants.
---
Day 7: Primosten to Trogia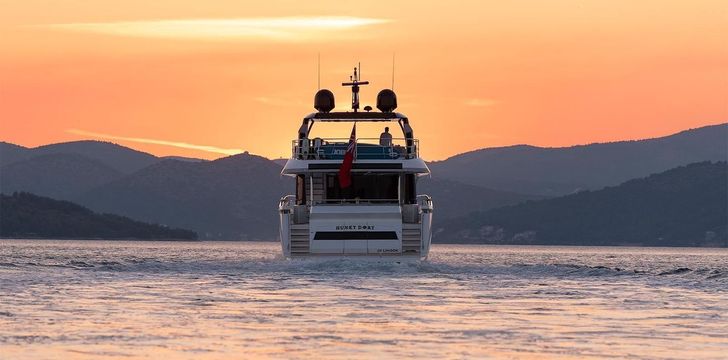 Perfectly encapsulating the Mediterranean ambience, the city of Primosten is made up of a myriad of narrow streets lined by stone houses. Step ashore after breakfast and discover pretty boutiques before settling down for lunch.
This afternoon, bask in the sun on the foredeck and mess about on the water toys before a peaceful sunset cruise to Trogir. Prepare for a final celebratory dinner onboard.
---
Day 8: Disembark in Split
Today is your final day onboard. Enjoy a final breakfast on the aft deck before disembarking and saying your final farewells to your crew to returning home with incredible memories.
---
Our Croatia Charter Yachts
Croatia is fast becoming one of our most popular luxury yacht charter destinations. The Boatbookings expert brokers know the area inside and out and, as such, can recommend the best things to do and the must-see sites during your charter. Enquire today for your bespoke Croatian proposal.
---
Other Destinations: Chartering in Croatia | The French Riviera | The Italian Riviera | Sardinia | Corsica | Gulet Charter in Turkey | Greece | Mallorca | Ibiza