7 Day Southern Exumas Crewed Yacht Itinerary | Bahamas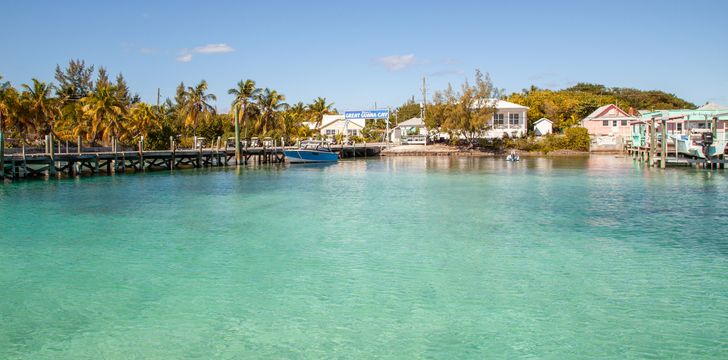 Experience total island bliss in the Southern Exumas when you charter either a luxury motor yacht or crewed catamaran in the Bahamas for the ultimate vacation
Day 1: Staniel Cay | Day 2: Black Point | Day 3: Big Farmer's Cay | Day 4: Norman's Pond Cay | Day 5: Great Exuma | Day 6: Darby Island | Day 7: Big Major Cay | Day 8: Disembark in Staniel Cay
Indulge in a charter experience like no other whilst onboard either a luxury Bahamian motor yacht or crewed catamaran in the Southern Exumas alongside family or friends for the ultimate yacht vacation in the Bahamas. Step onboard in Staniel Cay and venture into the heart of the Exumas for both an adventure-rich and relaxing week on the water.
With an unrivalled knowledge of the Bahamas and the top yachts plus their Captains and crew, you are guaranteed an epic vacation. Scroll for a little inspiration of what your week could look like and contact our Charter Experts today for a bespoke proposal.
Enquire Now Bahamas Motor Yachts Bahamas Crewed Catamarans
---
Map
Day 1 - Staniel Cay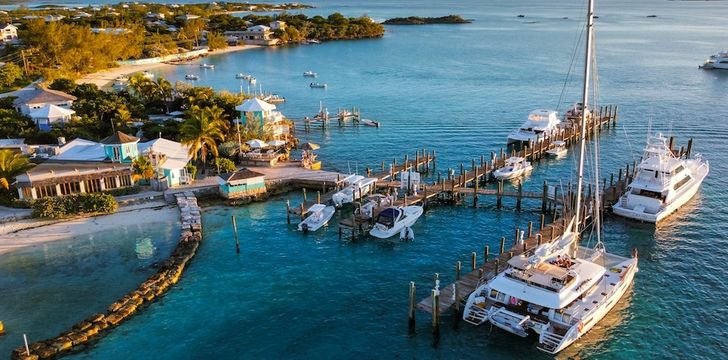 Be welcomed onboard either your luxury motor yacht or crewed catamaran by your Captain and crew in Staniel Cay and once settled, move underway to your first anchorage. Staniel Cay is at the heart of the Exumas and a real charter favourite, so we suggest spending some quality time with your friends and family.
Onland, get involved in one of the island's many activities; such as a bonefishing tournament, deep-sea fishing or the spectacular New Year's Regatta. Or, for those seeking some on-water-exploration, the crew will prepare the water toys and accompany you for a fun afternoon of watersports. When night falls, make your way to Kermit's Hilltop Restaurant and Tavern for unrivalled views, live music and dancing through the night.
---
Day 2 - Black Point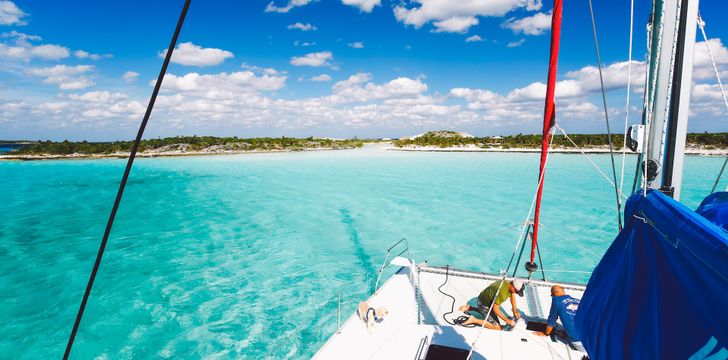 Set off late morning across the bank from Staniel Cay to the north, where you will find yourself on approach to Black Point in Great Guana Cay.
Black Point is a charming harbour with plenty of anchorages. Located in the middle of the Exuma island chain, Black Point represents a true slice of life in the Out Islands. This evening, step ashore and enjoy a meal at a charming waterside restaurant; firm favourites amongst charterers are DeShamon's, Lorraine's and Scorpio's. 
---
Day 3 - Big Farmer's Cay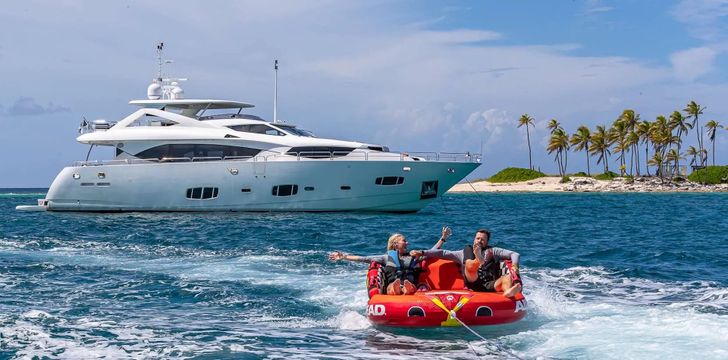 This morning, wake early and tender to a neighbouring bay for a refreshing swim as breakfast is prepared for you. Enjoy a lazy morning soaking up the sun as you make your way which will be the most magical anchorage of the charter, Big Farmer's Cay.
Just south of here, you will find the "Mile Long Sandbar" – possibly the most idyllic anchorage during your charter. Settle here for the day and wander along the talcum-powdered sands or venture away from your luxury yacht in the Bahamas on the many water toys available. Tonight, enjoy sundowners on the deck before settling down for your chef's catch of the day on the aft-deck.
---
Day 4 - Norman's Pond Cay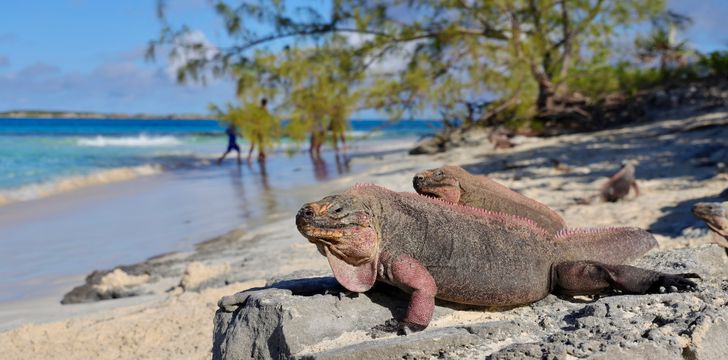 Devour breakfast on the deck as you take in serene views over Big Farmer's Cay, before raising the anchor and moving underway to Norman's Pond Cay. Miles of beaches, dramatic waterfront vistas, great elevation and deep protected channels make this private island a beautiful anchorage to incorporate into your Bahamas yacht charter.
Enjoy a freshly prepared spread of salads and fish onboard for lunch and then jump in the tender and head to Leaf Cay - just off the northern end of Norman's Pond Cay - where you should be lucky to lay eyes on the Iguanas. Swing at anchor in the evening sun and enjoy an exquisitely prepared meal on the aft-deck, under a blanket of stars.
---
Day 5 - Great Exuma (Chat "N" Chill Restaurant)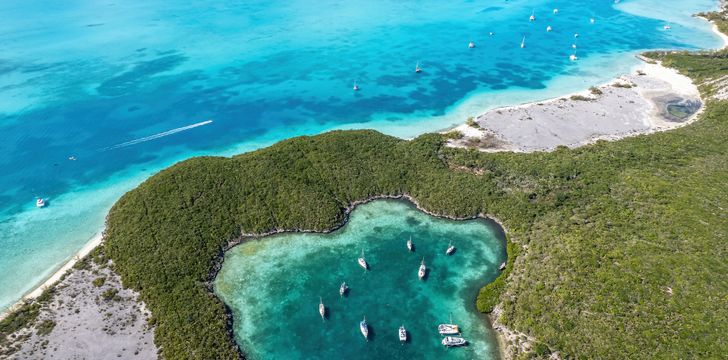 Today, rise early for a beautiful swim off the swim-platform before embarking towards Great Exuma; the largest of the Exuma Islands. Either secure a berth in port or chose to remain anchored and settle here for the day and night. We suggest tendering to the more remote enclaves on the island and enjoying some fun with the water toys.
A firm-favourite among charterers is Chat 'N' Chill Restaurant; the quintessential laid-back, bare-feet beach bar where we recommend whiling away the afternoon at. A fun combination of an open-air bar, outdoor grill and volleyball beach set up inspires a blissful day of both relaxation and fun.
---
Day 6 - Darby Island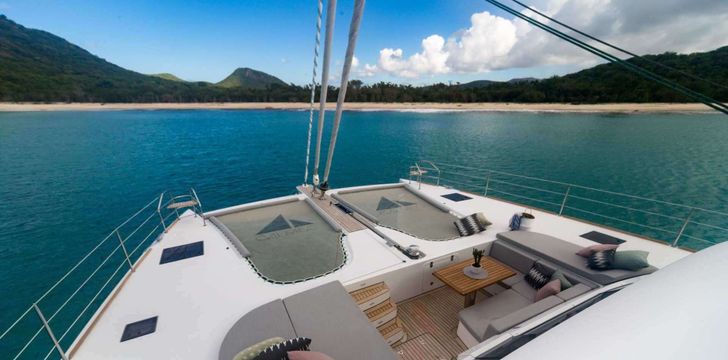 Enjoy a slow morning following a fun day on the island before making the lengthy trip to Darby Island. Accessible only by private boat and plane, Darby Island has remained untouched and blanketed by verdant greenery.
Recognised by vibrant coral reefs and azure waters, Darby's 5 palm-fringed islands sit between the Exuma Sound and the Great Bahama Bank. Secure a secluded anchorage and spend the day snorkelling, fishing, beaching and exploring inland.
---
Day 7 - Big Major Cay
Today is your final full day on the yacht. Wake early and make the most of Darby's tropical oasis before making the move to your final stop; Big Major Cay. Widely known for the famed Bahamian swimming pigs, the Big Major is a must-visit.
For the James Bond fans amongst your group, we highly recommend tendering around to Thunderball Grotto to see what inspired the film of the same name. Tonight, sip a cocktail of your choice as you take in the final sunset before sitting down for a last celebratory meal onboard whilst swinging at anchor.
---
Day 8 - Disembark in Staniel Cay
Today – having come full circle - you will disembark the yacht at noon and say your farewells to your brilliant Captain and crew before catching a flight home with some amazing memories.
---
Top-Pick Bahamas Charter Yachts
Although continually becoming one of the most popular yachting destinations, our Charter Experts only select the best charter boats with Captains and crews that we know and trust. With an unrivalled expertise of these island chains and knowledge of the best boats and their crew, our Charter Experts are on hand to propose the ultimmate itinerary and guide you every step of the way.
Bahamas Motor Yachts Bahamas Crewed Catamarans
---
Alternative Charter Destinations: The BVI (British Virgin Islands) | The Windward Islands | Antigua | British Virgin Islands | Grenada | Guadeloupe | Martinique | Spanish Virgin Islands | St Barths | Anguilla | St Martin/Sint Maarten | St Lucia | St Vincent and the Grenadines | US Virgin Islands - St Thomas, St John, St Croix