Exumas Crewed Motor Yacht Itinerary | Bahamas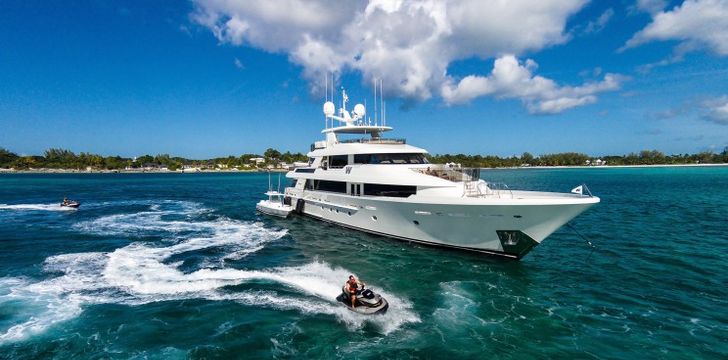 Embark on a motor yacht charter through the Exumas for 6 days of Bahamian barefoot bliss
The Exumas are a never-ending stretch of flawless coastline dotted with dreamy cays in the Bahamas over 100 miles long across twinkling turquoise seas. This is a tropical paradise in which you and your family can collect your own washed up treasures and enjoy incredible diving sites, peaceful anchorages and fresh food on every day of your crewed motor yacht charter.
For further inspiration, take a scroll through our Bahamas crewed motor yacht itinerary from Nassau through the Exuma Islands.
---
Map
Day 1: Highbourne Cay to Highbourne Spring
Embark on your yacht charter in Highbourne Cay and start getting to know your crew! This is a good chance to familiarise yourself with the boat and learn the ropes! Highbourne is the perfect place to begin your charter- feel the sand on your feet as you enjoy an afternoon walk along any of the eight deserted beaches, all within walking distance of the Marina. In the evening, you will be able to attempt catching your own dinner in a night-time fishing trip!
Day 2: Highbourne Spring to Warderick Wells
Wake up in paradise before enjoying a personalised breakfast on board, prepared by your crew. This morning will be an easy cruise south east to Warderick Wells past Shroud Cay through crystal clear waters.  From rocky cliffs to sand dunes, mangrove creeks and sandy beaches, this island has it all. Anchor for an early lunch on board- whether you wish to take a break from the sun and enjoy lunch in the saloon, or make use of the luxurious exteriors, the choice is yours! The afternoon is your time to explore the stunning surroundings- look out for the skeleton of a 53' Sperm Whale which is always a fascinating find for both children and adults alike! Look out for blow holes which spurt water out from the ocean at any given moment! If you're keen to get back in the water, this is a perfect time to snorkel around old ship wrecks and catch sight of spotted eagle rays.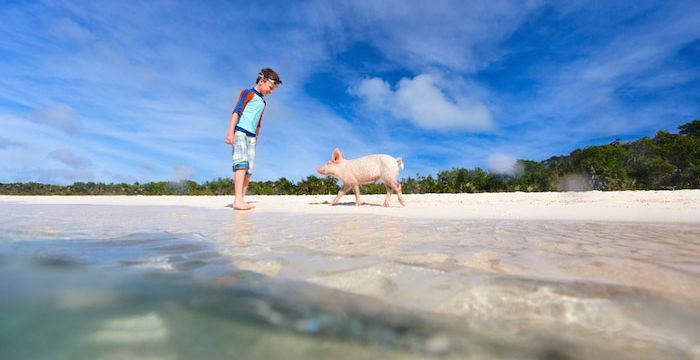 Day 3: Warderick Wells to Compass Cay
Day 3 is sure to be an action-packed day full of activities so start off with a hearty breakfast in the gentle morning sunshine! Your captain will begin cruising southeast towards Cambridge Cay past cays, gorgeous waters and some of the most beautiful beaches in the world- this will take roughly 2.5 hours. Anchor at Cambridge Cay to enjoy lunch in leisure aboard your yacht. Take a tender to spend the afternoon swimming with nurse sharks at Compass Cay! If you'd prefer to keep your distance from sharks, there is always the option to go snorkeling at Rocky Dundas- a string of caves in which you can find bubbly pools fed by water from the lava rocks. Enjoy sundowners from the aft deck of your yacht as the sun slowly sinks into the sea, before dinner on board.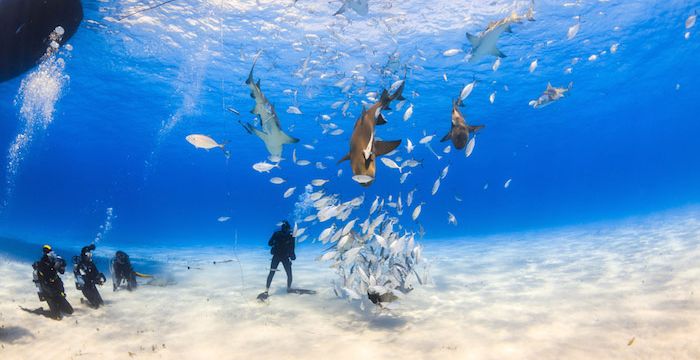 Day 4: Cambridge Cay to Shroud Cay
Day 4 will take you on an underwater adventure through colourful coral reefs and aquariums. After breakfast, take a dive into the turquoise sea for a morning swim through the Coral Garden before you leave Cambridge Cay. Enjoy a leisurely lunch on board before you take a tender to the Sea Aquarium off O'Briens Cay. By mid-afternoon, your captain will begin to take you to Shroud Cay while the crew serve you with delicious sundowners. Relax into the evening with another mouth-watering meal prepared by your crew.
Day 5: Shroud Cay to Norman Island
Spend the morning rushing through the water on the jet skis and exploring the mangrove creeks on Shroud Cay. Later on you can take the tender to the Northern end of Hawksbill Cay to explore all the secret spots that it has to offer. Enjoy lunch on board before you take the tender to see what Hawksbill has to offer- a trail from Adler Beach runs across the cay and then branches off to the sound side North and South Beaches. Find your very own sandspit to enjoy the last sundowners in the Exumas. Take the tender to Norman Island to enjoy cocktails at the charming McDuffs, the only bar and restaurant that you will find on this island. Get a good night's sleep as you'll have to be up early in the morning to catch a flight back home!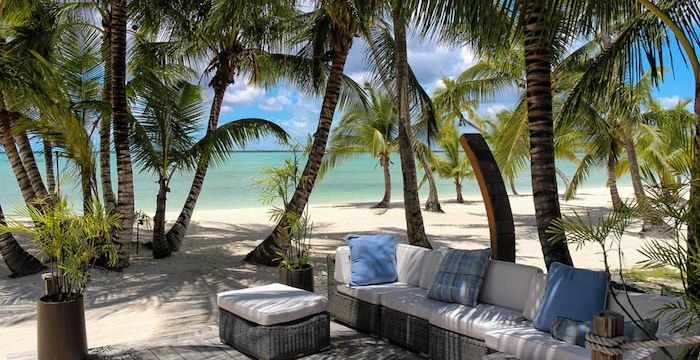 Day 6: Norman Island to Nassau
Today marks the last voyage of your charter holiday before you say your goodbyes before your early morning departure to Nassau. The crew will prepare your breakfast for you to enjoy before you arrive in Nassau before your flight back home. Other popular places to visit are St. Martin and St. Barts so wherever you choose, get in touch today with our expert broker who can personalise an itinerary thats suits you and your guests.
Get in touch! See our Bahamas Luxury Yachts
Key Charter Destinations: Antigua | Grenada | Guadeloupe | Martinique | St Barths | St Martin | St Lucia | St Vincent and the Grenadines | US Virgin Islands
Other Articles of Interest
Charter destinations