7 Day Bahamas Crewed Catamaran Charter Itinerary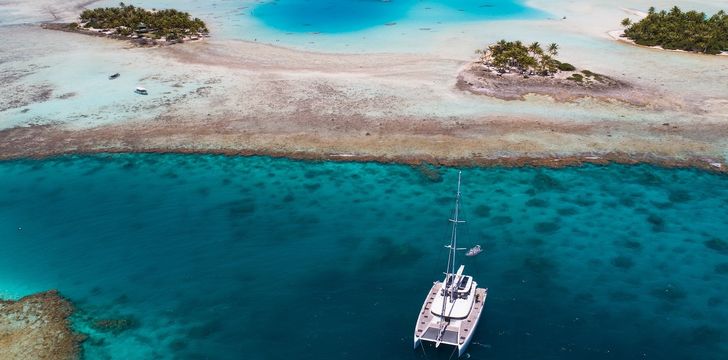 Charter a luxury crewed catamaran in the Bahamas and discover the extraordinary Exuma Islands on your weekly charter vacation
 Day 1: Nassau to Highbourne Cay | Day 2: Norman's Cay | Day 3: Hawksbill Cay | Day 4: Compass Cay | Day 5: Staniel Cay | Day 6: Exuma Park | Day 7: Shroud Cay | Day 8: Disembark in Nassau
To charter a luxury crewed catamaran in the Bahamas, is to sail the Eden-island-retreat of the yachting world. Our planet's most beautiful anchorages are often found in remote regions and can only be accessed by vessels with a shallow draft, and this is true across almost the entire Bahamas. Whether you wish to celebrate a 50th birthday in the Exumas, experience a Bahamian Christmas or New Year with loved ones, or embark on the ultimate vacation for spring break in the Bahamas - a charter in this region is the most wonderful destination to do this is style.
A Bahamas crewed catamaran charter will open your eyes to a serene setting both above and below the waterline. Tender ashore to many of the secluded 365 Exuma island cays peppered across a 90 mile stretch, home to nurse sharks, iguanas and the famed Exuma pigs. Whilst dipping below the surface will unveil an underwater utopia, heaving with tropical fish and adorned with kaleidoscopic coral.
Scroll for a little inspiration on the perfect itinerary designed for a catamaran in the Bahamas and contact our Charter Experts to begin planning your entirely bespoke itinerary.
---
Day 1 - Nassau to Highbourne Cay
Begin your first day in Nassau. Although a stark contrast to the tropical utopia of islands and cays that await your charter, Nassau is both a bustling metropolitan city and serene island to briefly relax following your travels.
Step onboard your luxury crewed catamaran in the Bahamas and meet your Captain and crew ready for an upwind afternoon sail to Highbourne Cay, arriving for an early evening dip, sundowners and an exquisitely prepared meal by your yacht chef.
---
Day 2 - Highbourne Cay to Norman's Cay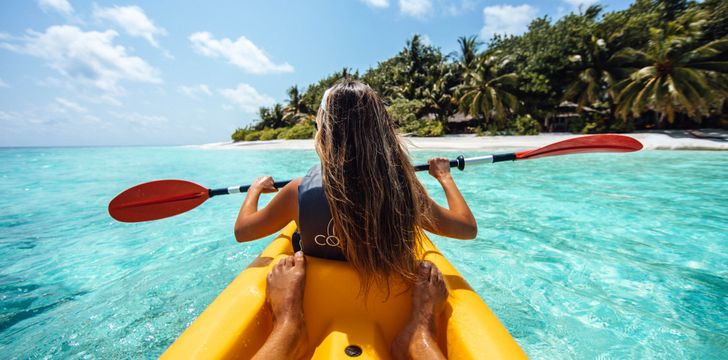 Rise early and take the tender off the east coast of the island for a deep-sea fishing trip where you should return with plenty of grouper, snapper and tuna for this evening's meal. For those seeking a relaxed morning, embark on a kayak tour or snorkel alongside your guide and discover the famed technicoloured underwater world of the Exuma Sound - a 23-metre vertical wall densely populated with marine life.
Highbourne's eight beaches are among the best-kept secrets in the Bahamas and make a good walk from the Marina before sailing to the next anchorage - Norman's Cay. Once a drug smuggler's hotspot now a sleepy resort, miles of paradisiacal beaches make up Norman's Cay. Drop the anchor and snorkel the enchanting sunken smuggler's plane wreck before heading to MacDuff's, a largely undiscovered rustic-chic resort serving up Bahamian delights – namely, lobster.
---
Day 3 - Norman's Cay to Hawksbill Cay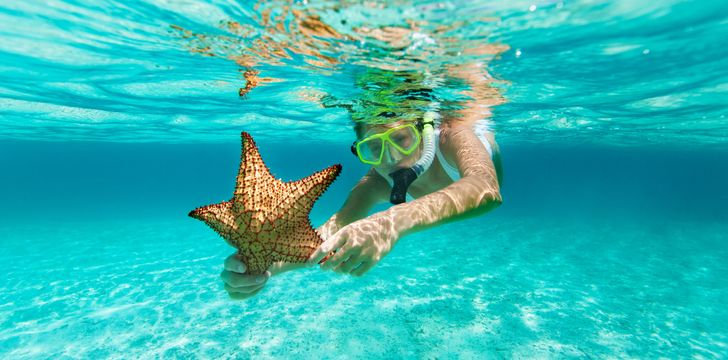 Pick up anchor early doors and enjoy a beautifully prepared breakfast enroute to the hushed haven of Hawksbill Cay. With consistent winds, this is a great sail to a perfectly desolated anchorage, where you will enjoy total exclusivity.
While away the afternoon snorkelling above vibrant coral, or for some adrenaline – the crew will enjoy taking you on a wakeboard or water-ski tour of the island. This is an idyllic spot to swing at anchor with sundowners and an alfresco dinner on the main aft deck.
---
Day 4 - Hawksbill Cay to Compass Cay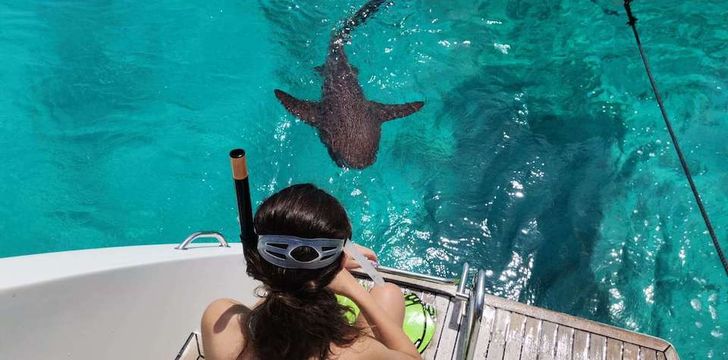 Wake to a gorgeous sunrise over Hawksbill Cay and tender ashore for a morning hike for epic views across the bay. Alternatively, stimulate the mind with a kayak to the beach and stroll along the talcum powdered sands, before dipping below the surface in search for turtles. 
Late morning, set sail towards Compass Cay, a beautiful crescent shape beach where the adventurous ones will take the plunge with friendly nurse sharks. Berth in the Compass Cay Marina and venture inland to the islets natural Jacuzzi known as Rachel's Bubblebath, or take a jungle wander before reconnecting with the world for some island bliss on one of the islands 13 pristine beaches.
---
Day 5 - Compass Cay to Staniel Cay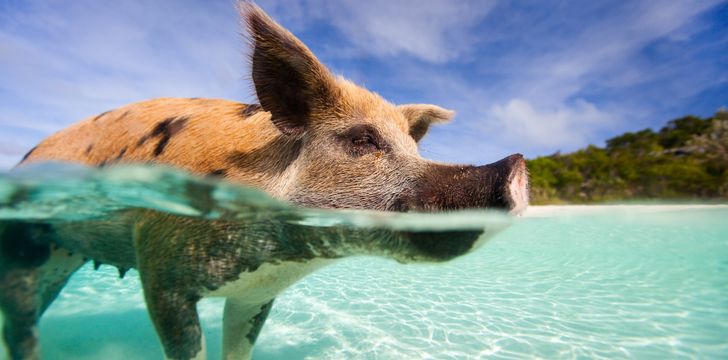 Sail into Big Major's Spot to rendezvous with the swimming pigs, this is a truly unique experience and the Bahama's main attraction. The sheltered waters just outside the bay make this a great place for watersports too.
As the sun begins to dip below the horizon, motor into Staniel Cay for your overnight anchorage and take the tender to the Thunderball Grotto – made famous by the Bond movie – before making your way to Kermit's Hilltop Restaurant and Tavern for unrivalled views, rum punch and fresh Mahi Mahi, live music and dancing. The Staniel Cay Yacht Club is another must-visit if deep-sea fishing takes your fancy, or to see the spectacular New Year's Regatta.
---
Day 6 - Staniel Cay to Exuma Park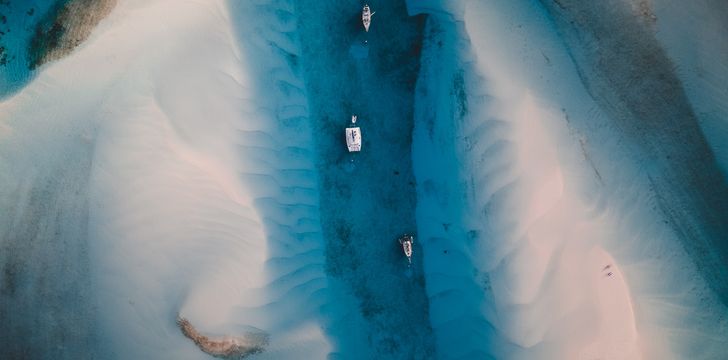 Sit down for breakfast on the aft deck whilst you spot rays in the waters below, before raising the anchor and embarking on an island-hopping tour – via Allan's Cay where the renowned Iguana Beach is located - into the paradisical oasis of the famed Exuma National Park, known for its outstanding natural beauty.
Float through shallow, tourmaline waters with white sandy swathes either side of you. Experience a slower pace of life where you can do as you please, discovering one pocket of paradise after another. Famous for its conservation efforts, this is the perfect place to go tender ashore to explore on land, or make use of the catamarans water toys.
---
Day 7 - Exuma Park to Shroud Cay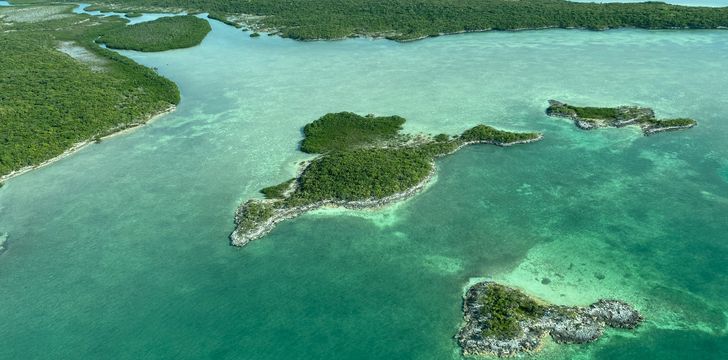 Continue through the Exumas to catch Shroud Cay at high tide, where you will be able to tender through the mangroves spying plenty of turtles, rays and barracuda. Return to your Bahamas catamaran for one last swim and a burst of watersports activities, before dressing to impress for your final celebratory dinner onboard, enjoying a selection of small plates and tantalising treats.
---
Day 8 - Shroud Cay to Nassau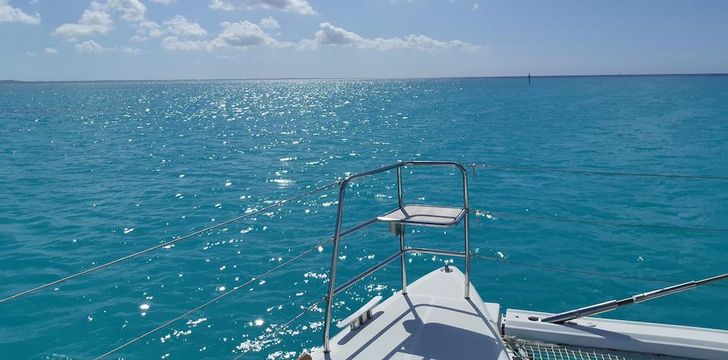 Eat breakfast underway and catch a few final rays of sun as you set off eary on your return sail to Nassau, where you will say farewell to your crew and head home with a load of incredible memories!
---
Our Bahamas Charter Yachts
The Bahamas has long been one of our most popular luxury yacht charter destinations. Our Boatbookings Charter Experts are specialists in the area and can recommend the must-see sites during your charter. Make an enquiry for your bespoke Bahamas proposal.
Tempted? Check out the video below for a little inspiration and sneak-peak into your Bahamian sailing experience.
Bahamas Crewed Catamarans Make an Enquiry
Other Articles of Interest
Charter destinations