7 Day West Mallorca Crewed Catamaran Itinerary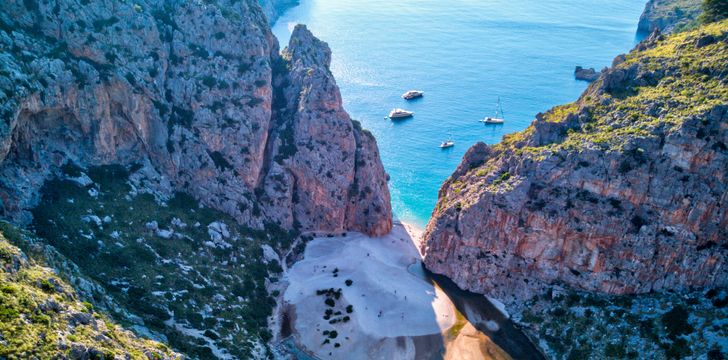 Explore the Balearic's idyllic island of Mallorca onboard a luxury crewed catamaran this summer for the ultimate vacation in Spain with family or friends
Day 1: Palma de Mallorca to Es Trenc | Day 2: Es Trenc to Cabrera National Park | Day 3: Cabrera to Portals Vells & Santa Ponsa | Day 4: Santa Ponsa to Dragonera | Day 5: Dragonera to Soller | Day 6: Soller to Sa Calobra | Day 7: Sa Calobra to Port d'Andratx | Day 8: Disembark in Palma de Mallorca
Spruce up your summer and escape to the Mallorca; Spain's Mediterranean oasis becoming an ever more popular sailing destination for family reunions, celebrations and romantic escapes. Connect with the wind onboard a luxury crewed catamaran in Mallorca and scale this stunning coastline alongside your experienced Captain and dedicated crew, dropping anchor in secluded coves and dipping below the surface to unveil a wonderful aquatic life.
The Balearic's most coveted spots are reserved for those searching by sea, and our itineraries will introduce you to the best of them. Contact our Charter Experts today and begin planning your summer vacation to Mallorca.
---
Map
---
Day 1: Palma de Mallorca and Es Trenc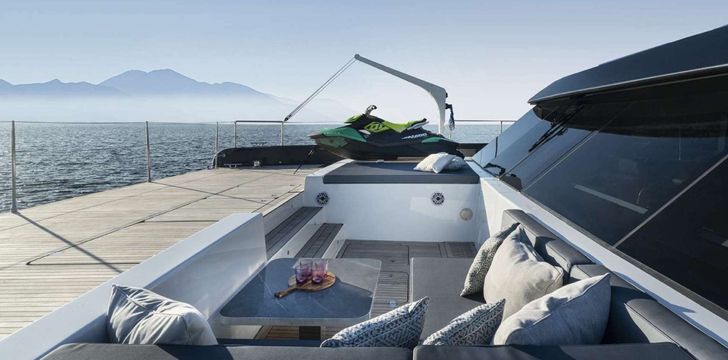 Arrive in Palma to greet your Captain and crew. Once settled onboard, we suggest you explore the picturesque streets of Palma and all of its ancient attractions, boutiques and waterside cafés.
Step back onboard your Mallorcan luxury crewed catamaran and set sail, hugging Cabo Blanco's stunning cliffs - if the weather is favourable - and the coast of S'Estanyol and Sa Rápita, to your first overnight anchorage on the southeast end of Es Trenc beach. Once anchored, prepare the yacht's toys for an adventurous evening on the water before esetting down for your first meal onboard.
---
Day 2: Es Trenc to Cabrera National Park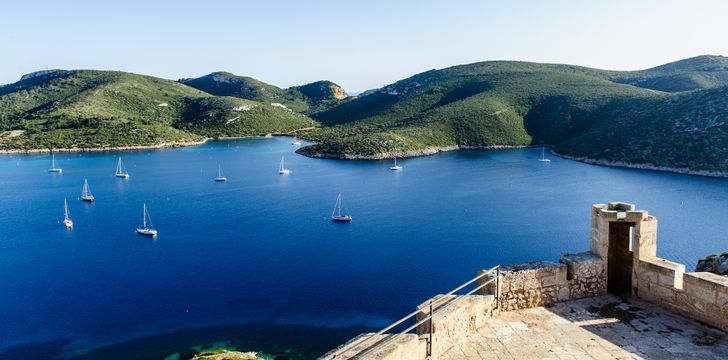 Following a beautifully prepared first dinner on the aft-deck, this morning you will enjoy a continental breakfast whilst soaking up wonderful views over Es Trenc's talcum-sands, fringed by pine trees. Once satisfied, raise the anchor and enjoy a morning under the sails to the Cabrera National Park. Perfectly encapsulating the Mediterranean mood, this archipelago offers an escape from the bustle of reality.
Come late afternoon, we suggest you tender to one of the most emblematic places in the National Park; The Blue Cave, where rays of sun illuminate it, delivering a wonderful light display. As the sun sets, settle down for a wonderful meal onboard as you plan tomorrow's sail to Portals Vells with your Captain.
---
Day 3: Cabrera to Portals Vells & Santa Ponsa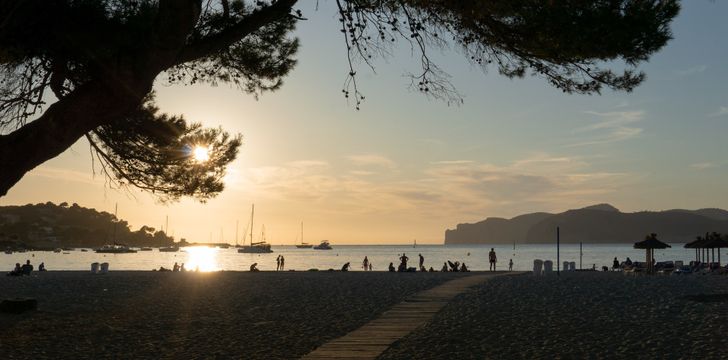 Set sail towards the hushed haven of Portals Vells; a natural environment of incredible beauty and scenic interest, popular with locals and undiscovered by the tourists. Her calm waters make her a great sport for suiting up and snorkelling around the rocks before swimming ashore for a lovely lunch of Mallorcan delicacies at the beach's one restaurant.
Return to the yacht after a long lunch and enjoy a sunset sail around the headland to the picturesque town of Santa Ponsa. For the foodies amongst you, should you desire a haute-cuisine experience, you crew will be happy to make a dinner reservation at either Der Österreicher Restaurant, or 7Fuegos overlooking Club Náutico.
---
Day 4: Santa Ponsa to Dragonera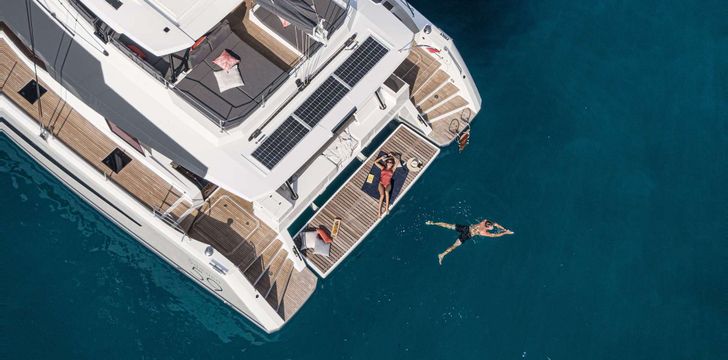 Step ashore this morning for breakfast in the town and a wander before sailing to the dragon-shaped island of Dragonera; Mallorca's uninhabited island made up of 3 islets and rich in flora and fauna.
When anchored in a sheltered bay, soak up the rustic beauty of the island's shoreline from the foredeck whilst sinking into deep relaxation onboard, indulge in a spread of fresh fish and salads for lunch, take a dip in crystal waters or venture away from the yacht on the many water toys available.
---
Day 5: Dragonera to Soller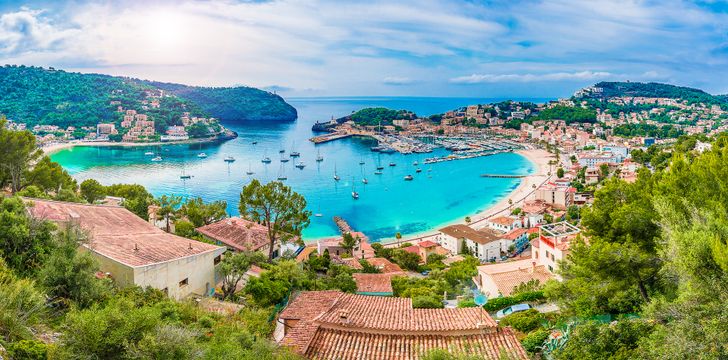 Make the most of your exclusive anchorage and enjoy a morning dip followed by breakfast under the sun as you begin the journey up the wild west coast of Mallorca to Sóller, dropping anchor in idyllic coves which can only be accessed by sea.
Once isolated from the rest of Mallorca, Sóller is an authentic town in the heart of 'Valley of Oranges' which earnt its wealth because of the valley's abundant citrus groves, of which the fruits were shipped to France from Port de Sóller – a large horseshoe bay where you will berth for the night. Step ashore for the evening and explore this remote, coastal village which is a paradise for hikers, gourmet lovers and those looking for a desirable hideaway.
---
Day 6: Soller to Sa Calobra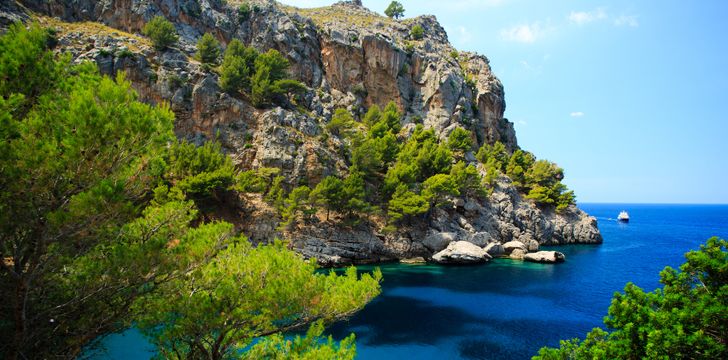 Sa Calobra is defined by mountains which plunge almost vertically into the sea and boasts two unique beaches hidden away. Today gives you the opportunity to simply while away the hours on the foredeck, or to explore away from the yacht alongside crew members on some of the market's most exciting water toys.
Revel in the peacefulness of this hidden gem over a sundowner of choice, before settling down to indulge in another flavoursome multi-course meal on the aft-deck.
---
Day 7: Sa Calobra to Port d'Andratx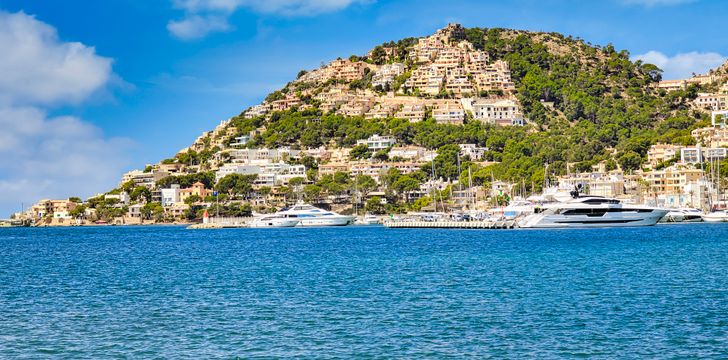 Rise early for your final full day onboard your luxury crewed catamaran in Mallorca. After a serene breakfast and awakening swim, sail south to what many consider the most picturesque harbour in the Mediterranean; Port d'Andratx.
Indulge in low key luxury in this chic port over a coffee at one of the many waterside cafés. The port's natural beauty has been attracting seafarers for years and now a great selection of haute cuisine establishments attract many ashore to discover the town.
---
Day 8: Disembark in Palma de Mallorca
Today is your final day on the water. Tender out of Port d'Andratx and enjoy one last spin on the water toys before heading into Palma to disembark the yacht and say farewell to your Captain and crew.
Start Planning Mallorca Charter Yachts 
---
Other Mediterranean Destinations: Italian Riviera | Sicily | Sardinia | French Riviera | Monaco | Corsica | Ibiza | Croatia