7 Day West Mallorca Motor Yacht Itinerary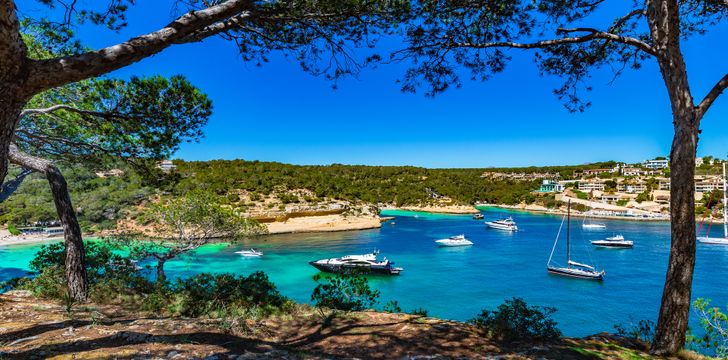 Uncover Mallorca's idyllic island gems of Es Trenc and the Cabrera archipealgo, as well as the ports of Soller and Andratx on your 7 day west Mallorca motor yacht itinerary
Day 1: Palma de Mallorca to Es Trenc | Day 2: Es Trenc to Cabrera National Park | Day 3: Cabrera to Portals Vells & Santa Ponsa | Day 4: Santa Ponsa to Dragonera | Day 5: Dragonera to Soller | Day 6: Soller to Sa Calobra | Day 7: Sa Calobra to Port d'Andratx | Day 8: Disembark in Palma de Mallorca
What attracts everyone to Mallorca, is its timeless charm. A unique blend of authentic ports offering tapas, boutique shopping and a sunset cocktail scene amongst wonderful architecture, with multiple peaceful bays and breath-taking scenery to admire in-between anchorages is making west Mallorca an upcoming charter destination for this summer.
Chat to our Charter Experts for further insight into why the Balearics are quickly becoming a favourite destination and begin planning your summer charter vacation onboard a motor yacht in Mallorca.
---
Map
---
Day 1: Palma de Mallorca and Es Trenc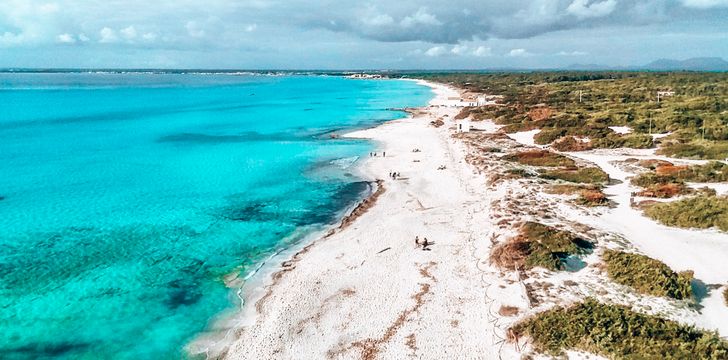 Most Balearic charters will begin and end in Mallorca's capital, Palma. This is where most international flights come land, and where the best facilities for luxury yachts in the Balearics can be found. Once settled onboard, Palmas Old Town deserves some of your attention. Bypassed by the tourists, Palma is a relatively undiscovered gem.
Step back onboard and embark on your first cruise south to the famous beach of Es Trenc for an alfresco lunch on the aft-deck. Fringed by dunes, El Trenc is best recognised for its azure waters and talcum powdered sands, making it an idyllic first anchorage to swing at anchor for the night.
---
Day 2: Es Trenc to Cabrera National Park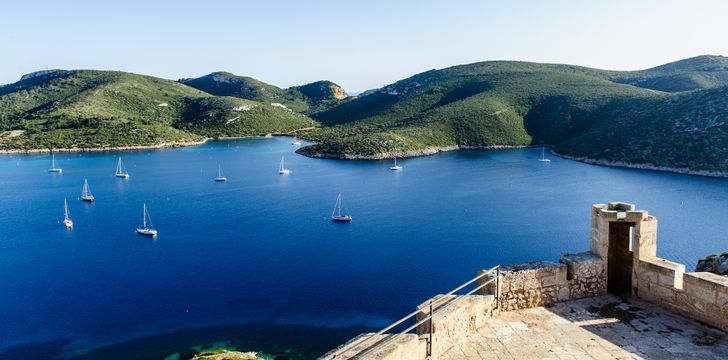 Notoriously captivating seafarers with its bountiful nature is the Cabrera National Park. 19 islands and islets form this protected archipelago lying 10km south of Mallorca. Your captain will take you to one of the most emblematic places in the National Park; The Blue Cave, where rays of sun illuminate it, casting spectacular light and colour effects.
Find a picturesque cove and drop the anchor for a peaceful lunch on the aft-deck followed by an adventuresome afternoon on the yacht's water toys. Cruise around to a more sheltered cove for an evening under the moonlight where your chef will produce an extravagant dinner onboard.
Should you wish to extend this charter and explore Ibiza, this is where you would incorporate it. Discover our Mallorca and Ibiza motor yacht itinerary for a little inspiration.
---
Day 3: Cabrera to Portals Vells & Santa Ponsa
Perfectly encapsulating the Mediterranean mood is the peaceful Portals Vells; a remote, sandy beach in southwest Mallorca which is popular with the locals. Eat whilst at anchor, or step ashore and indulge in Mallorcan delicacies and tapas at the one restaurant.
Come mid-afternoon, raise the anchor and cruise into Santa Ponsa for the night. Backed by mountains blanketed by sprawling woods, this town is home to golf-courses, historical features and luxurious properties. This evening, should you desire a haute-cuisine experience, your crew will be happy to make a reservation at either Der Österreicher Restaurant, or 7Fuegos overlooking Club Náutico.
---
Day 4: Santa Ponsa to Dragonera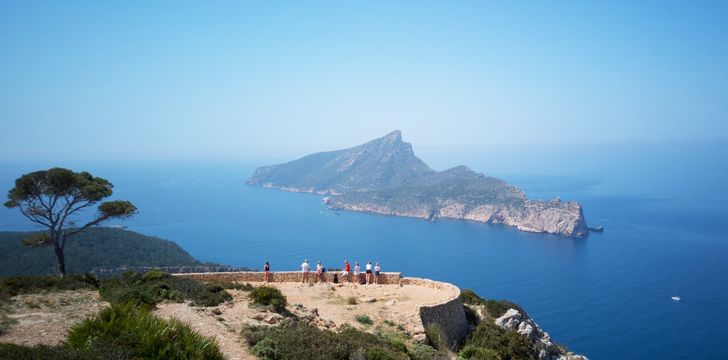 Wake early and step ashore for a light breakfast in the town, be it from a bakery in the back streets or a coffee on the waterfront. Once satisfied, motor out of port and head to Dragonera; an uninhabited islet separated from the west coast of Mallorca by a narrow channel for a refreshing morning swim. From a distance, this special island has a spectacular perspective and is no-surprise shaped like a dragon; the endemic Lilford's Wall Lizards also occupy this island.
Rich with flora and fauna, you will enjoy incredible snorkelling and the rustic beauty of the island's shoreline as you while away the hours on your secluded anchorage. Tonight, watch the sunset from the foredeck before settling down for a beautifully prepared meal on the aft-deck.
---
Day 5: Dragonera to Soller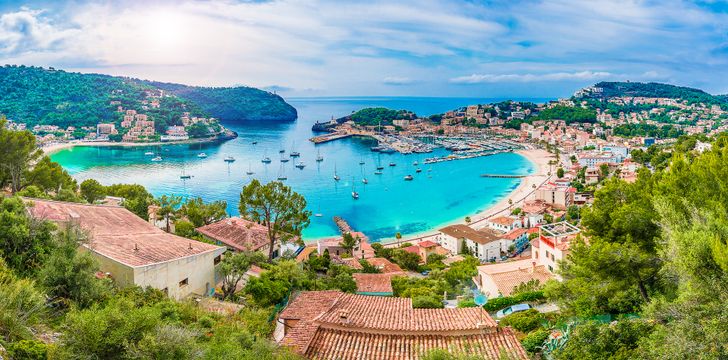 Following an awakening morning swim, soak up the sun over a lazy breakfast on the sundeck before embarking on the lengthy cruise to Soller. This intriguing town welcoming a fabulous display of yachts, is also a paradise for hikers, gourmet lovers and those looking for a desirable hideaway.
Considered to be one of the most beautiful towns in Spain, Soller takes you back in time when strolling through its historic centre which is architecturally characterised by Joan Rubid; a pupil of the renowned Gaudí. This evening we suggest making a reservation ashore, at the recommendations of your Captain and crew.
---
Day 6: Soller to Sa Calobra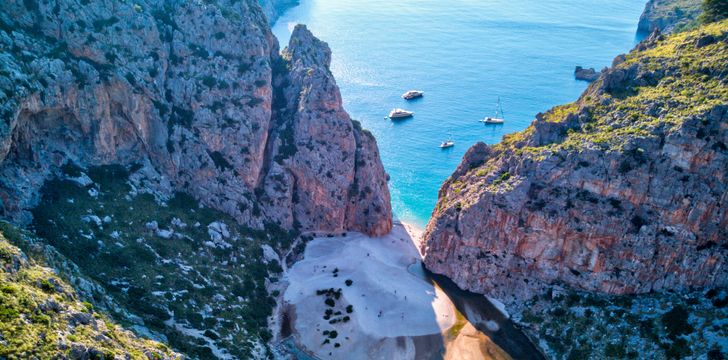 Today, cruise to the northern-most point of your itinerary; Sa Calobra. Here, the mountains plunge almost vertically into the sea, making a stunning setting for two unique beaches hidden away. This destination is a wild one to while away the hours either soaking up the sun and getting lost in a book, or for those wishing to venture away from the yacht on one of the many water toys.
Tonight, revel in the peacefulness of this hidden gem and indulge in your talented chef's cuisine as you recount the day's adventures with your Captain and crew and plan for the day ahead.
---
Day 7: Sa Calobra to Port d'Andratx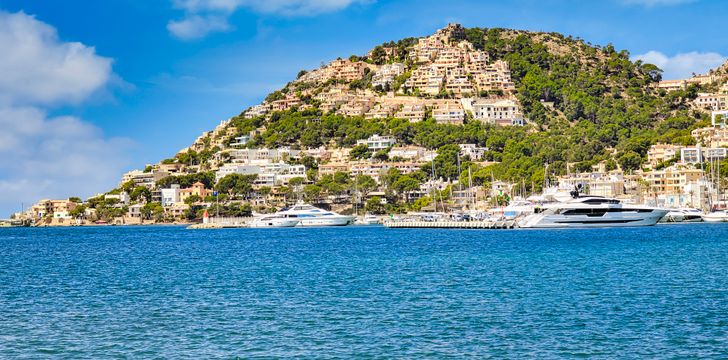 Today is your final full day onboard your luxury motor yacht in Mallorca. Raise the anchor and head south, to what many consider the loveliest harbour in the Mediterranean; Port d'Andratx.
Indulge in low key luxury in this chic port whilst watching the daily bustle of maritime life over a coffee at one of the many waterside cafés. The serene beaches backed by mountains have been attracting seafarers for years, and now a great selection of haute cuisine establishments attract many ashore to discover the town. With more than 450 berths, it is a great place to spot the superyacht elite.
---
Day 8: Disembark in Palma de Mallorca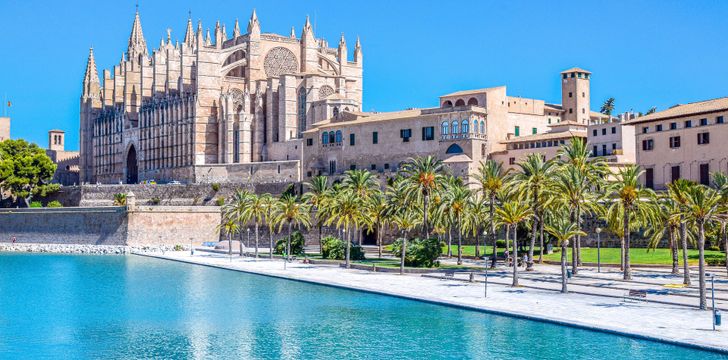 This morning, wake early and motor out of the port for one final swim and whizz on the water toys in a sheltered bay before heading into Palma to disembark the yacht and say farewell to your Captain and crew.
Book Today Our Mallorca Charter Yachts 
---
Other Mediterranean Destinations: Italian Riviera | Sicily | Sardinia | French Riviera | Monaco | Corsica | Ibiza | Croatia