Spain Yacht Charter FAQs - Frequently Asked Questions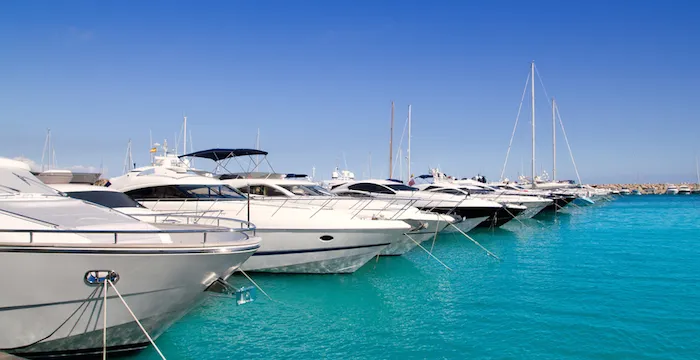 See our most frequently asked questions on Spanish charters:
Which yachts can legally charter in Spanish Waters?
Generally speaking, in order to charter in Spanish waters, the yacht must have a Spanish flag (registered in Spain) and have paid for a charter license. Non-Spanish boats may not start or end charters in Spain.
What are the ideal destinations according to regions and time of the year?
The Balearic Islands (Mallorca, Ibiza, Formentera and Menorca) offer multiple possibilities, they are ideal for crewed motor yacht charters and bareboat sailing vacations.
For Crewed Yacht Charters:
Charter Fee
VAT of 21%
Food & Beverages
Fuel for yacht, water toys and tenders
Communication costs
Gratuities for the crew
Port fees plus utilities
Ibiza offers many luxurious motor yachts to discover the island and neighbouring Formentera. There are also a range of day boats to go to from Ibiza to Formentera. Due to the high demand in the summer months, we always recommend to book well in advance to secure the very best yacht suited to your requirements. June and September is a wonderful time to go, but summer really gets started in July and August!
Palma de Mallorca is the hub for all yachting activities in the Balearics. Offering stunning anchorages, turquoise waters and superb sailing, Mallorca is the perfect platfrom to discover the Balearic Islands.
What is the difference between bareboat, skippered only or fully crewed charters?
In Spain, bareboat charters typically must start/end on Saturday, embarkation is usually in the afternoon and disembarkation early in the morning, so what we call a week charter is actual 6 days + night as the boat needs to return to the base on Friday evening.
Bareboat Charters
Charter Fee
VAT of 21%
Food, beverages and provisions for the yacht (cleaning items, basics etc), bareboat means usually that the yacht is completely empty.
End cleaning
Port fees
Mooring fees outside of base. Moorings are only included the first and last day of the charter.
Fuel
Skipper if needed + food provisioning for the skipper + VAT
Skippered charters are usually bareboat yachts that we add a skipper to, so the same rules apply.
Bareboat/Skippered charters have designated bases. The general rule is that embarkation/disembarkation must take place in these bases, exceptionally owners offer other options.
The Canary Islands are typically a bareboat sailing destination, there are very few crewed sailing or motor yachts, so we would advise other areas if this is your preference. The best time of the year is November through February, summer can be a bit too hot because of the proximity to Africa.
Menorca is a smaller and very charming island. Both options are available, bareboat and crewed but more limited offer due to the size of the island and lower demand compared to Mallorca & Ibiza. August has very strong winds, called the Tramontana, so a better time is June and July.
La Costa de Valencia and Alicante are ideal destinations for sailing and enjoy very good weather with not very strong winds most of the year (except for the winter months).
Marbella, Puerto Banus and Sotogrande
What are the rules regarding yacht capacity in Spanish waters?
The maximum number of guests allowed on board is generally 12 as per government safety and maritime regulations, but depending on the size it could be lower. Each specific yacht is different.
For crewed yachts it will depend on the size, but usually the rule is the number of berths stated in the charter yacht capacity, therefore a 5 cabin will be able to host 10 passengers + crew. This is set by government safety regulations, and is not flexible. There is no difference between adults and children.
How can I check availability on my favourite yachts?
Once you have selected your preferred charter yacht, send me an enquiry with your number of guests, required date, time slot, and preferred yacht - each yacht has an enquiry form at the bottom of its page - and we will quickly confirm availability with the owner, and send you a proposal and sample menus.
For Further Informtion, Consult our Charter Basics Guide
Other Articles of Interest
Charter destinations