Boatbookings Journey Planner
Calculate the distance, fuel consumption, and cost of your next boating trip
Boatbookings have created the leading online yacht charter route planner, distance and fuel calculator, so you can see your exact cruising plan and itinerary in unrivalled detail. See how far it is between each place of interest and all the islands and towns you will pass on route. Your charter is in your hands!
All you need to do is 1 - search for your port, 2 - click "Start New Route" and click through the exact route you'll be taking. Then 3 - enter average speed and fuel consumption per hour, and everything is calculated for you! Full instructions here.
---
Top Charter Areas:
Complete directions:
Enter your embarkation point and click through the map with where you plan to go. A line will trace your route, and the distance is calculated at each click. Double click to finish. Then scroll below and enter the price of fuel, the cruising speed and consumption of your yacht - everything is calculated for you!
Here's an example of a week long Amalfi Coast crewed motor yacht itinerary, embarking in Naples, visiting Procida, Ischia, Capri, Sorrento and the Amalfi Coast, showing the route, distance, and projected cost of the cruise: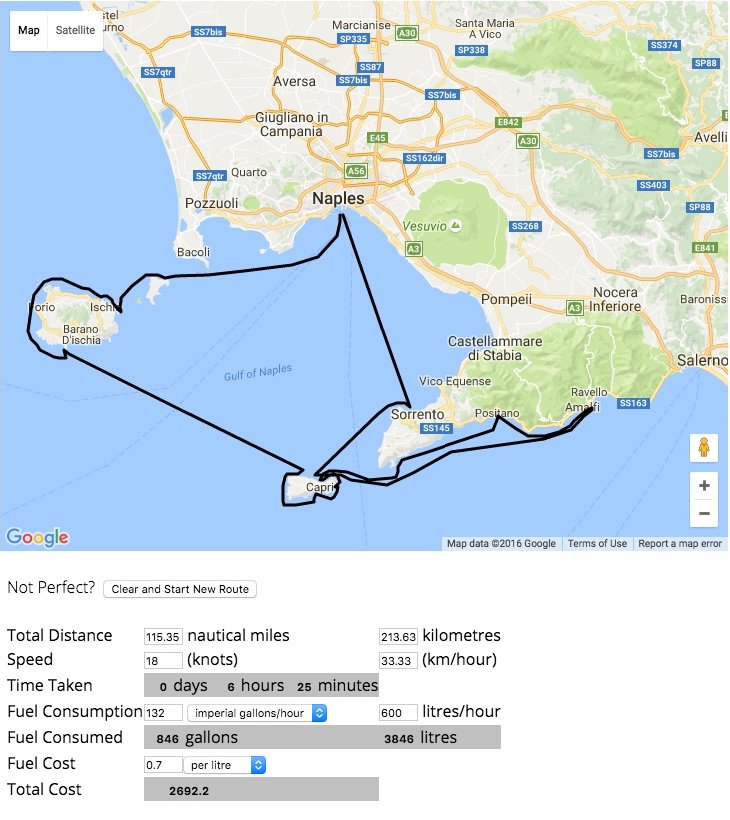 Note
: this is a planning tool provided as a service for your use - Boatbookings.com cannot guarantee accuracy or take responsibility for the results.