Classic Yacht Charter Video - the Blue Peter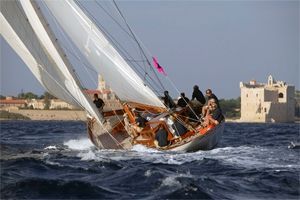 A Day Aboard the BLUE PETER in the French Riviera
Blue Peter is one of the most elegant classic yachts on the French Riviera. She also is great Regatta Yacht, having won numerous competitions including the Voiles de St Tropez and the Regates Royales in Cannes. In this short video, Captain Matt Barker shows you what a typical charter might be on this beautifully restored sloop, currently sailing out of Cannes. More on BLUE PETER.
Welcome Aboard!
Charter BLUE PETER and experience this beautiful boat yourself!
If you would like us to arrange a classic yacht charter similar to this, please contact us and we can arrange everything. Click here if you'd like complete information on BLUE PETER, or Chartering a Classic Yacht. See a map of this itinerary.
See our Classic Yachts Worldwide
Contact us for a classic yacht proposal
Other Helpful Information: Chartering a Yacht on the French Riviera | About Sailing Charters | Voile St Tropez Regatta | Cowes Week
Other Articles of Interest
Charter destinations