Top Restaurants & Bars on the French Riviera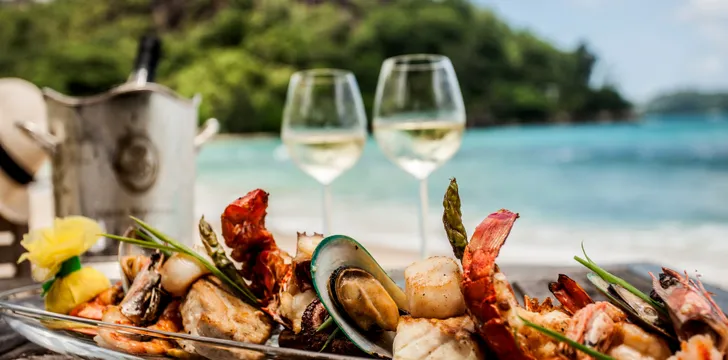 Discover the best resturants and bars in Cannes, Monaco and St Tropez on your crewed motor yacht charter on the French Riviera
As a region known for its 'see-and-be-seen' mentality and with over 30 Michelin-starred restaurants to choose from, the Côte d'Azur's delightful cuisine and world-renowned Provençal wine scene is frequented by the jet-set May through October.
We reveal how to navigate the French Riviera's flourishing dining scene in style on your luxury yacht charter, from the glamorous seaside spots of Monaco to the rustic-chic beach hangouts of St Tropez and hottest reservations in Cannes.
Monaco
Image Credit: Restaurant Elsa
Elsa, Monte Carlo
For a detox from Monaco's decadent nightlife, tender ashore for a delightful blend of Mediterranean and Italian cuisine with a Tuscan influence as you take a seat at the first all-organic restaurant to earn a star, Elsa. 
Regularly frequented for its seaside perch at the far end of Monte Carlo Bay and locally sourced ingredients from the hills of Provence and Italy, Chef Manon Fleury commits to using entire products; from head to tail, fruit to stone, and flower to leaf.
Le Louis XV, Hôtel de Paris   
Tastings at Alain Ducasse's Le Louis XV across from the Casino de Monte-Carlo, encircled by the Monaco Grand Prix racetrack and conveniently close to Port Hercules, highlights the glamorous lifestyle of the French Riviera.
From the aperitif to the after-dinner chocolate, guests have quoted that you will feel like Louis XV himself illustrating the exceptional journey that the impeccable staff and world-class cuisine takes you on.
Horizon Rooftop, Fairmont
Oozing glitz and glamour, the Fairmont Monte Carlo is a renowned landmark of Monaco and infamous meeting point for the international elite.
The Horizon Deck restaurant and champagne bar is the perfect spot to overlook the port brimming with luxury yachts. See the world through rose-tinted glasses on Pink Sunday as summer vibes wash through the bar with unlimited rose wine or champagne, and all things pink!  
Eze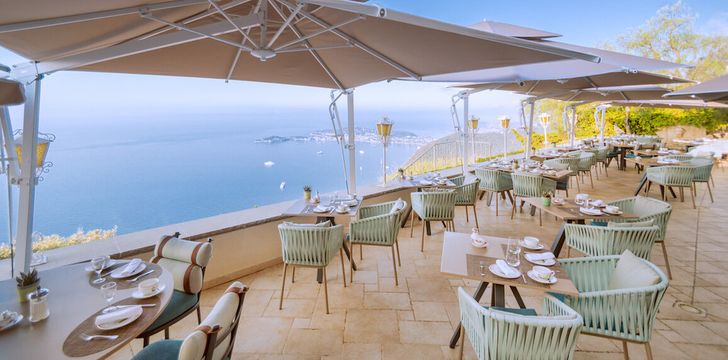 Image Credit: Restaurant Chevre d'Or
La Chevre D'Or
The definition of dinner with a view. Take a scenic walk 1400 feet above sea-level to the quaint hilltop town of Eze and wander the cobbled streets of this medieval village to La Chèvre D'Or for a romantic meal of decadently playful pairings, whilst your eyes dance upon a sea of luxury yachts below.
The talent of the kitchen is not to go without mention; with two Michelin stars, Chef Arnaud Faye effortlessly gives surf 'n' turf gastronomic meaning as he sources his classic French fare from the surrounding Mercantour mountains and Mediterranean Sea. However, be sure to get your glad rags on following their strict dress code.
Menten
Mirazur
For a multi-course tasting menu, pay a visit to Mirazur, along the French and Italian border in Menton. Argentinian chef Mauro Colagreco has collected two Michelin-stars at this decade-old restaurant by plucking produce from the surrounding seaside vegetable garden.
Cast your view over the bay whilst dining on caviar-topped beetroot followed by crab-stuffed cannelloni; just a couple of the inspiring dishes dreamed up in this 1950s-era eatery.
Nice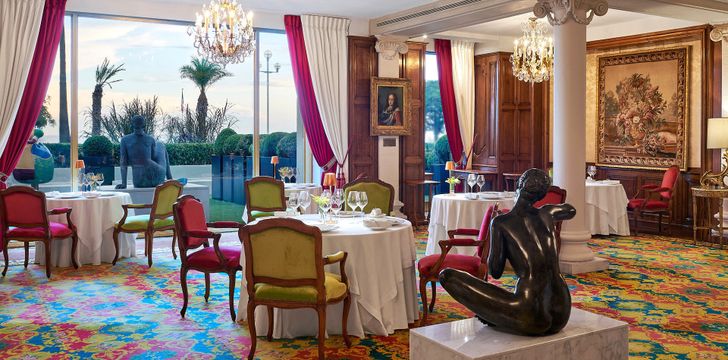 Image Credit: Hotel Le Negresco
Le Chantecler, Hotel Le Negresco
Hotel Le Negresco is an iconic building, which you can't miss due to the pink dome prominently staring out at the bay. Boasting two Michelin stars and gastronomy inspired by the Provence, it is clear why Le Chantecler attracts elite clientele and has earnt the reputation as the most desirable hotel restaurant in the city. Inventive and articulate, the cuisine showcases traditional French style and class.
Jan
Stylish and sophisticated, Chef Jan Hendrik van der Westhuizen has made his name for fusing elements of his South African heritage with those from the markets of the South of France. This 24-seater fine dining restaurant is a great choice for a milestone celebration or a couple of families chartering together.
Jan blends exotic methods learnt at his family home in Mpumalanga with French culinary art to deliver a sensorial journey for guests, showcasing local produce, commitment to seasonal vegetables and encouraging a generally mindful experience.
Antibes
Image Credit: Hotel du Cap Eden Roc
Cap Eden Roc, Hotel du Cap Eden Roc
It is easy to admit this is the most luxurious hotel around 
Antibes
, proven by the marvellous guest book where celebrities' signatures overlap each other on the pages. With views of the 
Lérins Islands
 and overlooking the pool which sparkles in the Mediterranean sunshine, you will find this an idyllic spot for lunch or dinner.
The hotel stands proud and noticeable near the beach and you can hear the waves gently crashing against the rocks, reminding you that you are on the French Riviera. This restaurant oozes expertise in every area from the fantastic sommelier whose enthusiasm about wine impresses many, to the expert confectioners who conjure up the hotel's own branded chocolate.
Bacon
Bacon is actually a predominantly seafood restaurant. Increasingly regarded as the best fish on the Cote d'Azur, which, as you can imagine, is an incredible title as seafood along the French Riviera is as plentiful as it is wonderful. With 60 years of experience, the Sordello family look forward to tantalising your taste buds.
The location is superb, the food presentation is second to none and the guest book is to be marvelled at. Many important celebrities are repeat customers; there is certainly something special about Bacon. We recommend the bouillabaisse, which is often described as perfection and is certainly the speciality.
Image Credit: Hyde Beach Club
Hyde Beach
Located on the sandy swathes of what is arguably the most glamorous promenade in the French Riviera, La Croisette, Hyde Beach is a chic hangout where you and your friends or family can soak up the most vibrant spot in the Côte d'Azur beach scene.
For the ultimate experience, relax on the exclusivity of a luxury waterside daybed with cocktail in hand, before settling down to enjoy a spread of exquisitely plated delacacies at the creation of Michelin starred chef, Stéphanie Le Quellec.
Palme D'Or
A favourite of A-List celebs, Palme D'Or is the place to dine in Cannes. Take a seat for a memorable culinary experience in one of the leading luxury hotels and the city's only two-starred Michelin restaurant. Everything about this hotel reflects class, elegance and superiority, it requires all your senses to absorb the décor, service and cuisine.
It is difficult to find the superlative to describe the standard of gastronomy, however during the Cannes Film Festival, Chef Christian Sinicropi hosts the exclusive Dinner of the Jury where he not only presents a film-themed menu, he serves it on handmade dishes inspired by movie scenes. The food is a work of art; we recommend a movement of five small plates to get the perfect combination of savoury and sweet.
La Villa Archange
For private dining, La Villa Archange is an intimate and double Michelin star gem just ten minutes from La Croisette we couldn't reccommend more highly. Capturing the historic charm of the French Riviera, the salon opens to reveal a charming Provençal courtyard with century-old trees; making a beautiful change of scenery from your luxury yacht and worth heading ashore to.
Head to this 18th Century mansion and let the sommelier lead the way with wine from the cellar matched with Chef Bruno Oger's rich French country classics; like 24-hour cooked veal knuckle and duck foie gras with lemon and chestnut.
Le 360, Radisson Blu 1865 Hotel
Situated next to Le Vieux Port, the Radisson Blu 1865 boasts a distinctive rooftop bar where you can soak up 360-degree views of the bay, the old town and the Esterel hills.
Panoranmic views, crafted signature cocktails, sushi and a small pool makes this an attractive rootop spot to be seen enjoying sundowners just off La Croisette.
Carlton Hotel
For an unparalleled view over the bay of Cannes, the Carlton Hotel is the perfect spot to watch La Croisette come to life at sundown. Hosting the world's rich and famous, the experience is inevitably spectacular; from the decor, to the service and exotic drinks, everything exceeds expectations - we highly reccommend the Carlton champagne cocktail.
St Tropez

Image Credit: Restaurant Chevre D'Or
Club 55
"Here the customer is not the king… because he is a friend." Once a simple fising hut in the 1950s, simplicity and authenticity has propelled Club 55 into Pampelonne's legendary institution, championed for retaining it's rustic edge and classy and discreet atmosphere.
A family-favourite, Club 55 is known as the Saint-Tropez of yesteryear. Its wild Provençal setting is carried right up to the table, with organic wines and simple Provençal dishes expelling scents and effortessly drawing in the the jet-set from ther yachts to their very own wooden jetty.
La Vague D'Or
Embark on a magical journey between land and sea with French Chef of the Year Chef Arnaud Donckele, who trained under Alain Ducasse. Acclaimed for his original pairings, rare, regional ingredients and seemingly limitless creativity, his extraordinary talent is supported by the fact he obtained his third Michelin star by the age of 35.
Banh Hoi
For those looking for a romantic atmsphere, this Indo-China restaurant serves incredible dishes of Japanese, Thai and Vietnamese dishes in an intimate setting, with an interior decorated with ornaments of the Far East. Their outdoor terrace is a lovely space to enjoy dishes of gyoza, dumplings, noodles and other dishes freshly prepared in the Michelin starred restaurant.
---
Other Articles of Interest
Charter destinations