Visit beautiful Eze during your French Riviera Yacht Charter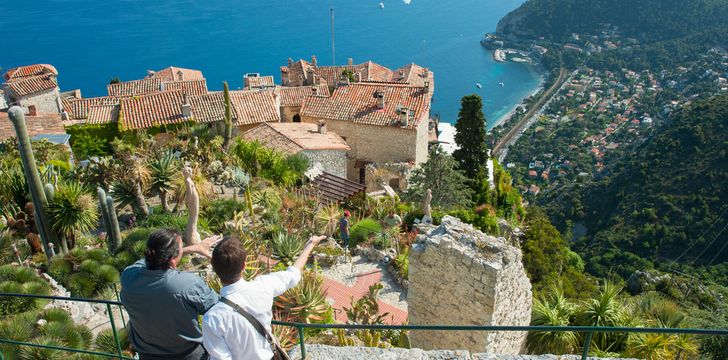 Tucked away in the southwestern corner of the French Riviera lies the beautiful town of Eze, a settlement boasting a rich history and beautiful scenery. It is a medieval village precariously perched on a rocky peak, overlooking the Mediterranean sea and dominated by a magnificent castle that dates back to the 12th century.
With its narrow streets, and red-brick roadways; boutique shops and quaint cafes, Eze truly captures the essence of the Côte d'Azur. The gorgeous gardens of the Jardin Exotique Area offer world-famous panoramic views of the coast, as well as unique flora and bird life. If you anchor in the secluded bay on your private yacht, it is well worth hiking up the cliff to admire the views and explore the quaint town. The walk is quite steep, and definitely requires suitable footwear, as well as a bottle of water! It will take 40 minutes - 1 1/2 hours depending on your fitness, but the view at the top is magnificent.
Treat yourself to a drink in Château Eza; pick a table on the terrace and soak up the sun, whilst gazing at the gorgeous surroundings. For a gastronomic experience dine at La Chèvre d'Or, for a michelin star meal in a medieval town with creative cuisine!
Eze is without doubt a nature lover's paradise, with its red rocky coastline and caves to explore, including the Aven du Moulin-Oublié that goes down 50m beneath the village, and the Aven de Lieusera that is 70m deep.
It is no wonder then that Walt Disney frequently visited this lovely town, and with Nice International airport only 20 minutes you can too. Monaco is a stone's throw away, as are some of the Côte d'Azur's hidden gems. A perfect way to explore this beautiful area is by boat, available to charter from Saint Jean Cap Ferrat, Cap d'Ail or Monaco.
Other Articles of Interest
Charter destinations