Boatbookings Sponsors Aspiring Olympian Emma Schneider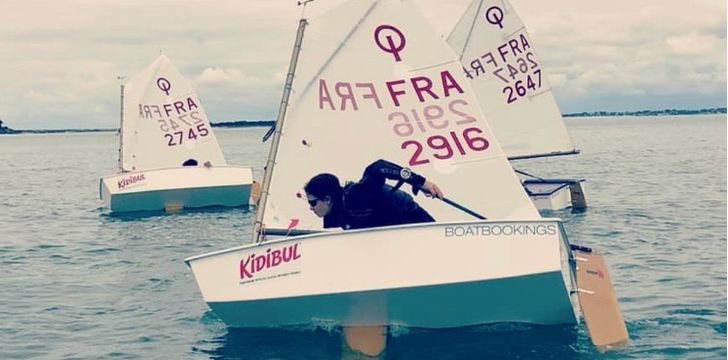 Emma Schneider claims 7th place in French 2021 Championships
Boatbookings is delighted to sponsor Emma Schneider who has been sailing at the Yacht Club de Cannes since 2010. She is a student at the well-respected Institut Stanislas in Cannes where she combines her studies with her passion for sailing.
Emma competed in the French Championships in Quiberon from the 10 to the 17 July 2021. Emma put in a strong performance at the 2021 French Minimes Optimist Girls Championship in Quiberon. Her best finish was runner up and after completing 12 races she was 7th overall out of a field of 50 competitors, a fantastic result.
Not only does Emma show skill, determination and resilience in competition, her commitment to the sport is unwavering. On this occasion she made a 2500km round trip from her home in Cannes to Quiberon to take part in the championships.
Emma will deserve a well-earned rest before getting back to her tough training schedule for the next event which could be the German championships next month if that is confirmed.
Her sailing successes to date include a brilliant 3rd place in the 2018 Optimist Benjamines Spring International Cup. She followed that performance with a fabulous 5th place in the 2019 French Minimes Optimist Girls Championship.
When we see these young people competing at the highest level, we should remember the time and effort they put into it before the first gun of the regatta. The rigour of the training schedule, the time spent travelling, the anticipation of competition creates a heady mix.
Well done Emma on a fabulous result again!
At Boatbookings we are proud to support young people to pursue their sporting dreams. In Emma's case this is to take part in the 2024 Olympic games representing France.
For information on Sponsorship Opportunities at Boatbookings contact our CEO Capucine de Vallée by email [email protected]
Charter destinations