Charter a Yacht to Mala Beach, Cap d`Ail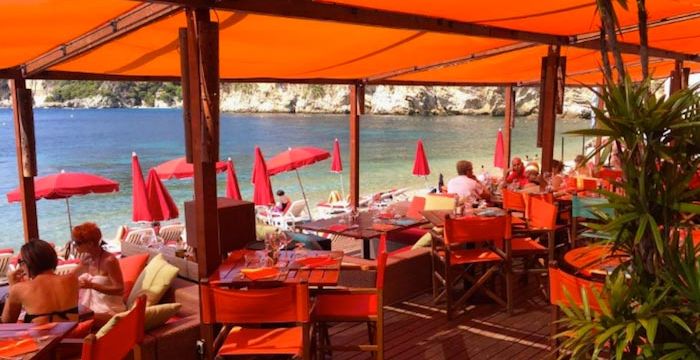 Just west of Monaco is the town of Cap d'Ail, where you will find the gorgeous Mala Beach. The beach was named in 1933 after the dancer Mala Kchessinska, who liked to spend time walking through the pebbly sand with her lover, Tsar Nicholas II. Mala Beach is located in an inlet along the coast, set back from the open sea and surrounded by cliffs, which gives the beach its breathtaking beauty. So, why not stop off to explore Mala Beach during your fdrcharter around the French Riviera. Mala Beach has two private beaches and restaurants to try out; La Réserve de la Mala and Eden Plage Mala.
La Réserve de la Mala is perfect for a lunch break or early evening drinks. A combination of warm water, stunning scenery, amazing food and music playing, La Réserve de la Mala is an ideal beach to visit during your day charter. Open throughout the day from mid-March to mid-October, Mala Beach then welcomes the party scene in the evenings as of the Monaco Grand Prix until the start of September. Whether you want to take the time relax in the sun, dine on freshly cooked Mediterranean cuisine or party away to live music and DJs, Mala Beach has something to suit everybody.
Eden Plage Mala has a more laid back atmosphere than that of La Réserve. It sells itself as a little piece of paradise, and given its surroundings it certainly is! With live music every Saturday and Sunday of the summer, Eden Plage treats you to chilled out tunes while you dine or sip on a cocktail. Eden Plage also offers a massage service, making your trip to the beach even more relaxing; they even do fitness classes on the beach - imagine exercising in such stunning surroundings!
Charter a Yacht to Mala Beach
We have hundreds of great yachts for you to take to Mala Beach. Whether you want to start in Cannes or Monaco, we can get you there from the French Riviera!
Other Articles of Interest
Charter destinations