7 Day Croatia Crewed Catamaran Itinerary | Split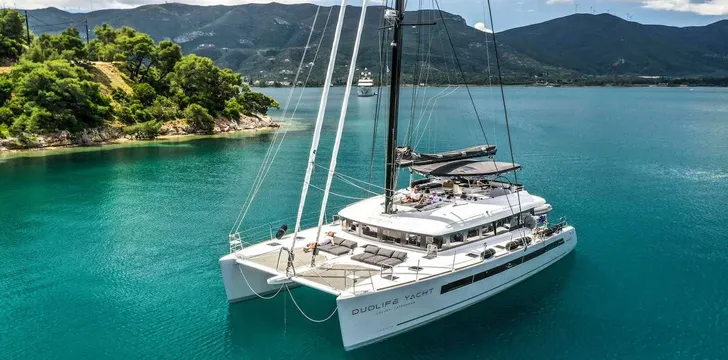 Set sail on your 7 day Croatian crewed catamaran charter from Trogir, Split and explore Solta, Brac, Hvar and Vis this summer
Day 1: Trogir | Day 2: Solta | Day 3: Brac | Day 4: Stari Grad | Day 5: Hvar | Day 6: Vis | Day 7: Trogir
Croatia is a truly awe-inspiring destination and exploring by sea allows you to see it in all its glory. Our crewed catamarans provide stability and style, allowing you to easily hop from island to island and make the most of your time in the idyllic region of Dalmatia. Tuck into beautiful fresh produce both on-board and on land, explore terracotta-topped villages and experience the Mediterranean the way it used to be.
Contact our Charter Experts for a bespoke crewed catamaran itinerary. Alternatively, should you wish to cover more distance, how about considering a crewed motor yacht and embark on an adventure from Split to Dubrovnik or around the Zadar archipelago.
---
Map
---
Day 1: Trogir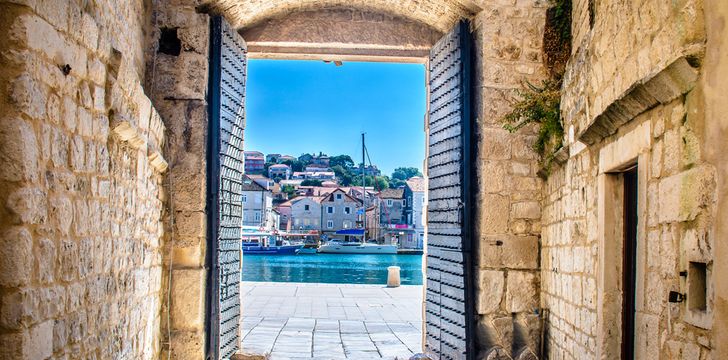 Before embarking your luxury crewed catamaran in Trogir, be sure to soak up the atmosphere in this charming town and its picturesque winding streets. Trogir earned its status as one of UNESCO's World Heritage Sites in 1997 due to the many beautiful Romanesque and Renaissance buildings that remain standing to this day. Explore the medieval castle and wander down the seaside promenade, which is brimming with lively restaurants, bars and boutiques. After exploring, make sure you get settled into your luxury catamaran and get to know your crew, before setting sail to the island of Solta.
---
Day 2: Trogir to Solta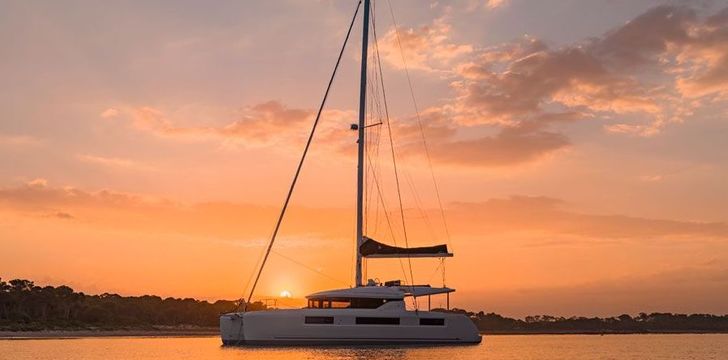 On your way to Solta, stop over at the Blue Lagoon in Krknjaši – with its incredible sparkling aquamarine waters, this is an ideal spot to try out some of your on-board water toys and see some of Croatia's spectacular aquatic life. Once you have arrived in Solta, get out your diving gear as this island has many popular diving destinations, such as Livka, Stračinska, Senjska and Jorja Bay – delve into vibrant coral reefs, underwater caves and even shipwrecks! Solta is a flourishing naturally wooded island adorned in wild flora, perfect for a relaxing walk or, for those more adventurous, you can take the mountain bike trail from Maslinica to Stomorska and see lush olive groves and vineyards looking out over the Adriatic Sea. Sink into your cabin for a blissful night's sleep before setting sail for Brac in the morning.
---
Day 3: Solta to Brac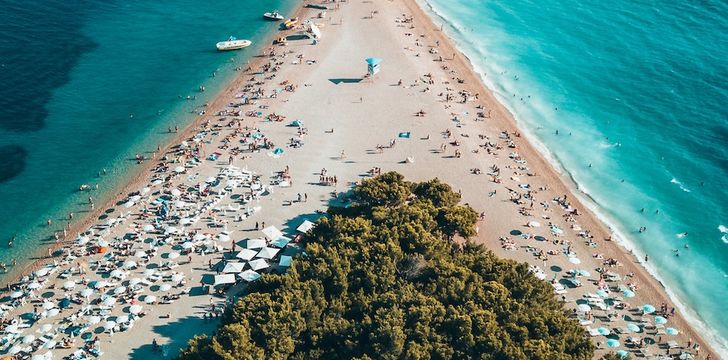 Brac is the largest of the Dalmatian Islands and is characterized by its fascinating karst limestone landscape. A must-see spot on the island is the well-known Zlatni Rat (Golden Horn) Beach that is located just west of the charming coastal town of Bol. This beach is the epitome of Adriatic natural beauty – you can lie here for hours whiling away the afternoon, looking out onto the crystal clear waters and relaxing on the ivory sand. In the town of Bol, be sure to stop at Ranč, a wonderful traditional Croatian restaurant that serves fantastic roasted lamb and octopus.
---
Day 4: Brac to Stari Grad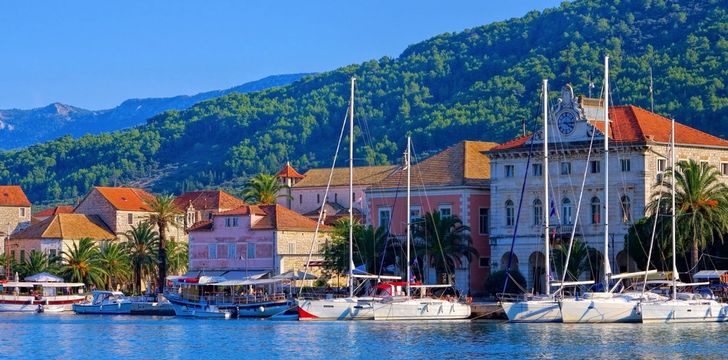 On your arrival in Stari Grad, take in the magnificent and medieval grandeur of Petar Hektorović's Tvrdalj, the most famous building in the city. Maybe head to Škor Square or the UNESCO heritage site which occupies most of the island. Stari Grad is a great option for those who are looking for a quieter, more tranquil Croatian town than Hvar. It is a good port and easier to access than Hvar's main port, but there are plenty of restaurants and bars for you to relax in during the evening.
---
Day 5: Stari Grad to Hvar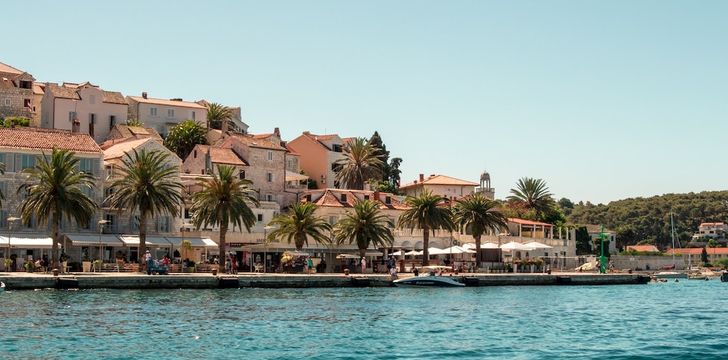 On the morning of day five, cruise over to Hvar to explore this wonderfully dynamic island. Known to be the sunniest place in Croatia, there is something for everyone in Hvar – the island boasts beautiful beaches, hidden coves, blossoming landscapes and lively nightlife! Hvar Town is brimming with energy, where yachters and partygoers alike come from all over the world to experience the VIP parties, elegant restaurants and stylish hotels.
If you are in search of something slightly more subdued, why not sail over to the south west of the island where you will find the 'Pakleni Otoci' (Resin Islands), a small cluster of islands and islets that are perfect for escaping the hustle and bustle of Hvar Town. Drop anchor in some of Croatia's most beautiful and isolated coves and enjoy a fantastic traditional dinner made with some of the local olive oil, honey, rosemary and lavender.
---
Day 6: Hvar to Vis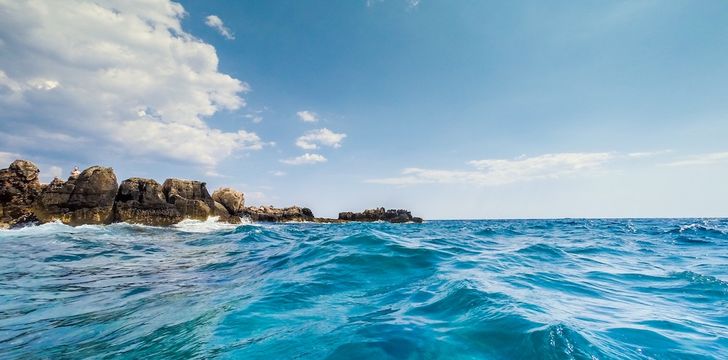 On day six continue to cruise to the Island of Vis. This island is said to be the most mysterious of the Dalmatian Islands – it is the furthest from the coast and for years it was used as a military base and cut off from tourists, meaning it is considerably less developed than other Croatian islands. Vis' lack of development has now recently attracted many tourists looking for an authentic, natural and tranquil holiday destination.
The romantic port town of Komiza is a lovely place to visit for the day and have a light lunch on the seafront. Cruise over to the smaller island of Biševo in the early afternoon and discover the fascinating Blue Cave for a truly magical experience! When day falls to night, tuck into a delicious meal on-board of succulent, marinated lamb chops or fresh seafood, sip on a refreshing glass of wine and watch Croatia glisten beneath the stars from the comfort of your catamaran.
---
Day 7: Vis to Trogir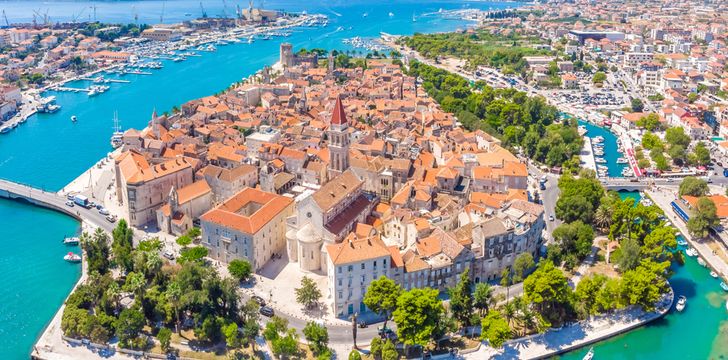 On your final morning, say your goodbyes to the crew and thank them for all their amazing work. Make your way back to Trogir and perhaps have a last look around, pick up some souvenirs and soak up the last of the Croatian sunshine before the end of your wonderful yacht charter experience in Croatia!
---
Our Croatia Charter Yachts
Croatia is fast becoming one of our most popular luxury yacht charter destinations. The Boatbookings expert brokers know the area inside and out and, as such, can recommend the best things to do and the must-see sites during your charter. Enquire today for your bespoke Croatian proposal.
See our Croatia Yacht Charter Guide See our Montenegro Yacht Charter Guide 
---
Other Destinations: Chartering in Croatia | The French Riviera | The Italian Riviera | Sardinia | Corsica | Gulet Charter in Turkey | Greece | Mallorca | Ibiza
Other Articles of Interest
Charter destinations